SeaWorld feels like, just maybe, it's standing on the precipice of a full-fledged revival, rising up from a years-long period of controversy and economic difficulties and potentially emerging as a leaner, meaner theme-park operator: its stock has been on the rebound, fueled by a nearly-five-percent increase in its quarterly revenue and attendance; it's doubled down on seasonal events (including free beer for attendees); and it's been implementing an impressive lineup of attractions at both SeaWorld Orlando and Aquatica, its water park, both this year and next.
Today, at a press conference celebrating the grand opening of its latest (and much-touted) ride, Infinity Falls, SeaWorld tried to build on this slowly-gathering momentum by announcing its "best year ever" – over the course of the next 12 months, its Orlando park will be filled with new experiences and classic events that, it hopes, will keep guests coming back for more literally each and every week.
First up: The remainder of 2018
There may only be 12 weeks remaining in 2018, but SeaWorld is promising that every one of them will be filled with some type of event or activity for guests to enjoy – the launching point of SeaWorld Orlando's "best year ever," which will consist of "more entertainment, more events, more rides, more thrills, and more value than ever before."
What is there to do? For starters, the annual Halloween Spooktacular – what has often been referred to by locals as one of the best family-friendly Halloween events in Central Florida (particularly since it's included with the price of admission) – is being held weekends up through Sunday, October 28. Kids can meet the various Sesame Street characters, engage in dance parties or watch stage shows, and, of course, go trick-or-treating during the daytime event.
Then, for the first two weekends of November, the first-ever Craft Beer Festival arrives, bringing with it over 100 craft beers from various Floridian breweries, along with a few trusty national and international favorites – and, of course, 20-plus unique food items that can be paired with the drinks. Finally, picking up on Saturday, November 17 and running for select nights until Monday, December 31, SeaWorld's Christmas Celebration brings back Rudolph the Red-Nosed Reindeer and all his claymation friends (SeaWorld will continue to own the theme-park rights to the 1964 telefilm for the next five years) to incorporate them with all of the other festive culinary, entertainment, and shopping experiences. Just as with Halloween Spooktacular, the Christmas Celebration is largely considered to be one of the area's best seasonal outings, and ensuring that Rudolph and company remain in the proceedings for the immediate future serves as the icing on the holiday cake.
The future: 2019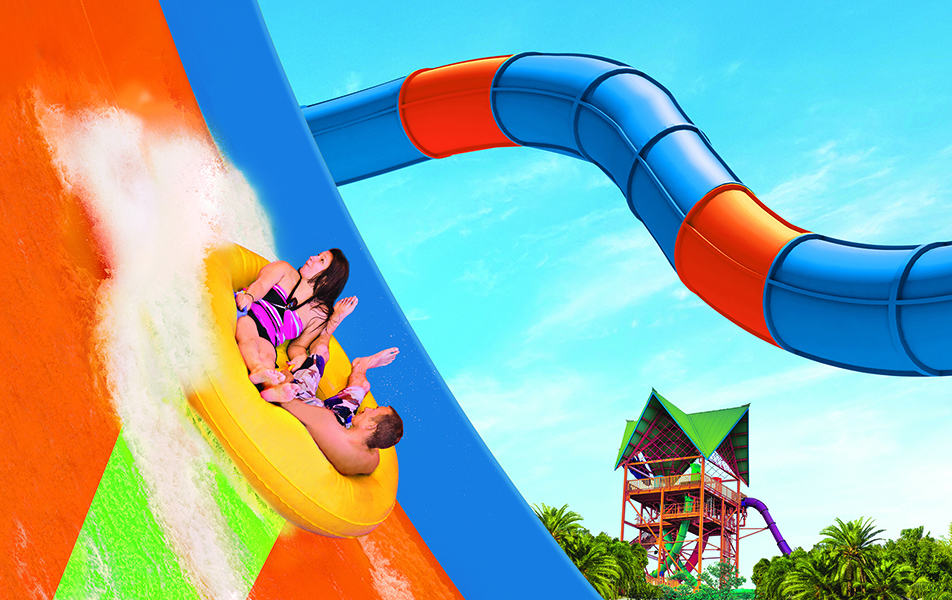 The main thrust for next year – at least, for the time being – is the much bigger incorporation of the time-honored Sesame Street into SeaWorld Orlando. Starting in the spring, the fully-themed land called, simply enough, Sesame Street will open, replacing the former Shamu's Happy Harbor children's area and providing for the most in-depth Sesame experience outside of Sesame Place, a Philadelphia amusement park that's wholly dedicated to the classic children's show (and which is also owned and operated by SeaWorld Entertainment, incidentally).
Although the six-acre land's arrival was originally announced nearly a year-and-a-half ago, the company today revealed that it'll be receiving six rides in addition to the scores of daily parades and play areas that we already knew about. These kid-friendly attractions include:
Elmo's Choo Choo Train
Abby's Flower Tower
Super Grover's Box Car Derby
Cookie Drop
Slimey's Slider
Big Bird's Twirl 'n Whirl
(We should note that at least some of these rides seem to be re-themed holdovers from Shamu's Happy Harbor.)
Once completed, the company promises that guests "will be able to take a walk down Sesame Street for the very first time," including the ability to explore full-sized recreations of the television show's various locations, including Mr. Hooper's grocery store.
But let's get back to those festivals, which SeaWorld is eager to keep going on a near-weekly basis for a good chunk – if not all – of 2019 (man, that's a lot of events!). Although light on specifics thus far, it looks likely that such returning favorites as Electric Ocean (which is held in the summer) and the Seven Seas Food and Wine Festival (also in the spring) will be newly expanded for next year, and a score of extra festivities will be added to the annual roster, as well – and given the park's huge emphasis thus far on food and free beer, it's a safe bet to assume that all of these new events will double down on this gastronomical angle. (Why? Because, as Disney has already well proven with Epcot's International Food and Wine Festival, such culinary delights first get guests through the door and then has them fork over lots of cash in order to get a taste of everything – revenue which more than makes up for discounted ticket and annual-pass prices.)
Finally, over at the next-door Aquatica, yet another new slide will arrive sometime in the spring: called KareKare Curl (which means "wave" in the water-appropriate language of Maori), this two-person raft slide "delivers a high-adrenaline, weightless adventure" by shooting the ride vehicle high up on a vertical wall. SeaWorld is clearly excited about the addition, as it will – in conjunction with this year's brand-new Ray Rush – make the water park the most thrilling of those located in Central Florida… and far more competitive with the likes of the still-new Volcano Bay.
How to pay for it: The new annual-pass program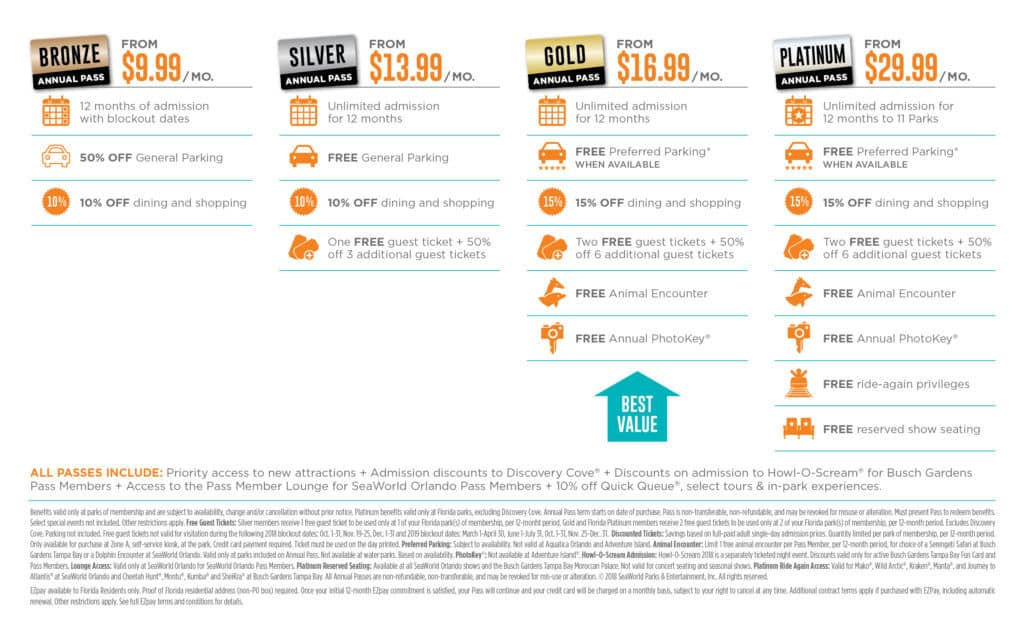 What was arguably the biggest news of the day, however, has to do with SeaWorld's present as opposed to its future.
Starting today, SeaWorld Orlando's annual passes will be broken up into multiple tiers for the first time in the company's 54-year history. Beginning with Bronze and going all the way up to Platinum, the four different options all offer admission to the park and discounts on parking and dining. When a guest moves up to the Silver Pass, he no longer faces either blockout dates or parking fees at all; by the time he gets to Gold, he receives a bunch of freebies, including two theme-park tickets (for friends and family), an animal encounter, and a PhotoKey annual pass; and when he arrives at Platinum, he can get unlimited entry to all 11 SeaWorld parks across the country, including Busch Gardens and all of the various assorted water parks.
Best of all, no down payment is required, and the monthly fee can cost as little as $9.99 (if you're a Florida resident and if you sign up right away). Yes, this means that the company has dropped its AP prices by as much as 30%, and, yes, it means that admission to SeaWorld Orlando can actually cost less than your monthly Netflix subscription – a great way to get as many locals as possible onto its property, riding all those new attractions and purchasing all those new food and drinks.
SeaWorld's "best year ever" starts today, October 3, 2018.
–
Be sure to follow Orlando Informer on Facebook, Twitter, and Instagram for the latest news and tips at Universal Orlando, Walt Disney World, and other Orlando destinations.