Preview this Page
Overview
It's that time of year again at SeaWorld Orlando! The Seven Seas Food Festival has returned and is serving us a variety of delicious bites inspired by flavors worldwide. We tried a few of their dishes and are now here to share our thoughts with you!
Returning for its sixth year, SeaWorld Orlando's Seven Seas Food Festival is considered to be the largest of its kind in Orlando. It features 24 marketplaces across the park's property and 26 live performances from hit artists on select dates between now and May 7, 2023. Even more exciting is that the event and its concerts are included with SeaWorld Orlando's general admission, which can be purchased at a discount on our website here. This is a great way to tide over the anticipation for their newest attraction – Pipeline: The Surf Coaster. As your trusted source for an honest review, we dove into their vast sea of offerings and came back with which are the worthiest of your time.
Seven Seas Food and Beverage Sampler Lanyard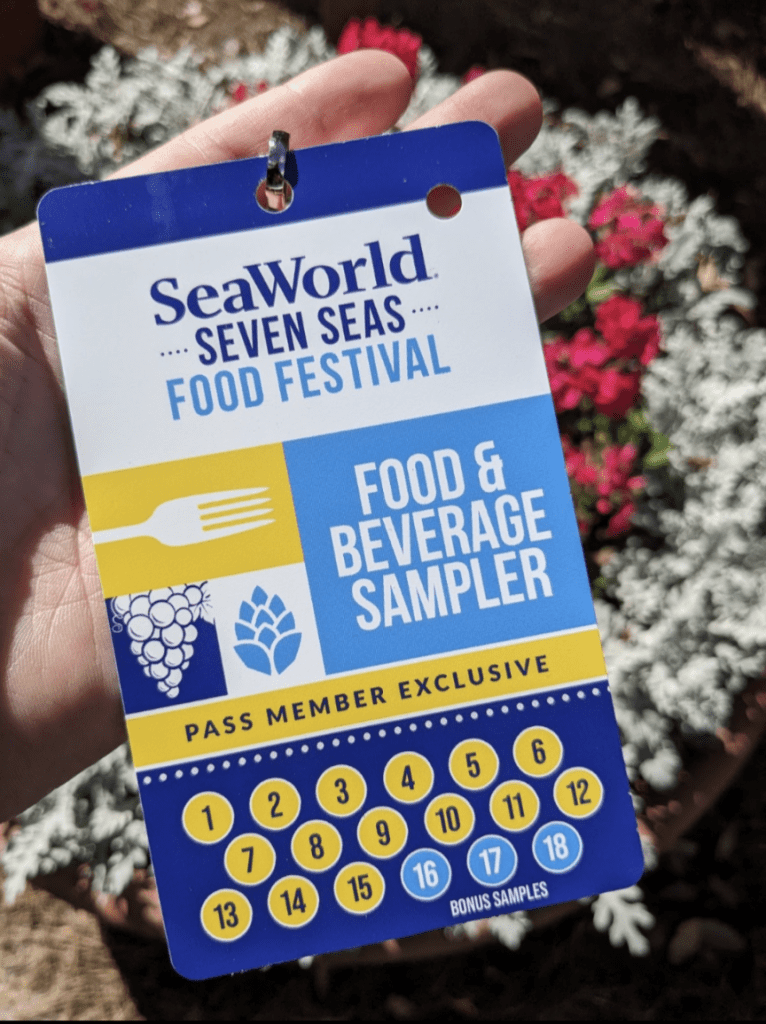 In order to get the best bang for your buck during SeaWorld's Seven Seas Food Festival, the event's Food and Beverage Sampler is the way to go. Guests can choose either a 10-item offer for $70 or a 15-item option for $85. A Passholder Exclusive deal offers 18 items for the $85 price. Each is a great choice for anyone wishing to indulge in the festivities since any of the items will cost between $11.99 to $14.99 plus tax and a 5% surcharge when going a la carte.
Before getting too far, we should attend to a little housekeeping. Firstly, we've presented our recommendations in ascending order of the marketplace stations from start to finish as a matter of convenience. Second and possibly most importantly, there is a difference in servings when ordering drinks a la carte and the slightly smaller servings given with the Sampler Lanyard, with our pictures coinciding with the latter. That said, you can opt for whichever you prefer and pay for the standard sizes separately.
Let's cruise right on into our favorites.
Caribbean Moonshine Tasting
PB&C Cannonball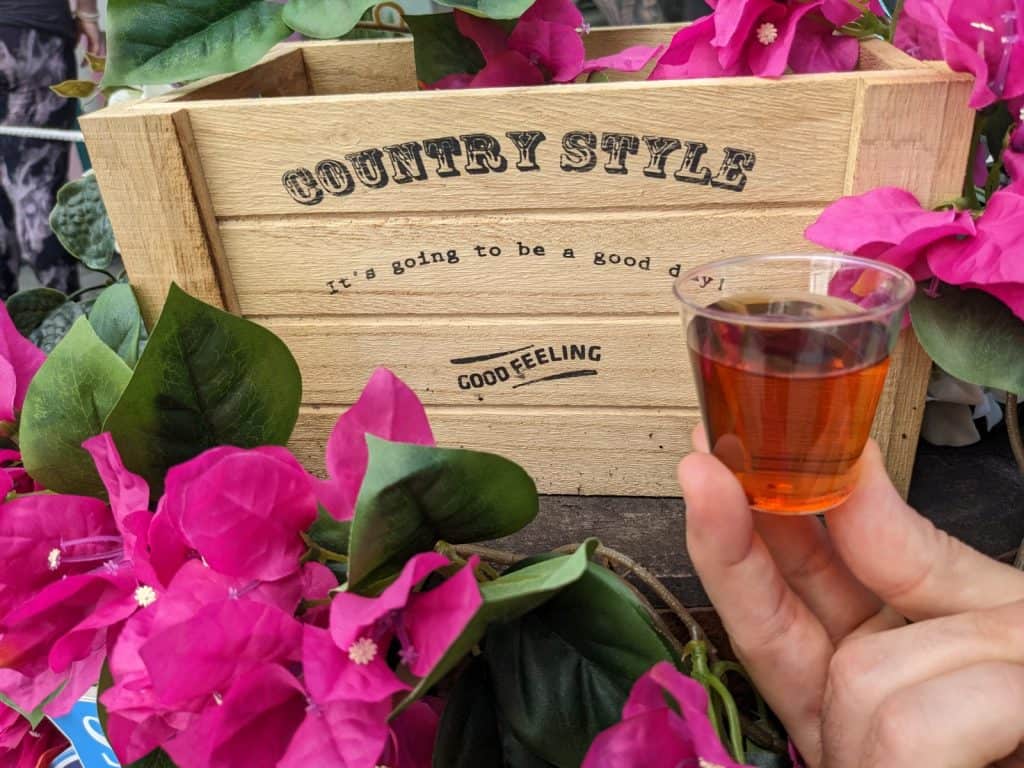 The Caribbean Moonshine Tasting stand offers five of this Florida brand's best flavors: Marmalade, Coconut, Passionfruit, and Banana, as well as a Peanut Butter and Chocolate combo. Each has an 80-proof potency, which makes them a heavy hitter even with the smaller, tasting size. Anyone without the sampling lanyard who wants to explore the brand would be best off with their four-flavor flight for $25. Otherwise, we loved the PB&C Cannonball. Its peanut-butter-forward flavor was smooth and exceptional, with a delightful chocolate finish. They also provide a QR code and web address to order your favorite bottle, which I plan on taking advantage of.
Caribbean Market
Smoked Jerk Chicken Slider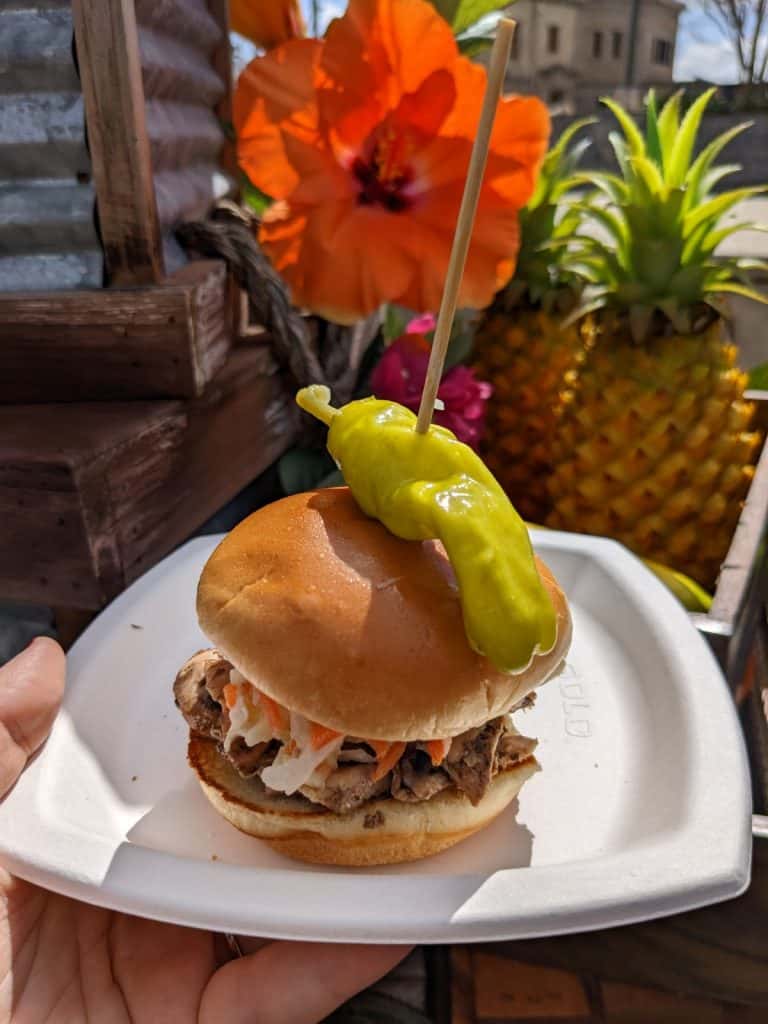 Jerk seasoning is known to be on the spicier side, but this slider brought just enough heat to provide a nice zing to the chicken. The pineapple cilantro slaw topping paired with the banana pepper garnish helps round the flavor off with a bright and wonderful sensation. Completing the sandwich is a toasty, sweet brioche bun that welcomes anyone to take a hearty bite.
All-American Market
Southern Peach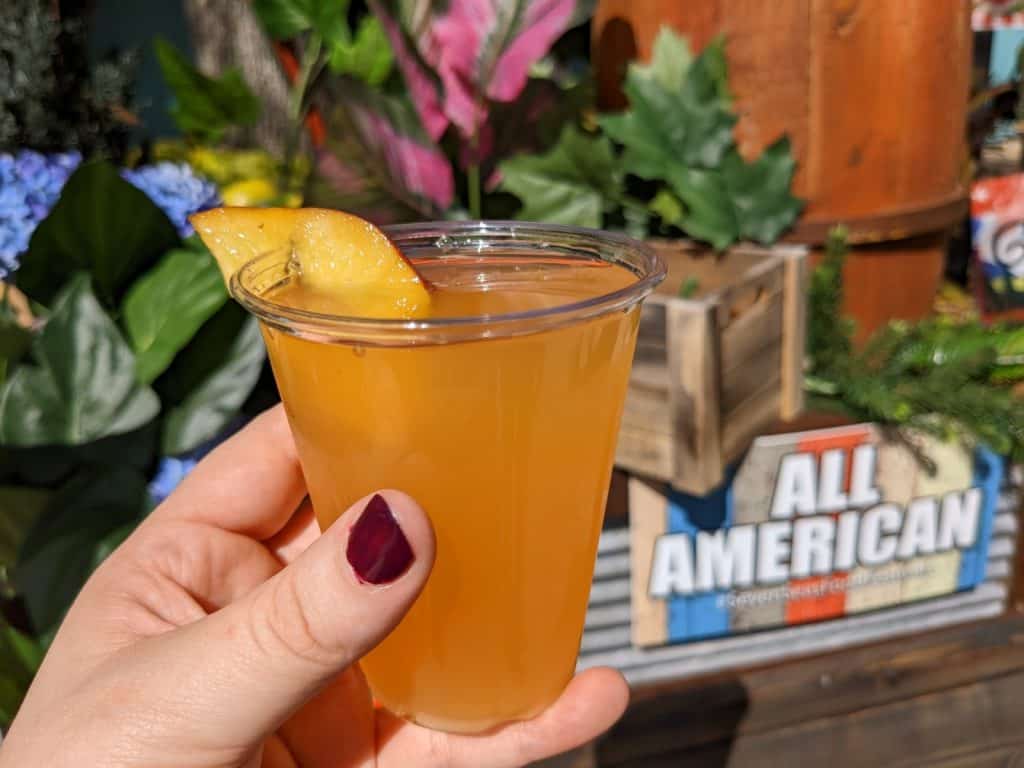 Few things are considered to be an "All-American favorite," like the peach. The peach schnapps blends with its lemon-lime soda and simple syrup to bring a sweet and refreshing taste to the bourbon. Each sip seems to transport you to the Georgia countryside.
North Atlantic Market
Cranberry Limeade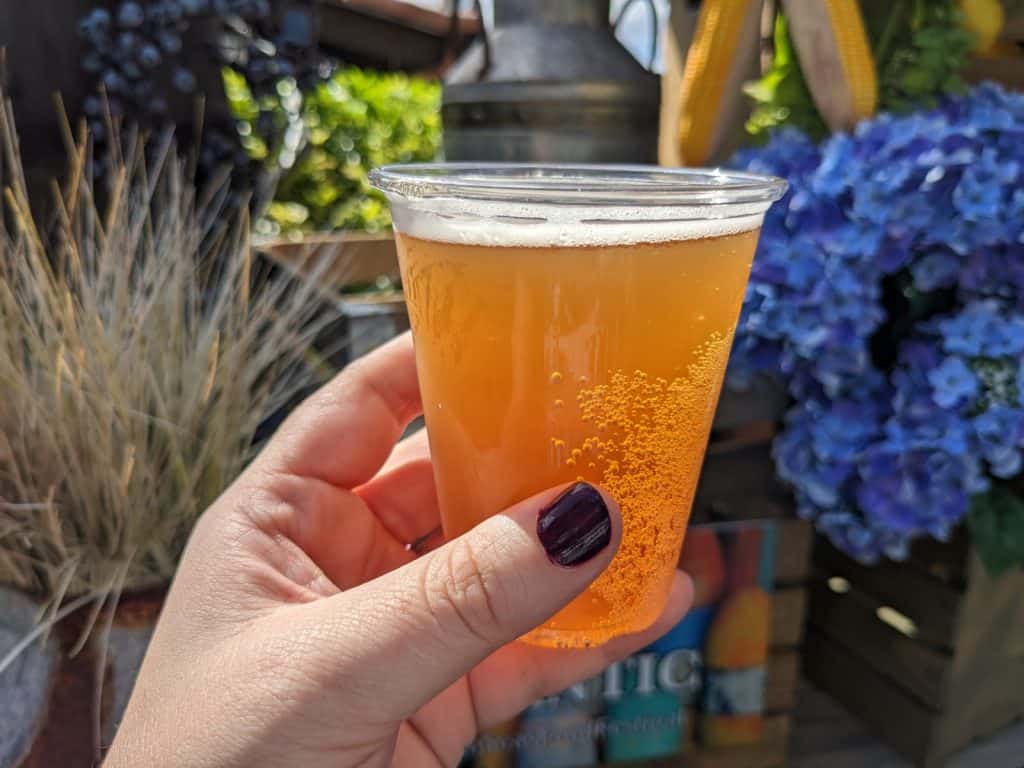 At first taste, this American Sour is very tart, but becomes more enjoyable as you continue forward. It's a very rejuvenating ale that's best experienced as a light sipper. If you aren't usually one for sour flavors, but are still looking for an adventurous and fun beer, definitely give this a try.
Coaster Cocktails
Pipeline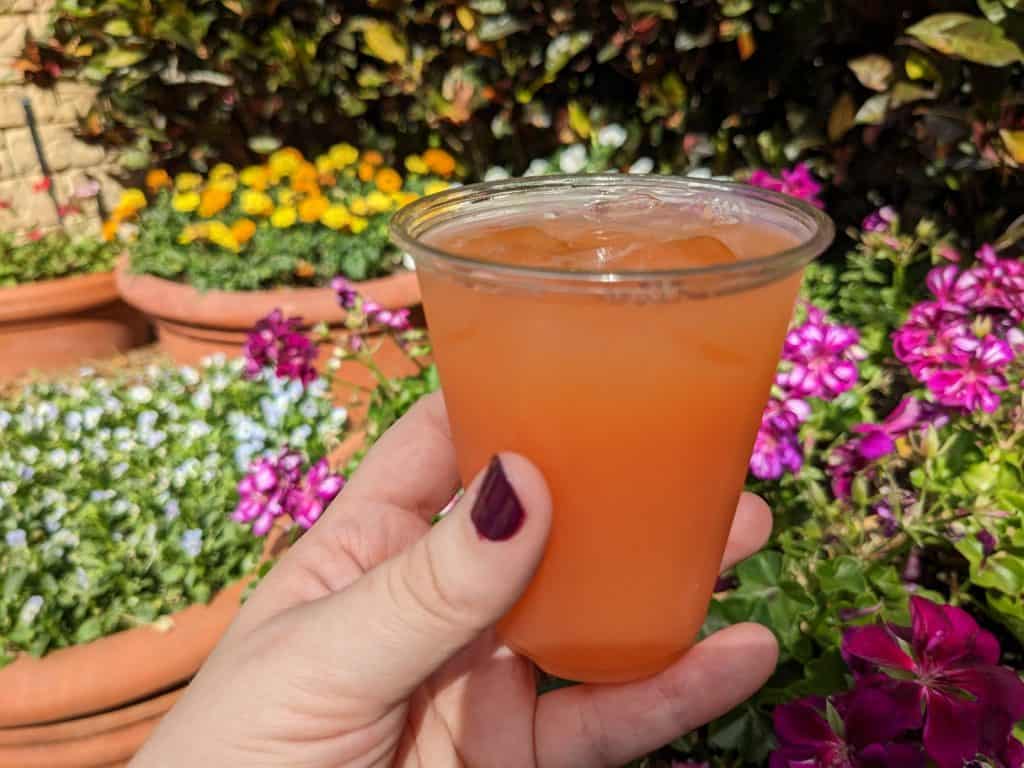 With its namesake attraction's opening right around the corner, this was a no-brainer for us to hang loose with in the meantime. Pipeline is a drink akin to a gin-topped Bahama Mama. Its notes of peach, floral herbs, and sweet citrus evoke thoughts of the wildflower-dotted Florida beach shores. We enjoyed the sample serving, but it may be better to order the full-sized serving here. They're much larger and how you get those nifty to-go pouches. Not to mention, who doesn't want to partake in an adult Capri-Sun?
Sweet Sips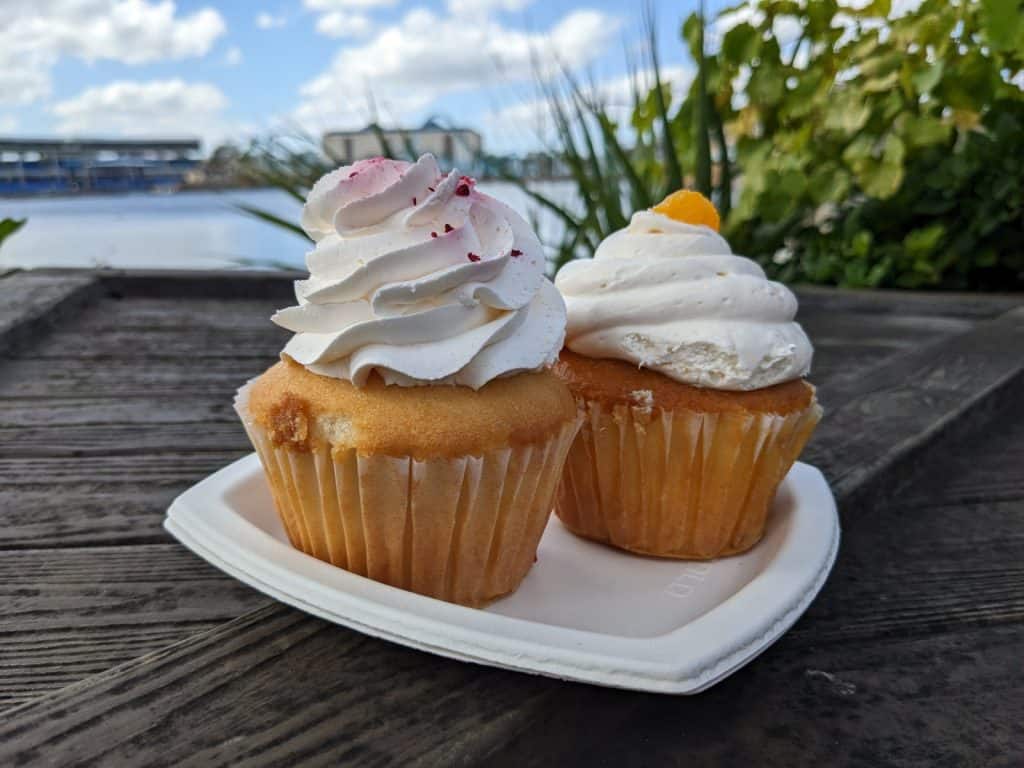 Raz Dazzle Cupcake
The cupcakes at Sweet Sips are sizeable and delicious, which makes them one of the best options at the festival. While the jam filling may be minimal, I see where too much would make it overpowering in its overall sweetness. Its moist texture compliments the light, whipped frosting and freeze-dried raspberry topping making it very enjoyable for anyone in the family.
Boozy Orange Bliss
This is the dessert I'd come back to. It's tasty and the choice to employ a cream cheese frosting – which, mind you, is the elite frosting – as a topper makes this feel like an upscale item. While it isn't very "boozy" it's still delectable and executes the Grand Marnier's earthy, orange flavor wisely with the rest of the baked citrus flavors.
Italian Market
Palermo Fontina Cheese Meatballs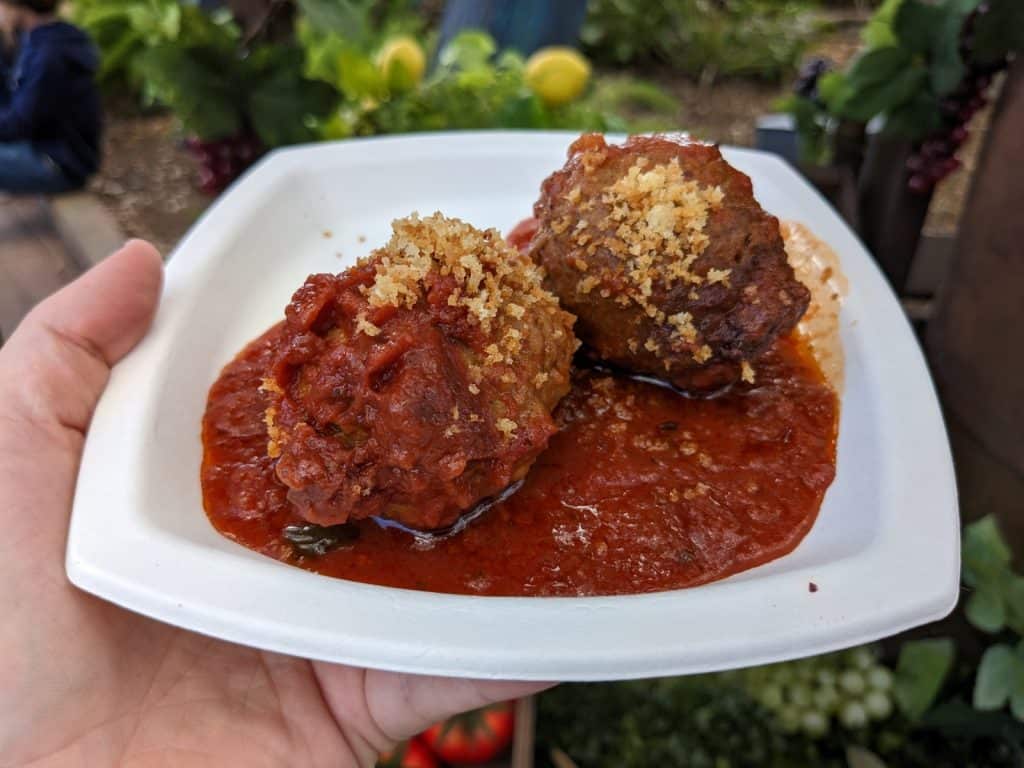 This is one of the more popular items at the event, and my wife's favorite. The meatballs are a decent size and provide a warm, comforting dish. The garlic panzito brings a good counter-crunch texture to the meal. While the cheese isn't very present in the flavor, it doesn't have to be, as the sauce picks up the slack in that department. The portions and piquancy of this item make it a comforting break from the otherwise bustling pace during your visit at the park.
Brazilian Market
Picanha Steak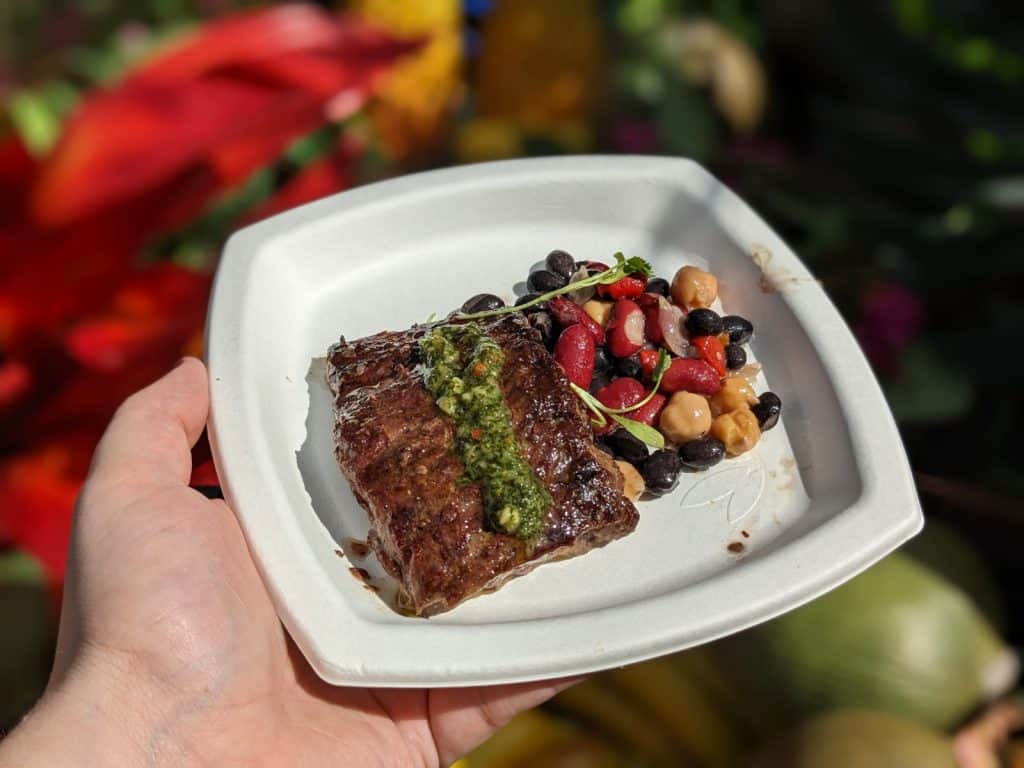 Fans of Brazilian steakhouses will love this one. The meat paired with the cilantro chimichurri and marinade was very flavorful. Unfortunately, I do have a ding to make note of: the delectable flavor left us wishing for a larger serving size to enjoy. Additionally, the bean salad side added a pleasant freshness to the plate.
Frozen Guava Mint Caipirinha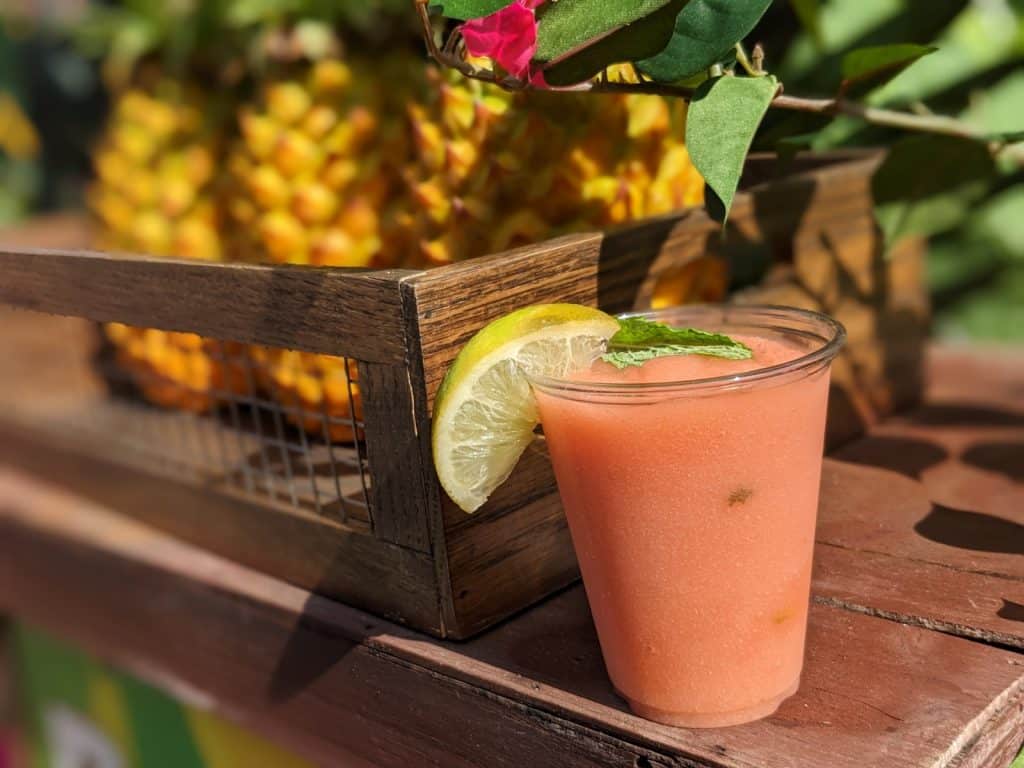 Caipirinhas are a classic Brazilian cocktail and one of my favorites wherever they're served. This beverage is served to guests frozen and has a refreshing, sweet citrus taste with a hint of mint. Personally, I would have gathered it a tad mintier, but it was still very delicious. If you need a revitalization of both body and spirit, let this be the one with which to do so.
Asian Market
Deep Fried Dumpling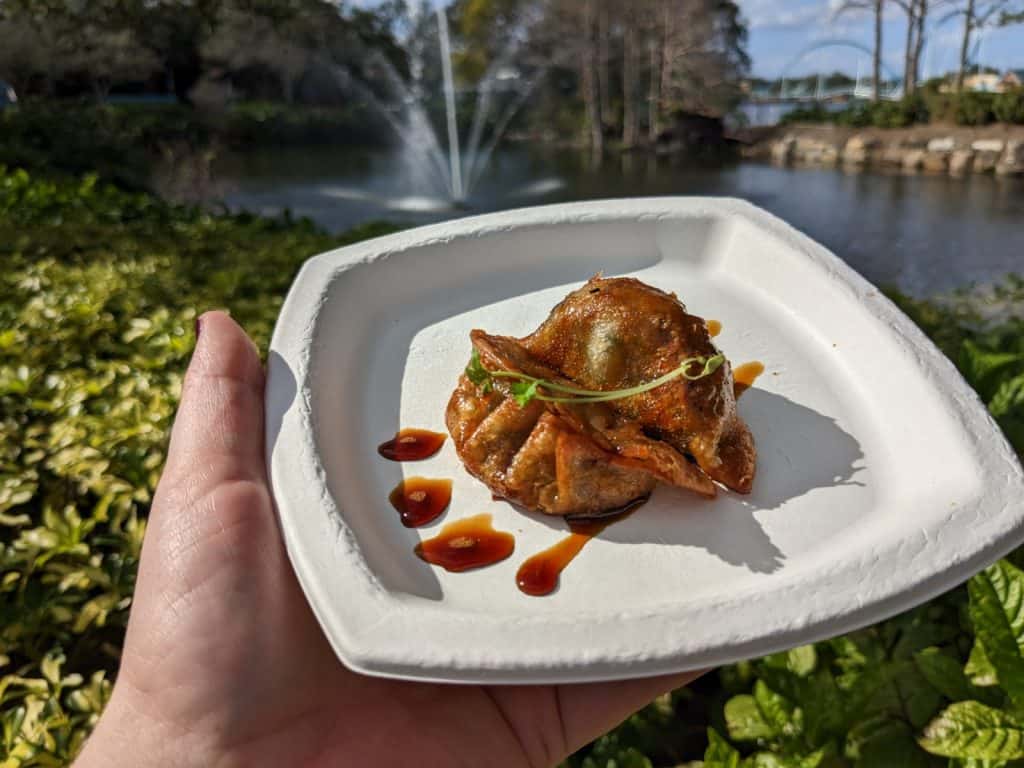 This item is perfect for someone wanting something satisfying and light. The veggies within the dumplings are well-seasoned, and there's a good amount of umami at play in the flavors. While it is marinaded in ponzu sauce, the deep-fried texture of the dumplings is maintained for a pleasant crunch.
Irish Market
Guinness Beef Stew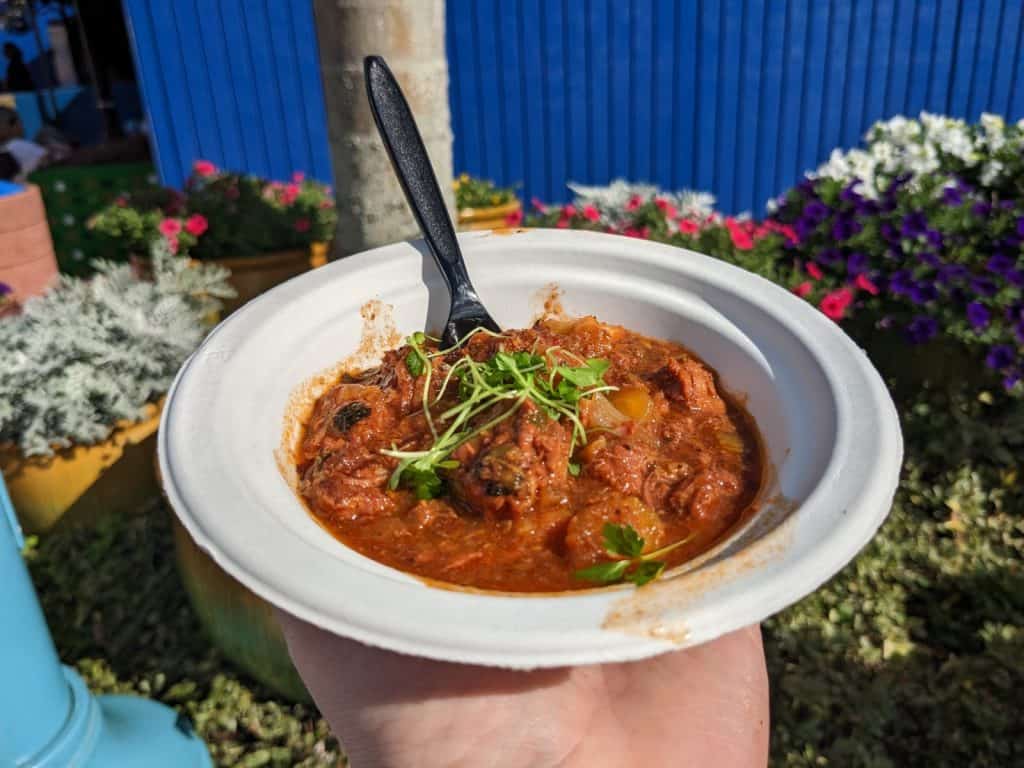 If there's any station to set your sights on, our favorite was the Irish Market. Starting with the beef stew, this dish was very hearty with an excellent flavor all around. The beef falls apart nicely and is well-prepared. Given the portion size and how satisfying it is, this is one of the best bangs for your buck at the event.
Jameson Bread Pudding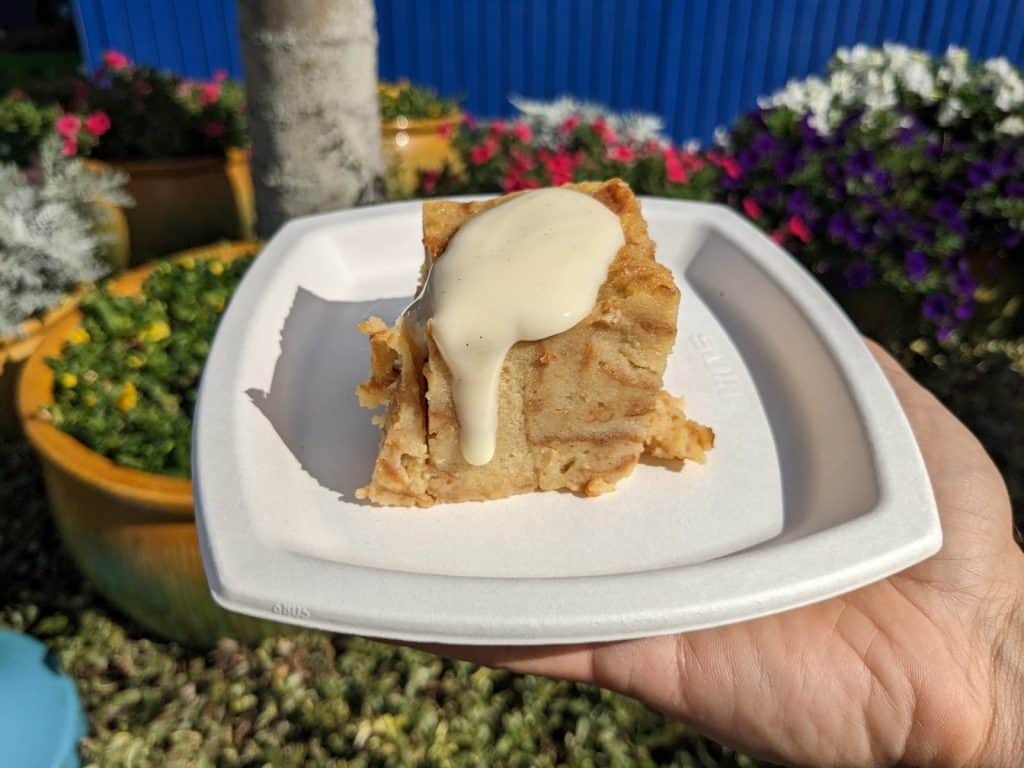 An Irish bread pudding can be considered an "old reliable" as it's a universally enjoyable dish. While it may not be a "melty" bread pudding, this helps provide what you'd expect from its custardy flavor without being so naturally messy. If you want to enjoy it at its fullest potential, partake in it post-beef-stew. You won't regret it!
Irish Cold Brew Latte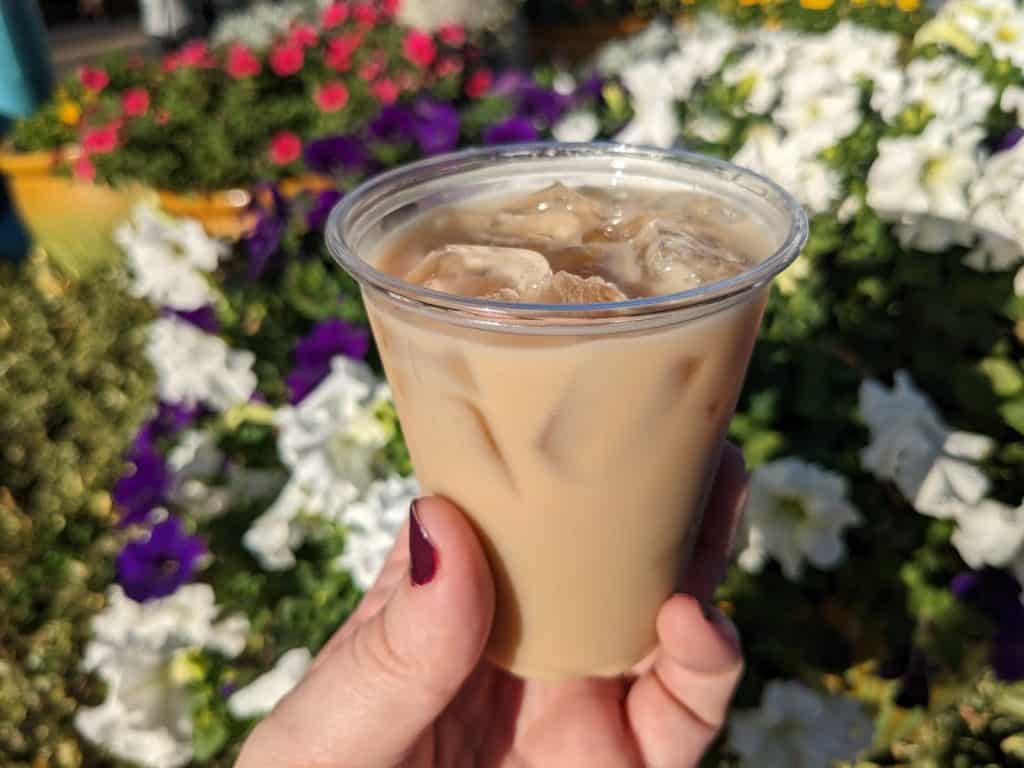 The combination of Jameson Cold Brew, coffee, cream, and simple syrup provides exactly what you'd expect from a coffee and whiskey cocktail. This is the perfect choice for anyone wanting to maintain the spirit of the festivities and in need of a quick pick-me-up during their visit.
Gulf Coast Market
Impossible Jambalaya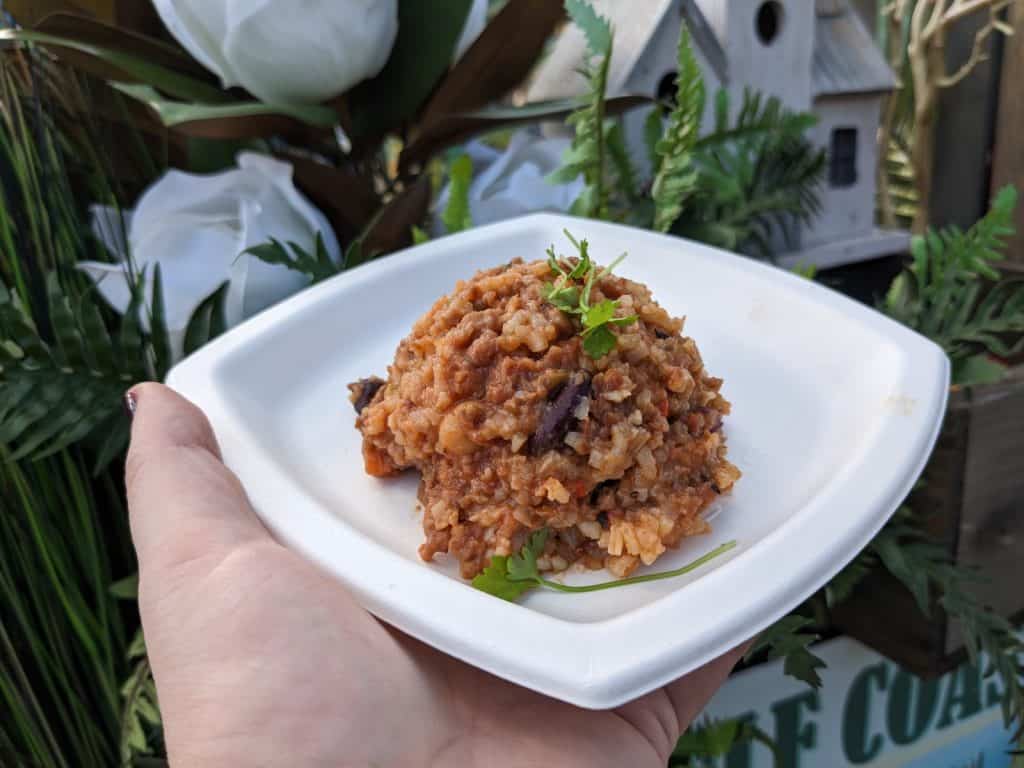 This was a great meatless take on a traditional cajun favorite. It's a filling size for what's considered to be a "sampling" with a friendly, mild heat that's still present enough to keep with the dish's customary expectations. If you're a vegetarian looking for the best plant-based option at this year's Seven Seas Food Festival, look no further.
Bananas Foster Beignets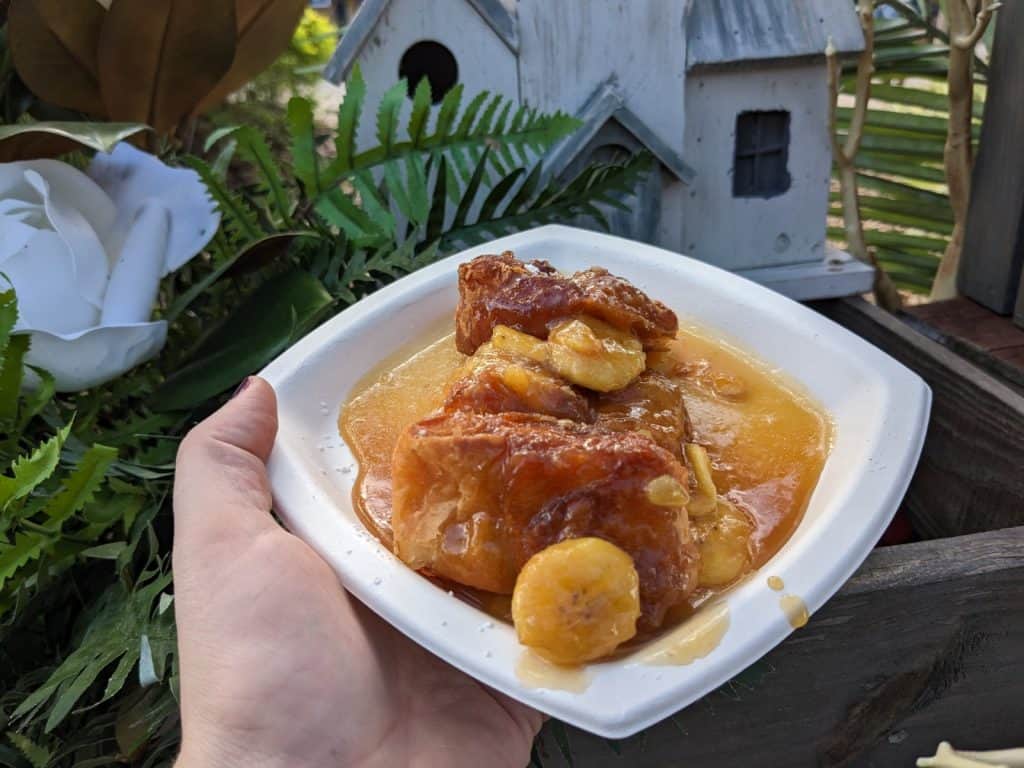 It's hard to miss the shot when it comes to beignets, and this was hands-down the best dessert at the Seven Seas Food Festival. Under the delicious glaze of rum and powdered sugar lies a treat with a delightful crunchy texture. While a beignet covered in sheer icing may sound a bit rich, it's not overly indulgent by any means. Best of all, there's enough for two to share!
Mexican Market
Taco al Pastor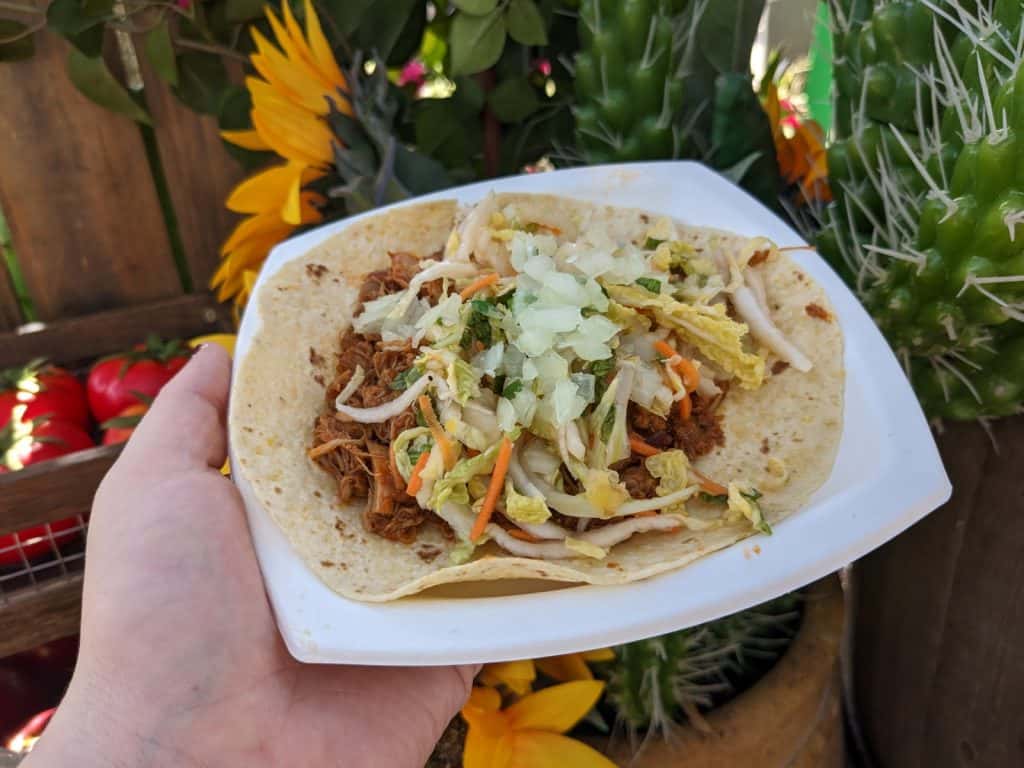 Anyone who has never had taco al pastor should give this a go. SeaWorld's take is served in a good portion, and the pineapple brings a sweet, refreshing balance to the slaw topping format it's part of. Combined with the nicely seasoned chicken, this is a well-rounded and appetizing dish.

SeaWorld Orlando's Seven Seas Food Festival is happening now! Anyone wanting to attend can purchase discounted admission from Orlando Informer! You can also discuss vacation planning with our SeaWorld Community on Facebook!