Editor's note: This is the first post from our newest OI contributor, Ashley. We look forward to featuring her writing and Orlando experience on OrlandoInformer.com. If you are interested in learning how you can contribute your own stories and insight, click here.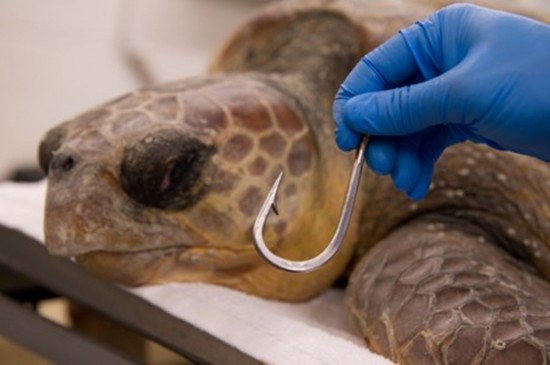 Although SeaWorld Orlando has millions of guests each year, many leave the park without discovering that some of the organization's most important work happens behind the scenes. While guests are taking in awe-inspiring shows, connecting with animals and partaking in the park's attractions, SeaWorld staff members are working tirelessly behind-the-scenes to save marine wildlife in danger. Here are two of SeaWorld Orlando's "wildest" and most unusual rescues!
Loggerhead Turtle from St. Lucie
On February 26th, SeaWorld Orlando veterinarians were presented with a daunting challenge. A 100-pound loggerhead turtle, rescued from a Florida power plant canal by the Inwater Research Group, was discovered to be suffering from a 4-inch-long fish hook lodged in its throat! SeaWorld's veterinarians took x-rays and blood work before performing surgery to remove the hook. The turtle is expected to make a full recovery, but he will continue to be monitored over the next several weeks. Here is a quick video about this turtle's rescue and surgery:
[youtube_video]l6aD89qKcjI[/youtube_video]
This turtle is the ninth to be rescued by SeaWorld Orlando in 2012, and when he recovers he will be released into his natural environment. Nonetheless, sea turtle fans will have plenty of opportunity to learn more about SeaWorld's work with the animals beginning on April 27th with the opening of the new "Turtle Trek" exhibit.
Pilot Whale: 300
In May 2011, nearly two dozen pilot whales inexplicably beached themselves in the Florida Keys. Many did not survive the incident, but two surviving whales were transported to SeaWorld Orlando's Cetacean Rehabilitation Facility. One whale, nicknamed "300," developed scoliosis (a curvature of the spine) and has been unable to swim normally since the time of her rescue. Although her prognosis seemed grim, the veterinarians at SeaWorld took on the challenge of trying to treat her condition. 300 has been receiving hands-on care since she arrived at SeaWorld, and has been making slow progress towards improvement. In November 2011, the animal experts and veterinarians partnered with the Orlando-based Jewett Orthopedic Clinic to create a brace, custom-fitted for 300's form, which can be adjusted slowly over time during therapy sessions. SeaWorld's veterinary staff hopes that these slow and steady adjustments will help straighten the pilot whale's spine and tail and allow her to swim normally. This brace marks a landmark in the history of animal care; never before has such a device been developed to treat a large whale. Although it is too soon to know if the device will be effective, SeaWorld staff members remain committed to healing 300 and helping her live a fulfilling life despite her injury.
[youtube_video]ajT7tJEWXN4[/youtube_video]
Behind the Scenes Tour
Guests visiting the park have the opportunity to see SeaWorld's conservation work first-hand if they participate in the "Behind-the-Scenes" tour. The 90-minute tour shows guests how animal experts work to care for and heal rescued manatees and sea turtles, and 10% of each tour purchase is donated to the SeaWorld & Busch Gardens Conservation Fund. For more information about the tour and to purchase tickets, click here.
According to SeaWorld, "[f]or 45 years, SeaWorld Parks & Entertainment has helped animals in need – ill, injured and orphaned. More than 20,000 animals have been rescued by our experts.‪ SeaWorld's animal rescue team is on call 24 hours a day, 7 days a week."
Loggerhead Turtle from St. Lucie – photo gallery
Click any image to view it full-screen. When the full-screen image is open, click to the right to advance through the gallery. If several thumbnails are missing, try reloading this page in your browser.
[sws_author_bio user="Orukana" size="105″ authorposts="More OI posts by Ashley" name_format="About the author"] [/sws_author_bio]