Back in April, SeaWorld formally unveiled Kraken Unleashed, the virtual-reality upgrade to its popular, 17-year-old Kraken roller coaster. Today, the company invited media to try out the new experience for ourselves, just one day ahead of its grand opening to the public.
We dove deep into the ride's virtual waters, again and again, documenting our sojourns each time. Here are our general impressions of SeaWorld Orlando's headliner attraction for 2017.
Boarding Kraken Unleashed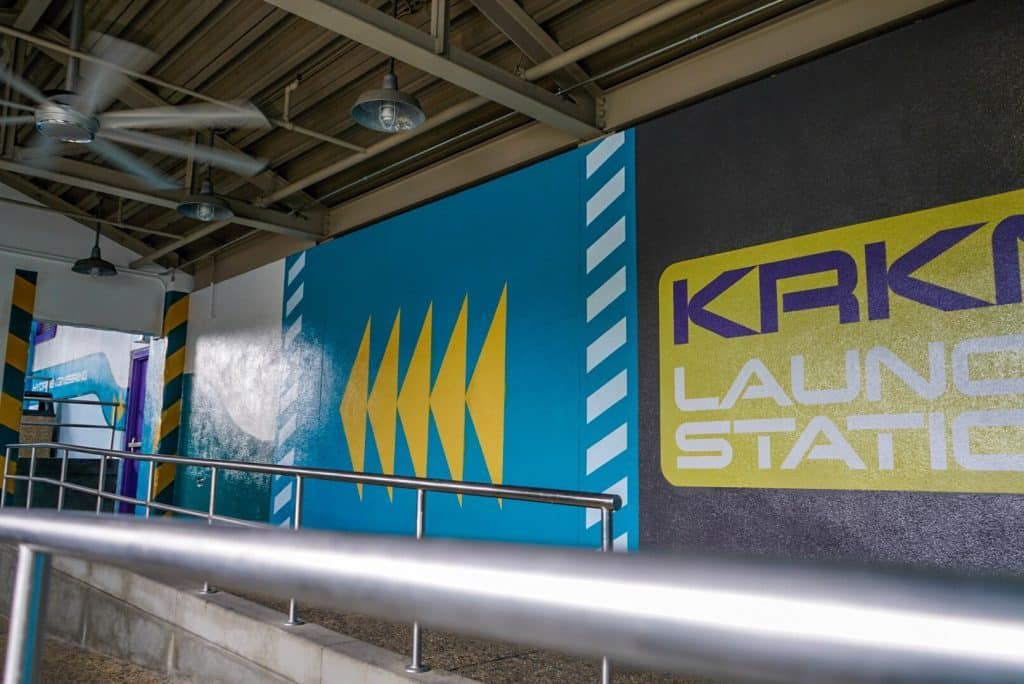 Even before guests get a chance to board Kraken Unleashed, they'll notice a huge difference from the coaster's original incarnation: the queuing process. Much like Race through New York Starring Jimmy Fallon at Universal Orlando Resort, Kraken will feature a return-ride system, which means visitors can explore the park while they wait virtually in line. Called Spot Saver, it'll be managed through a special mobile site that patrons can access on their phones whenever they'd like – as long as they're in SeaWorld Orlando, that is. (The reasons for this change are two-fold: more and more theme park operators are moving in this direction to begin with, but there's also a much longer loading/unloading time with Unleashed, given that each individual VR headset needs to be cleaned between uses – and it takes riders a longer period of time to don the new equipment, as well.)
Once at the loading station, slipping into the virtual reality gear is straightforward – both the goggles and the earphones are connected, and they are, in turn, fully integrated into the ride vehicle (a fact which SeaWorld is happy to boast about, as it's a first for a VR-equipped roller coaster in the country). Although it may at first provide a strange experience for many, guests should grow accustomed to the setup almost immediately, particularly considering that the VR feed starts as soon as they slip the goggles on (the audio kicks in once the car moves and the ride officially gets underway).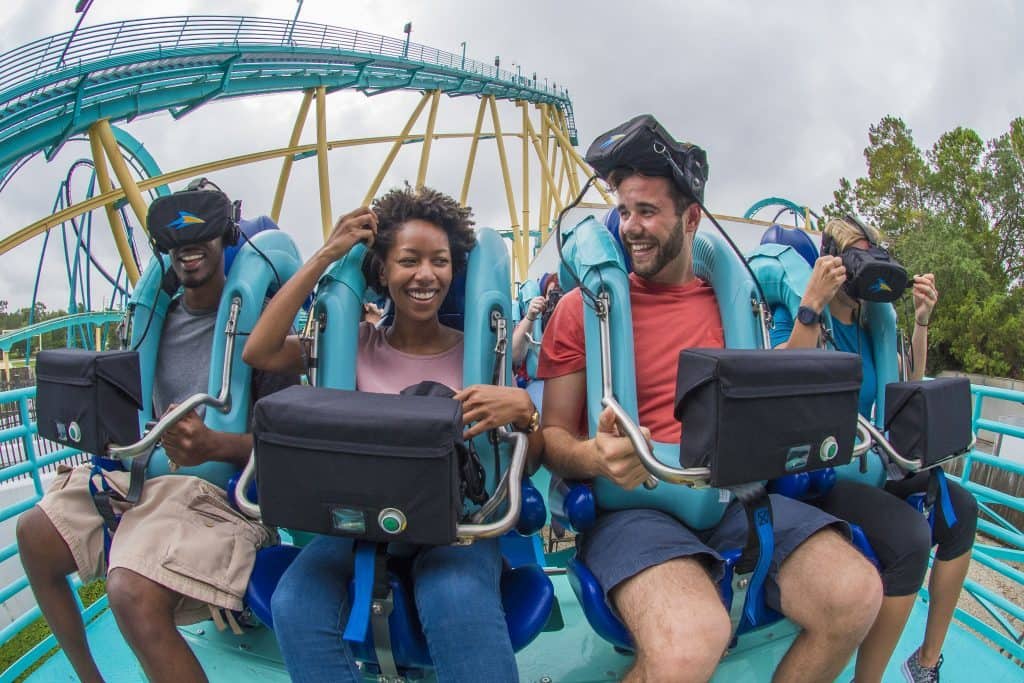 Speaking of the headset, we should probably add a friendly piece of advice here: make sure it's as tight as you possibly can; otherwise, the goggles will jiggle during the ride, greatly diminishing the immersion – not to mention the enjoyment – of the experience.
(Yes, if you'd prefer riding the traditional way, without the VR equipment, you're certainly able to, but you'll still need to utilize Spot Saver.)
Kraken Unleashed's experience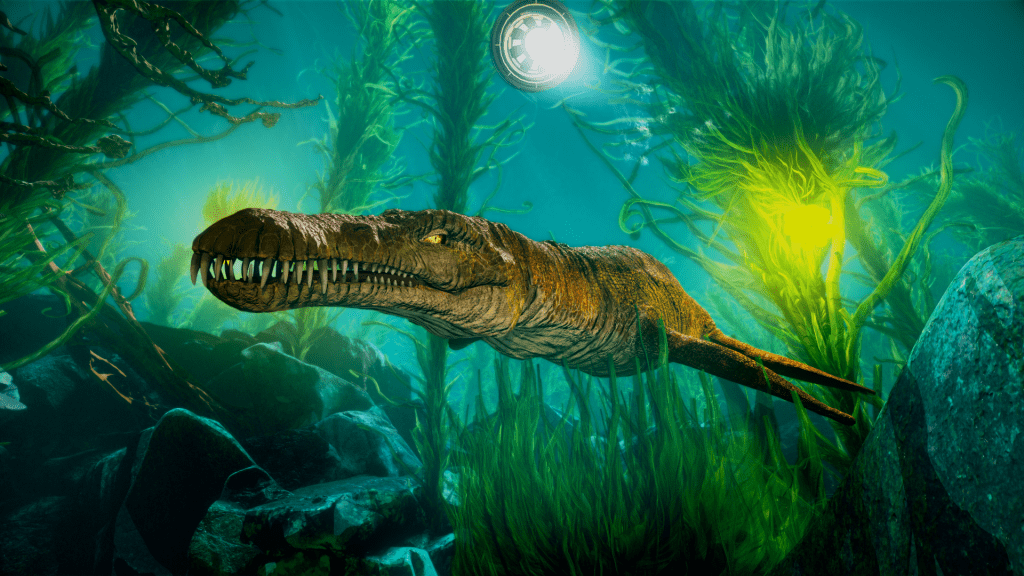 While Kraken is, of course, the same coaster as it was previously – SeaWorld didn't change the track layout one iota – Unleashed provides a whole new experience, and one that, in our opinion, is significantly better than the original. (For all those asking out there, no, it wasn't nauseating.)
The story's setup is delivered as your vehicle makes its way up the first hill. You are a deep-sea researcher living in an underwater base – that's what the coaster station is transformed into – when you pick up unusual seismic activity. Jumping into your trusty min-sub (the coaster car), you follow a mini-submersible as it plunges into a suddenly-appearing rift on the ocean floor and then brave many encounters with larger-than-life versions of underwater creatures both real and imagined.
Here's how the company itself summarizes it:
The completely immersive experience takes riders on an exploratory journey under the sea. As they sail along the powerful coaster track – complete with deep dives, steep turns, and seven complete inversions – a fully integrated story unfolds. The result is a fantastical voyage past gigantic sea monsters and an unexpected, unforgettable encounter with the legendary Kraken sea monster.
While we don't wish to spoil the experience for all prospective undersea explorers, we will state two observations we had during our repeated trips on the ride. Firstly, while the extra visuals, narrative, and brand-new soundtrack really enrich Kraken, it is rather hard to pick up on and follow everything once that first lift is over with and the twists and turns begin – be prepared to make multiple re-rides in order to soak everything up. (Given that each individual seat on each train has a different perspective on the action, Unleashed's repeatability holds up remarkably well, anyway.)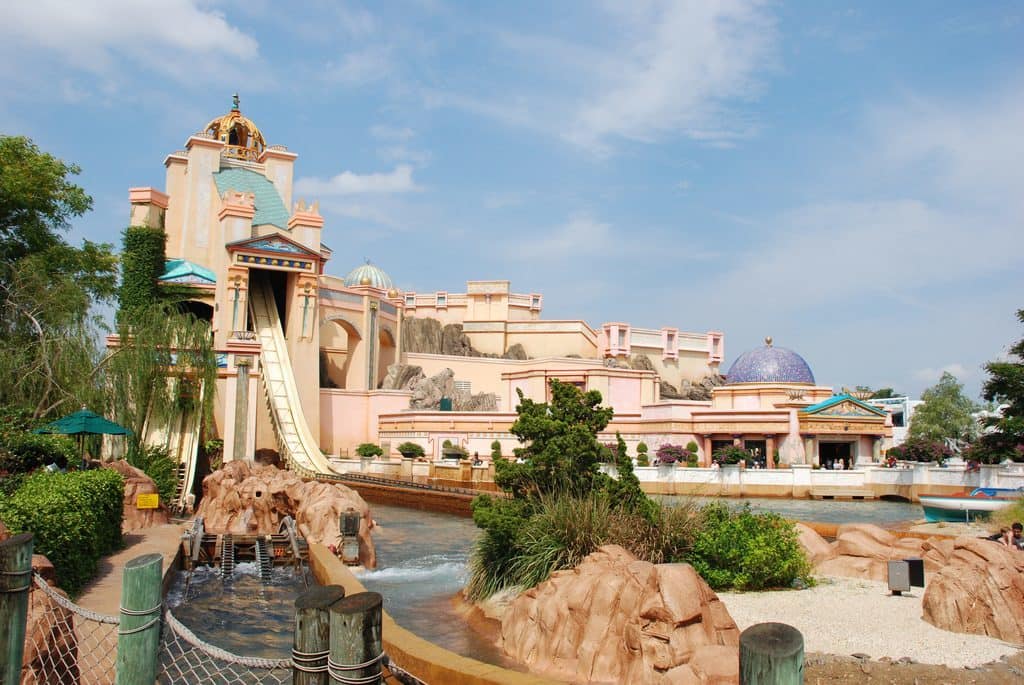 Secondly, at the end of the ride, guests will be able to spot the mythical land of Atlantis, which is a pretty nifty tie-in to the Journey to Atlantis water roller coaster that's located right next door to Kraken Unleashed. (Rumor currently has it that the older attraction will be getting a re-theme to help it fit in with the new VR ride footage, but we'll have to wait and see how accurate this really is.)
–
SeaWorld has previously made much about how virtual reality is its future, and after getting the chance to try out Kraken Unleashed for ourselves, we can't argue with the pivot – the visuals, music, and story were on par with anything currently at Walt Disney World or Universal Orlando Resort, and the novelty factor of strapping on a pair of VR goggles is, at least for the time being, pretty high.
As long as the company is able to sufficiently handle the lines, virtual or otherwise, at its newly-upgraded coaster, its summer season is off to a good start.
For more about SeaWorld, its brand-new attractions, and everything else at Orlando, be sure to follow Orlando Informer on Facebook, Twitter, and Instagram.