With the arrival of the COVID-19 pandemic, SeaWorld announced that it would be closing all three of its Orlando parks – SeaWorld, Aquatica, and Discovery Cove – on Monday, March 16. The company was initially hopeful that it could reopen them all on April 1, but it was forced to keep on extending the closure, just as all of the other theme-park operators in the region were, as well.
Which brings us to today, Thursday, June 11. After a successful partial reopening yesterday, in which employees were allowed back into the park, SeaWorld Orlando threw open its doors to the general public, utilizing a brand-new reservation system along with incorporating a slew of other safety precautions (which take a page right out of the new playbooks of Universal CityWalk, Disney Springs, and Universal Orlando's parks). Orlando Informer was there for the momentous occasion, documenting all the changes that we could find in the current coronavirus world.
Here's what we saw.
How do I enter SeaWorld Orlando?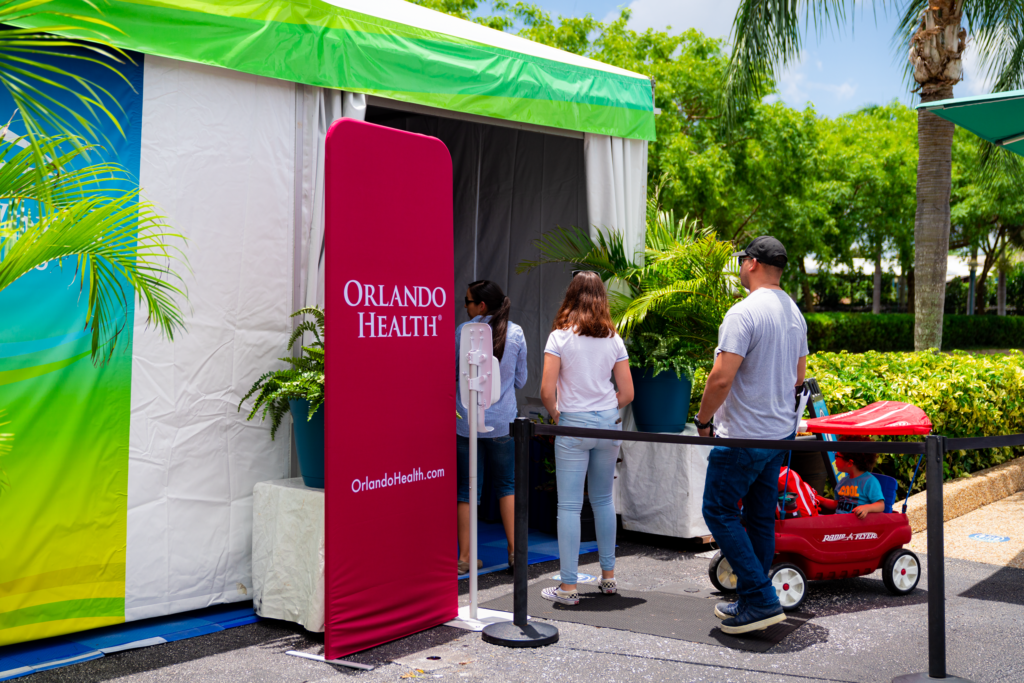 Before you can even set foot in the theme park, you'll notice the new, post-COVID-19 changes, and they actually start in your home.
For starters, SeaWorld has set up a new reservation system to help enforce the new capacity limits – not only do you need a ticket to be allowed inside, you'll also need a reservation for that day, as well. Head over to the company's site, select the date you're interested in attending, and then punch in your ticket (or annual pass) number. Once complete, you'll need to bring your email confirmation along with you – and whatever ticket type you have – to the park. (A certain number of attendance spots have been set aside for passholders.)
Once parked, you'll need to wear your mask (so will any kids with you that are two years of age and older) and head over to the temperature check, which is set up in a large, air-conditioned tent in between the parking lot and the park's entrance. It's exactly the same procedure here as over at Universal Orlando and Walt Disney World Resorts, with contactless thermometers and a temperature requirement of 100.3 degrees or under to be admitted entry. (Also similar to the other theme-park companies is what happens if you don't pass the temp check on your first attempt: you'll be escorted to a secondary position to try again. [If you still don't make it, SeaWorld will work with you to reschedule your visit to another date.])
(Did you forget your face covering at home? Not a problem. A complimentary disposable mask will be provided to you at the temp tent, and you can purchase premium ones throughout the park.)
There's just one last item to go over before we cross through SeaWorld Orlando's front gate. Please make note of the park's new hours of operation, as they're truncated in both time (generally speaking, 10:00 am to 6:00 pm) and days (after today, SeaWorld will be closed every Tuesday and Thursday for the foreseeable future).
What's different inside the park?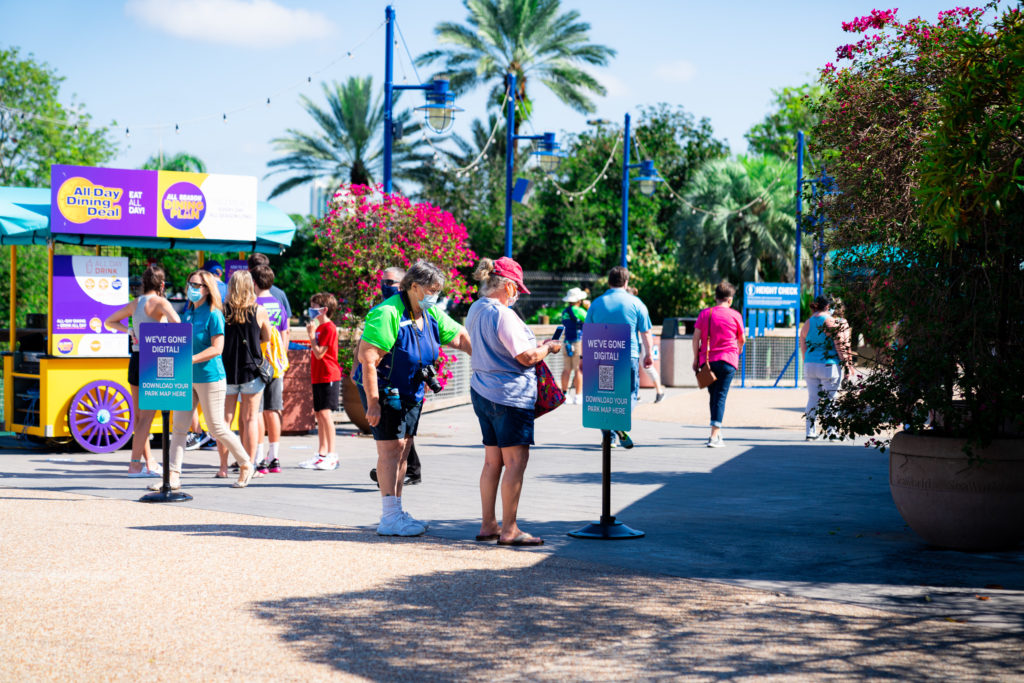 Right upon entering SeaWorld Orlando, you'll notice two of the very first COVID-19 changes: hand-sanitizer stations and no more physical park maps at all. Instead, you'll find a sign with a QR code to scan, which will deliver you to a digital version of the map – a change from how Universal conducts its topographical business at its resort, where a team member will individually hand out a park guide to all those who just don't want to use their smart phones.
Then there are the restrooms. At Universal Orlando, there are signs warning visitors that the bathrooms will be periodically closed for "enhanced cleaning," and even when they are open, every other sink is blocked off to help promote social distancing. In all our travels around SeaWorld, we didn't spot such precautions once.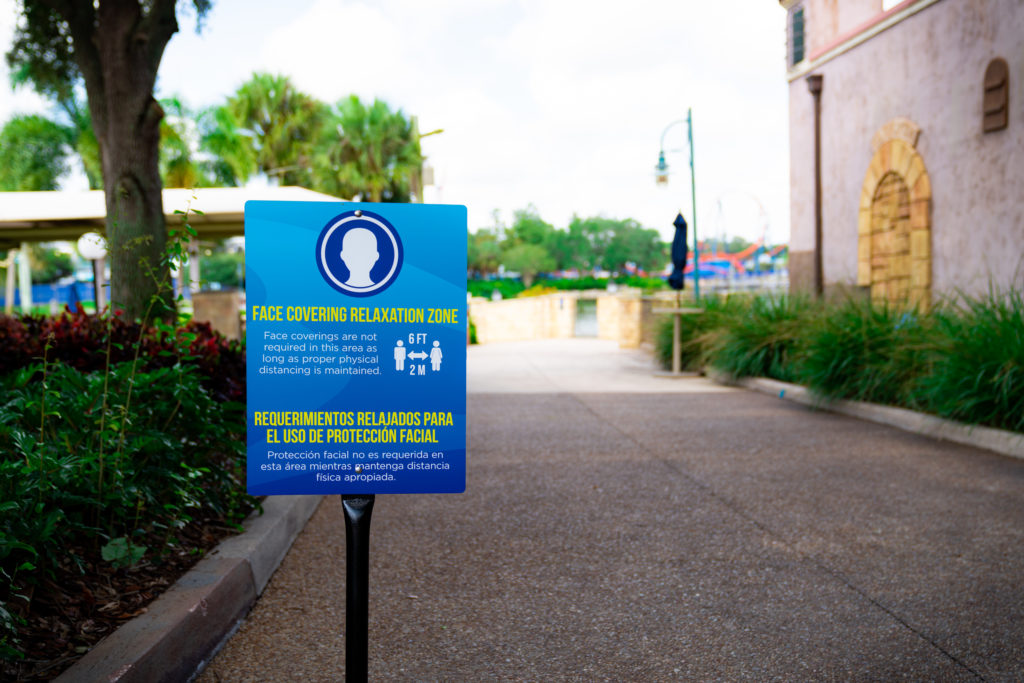 One item in which SeaWorld and Universal do have more in common is the locations' new "rest areas," where guests are allowed to remove their masks and, well, relax for a bit. At SeaWorld, however, they're called Face Covering Relaxation Zones, there are only two of them (near Antarctica: Empire of the Penguin and Mako), and one doesn't feature any benches to sit on – you'll have to do your mask-less relaxation while standing.
Let's move on over to Shamu Stadium, where we caught a show. Certain sections of seating have been closed, with the open sections featuring blocked-off rows and social-distancing markers on the benches. Some of the walkways were made into one-ways only, and then, once the performance is over, employees come out to dismiss one section at a time.
At Shamu Stadium, sections and rows are blocked to promote social distancing. pic.twitter.com/j5Uzz26TXA

— Orlando Informer (@OrlandoInformer) June 11, 2020
And, finally, here are a couple of bits and pieces to quickly touch upon: travel parties are boarded together on rides, with seats and/or rows spaced between them; as previously mentioned by the company, certain animal exhibits have been rejiggered in order to accommodate social distancing; cash is still accepted at the park, but contactless payment methods are strongly preferred; there are no drink refills with souvenir cups; and popcorn comes in a normal bag, which can be poured into your bucket.
I'd like more theme-park COVID info, please!
Sure! We'd be happy to help.
Here are the articles that we've been consistently maintaining during the ongoing coronavirus outbreak:
Walt Disney World, Universal Orlando, SeaWorld, and LEGOLAND first shut down
The theme-park resorts start to open back up
How to visit CityWalk during COVID-19
How to visit Disney Springs during COVID-19
How to visit Universal Orlando's parks during COVID-19
How to visit Universal Orlando's hotels during COVID-19
How the Shanghai Disney reopening could influence its Stateside counterparts
–
Have questions about the reopening of SeaWorld Orlando? Ask 100,000+ other Universal die-hards in our Orlando Informer Community on Facebook.
And be sure to follow Orlando Informer on Facebook, Twitter, and Instagram for the latest news and tips at Universal Orlando, Walt Disney World, and other Orlando destinations.