This morning on its first quarter 2017 earnings call, SeaWorld Entertainment delivered some bad news for the present but an extremely exciting and optimistic view for both the near- and distant future – a future that just may see it going toe-to-toe with the likes of Disney and Universal in what is shaping up to be the most important geographical area of the themed industry, China.
Let's tackle that bad news first. The company started by outlining how its attendance dropped by 15% over the first three months of the year, with explanations why including the closing of SeaWorld San Diego's orca show and the timing of this year's Easter holiday. Revenue, also, was down, with a net loss of $61 million.
But April is already proving to be something of a boon, with traffic being flat compared to a year ago – meaning that guest visitations are already starting to increase for the year, even though last month saw no major attraction openings in all but one of SeaWorld Entertainment's 12 parks across the country. And with the likes of Kraken Unleashed and the new Pop bubble show set to shortly debut, the company expects attendance to continue to climb during the all-crucial second and third quarters.
Beyond this summer, however, is where things start to really get interesting. A meticulously-designed plan is already well underway to reach profitability and to expand SeaWorld's soon-to-be worldwide theme park empire. Here are its five key initiatives: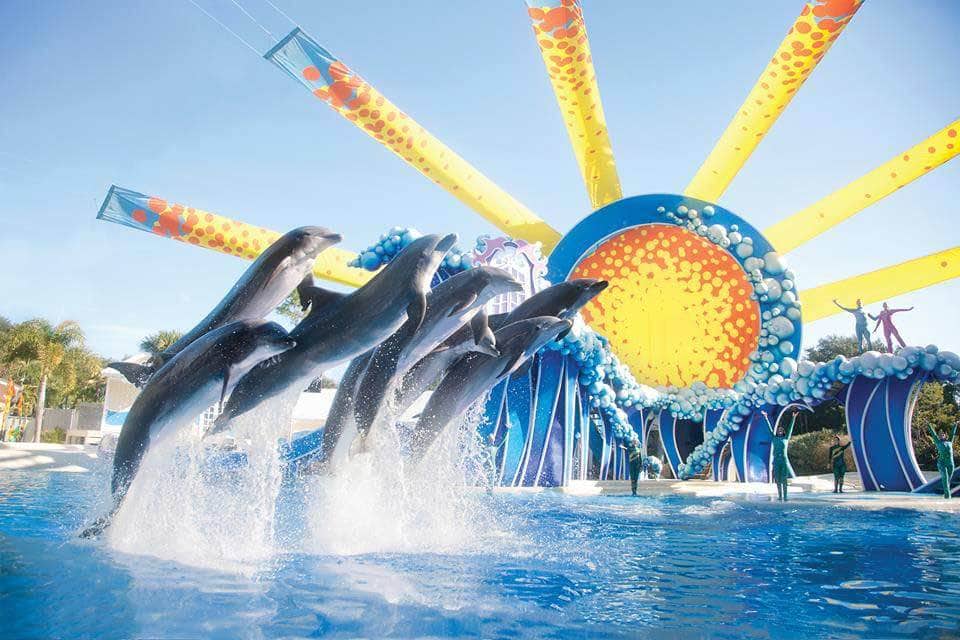 1. Value pricing – for 40 years, company executives said, SeaWorld attempted to price its tickets competitively with both Disney and Universal. This is now changing, thanks in part to the fact that it isn't pursuing the type of huge, multi-million-dollar projects (such as Pandora: The World of Avatar and Volcano Bay) that its competitors down the street are currently engaged in – by not spending so heavily, it doesn't have to try and recoup that money as aggressively.
2. Increasing per-guest spending – SeaWorld Orlando and its attached parks in Central Florida may not receive the same level of attendance as its competitors, but if it can coax its visitors to spend more on food and merchandise, its profits will still soar. This is precisely the reason why the Seven Seas Food Festival was brought to Orlando for the very first time this year – and why it also got extended.
3. Having its attractions do more with less – by spending less on its new rides and shows (such as installing more virtual reality experiences), the company can not only keep its ticket prices low while still attracting more crowds, it can also keep its development and construction times low. As of right now, SeaWorld takes about a year-and-a-half to install a new ride – just half of what it claims is the industry average. (It also wants to open these new rides earlier in the year, much like how Universal debuted Race through New York Starring Jimmy Fallon a month ago.)
4. More international parks, especially in China – at the tail end of last year, SeaWorld Abu Dhabi (the first overseas SeaWorld ever) was unexpectedly announced. This should be seen as the tip of the iceberg, it was revealed this morning, with both the Middle East and China representing huge markets that have yet to be fully developed by the theme park operators. It might not be another five to seven years before we see SeaWorld Beijing open, but don't be surprised if work gets started soon – especially with 21% of the company now being owned by the Chinese Zhonghong Group.
5. On-site hotels in Central Florida – although a program that is very much on the back burner for the time being (it was revealed that only two employees are working full-time on the project), SeaWorld is still seriously eying its long-term future, once it's managed to claw itself back to profitability and has established an international footing. It owns enough land in Orlando to build five on-site hotels, it revealed this morning, and is excited to do precisely that as soon as it can.
SeaWorld Entertainment's interest in aggressively pursuing the Asian market is, arguably, the single most interesting point of the earnings call this morning; while it will face a great deal of competition in the region, particularly in China (where Shanghai Disneyland is already operational, and where Universal Studios Beijing is currently being built), the company also mentioned the possibility of opening water and "interactive" parks alongside the traditional SeaWorld theme parks. If this works out anywhere near as well as SeaWorld obviously hopes it will, and if cascades of cash do, indeed, come pouring back home to its headquarters in Orlando, then don't be surprised to see SeaWorld engage in a multi-year expansion plan not unlike the one that Universal and new parent company Comcast have been in the midst of for the past five years.
Could SeaWorld Orlando's Diagon Alley be right around the corner? As both theme park and Central Florida devotees, we can only hope so.
–
Be sure to follow Orlando Informer on Facebook, Twitter, and Instagram for the latest news, tips, and rumors at Universal Orlando, Walt Disney World, and other Orlando attractions.