Preview this Page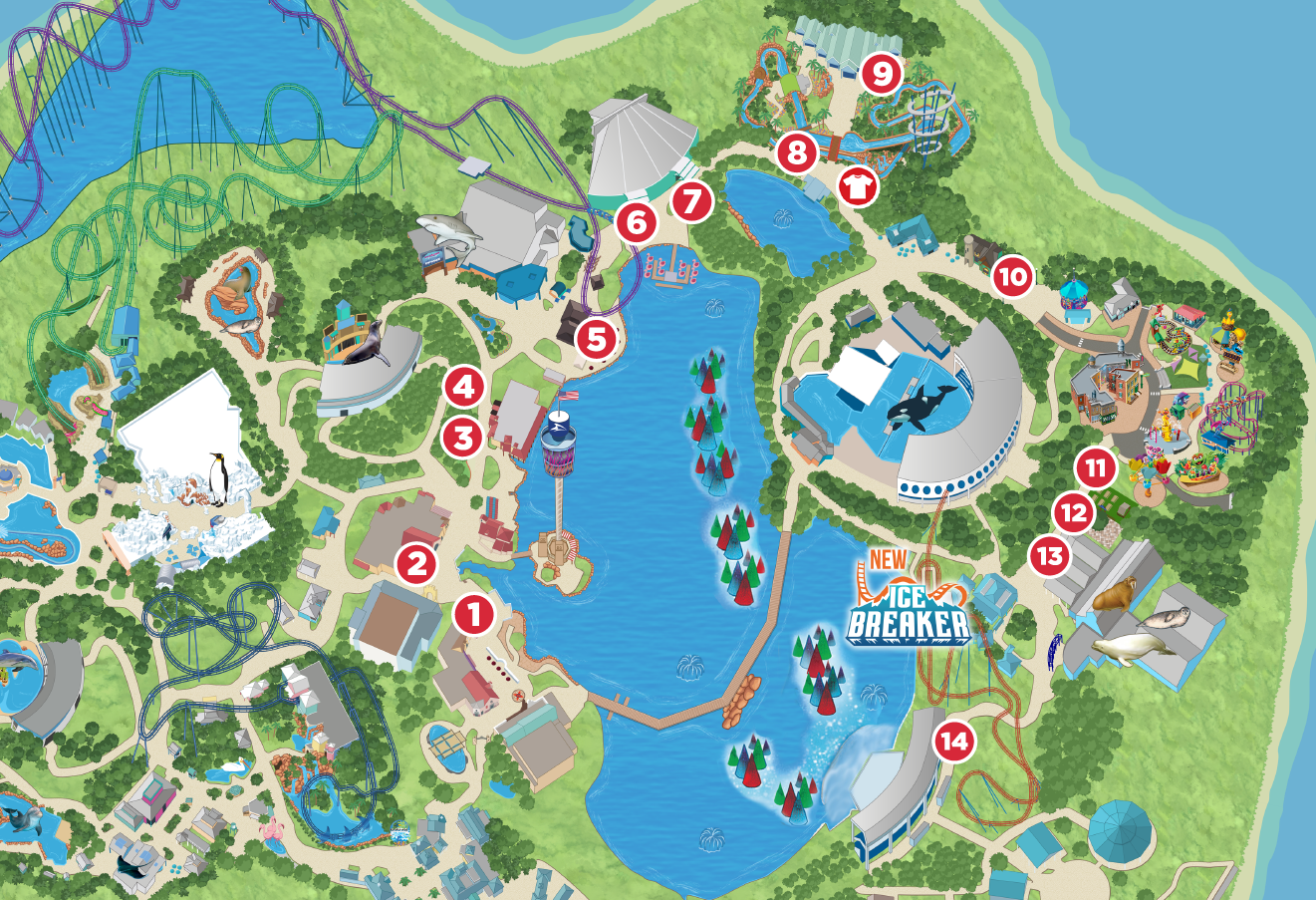 Holiday celebrations are in full swing at SeaWorld Orlando, and there is a flurry of things to do to get in this yule's spirit. From ice skating shows to character meet-and-greets, there is something for everyone! We can all agree that walking around a theme park all day and participating in festive fun can make your stomach rumble. At this year's SeaWorld's Christmas Celebration, 14 booths offer a variety of sweets and savory treats for guests to feast upon. My husband and I decided to take on the challenge of sampling much of what is available to give you our honest review.
Christmas Celebration Tasting and Brew Sampler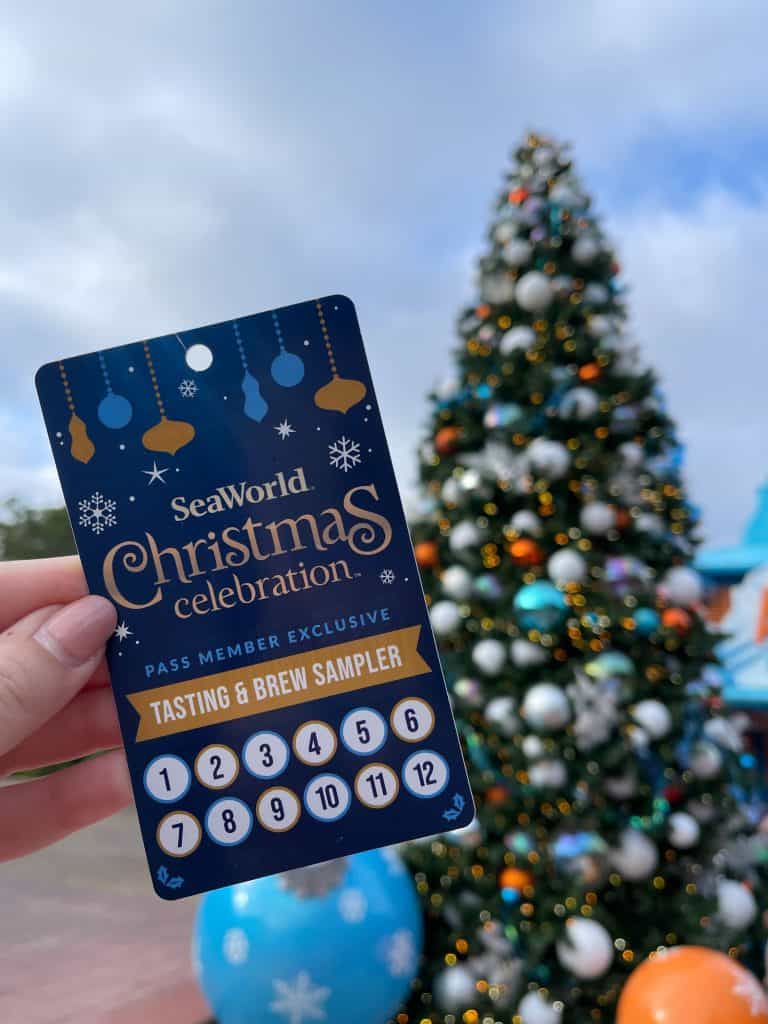 To access our full snack potential, we purchased a Christmas Celebration Tasting and Brew Sampler at one of the booths to save while trying various bites around SeaWorld Orlando. Day guests can purchase either a five-sample lanyard for $40 or a ten-sample lanyard for $55 at any of the fourteen booths available. We purchased a passholder exclusive lanyard for $55 before taxes, which included 12 tasting samples. With dishes coming out to an average of approximately $10 a plate – you can't beat this deal.
You can also reduce the cost of your visit by purchasing discounted admission to SeaWorld Orlando through Orlando Informer and have more to spend on gifts under the tree.
Waffle Wonderland
Monte Cristo Waffle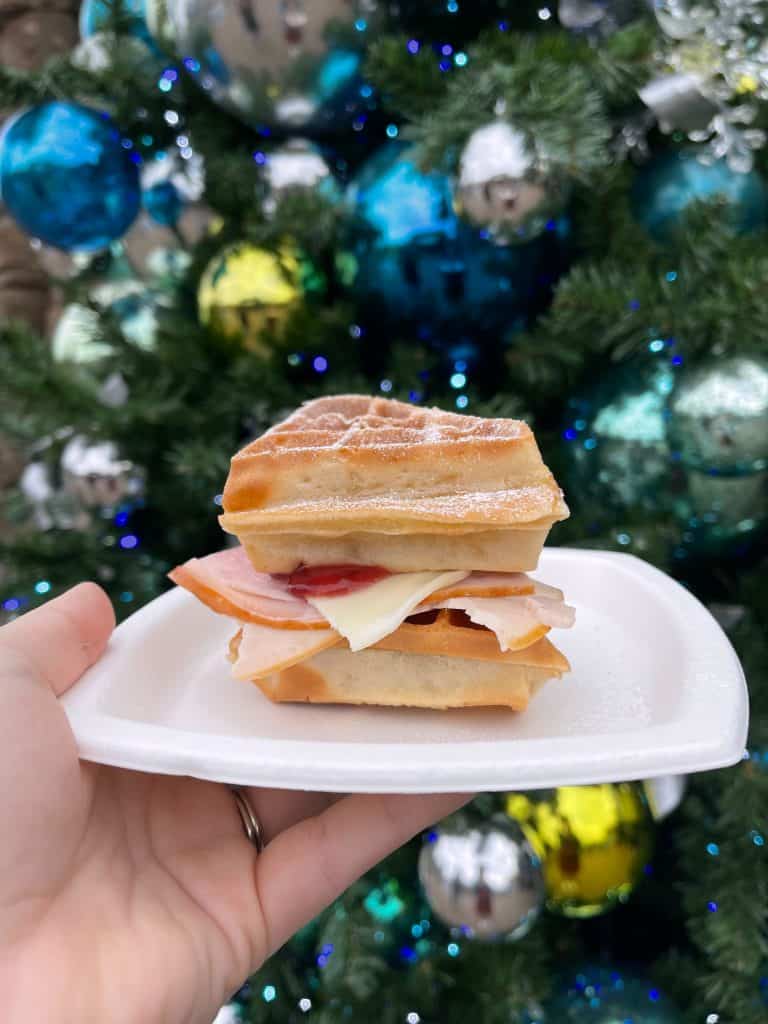 With ham, turkey, swiss cheese, and cranberry glaze on top of a Belgian waffle, this sandwich perfectly combines holiday flavors. This dish was stacked high, so we removed the top waffle and opted for an open-faced effect, making it easier to sink our teeth into.
Jolly Strips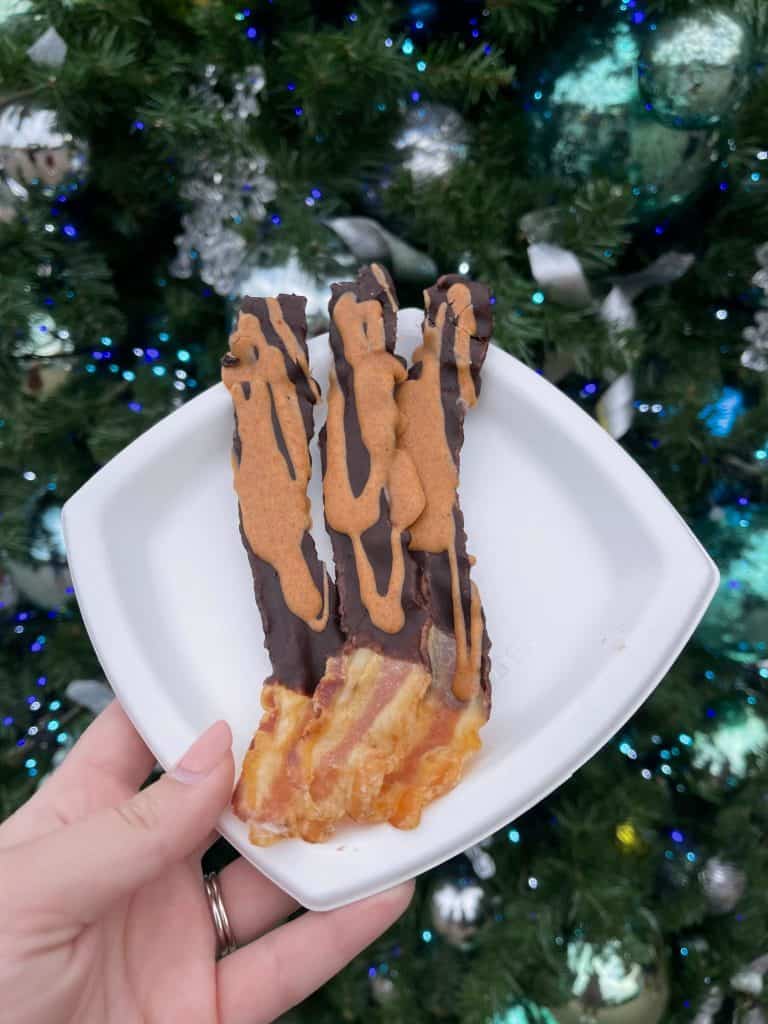 We braved this savory-sweet treat and were delightfully surprised to enjoy this adventurous plate. The maple flavor from the bacon and the chocolate coating paired well to disguise any "meaty" taste. The flavoring experience ended in a finale of spice, which shocked the taste buds in the best way. While this may not be my go-to theme park snack, it was a great opportunity to try something new!
Seasons Eatings
All Grown Up Birria Grilled Cheese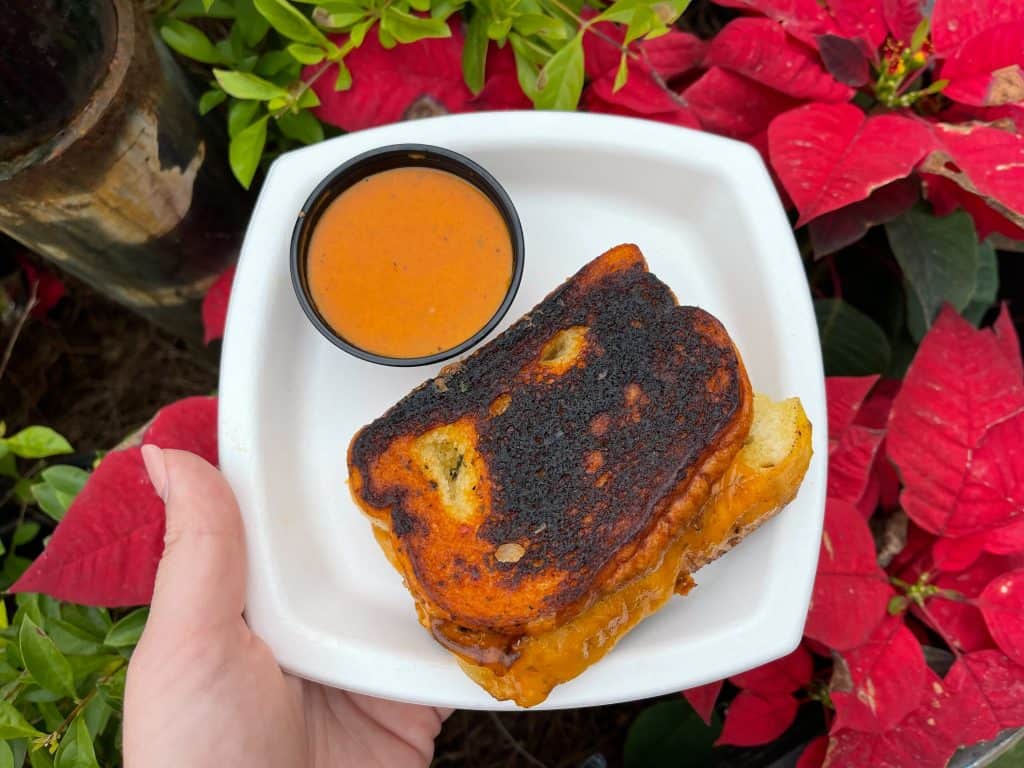 With its simple and nostalgic concept, this grilled cheese paired with a tomato dipping soup feeds the soul just as much as your stomach. Sharp cheddar and smoked cheddar cheeses sandwiched between two slices of Texas toast made this plate toothsome and something we would order again and again.
Harvest Mac & Cheese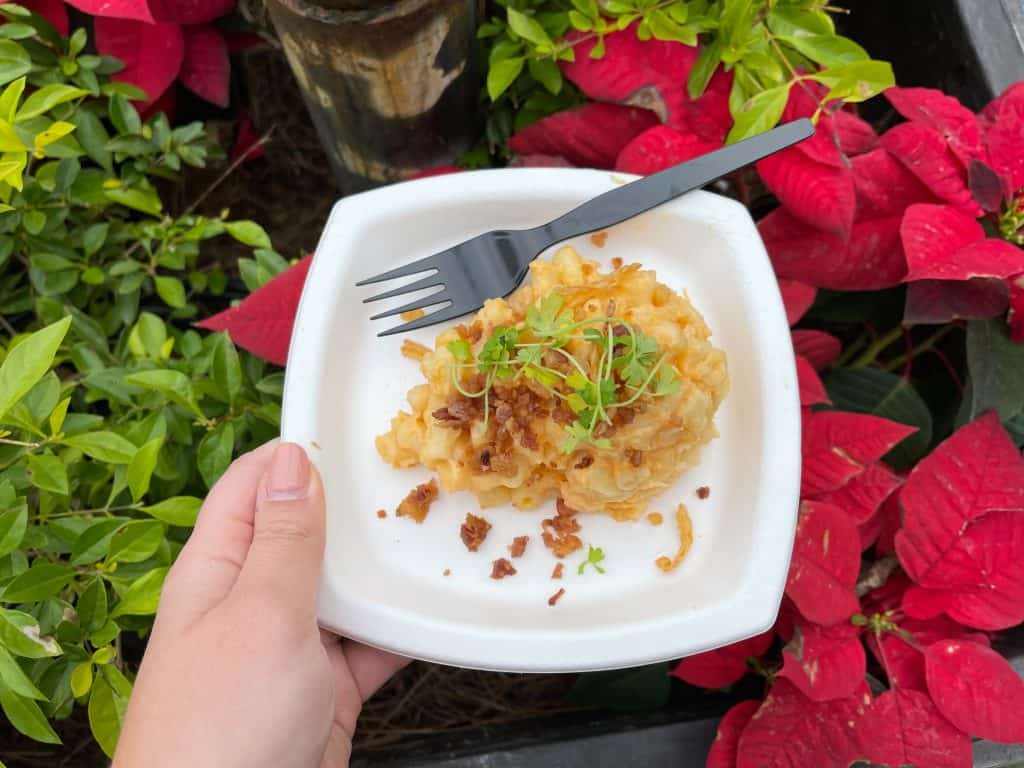 The Harvest Mac & Cheese is reminiscent of mom's baked macaroni and cheese. It transports your taste buds to a simpler time, all while standing in a theme park.
The Season's Eatings booth at SeaWorld's Christmas Celebration was hands-down one of our favorites due to its home-cooked feel and portion size. We also believe this kiosk would be kid-approved as grilled cheese and macaroni and cheese is a staple on many children's menus.
Christmas Comforts
The Main Event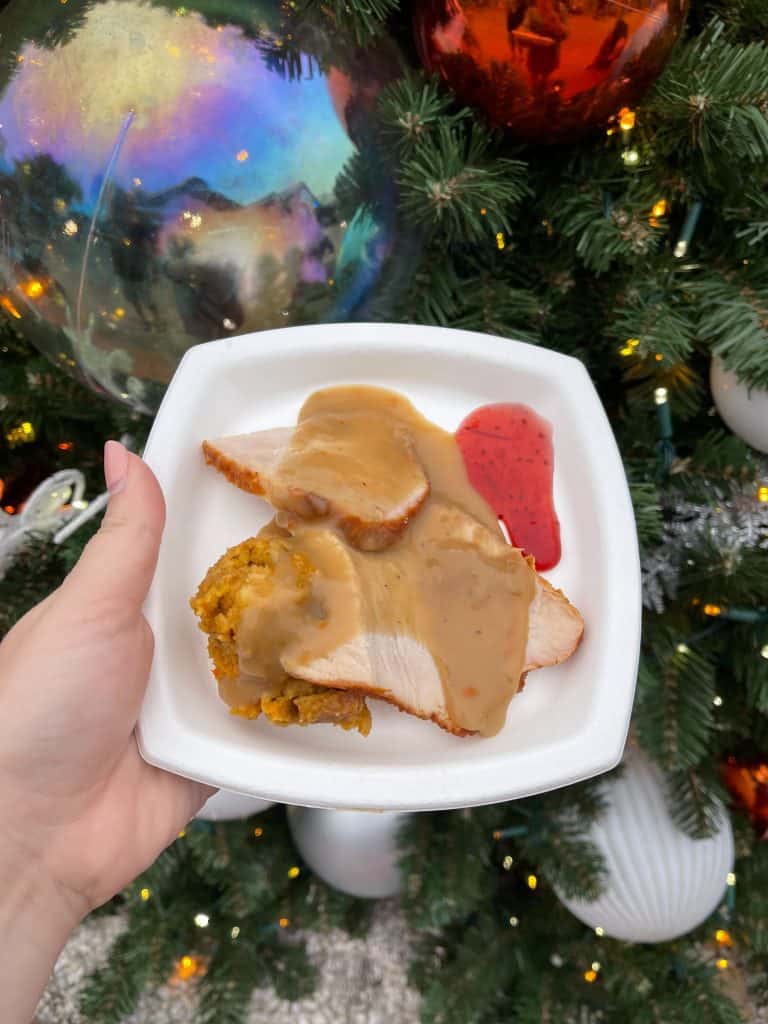 We decided to have an early Christmas dinner while observing Ice Breaker's reverse launch. While an untraditional way to enjoy this feast, the taste of fried turkey breast, andouille sausage stuffing, cranberries, and brown gravy is a close rendition of this tradition should you have a hankering for a holiday meal while walking around SeaWorld Orlando.
Donut Open till Christmas featuring Shaka Donuts
Santa's Sweet & Savory Treat: Doughnut Chicken Sandwich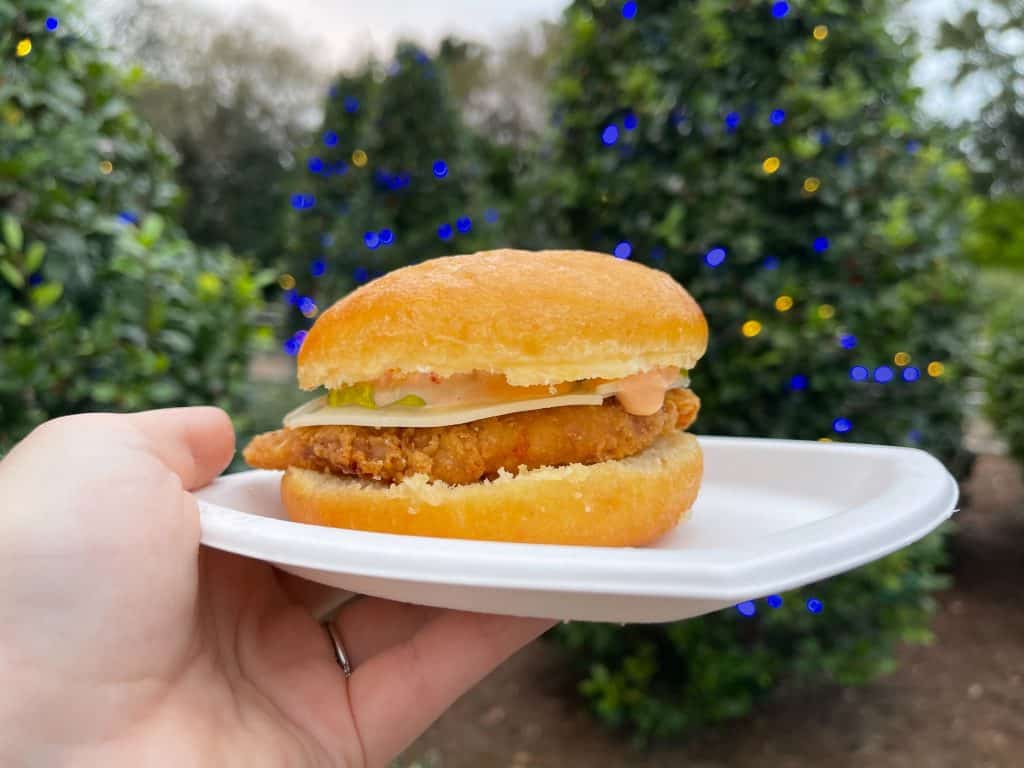 Hear me out – this was fantastic. In a similar thought process to the aforementioned Jolly Strips, sweet and savory combined together for a unique take on a favorite southern treat. The taste was evocative of popular dining establishments while maintaining its Orlando locality with the use of a Shaka Donut as bookends to this plate.
Happy Holiday Doughnut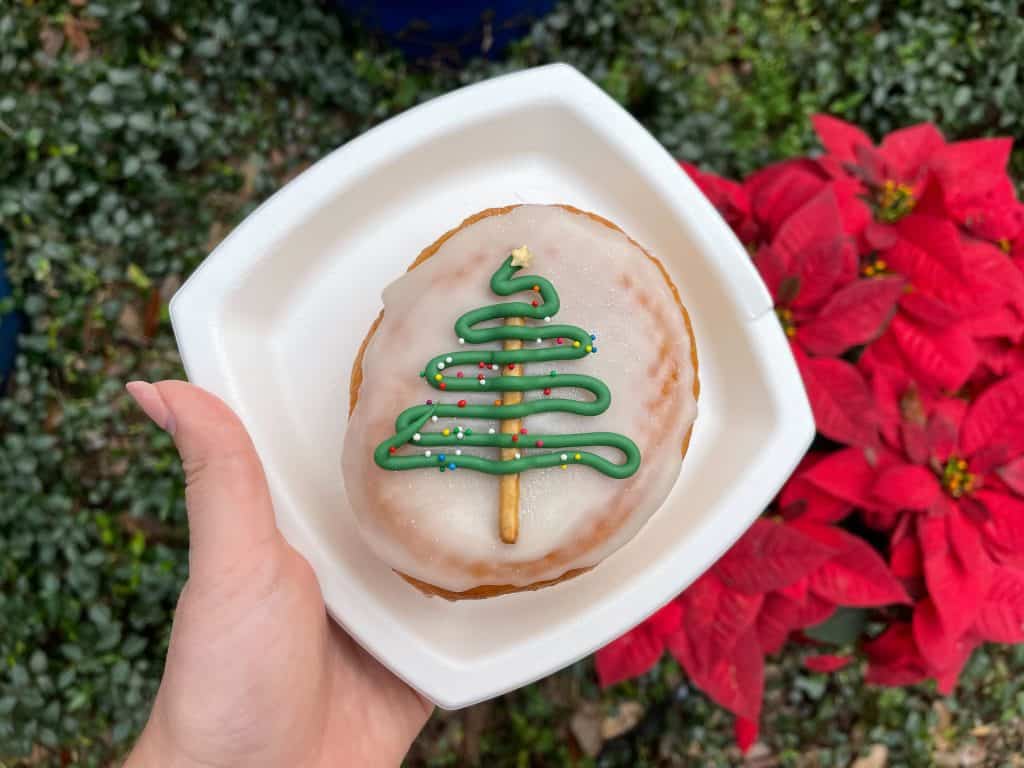 This donut is pretty enough for the 'gram and delicious enough to eat! The adorable Christmas tree design tasted like white chocolate on top of a pretzel stick and made for the cutest design. This cream-filled donut utilized the yuletide traditional flavor of hot cocoa in the buttercream filling to ensure the inside was as festive as the outside.
While we raved about Season's Eatings, Donut Open till Christmas featuring Shaka Donuts comes in a very close second in our ranking of favorite stops.
Festin Feliz
Beef on Weck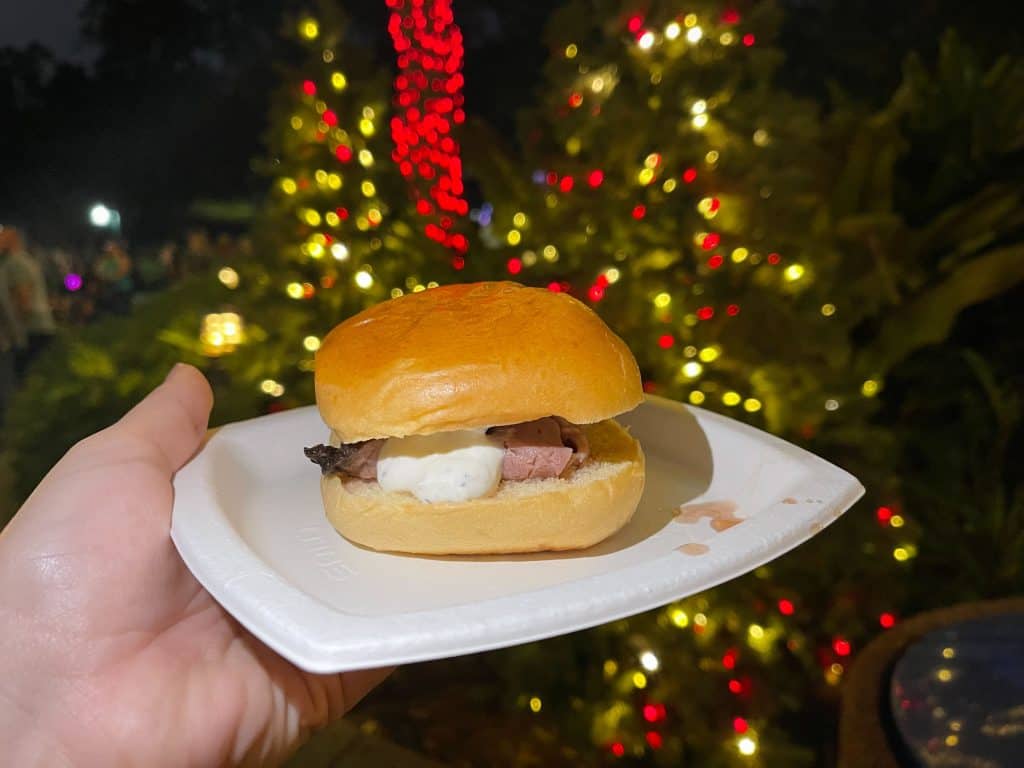 There was no shortage of handhelds at SeaWorld Orlando's Christmas Celebration booths this year. Most can be enjoyed while walking from one attraction to the next, but with the au jus on this prime rib sandwich, we recommend staying in one place for full enjoyment. The Beef on Weck was delicious and filling, competing for the top spot for my favorite festive hoagie at SeaWorld Orlando.
Treat Yo Elf
Christmas Bread Pudding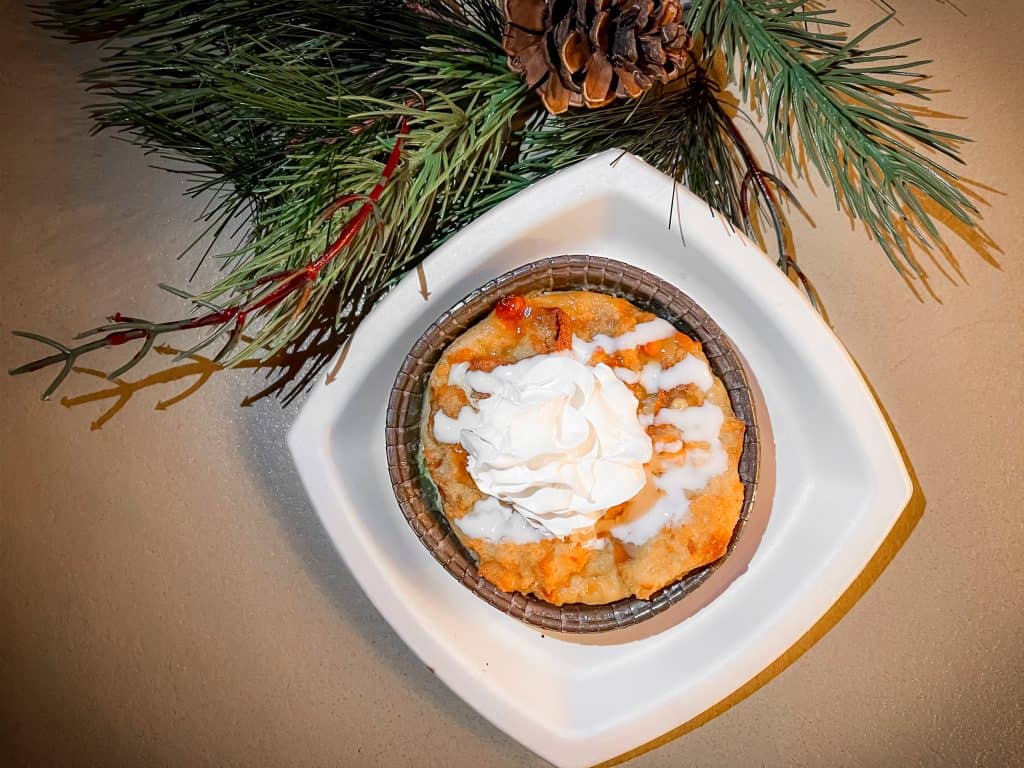 As the holiday season is known for endless amounts of indulgent treats, let's take a look at the sweeter offerings at SeaWorld Orlando. One of my husband's favorite desserts is bread pudding, which he was delighted to see on the menu at Treat Yo Elf. The Christmas Bread Pudding was a hearty portion size and topped with white chocolate, raspberry sauce, and whipped cream. As a self-proclaimed bread pudding connoisseur, my husband rated this plate five stars.
Rosey Cheeks Cheesecake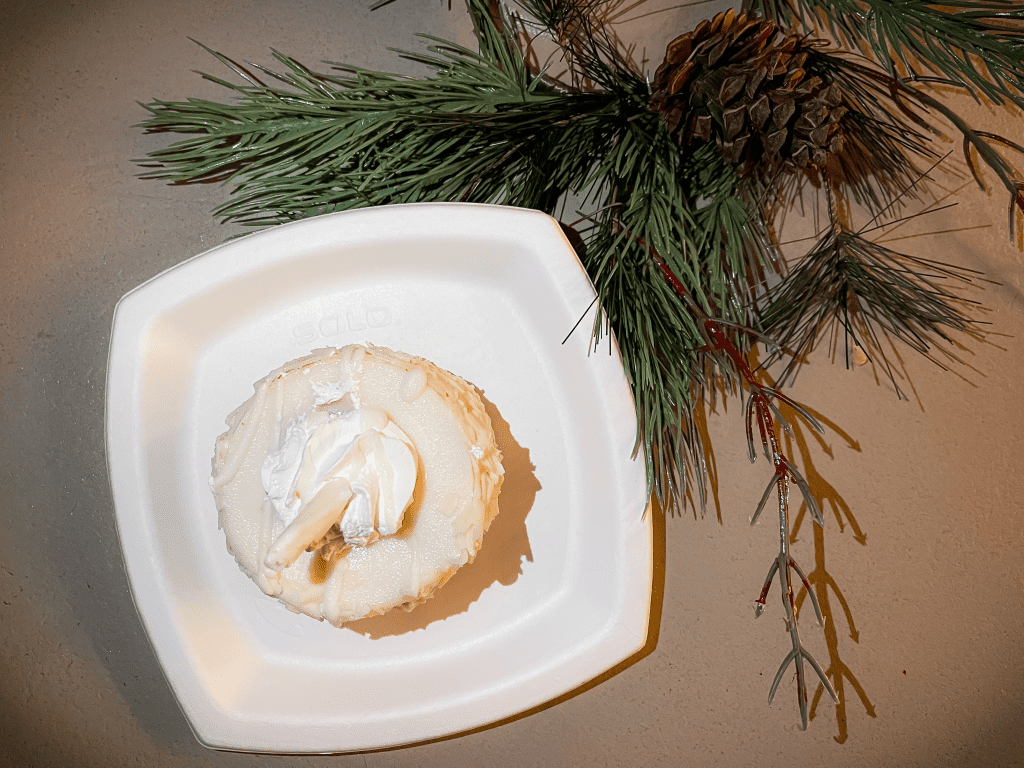 My personal favorite guilty pleasure sweet is cheesecake, which is why I gravitated toward the Rosy Cheeks Cheesecake. Much like the Christmas Bread Pudding from this stand, this cheesecake was served in a large portion size. The traditional flavor of cheesecake was evenly combined with raspberry filling and made for a mouthwatering dessert.
Tis the Season Beignets
Turtle Trek Beignets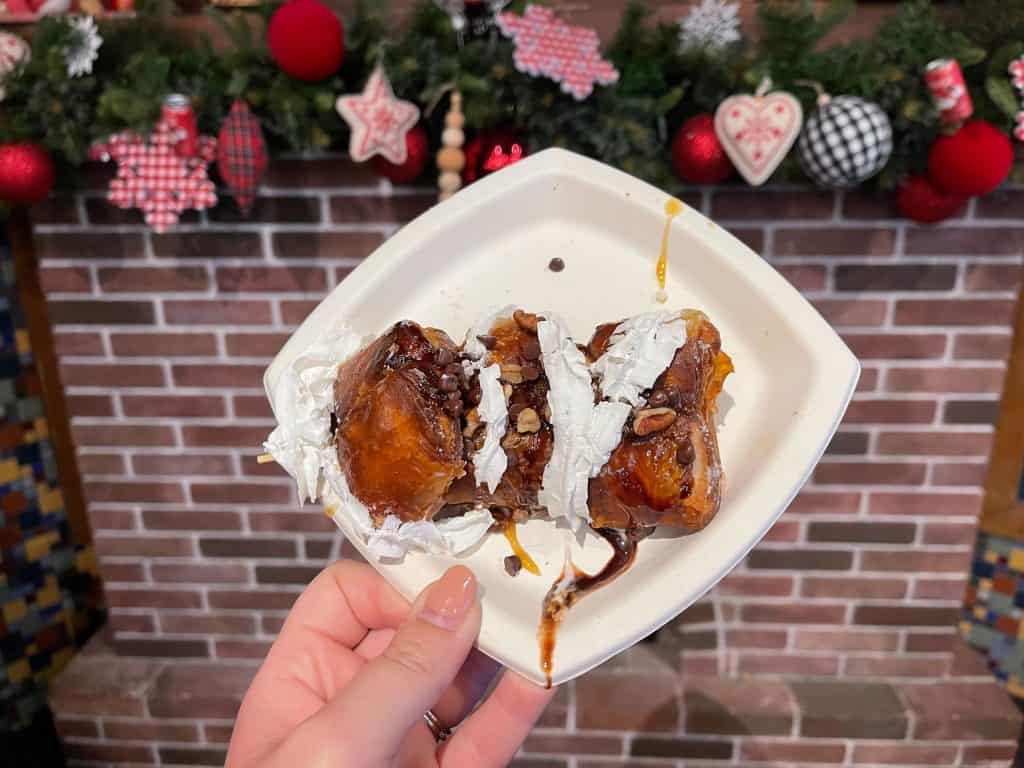 The Turtle Trek Beignets combine caramel, chocolate chips, pecans, and whipped cream together to add another delicacy on our list. While you may want to keep this one away from the younger ones in your party due to mess potential, it was fantastic to feast on with a fork.
Holly Jolly Cookies & Cocoa
Fresh Baked Deep-Dish Cookie – S'mores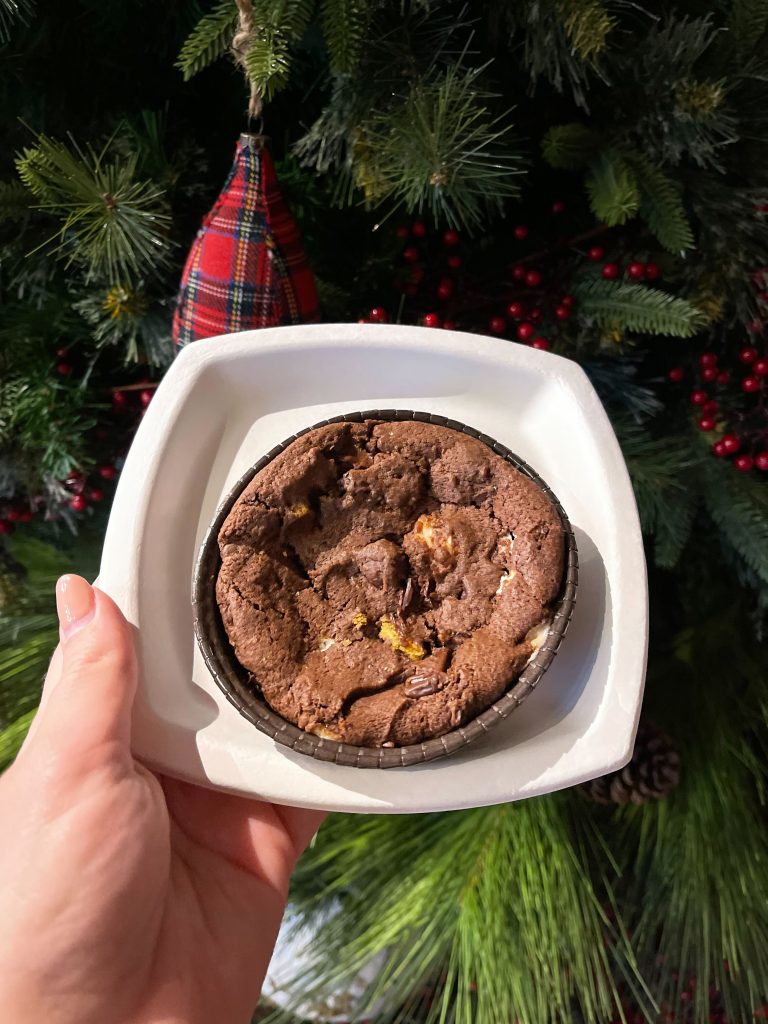 It'll be hard to keep this cookie away from Santa! Cookies are available at many of the booths this year, as it is a traditional treat for jolly ol' St. Nick on Christmas Eve. We nibbled on a s'mores cookie that had a delicious marshmallow and caramel center. Once again, the portion size was fairly large and is perfect for couples to split!
Specialty Peppermint Flavored Hot Cocoa with Make Any Drink Jolly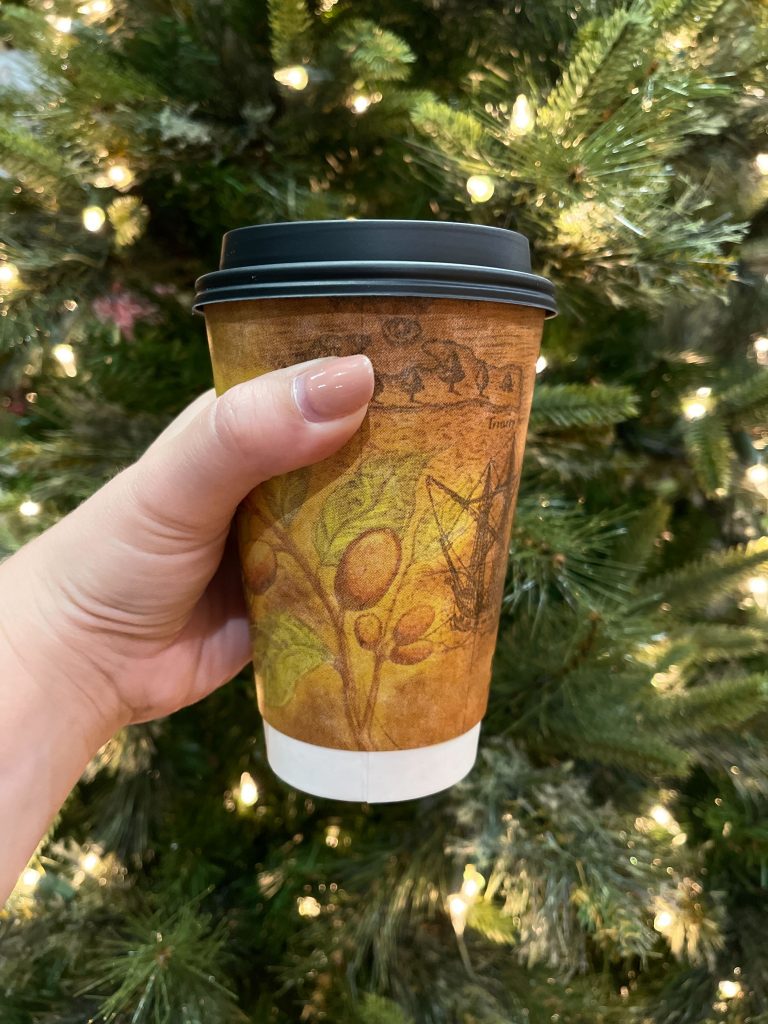 Before finishing our day by visiting the penguins in Antarctica: Empire of the Penguin, I wanted to make sure to have a hot cup of cocoa in my hands to keep warm in this icy exhibit. I decided to responsibly participate in "making spirits bright" by adding Bailey's Irish Cream to unwind after a long day of exploring the park. It was the perfect drink to sip on while observing my favorite SeaWorld display filled with magnificent creatures.
The food at SeaWorld Orlando's Christmas Celebration is just the tip of the iceberg when it comes to their seasonal offerings. Check out all the holiday happenings in our guide page here and head over to SeaWorld Orlando with discounted admission from Orlando Informer! You can also discuss vacation planning with our SeaWorld Community on Facebook!