When it comes to beating the heat, there's no better method than a creamy, frozen snack served via cup, bowl, or cone. Especially when you find yourself in Orlando, FL, where there are at least a dozen treat shops within a stone's throw from wherever you are. While it's hard to go wrong with wherever you choose, one establishment stands out in the ice cream ocean and deserves your attention – Salt and Straw Creamery in Disney Springs. Located in Disney Springs West Side, it can be found just near AMC Theaters, Splitsville Luxury Lanes, and Everglazed Donuts & Cold Brew. For those who don't know, it fills in the vacancy left by the Something Silver store and, if I may humbly state, it does so quite nicely.
It has garnered a massive following for a location that's only been open since April of 2022. It's not uncommon for a line to be wrapped around the outside of their entrance, which isn't surprising. Their take on ice cream is interesting, and I'm a big fan of their brand philosophy, but I'm getting ahead of myself. First, let's get to know their backstory and who they are.
Salt & Straw: Backstory and Mission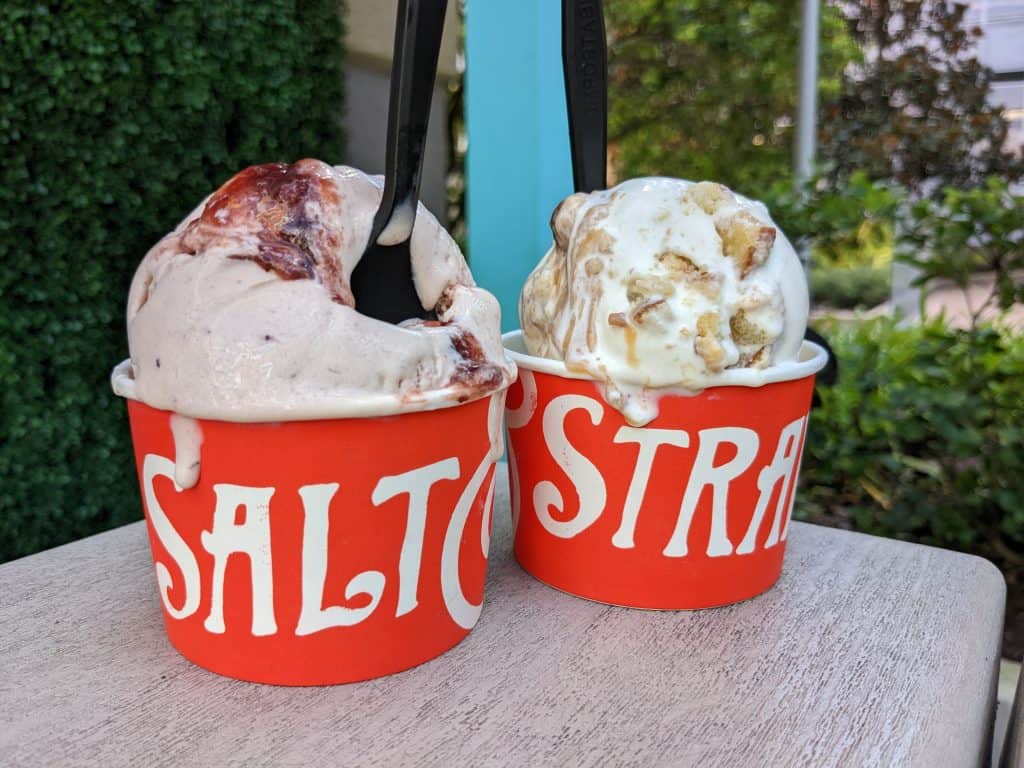 Salt & Straw is the epitome of that self-started entrepreneur success story. Back in 2011, cousins Kim and Tyler Malek opened Salt & Straw after being inspired by their hometown, Portland, Oregon's strong sense of community. Wishing for someplace that represented that feeling, they landed on what I'd say is the best format – an ice cream shop! In the beginning, their business was a small ice cream cart. After prevailing through the rainstorms of their opening Summer, they evolved Salt & Straw to its intended brick-and-mortar format. Over the years thereafter, they flourished into multiple locations across seven cities. 
As "community" is at the heart of their brand, Salt & Straw supports the ones they launch in and is openly inclusive by nature. The conversations go deeper on their site, but some instances are partnerships with social programs. For example, The Women's Justice Project in Oregon and their consideration of purchasing their supplies locally. In this way, Salt & Straw sets a standard with actions that further the "good" feeling you get while enjoying their delectable treats. 
Salt & Straw: Their Process
Put simply – Salt & Straw is about taking the traditional ice cream flavoring process and improving upon it through their love for the stuff. While other companies lean into the roads of indulgence, Salt & Straw can be considered as the epicurean route. Their menu includes items for those who love the ice cream parlor classics, like their Double Fold Vanilla and Flaked Mint Chocolate Chip, but what allows Salt & Straw to stand out is their experimentation with odder ingredients, like fruits and herbs. If this raises an eyebrow or two for you, you're not alone. You can, however, rest assured that these pairings not only lend themselves to the ice cream, but also speak of the region and the specific location of that scoop. This creates a whole, more unique culinary experience that you can only get from visiting that store.
When it comes to conceptualizing new flavors and pairings, Tyler Malek is the "compass palette" for Salt & Straw. When he opened the creamery with Kim, he took what he knew of beer-making at that time, partnered up with local brewers, and applied that combined knowledge to their opening-day menu and future products. The influence of this strategy can be seen at many levels within their operation: there's the culinary aspect. Whenever they want to create a new flavor, Tyler and Kim look to experts on the ingredients they wish to incorporate. They learn how to cultivate each one's specific flavor traits that let the final product truly shine. As the "farm-to-table" format is the expectation these days, Salt & Straw teams up with local producers for each store's ingredients. This allows every location to stand out in its own way.
Of course, we wouldn't talk about their process without addressing the resulting ice cream! In the overall sense, Salt & Straw's cream has a richer personality due to the exceptional amount of butterfat in their base recipe. For the sake of clarity – to be considered as such, each scoop of "ice cream" must consist of at least 10% butterfat, the naturally occurring fat in milk that results in the treat's defining texture. With that in mind, each scoop in a cone or cup from any Salt & Straw shop contains 17% butterfat. This provides a texture akin to a "creamy, soft fluff" rather than simply "frozen milk," which has a pleasing, cloud-like texture, especially as it begins to melt.
The Takeaway
With a menu full of both mainstay and seasonal selections, where does one even start? If, in fact, you are the old-school type who appreciates tradition, I'd suggest their Sea Salt with Caramel Ribbons. For this flavor, they teamed with the world's first selmelier ( which is essentially a "salt sommelier," if you're keeping notes), Mark Bitterman, as it'd be an excellent choice in understanding what Salt & Straw is about. Personally, I say don't be vanilla – go for the experience! So I tried a few of the current flavor samplings and walked away with the best two at that time.
​Salty Donut Guava and Cheese – Florida Exclusive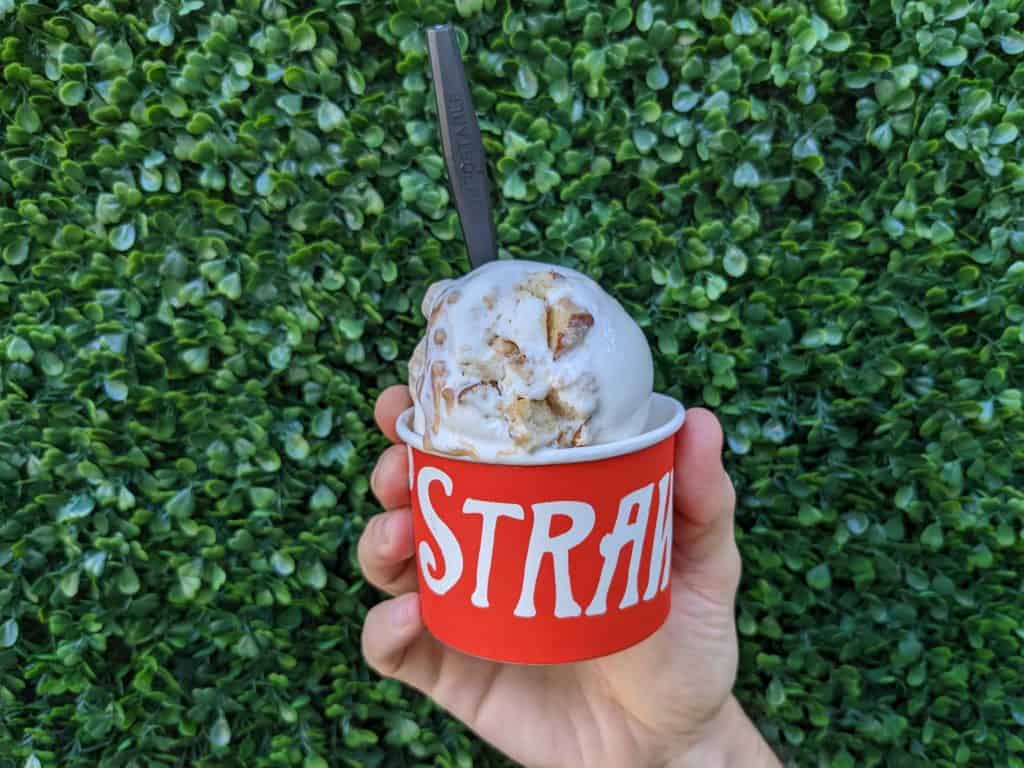 What makes this item unique to Florida as one of its "exclusive" offerings is its partnering with Miami-based 'The Salty Donut.' Picking their favorite flavor from the artisanal donut shop, Guava and Cheese, Salt & Straw began with a cream cheese ice cream base. They then added in Florida guava curd, glazed brioche donuts chunks, and puffed pastry streusel. While its general flavor is simple and sweet, the salty guava in each ice cream scoop rewards its consumer with a dance of warm, citrusy, sweet flavors within the ice cream in a way that transports you to a coastal boardwalk in the Summer. In contrast to its flavor, the texture has a good amount of complexity. The brioche donut and crumbly streusel provide fun, rewarding layers within each chew. Put simply, it's a metaphorical dessert party that evokes the idea of "cake and ice cream done right."
Strawberry Honey Balsamic with Black Pepper – Classic Flavor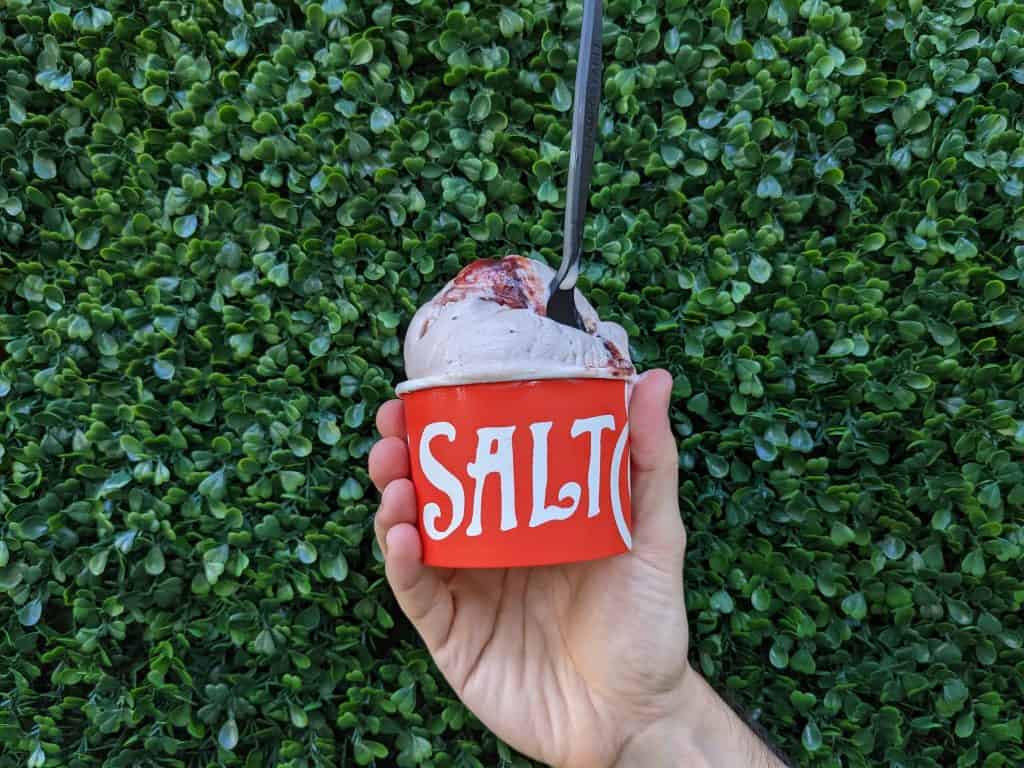 If Guava Donut was all about a complex texture over simple, familiar flavors, this is the flip side to that. Starting with the strawberry ice cream base – it's precisely what comes to mind when you search one out, complete with strawberries. The black pepper is visibly sprinkled across the creamy grooves and adds some spice-play with the balsamic vinegar. The tartness of the vinegar is subtle but still notably present within the sweetness of the ice cream and strawberries, bringing about a coaster of flavors that mingle nicely together. You'd think the flavors would be combative with each other, but they work perfectly together. This over-the-top flavor can be summarized as a childhood favorite enhanced to a grown-up flavor that dares to be different and pushes the concept of what ice cream can truly be.
Being mindful of the prices, I should take a moment to elaborate – I chose a Double Scoop for these flavors, which cost $9.50 plus tax. They also offer Kids' Scoops for $5.75 plus tax and Single Scoops for $6.95 plus tax. The scoop portions were generous, and a Double Scoop could be considered a snack for two or a dessert for one. Guests can also add sprinkles or some flavor variety with Split Scoops which both cost an additional $0.50 plus tax. Whichever you choose, Salt & Straw is certainly a great option.
Be sure to follow Orlando Informer on Facebook, Twitter, and Instagram for the latest news, tips, and more at Universal Orlando, Walt Disney World, and other Orlando attractions.