Update 4/18/17: According to the Orlando Sentinel, new documents have been discovered via the Reedy Creek Improvement District that give us even more information on the rumored gondola system coming to Walt Disney World. The new documents mention that it will indeed link Disney's Hollywood Studios, Epcot, Caribbean Beach Resort, and an area between Pop Century Resort and the Art of Animation hotel, all of which can be seen on our map below. It's also mentioned in these documents that the manufacturer will be a European company called Doppelmayr, and that each car will hold a maximum of 10 people. The gondola project also has a code name, "The Italian Job."
---
Update 3/30/17: More permits have surfaced yet again giving us even more pieces to the puzzle in regards to the rumored gondola system coming to Walt Disney World. These new permits detail six specific locations throughout Walt Disney World, all of which are in close proximity to Pop Century Resort, Disney's Boardwalk and Boardwalk Villas, and Disney's Caribbean Beach Resort. There is also one location that is near Disney's Hollywood Studios's parking lot.
New permit filed today related to "gondola" WDW rumor. Permit for "foundation & building infrastructure" includes 6 locations (see map): pic.twitter.com/n2ynDpq6Bv

— Scott Gustin (@ScottGustin) March 31, 2017
When we looked up these addresses in Google Maps, it was to get a definite location; however, four of the addresses line up in pretty close proximity to our original map drawing, which can be seen below, which could possibly be the four major hubs for the rumored gondola system. The other two addresses could possibly be substations, major intersections or some other sort of building. Our map is the rumored layout of the four main hubs for the gondola system.
We will keep this article updated with any new developments in this story.
---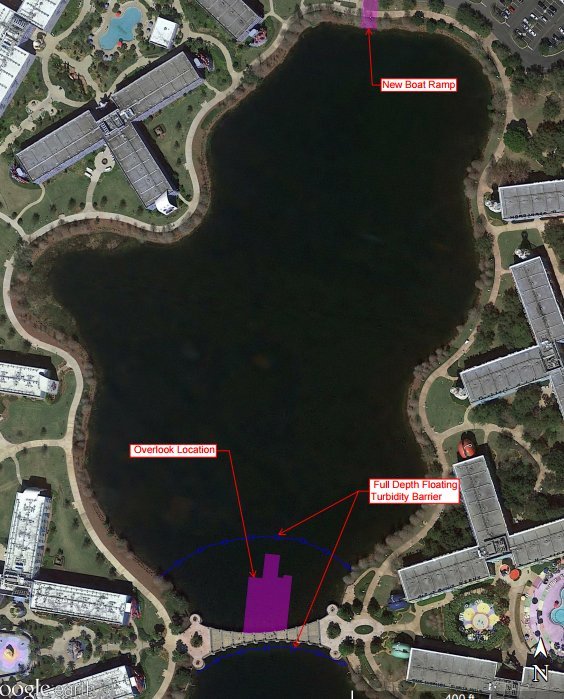 Update 3/9/17: Disney World has filed permits with the South Florida Water Management District for a new overlook located on Hourglass Lake between Disney's Pop Century Resort and Art of Animation Resort. The permits call for a 10,000 square foot building near the bridge that connects the two resorts, and a new boat ramp located at the north end of the lake.
https://www.youtube.com/watch?v=uEXHWxn2dU4
The location of the overlook matches up perfectly with one of the rumored locations of one of the gondola stations, which can be seen in our image below. Also, if the theme park resort was going to build a gondola station, it would make perfect sense to build it between these two resorts for easy access.
Could this new building be the beginning of the rumored gondola system? No one knows for sure. We will have to wait and see once it starts construction.
---
Update 3:04PM: Shortly after publishing, a source familiar with the matter reached out to confirm that a gondola system is indeed coming to Walt Disney World. However, some of the details previously published, including the map circulating, is not entirely accurate. We have updated this article and the map with the latest information from the anonymous tipster.
---
An interesting new rumor has popped up that could be the next big mode of transportation for Walt Disney World. The resort currently hosts a variety of options to get from one point to another within the resort, such as the monorail, boat, and bus, but this new rumor suggests that Walt Disney World could be looking into building a gondola system that would connect Epcot (blue) and Disney's Hollywood Studios (red), along with a few of the surrounding resorts.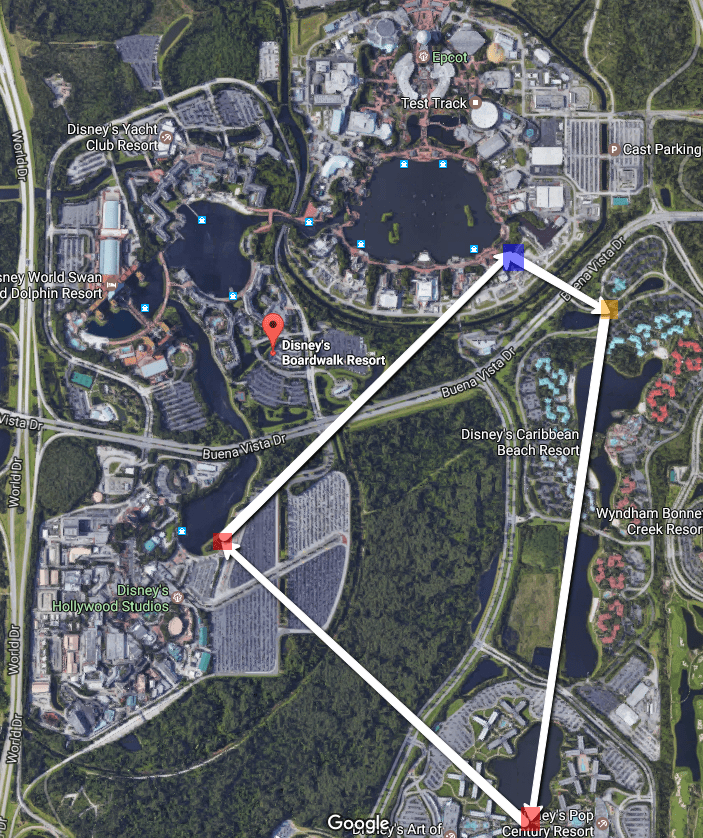 The news that triggered this rumor are some permits filed by Disney that show a variety of structures being built around the area of these two parks and resorts, which can be seen as colored squares in the above image. If the gondola rumor is true, one could only assume that these buildings would house the stations for the gondola system. The two resorts that would also be part of this rumored gondola system would be Disney's Caribbean Beach Resort (orange) and Disney's Art of Animation Resort (red).
If this rumor was to come to fruition and be built, it would certainly help the transportation infrastructure at Walt Disney World and would quite possibly relieve a lot of stress of the ever-aging monorail system. It would also be the right time to build a new transportation system for Hollywood Studios, with all of the new and exciting things happening at the park, including Star Wars Land coming in 2019, which is guaranteed to draw in the masses. This rumored gondola system would provide another method of transportation to that park which is not part of the current monorail system. It has been said that expanding the monorail would not be cost effective, especially since Disney would have to expand to two parks, Disney's Animal Kingdom and Disney's Hollywood Studios. Not to mention all of the on-site resorts they would have to update to accommodate the monorail system.
Of course, this would be a much larger gondola system than the Skyway attraction at Magic Kingdom, which ran from 1971 to 1999. The attraction gave guests a ride from Tomorrowland to Fantasyland.
This is all just rumor and speculation at this point and nothing has been officially announced by Walt Disney World. We will keep you up to date if we hear anything more.
For the latest news, tips, and more at Disney World, Universal, and other Orlando attractions be sure to follow Orlando Informer on Facebook, Twitter, and Instagram.