We all know that theme park prices are rising across the board.  For most people who are vacationing on a budget, that fact necessitates a certain give-and-take in planning out the costs of a trip to Universal Orlando.
Of course, there are some things you just can't avoid purchasing: a ticket to get in, plus food is kind of important, and everyone needs at least one interactive Harry Potter wand.  I also like to set a fairly substantial budget aside for Butterbeer, as it is now available a wide number of ways: hot, cold, frozen, ice creamed, and in an IV bag.
So that leaves one area which can provide probably the most leeway in your financial planning:  the hotel room.   Orlando provides an overwhelming amount of options here, and you must take into account important factors such as convenience of transportation to the parks, hotel guest benefits, and the amenities offered by the resort.
Hotels are a necessity but also a bit of a paradox…  Every traveler needs one when visiting a theme park, yet most people don't spend a whole heck of a lot of time there other than to sleep because hey, you'd rather be in the theme park.  But you still want to stay somewhere nice because while visiting Mickey is good, having an actual mouse visit you in your room is kind of not.
In my opinion, the hotel perfectly balances out cost vs. value for your money when visiting Universal Orlando Resort is the lush tropical paradise that is the Loews Royal Pacific Resort.  Your wallet or purse will be doing the hula of happiness, and so will you.  Go ahead, don't be shy, you're on vacation.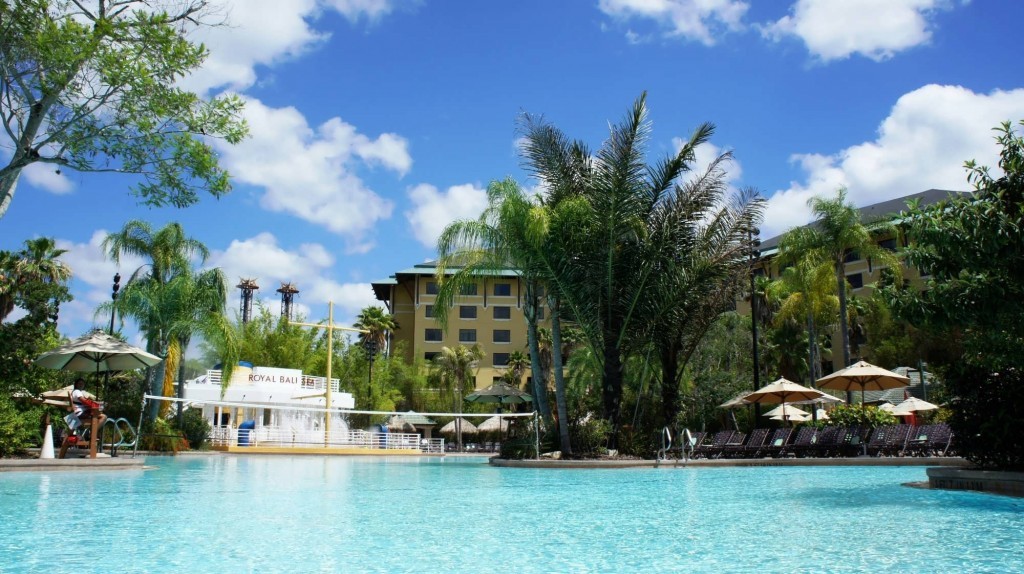 The pool at Royal Pacific Resort.
Transportation
One important factor in your hotel decision has to be convenience of transportation to and from the parks.  If you have kids, the "from" part is extremely important because after all the food, candy, and exhaustion those kids will seem to weigh approximately three times more than they did when you arrived at the park gates, especially when you try to carry them back to your resort.
One of the best things about Universal Orlando Resorts in general, and especially vs. Disney on-site resorts, is that you can basically park your car for the length of your vacation.  There are a couple options for guests to get from the Royal Pacific to the parks, including via water taxi and pedestrian walkway.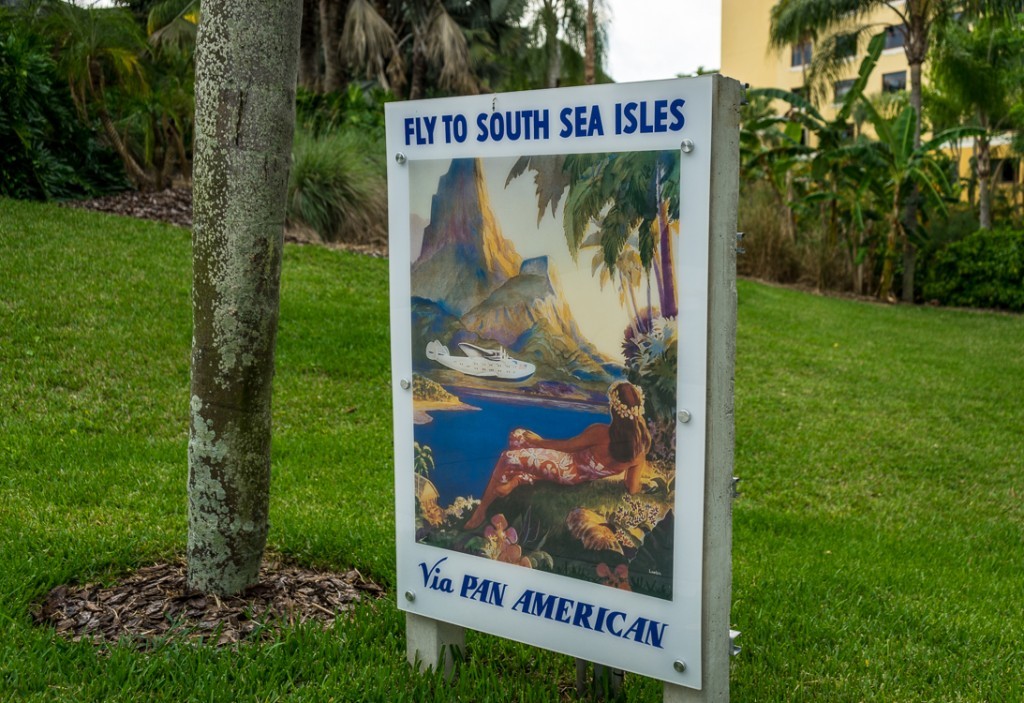 A sign found along the walkway of Royal Pacific Resort.
The scenic water taxi route will save your feet for the mileage in the parks and CityWalk of course, and it is a nice little journey through the lushly landscaped waterways.  The boats come and go pretty frequently, and can be a true lifesaver at the end of a long day.
But if you're impatient to get to the parks in the morning, then the walkway is a good bet too.  The nice thing about the canopy of foliage is that it provides quite a bit of shade over the walkway.  At a fairly average pace, it's a mere 10 minute walk from the Royal Pacific Resort to CityWalk.
You arrive abreast of Jimmy Buffett's Margaritaville, specifically the Porch of Indecision which offers appropriate irony as you can decide to imbibe a refreshing beverage either to celebrate your arrival at the walkway's end or to fuel your departure back to the Resort.
Upon arrival in CityWalk, you are a mere Philosopher's Stone's throw (for the Harry Potter UK fans) away from Universal's Islands of Adventure.  And if your destination is Universal Studios Florida, it's just another short sojourn over to those gates.
Benefits
The next big factor to consider in selecting your resort destination is the package of benefits a resort offers to its hotel guests.  Staying at the Royal Pacific Resort will not only make your Universal Orlando Vacation even more stress-free, but will also prevent extra money from flying out of your pocket like those magical Hogwarts letters of acceptance!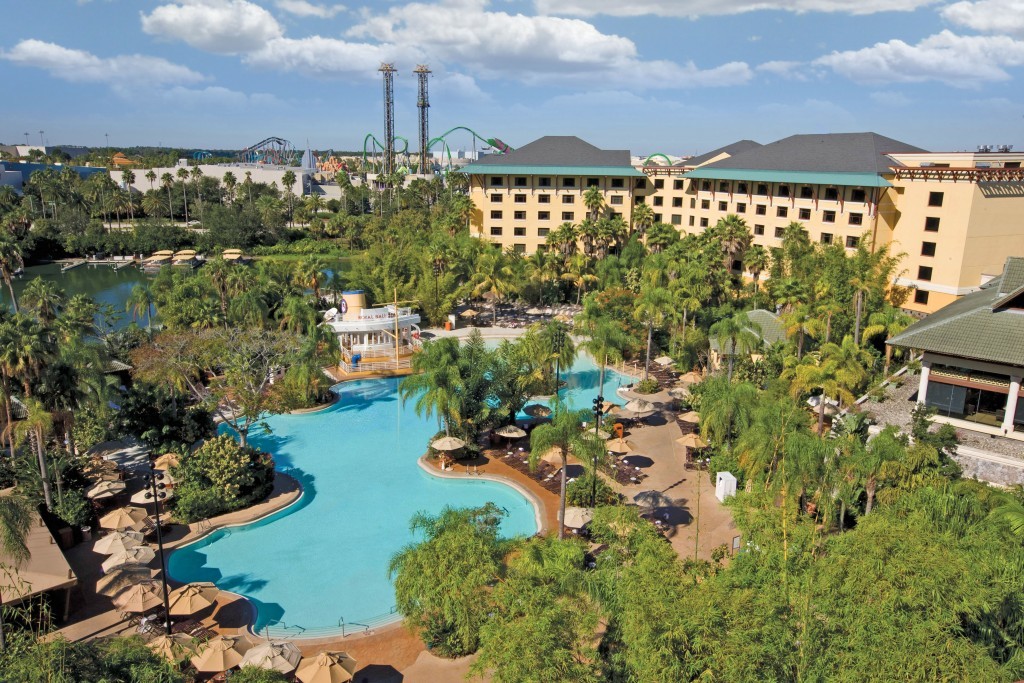 An overlook view of the pool at Royal Pacific.
Staying at the Royal Pacific affords you some awesome theme park benefits, not the least of which is Universal Express Unlimited ride access for free.  That alone saves you $89 per person, per day of your stay.  And it's available from the day you're scheduled to check in to the day you check out.
Part of the "preferred" hotel category, Royal Pacific is the lowest priced on-site hotel that offers free Universal Express.  Even Royal's forthcoming "preferred" classification sibling, Sapphire Falls, will not offer free Express.
Not only does this save you an Optimus Prime-sized chunk of change, but makes your day in the parks that much easier.  With minimal to no waits in the Universal Express lines you don't need a complicated plan of attack for the Universal parks.  Ride what you want as many times as you want.
The only notable exceptions are the two primary Harry Potter rides in each park that don't offer Universal Express queues: Forbidden Journey in IOA and Escape from Gringotts in USF.
However, that being said your other theme park benefit for staying on-site is Early Park Admission to The Wizarding World of Harry Potter, allowing you access an hour before the theme park opens to other guests.
Amenities
Last but not least, you have to take into account the amenities offered and again Royal Pacific excels in this area.  Entering the serene lobby over a waterfall bridge, checking out the calm reflection pool and garden, and walking manicured grounds surrounded by verdant tropical landscaping transports you to the Pacific Islands.  It really is a beautifully themed island resort; one I would say is on par with Disney's Polynesian Village, which costs you much more per night.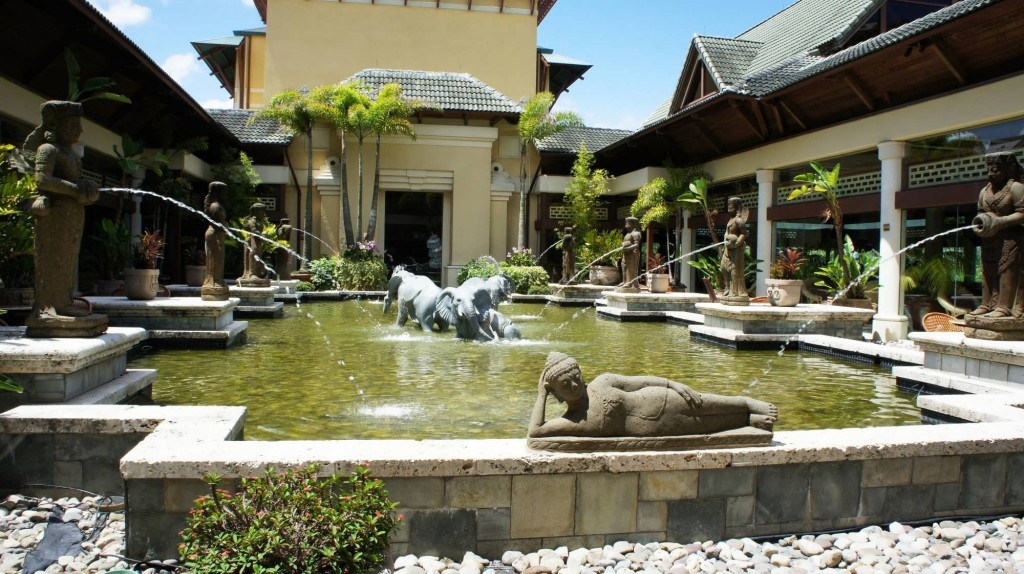 The courtyard at Royal Pacific Resort.
Royal Pacific offers exceptional cuisine and is home to what I believe to be one of the most beautiful and romantic restaurants in all of Universal, Emeril's Tchoup Chop.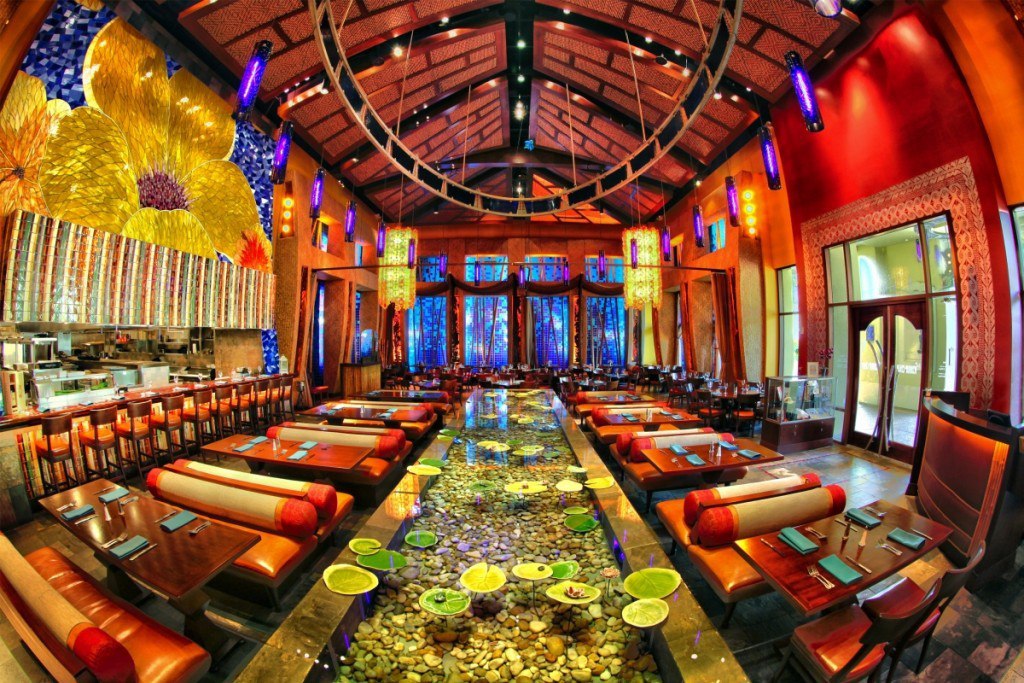 Emeril's at Loews Royal Pacific Resort.
You can also kick back and relax at one the coolest bars around, Jake's American.  Enjoy the laid-back atmosphere and check out the cool knick-knacks and wall decorations.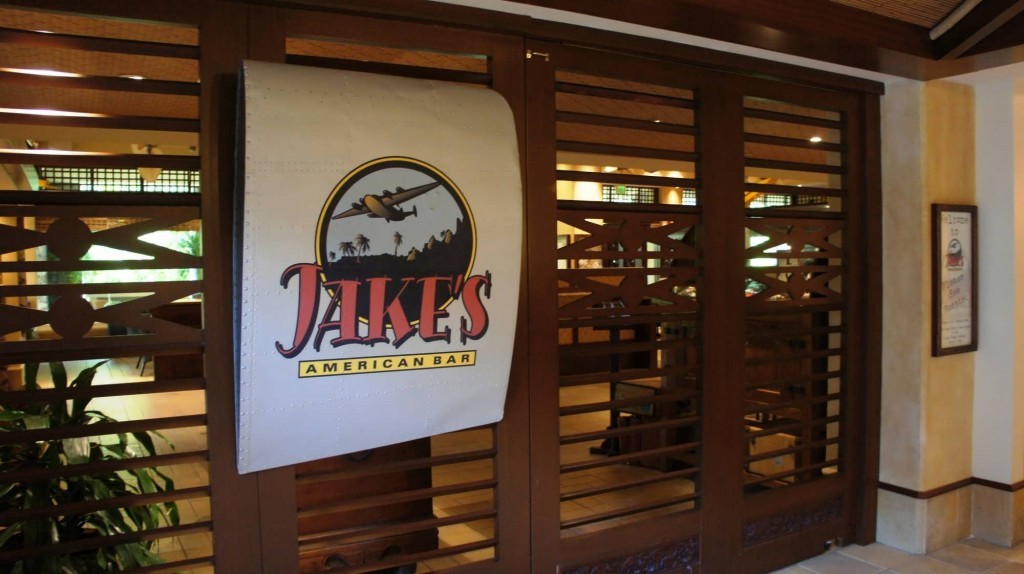 The entrance to Jake's American Bar at Royal Pacific Resort.
Then there's the lovely white sandy beach surrounding the huge lagoon-style swimming pool and while there may not be a water slide, there is a cool water play area themed like a ship, the Royal Bali Sea.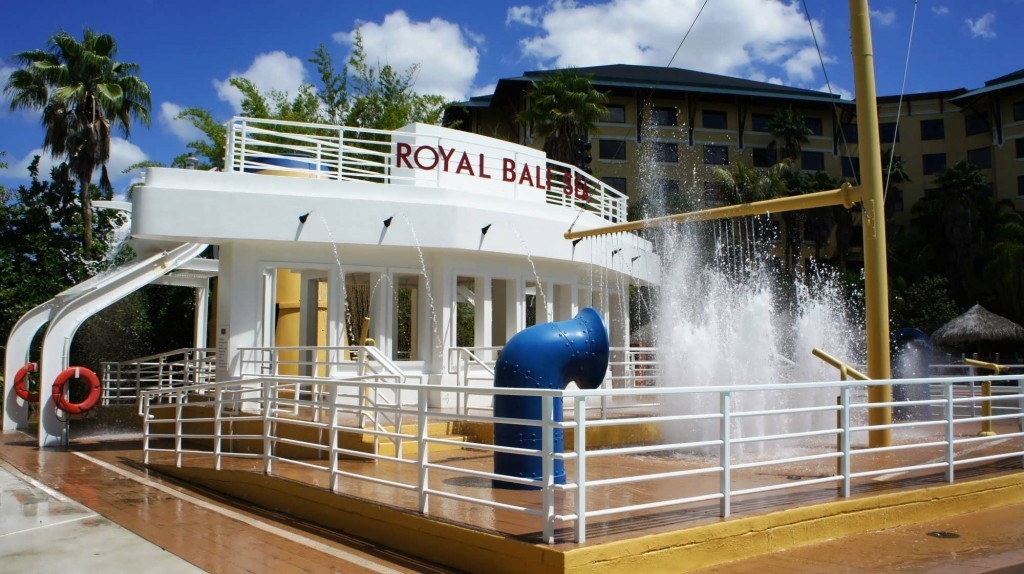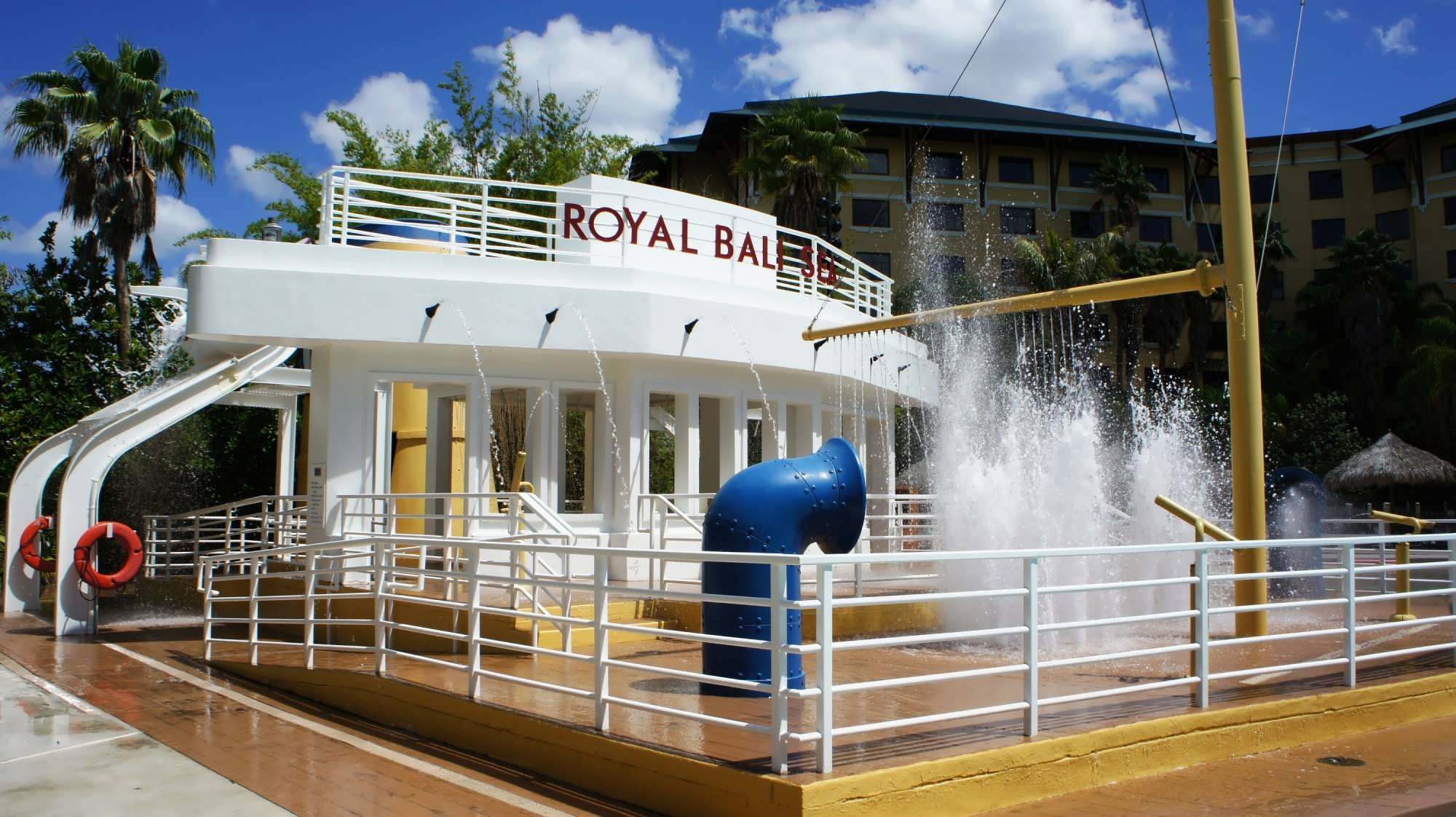 To sum it all up, I believe for the budget-minded, the Royal Pacific Resort truly is the best all-around on-site hotel choice, balancing out cost and value.  What it offers its guests for the price really ticks off all check boxes on the list of what you want at a vacation resort.  It's easy to get to the parks, you can see the Wizarding Worlds of Harry Potter early, not wait in line for most rides, and return "home" to an island paradise.
Ready to book your Universal vacation at Royal Pacific Resort? Orlando Informer Travel will happily do the hard work for you (and for no additional cost – seriously). Just call (844) ORL-INFO or email info@travel.orlandoinformer.com.