Editor's note: This article was originally published a few years ago, but since nothing has changed we're republishing this for the Mardi Gras 2015 season.
We knew the moment we became Annual Passholders that we would make the most of Mardi Gras event nights at Universal Orlando. Starting off with a bang, we signed up to be float riders! Thanks to Orlando Informer, we knew just how to sign up — more on that at the bottom of the post.
It should be noted that when you sign up, it is for a chance to be a float rider, as participation is not guaranteed. We signed up nine days prior to the actual event date we selected. Two days later, we received a phone call from a Universal Orlando team member that we had been chosen to ride a float! We were instructed to stop by Guest Services at the front of the park around 5:00pm in order to receive the necessary materials. Immediately following the call, my husband and I jumped for joy and began to plan.
The big day
At Guest Services, we gave our name and one of our annual passes in order for our participation to be verified. A few moments later, we were handed two yellow wristbands and a sheet full of instructions.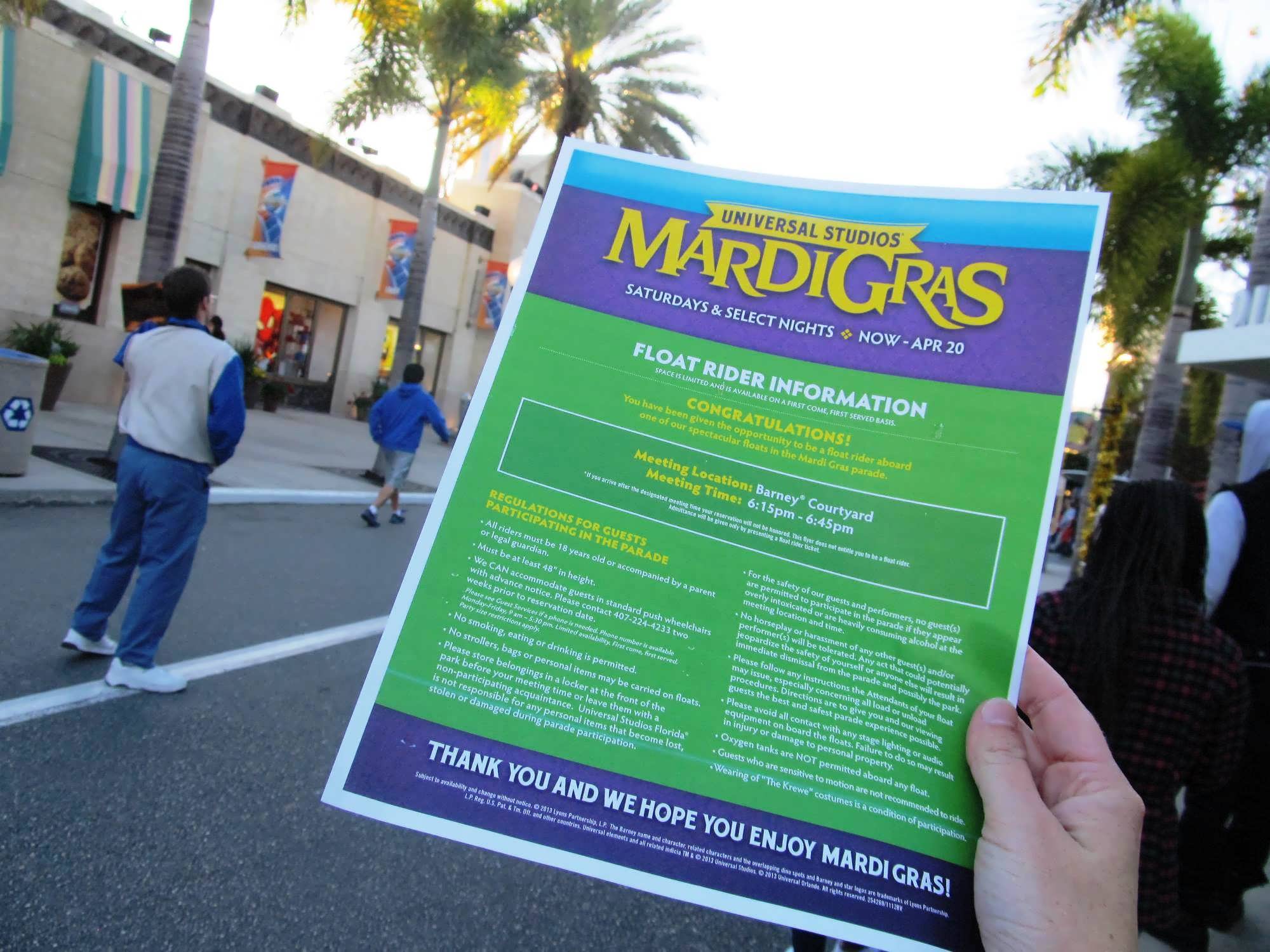 We had about an hour to play in the park before it was time to gather in the Barney Courtyard. The crisp weather that had made its way from Canada down to sunny Florida created an interesting atmosphere. Everyone bundled up and tried to stay warm while jazz music flowed through the park and Mardi Gras parade performers bared the cold in their decorative costumes.
Waiting in the Courtyard
The instructions said to be at the Barney Courtyard between 6:15pm and 6:45pm. I would recommend getting there around 6:35pm. We had to show our wristbands and then fill out a waiver. After filling it out, we entered the courtyard and found our assigned area based on wristband color.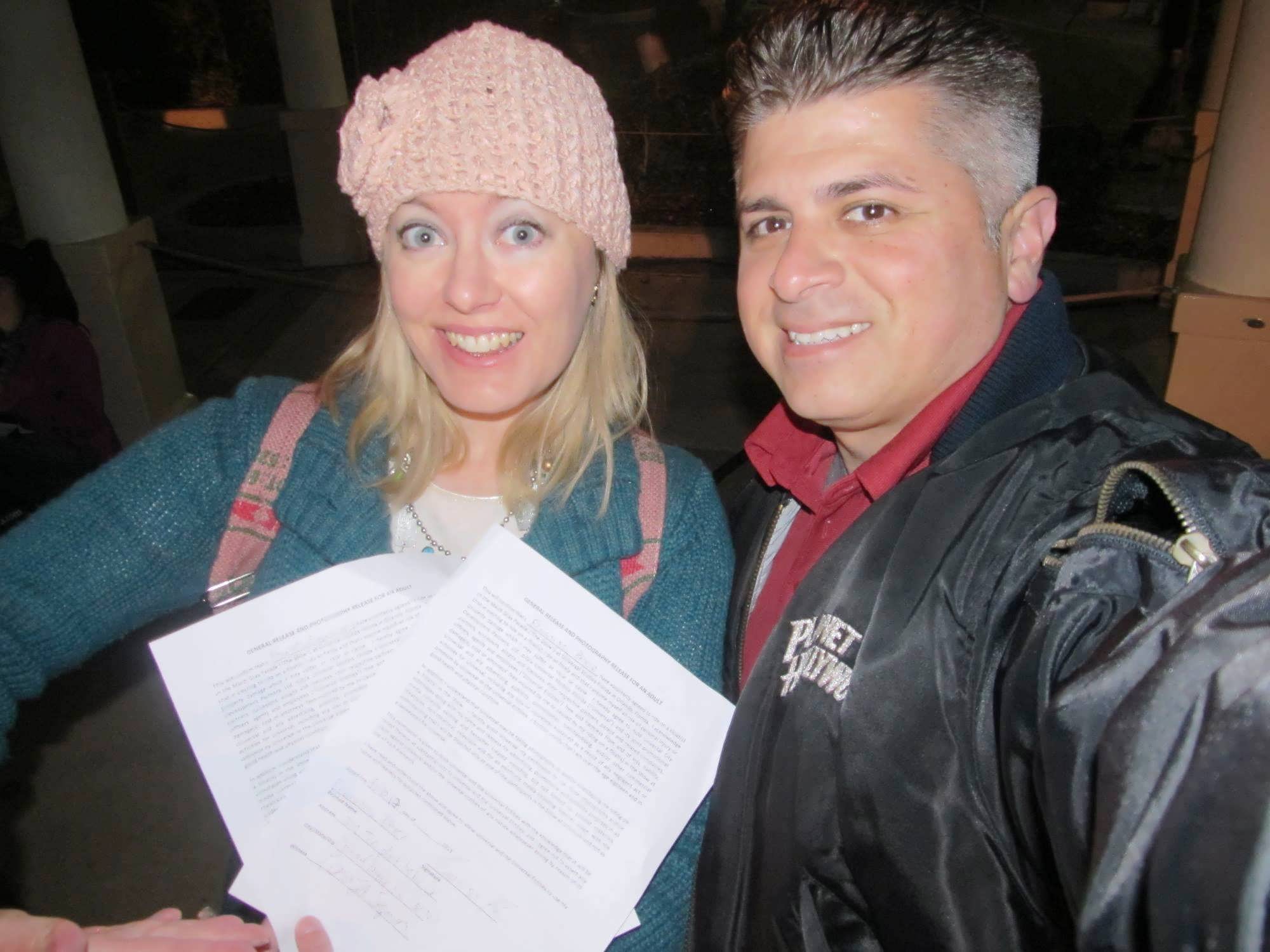 We amused ourselves during the long wait by dancing to Mardi Gras music and watching the fireworks of Universal's Cinematic Spectacular. (For Mardi Gras 2015, Cinematic Spectacular no longer runs.) The assistant stage managers soon announced our next steps, explaining we needed to be excited, energized, and most of all we needed to toss the beads out to the audience with an underhand throw – "this is not a football game." Each color wristband was assigned to a different float. The anticipation boiled up inside me, which one would it be? Some Mardi Gras Voodoo magic worked on us because this Florida loving girl got to ride the most Florida of floats: the Gator!
<script async src="//pagead2.googlesyndication.com/pagead/js/adsbygoogle.js"></script>
Backstage rush
We followed the leader past the Curious George Goes to Town attraction and entered the backstage area. I can imagine that for most guests this may be their very first time in a backstage area of a theme park. Even though I spent many years working in Orlando's theme parks, the magic was not lost on me. Sadly, no pictures are allowed backstage.
The moment we set foot backstage the rush began. It was go, go, go! We lined up, the Bead Captains handed us a Krewe shirt (think shining, elaborate hospital gown) and a silly hat. Some of our Krewe received gator heads, but once again the voodoo worked its magic and my husband and I were given parrot hats! We are total parrotheads! Getting dressed was a little rushed and chaotic, but we didn't mind.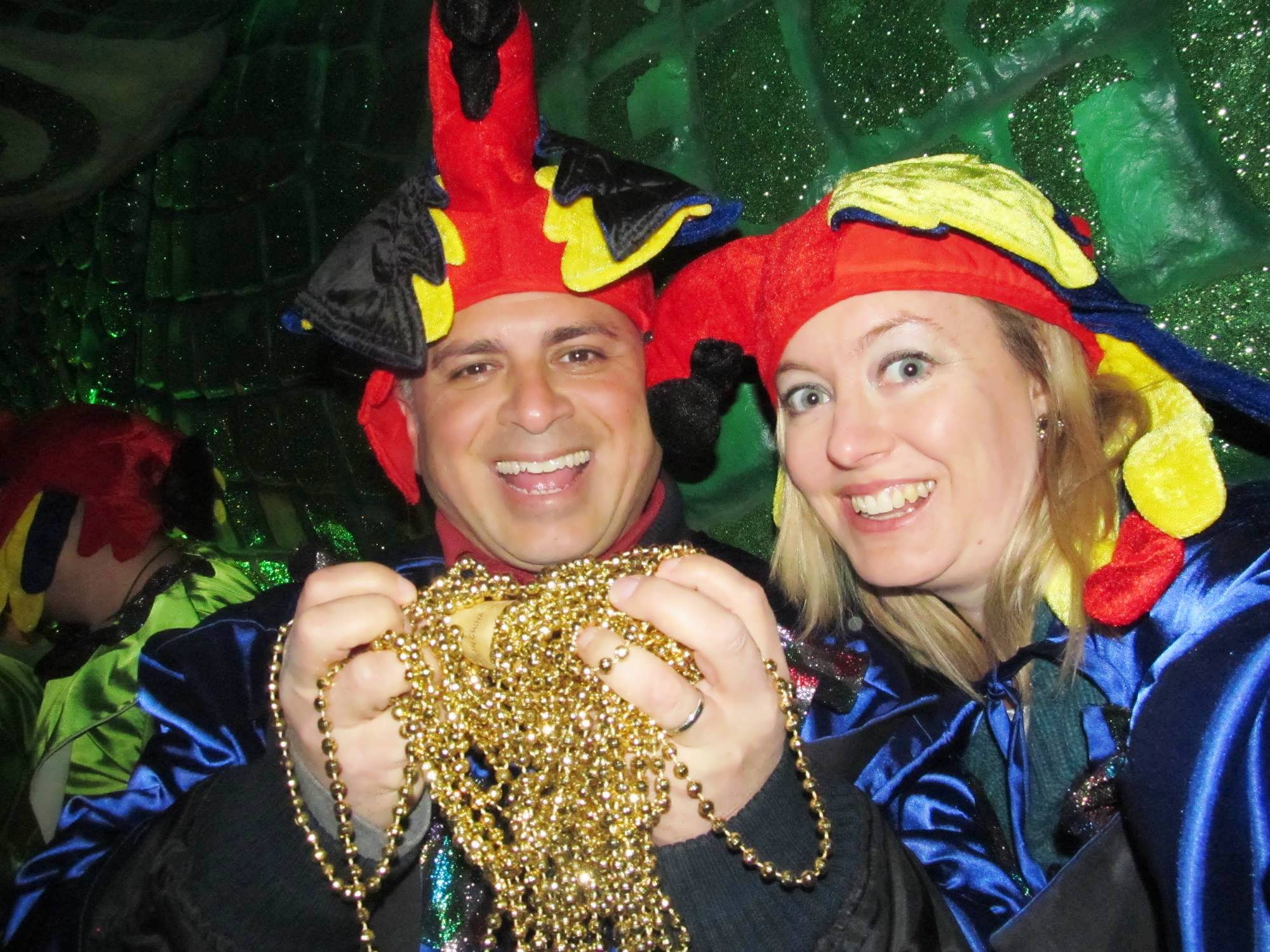 Having just figured out how to put on the Krewe shirt, one of our Bead Captains began asking for groups of different party sizes. Each group was placed on the float; each spot had pegs loaded with bands of beads. Another Bead Captain told us, repeatedly, that they did not want to see any left-over beads when all was said and done.
Showtime!
When we finally hit the gate and made our onstage debut, the adrenaline pumped. We screamed, smiled, and cheered, an immediate response to the thousands of people screaming and cheering at us. Their arms stretched out towards us ready to catch the beads. We couldn't toss the beads fast enough!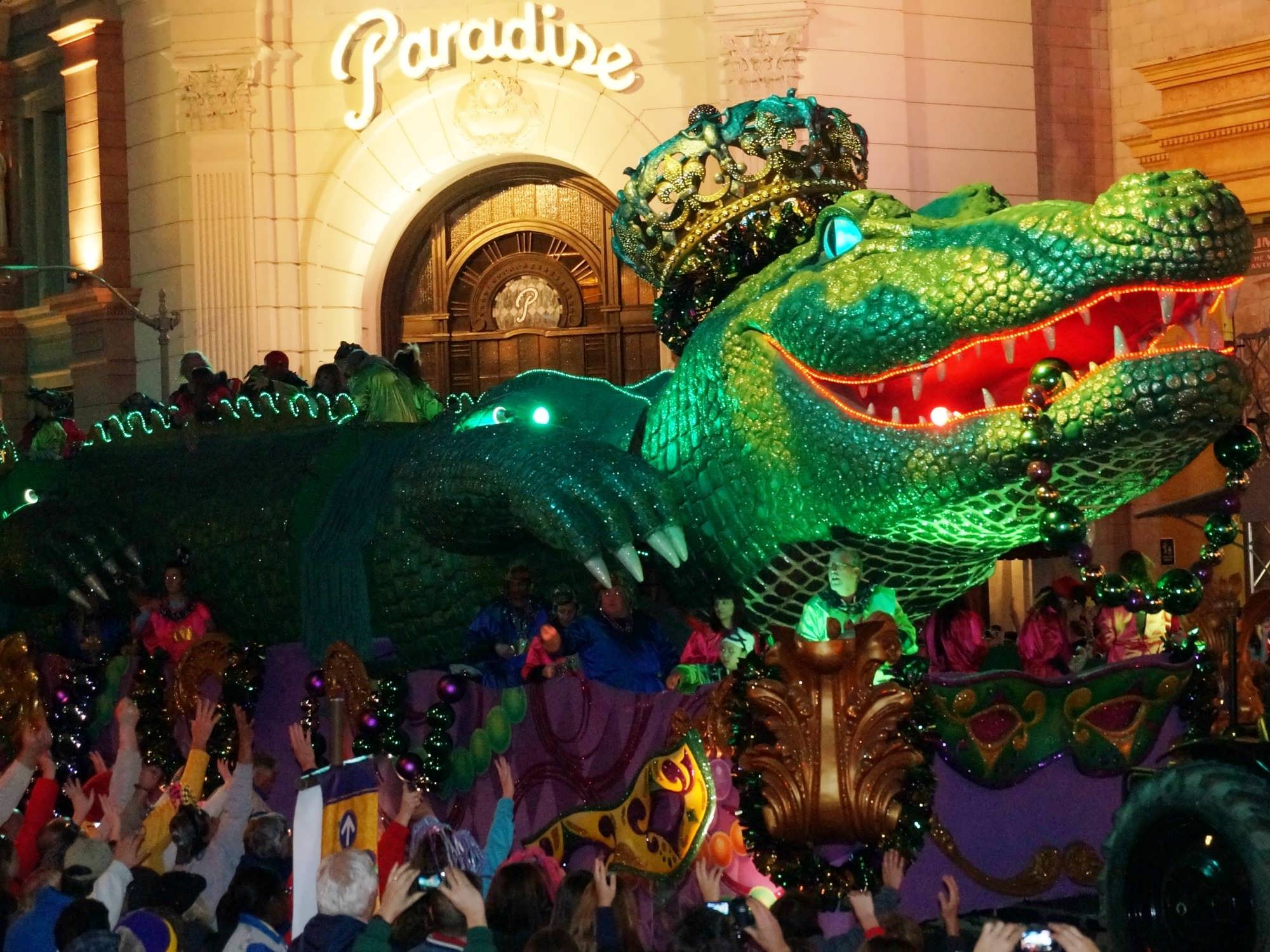 My husband, having never been in a parade of any kind before, went bead crazy. It was hard to contain ourselves. There before us, thousands of people cheered and begged for beads; big kids, little kids, grown men. There were moments when I had perfect aim and felt immediate satisfaction when the beads landed in the hands of my intended audience members. Other times I scrambled, grabbing too many at a time and thus a splatter of beads left my hand, shot into the air, some hitting people on the heads, others landing on the street.
We were told that Despicable Me Minion Mayhem was our halfway point. If we had over half our beads left we needed to throw faster, if we had less than half we needed to slow down. It all happened so fast, we reached the halfway point and almost panicked. We gave away too many beads! Pacing ourselves better and with the help of our excellent Bead Captain, who walked alongside our giant gator float, we managed to have almost enough beads for the end of the parade route…. almost. That's when we awkwardly waved at the last few audience members as we were empty handed.
It was over before we knew it. The moment we hit backstage, we looked at each other: "We have to do this again!" we said at the same moment.
To learn everything there is to know about Mardi Gras at Universal Orlando, and to find out more about how you can sign up to ride a float during the parade, visit the Mardi Gras 2015 page in the OI Universal Center.
Tips for being a float rider at Universal Mardi Gras
After going through this exhilarating experience, I'd like to share a few tips for those of you lucky enough to follow in my footsteps.
Hydrate! Tossing beads, laughing, and cheering can take it out of you.
Sign up for a date when the concert performer is not on your must-see list. You will be busy with the parade from 6:15pm until shortly after 8:00pm, so there won't be time to get a prime spot for the concert.
Dress comfortably. You will be climbing stairs to get on and off the float and potentially be bending a lot as you grab beads off the float's floor.
It will be crazy and chaotic once you hit the parade route and your beads will get tangled. About halfway through I found a method that worked for me:
Load one batch of beads onto your arm at a time.
Toss and smile
Tear the ring with the hand of the arm that now has the beads on it.
Hold the paper ring with the hand of the arm that now has the beads on it.
Find the paper ring and use it to slide the beads onto your arm.
The beads are banded together in bunches of about 20 strands. A paper ring holds them together.
Planning a vacation to Orlando?
Want to skip all the work and just price out a vacation to Universal Orlando? We'll find the best deals for you – for free (seriously.) Learn more, or check out some of the current deals: