I remember one of the first pieces of concept art for Loews Sapphire Falls Resort I ever laid eyes on featured the Strong Water Tavern. I knew then and there a visit here would be compulsory for me. With a little help from the Orlando Informer team and our friends at Loews, I had the distinct pleasure of indulging in a personalized rum tasting at Strong Water Tavern on grand opening day!
Universal Orlando's newest hotel, Loews Sapphire Falls Resort, brings Strong Water Tavern onto the scene and offers a unique rum tasting experience. This rum tasting experiences joins a solid collection of unique dining and drinking experiences that can be enjoyed at Universal Orlando's on-site hotels.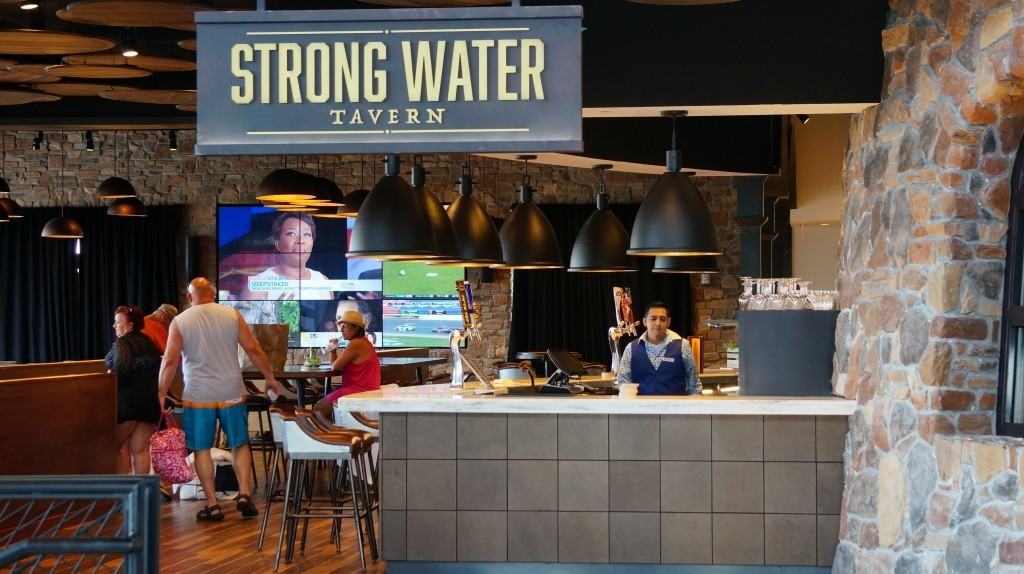 The Atmosphere at Strong Water Tavern
Strong Water Tavern is an intriguing blend of casual comfort and subtle sophistication. I expected the bar to be longer and accommodate more guests, however it is flanked by a few high top table seats for parties of 4-6. Next to the bar is a small counter that seats three. It resembles a chef's table. Here is where the personalized rum tasting takes place, known as the "Rum Lab."
On the other side of the bar and high tops you will find seating that is cushy and comfortable. There are rich jewel tones and dark woods throughout. A section of lighting is decorate in circular panels that resemble rum barrels.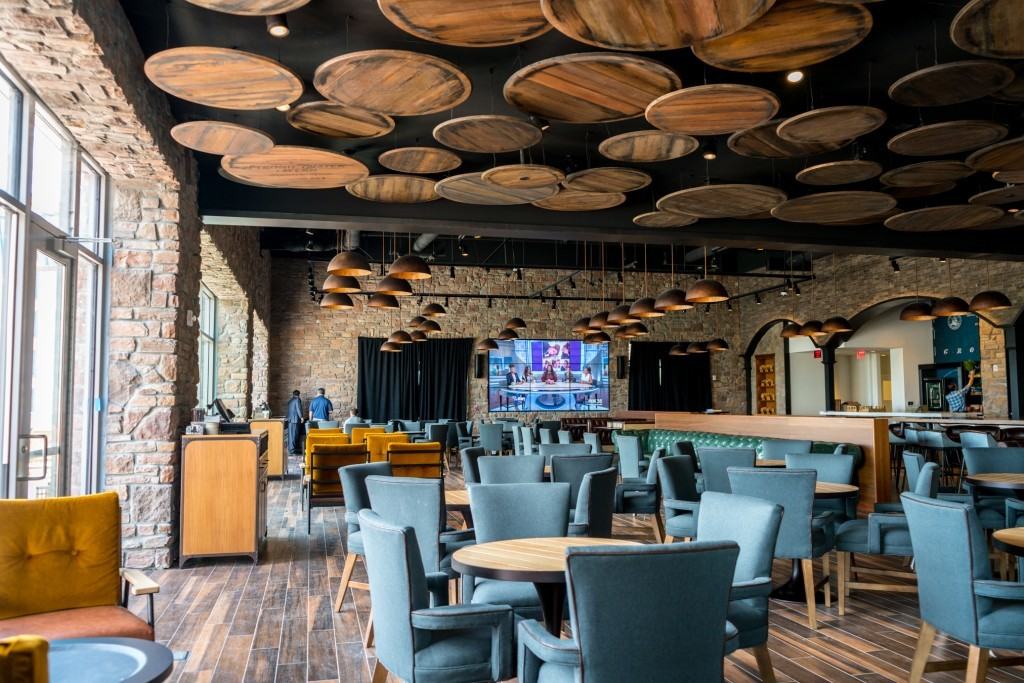 On the far back wall there are multiple TVs that make up one large video screen. During our visit various sporting events were shown. This is a surprising addition because I envisioned Strong Water Tavern as a themed environment without "real world" distractions.
There is also outdoor seating on an inviting terrace that overlooks the water taxi dock and water ways. There are great views of Universal Orlando property from here, and a decent vantage point for the fireworks of the Universal Cinematic Spectacular. The full menu is available both inside and outside.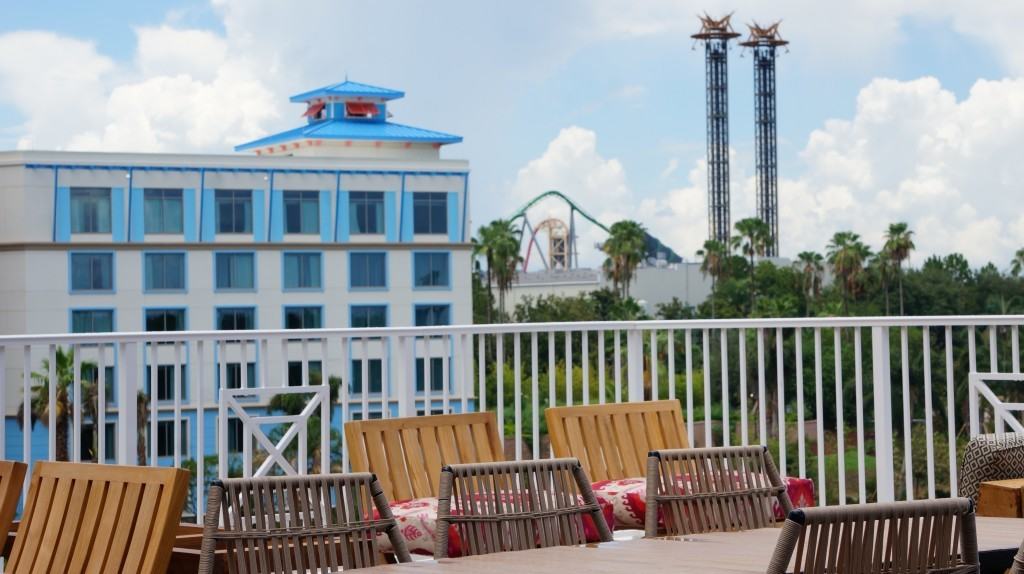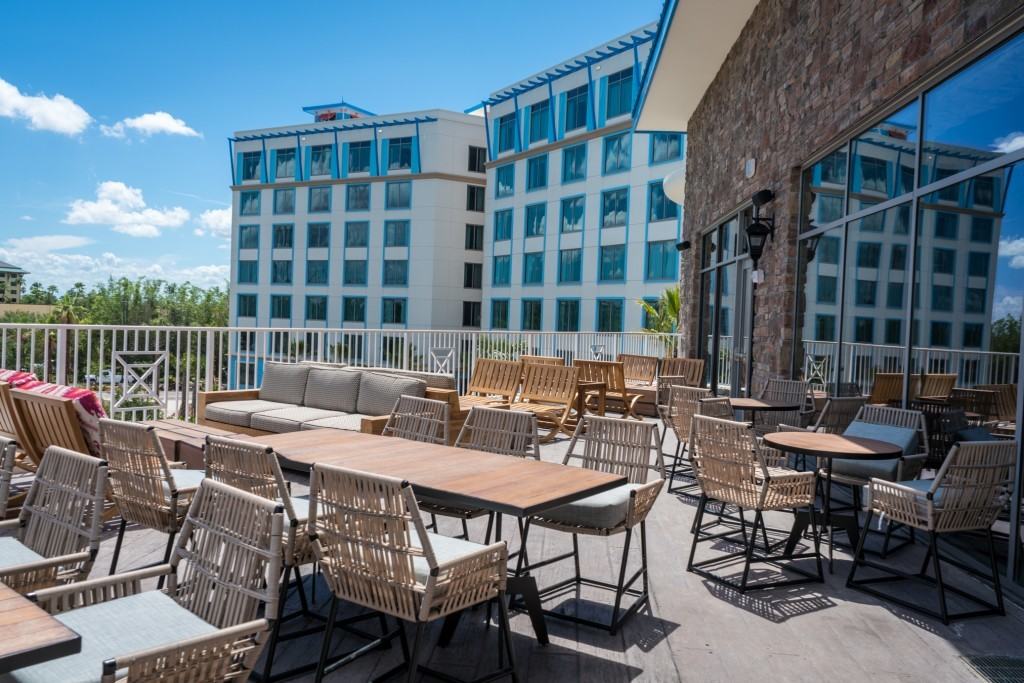 The Rum Tasting Experience at Strong Water Tavern
The rum flights and tastings range from $18 and are listed by region. You'll enjoy a serving of three different rums from the same region such as the British Isles, French Caribbean Islands, and the United States. Things may change down the road, but currently a Rum Captain will present each rum tasting and provide a brief explanation of the rums.
You can also sit at the special rum tasting counter, or "Rum Lab" next to the bar if your focus is to really explore and expand your knowledge of rum. We opted for such an experience on our visit and it proved to be informative and entertaining. Our "Rum Captain" Eban selected three rums from the British Isles and three rums from the French Isles after I informed him that our party has some experience with rum, and was interested in exploring some middle of the road rums.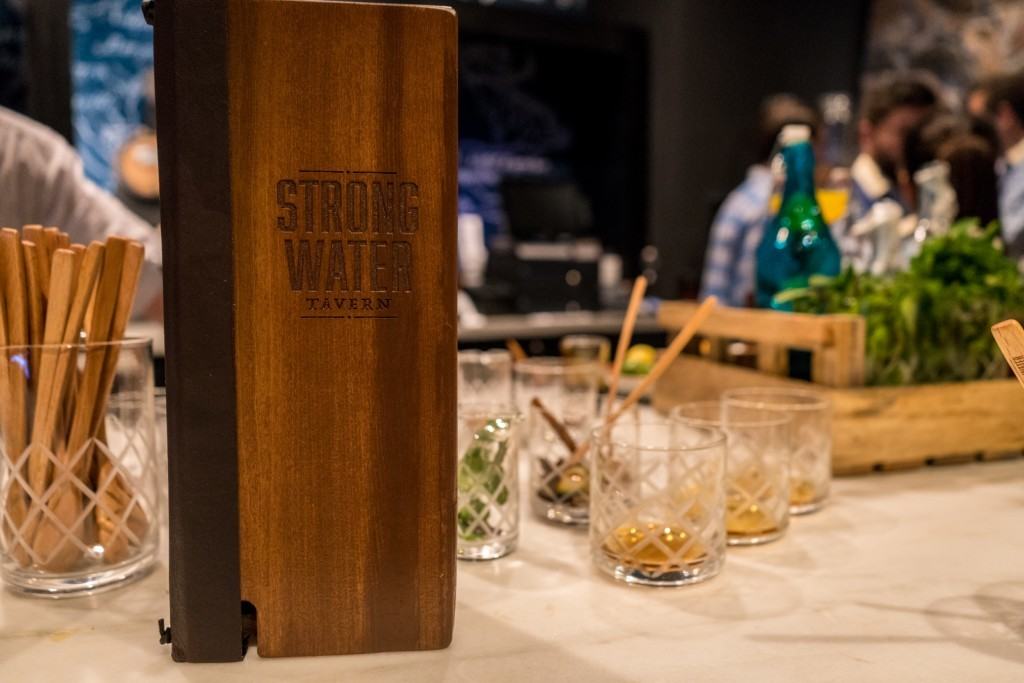 The official "Rum Lab" experience is still under development. The plan as of right now is to allow guests to book this experience for special occasions or as part of a group event, such as with convention groups. In these advance booking scenarios the Rum Captain would perhaps know a little bit about the attendees in advance and could prepare a personalized experience ahead of time, such as presenting rums from a preferred region or with a desired flavor profile, or perhaps include a rum cocktail as a finale.
The pricing and process for this "Rum Lab" experience has not been finalized. In the meantime you can enjoy a regular rum tasting at $18 per flight and sit at the rum lab counter if you so desire (and if it isn't already occupied). It isn't clear how long this will be the case, so if you can make it to Sapphire Falls' Strong Water Tavern soon I recommend you have a seat at the counter and savor the experience.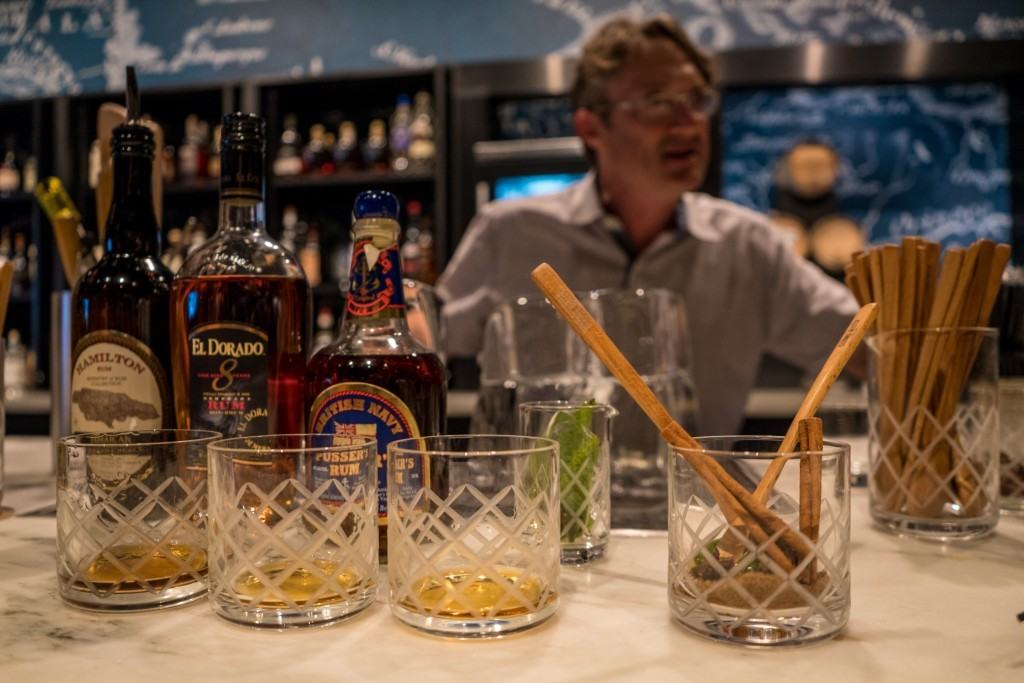 Our encounter started with a nosegay. Normally this term refers to a small gathering of fragrant flowers, but it is occasionally used in the culinary world. In this case Eban prepared two glasses with brown sugar at the bottom, a drizzle of molasses, lime wedges, and cinnamon sticks. This made for an aromatic awakening; after all your nose, mouth, and throat are connected. When participating in a tasting of this kind it is best to activate all the senses.
The glassware sparkled. Etched glasses, resembling elegant Scotch glassware elevated the experience. Glistening, crystal clear blocks of ice lay before us. Bartenders took turns sawing off and chipping away to make jagged chunks of ice. We sampled the British rums first, then the French Isles. After Eban poured each rum he placed the bottle in front of us. I enjoyed examining the labels and reading the descriptions on the back.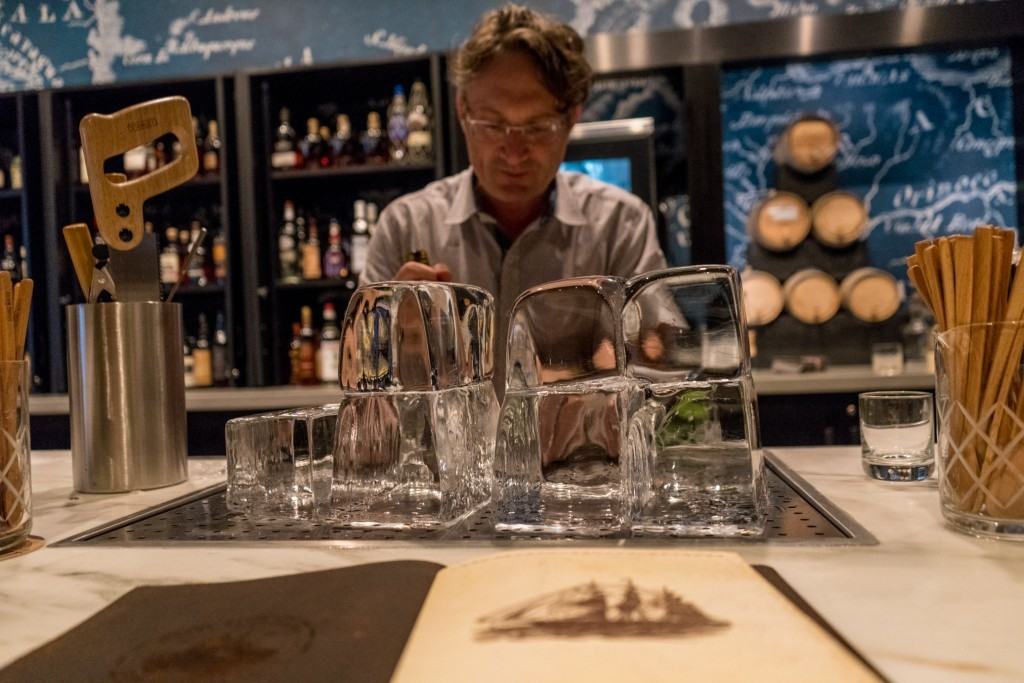 As we savored the rum our Rum Captain alternated between sticking around behind the counter and checking in on the rest of the bar staff. When he checked in on us we commented on the different aromas and tastes we picked up on. For the most part he affirmed that what we smelled or tasted was accurate. After our tasting experience was complete, Eban presented each of us with a rum passport and stamped the French Isles and British sections.
The Rums at Strong Water Tavern
British Isles flight
Pusser's Rum – Until the 1970s, Pusser's Rum was rationed to every member of the British Navy.  A daily ration was provided by the ship's purser, which the sailors liked to call "pusser." It is a very basic rum, a good one from which to start. The aroma and taste possessed light vanilla tones.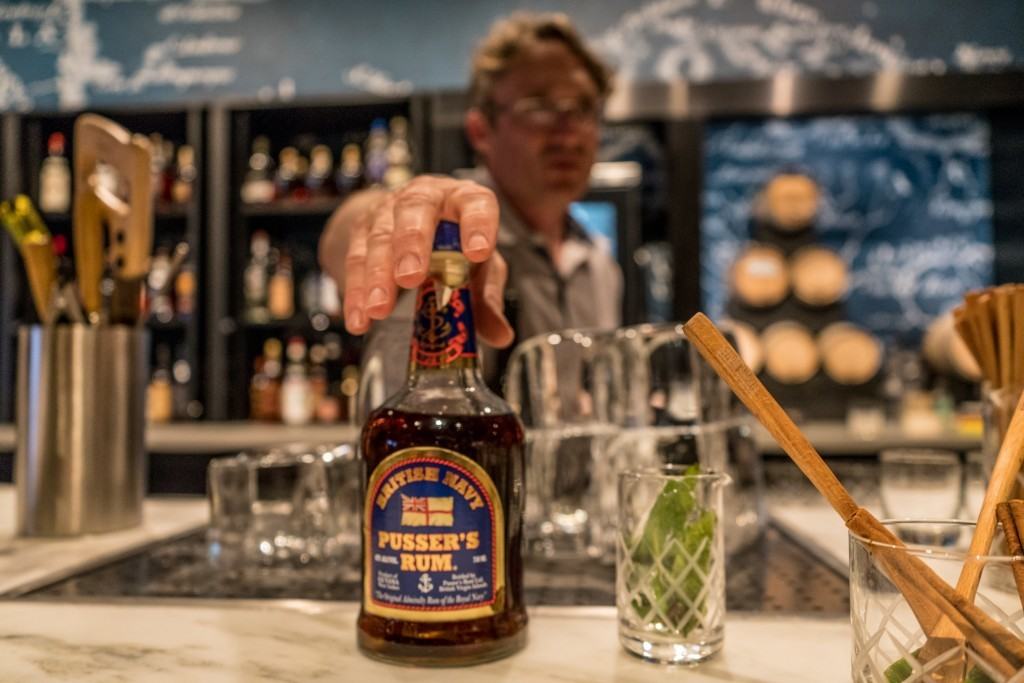 El Dorado – Days after the tasting I talked to many people about my experience. They asked "what was your favorite?" and I did not hesitate to say "El Dorado!" Little did I know this rum is fairly well known. It is one of rums we tasted that was aged. In this case it had been aged 8 years. It went down very smooth and mellow with a warm taste of vanilla, but not overpoweringly sweet.
Hamilton – WOW! This rum is punchy up front with a spark of sweetness. The aroma made me cringe a little and the first taste on my tongue caused me to grimace. As the liquid moved further back a slight burn hit my throat, followed by a subtle honey taste. This rum is complex. I personally wouldn't immediately grab a bottle of Hamilton, however, one of my rum tasting companions remarked that he would enjoy this rum on a chilly night.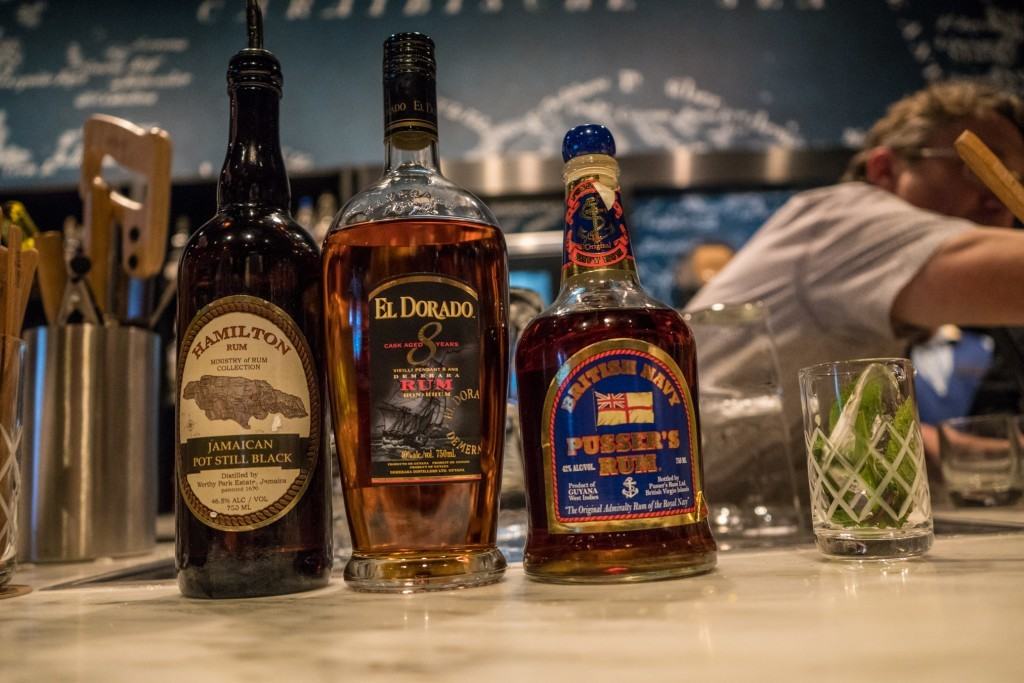 French Isles tasting
Duquesne – The only blanco rum we tasted. Dusquesne is distilled from fresh cane juice. The aroma surprised me, I swear it had an olive undertone. At first taste I experienced herby flavors. We then dropped a small piece of ice in the liquid to "open up" the rum. The ice helped us find the sweetness. I could see enjoying this rum in a mojito or similar drink.
Neisson – This was my second favorite. Warm, sweet scents wafted from the glass. Neisson would be lovely on a quiet night with its soft, maple flavors. There is a mild burn if you inhale while holding the rum in your mouth. An ice sphere would make this great for sipping.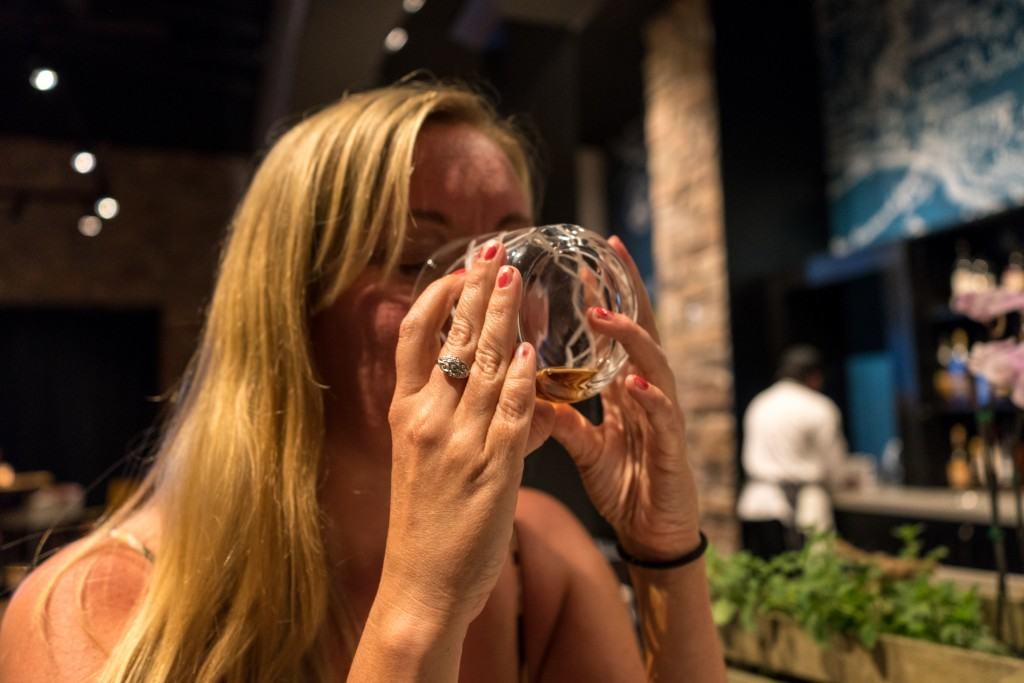 Damoiseau V.S.O.P. – Aged four years, Damoiseau V.S.O.P was a nice mellow rum on which to end our journey. I detected a few fruit notes, punctuated by a little spice. We tried adding a small ice chunk to see if "opening it up" changed the flavor, it did not. Nothing really drew me in, but ending on this rum was like a cool down after a work out. (Side note – V.S.O.P stands for Very Superior Old Pale. It is more commonly seen with Cognacs, but essentially it designated that the product is aged at least four years).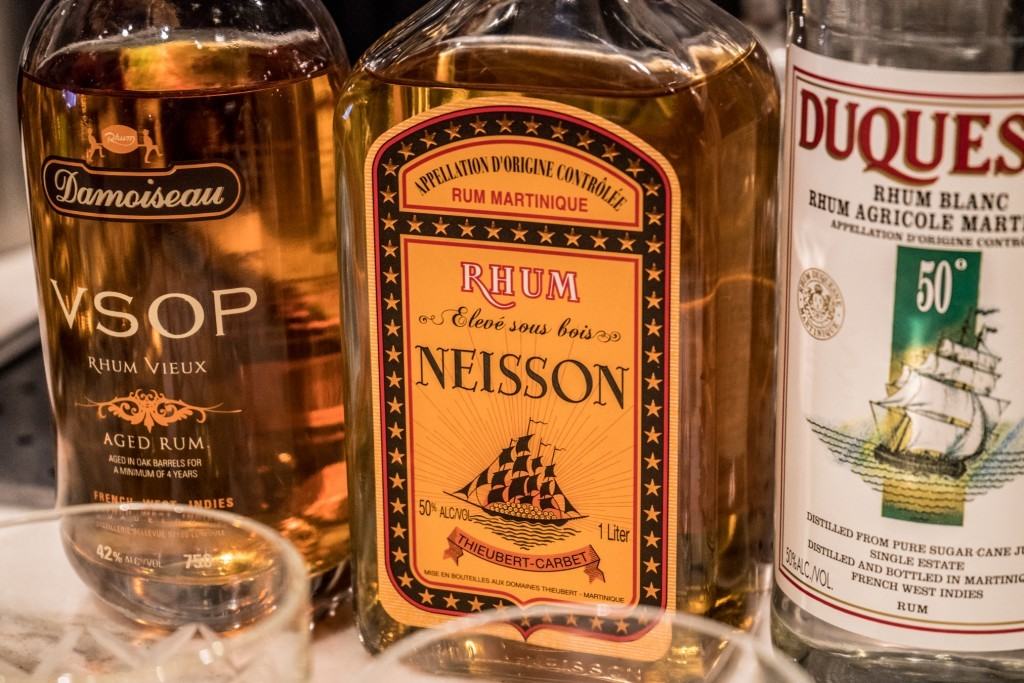 While I went through the process of writing this post I found myself searching the internet to fill in some of the gaps of what I had learned at the tasting. My knowledge of rum has grown substantially thanks to the tasting. I'd be inclined to visit again just to experience another tasting. Besides, I need more stamps in my rum passport!
For photos and more information on Strong Water Tavern, click here.
Will you be visiting Strong Water Tavern on your next Universal Orlando Vacation? Sound off in the comments below.