Last Christmas, Universal gave Harry Potter fans – and theme-park aficionados across the board – a very special gift in the form of a brand-new projection-mapping show called The Magic of Christmas at Hogwarts Castle, which debuted as part of the larger Christmas in The Wizarding World of Harry Potter celebration. Transforming the iconic Hogwarts Castle (home to Harry Potter and the Forbidden Journey, of course) into a three-dimensional projection screen, it wrapped the familiar building in images of yuletide splendor and wonder; even though it only clocked in at some seven minutes in length, it was a majestic, breathtaking show, adding a whole new dimension to The Wizarding World of Harry Potter – Hogsmeade and providing for the perfect endcap to a night of holiday cheer.
With all the infrastructure installed around Hogsmeade for that particular production, it was no surprise at all that Universal would want to take advantage of its not-inconsiderable investment by debuting another, non-seasonal show, one that could theoretically play throughout most of the year and then make way for Magic of Christmas's return come mid-November. That replacement is The Nighttime Lights at Hogwarts Castle.
Thanks to a special invitation by Universal, we were able to attend a sneak-peek of the new number at A Celebration of Harry Potter 2018, the Potter-centric event that has been held annually at Universal Orlando ever since 2014, mixing in with other, select media and vacation-package holders. We were suitably impressed, but we've managed to collect ourselves enough to offer our thoughts on the matter in a mostly coherent fashion.
The Magic of the Nighttime Lights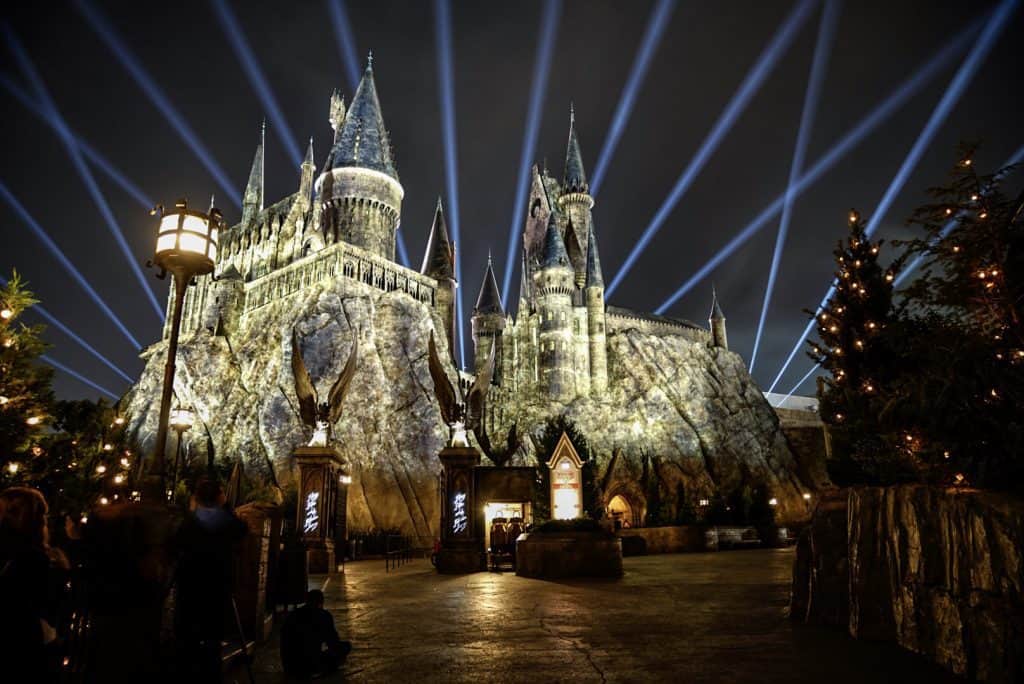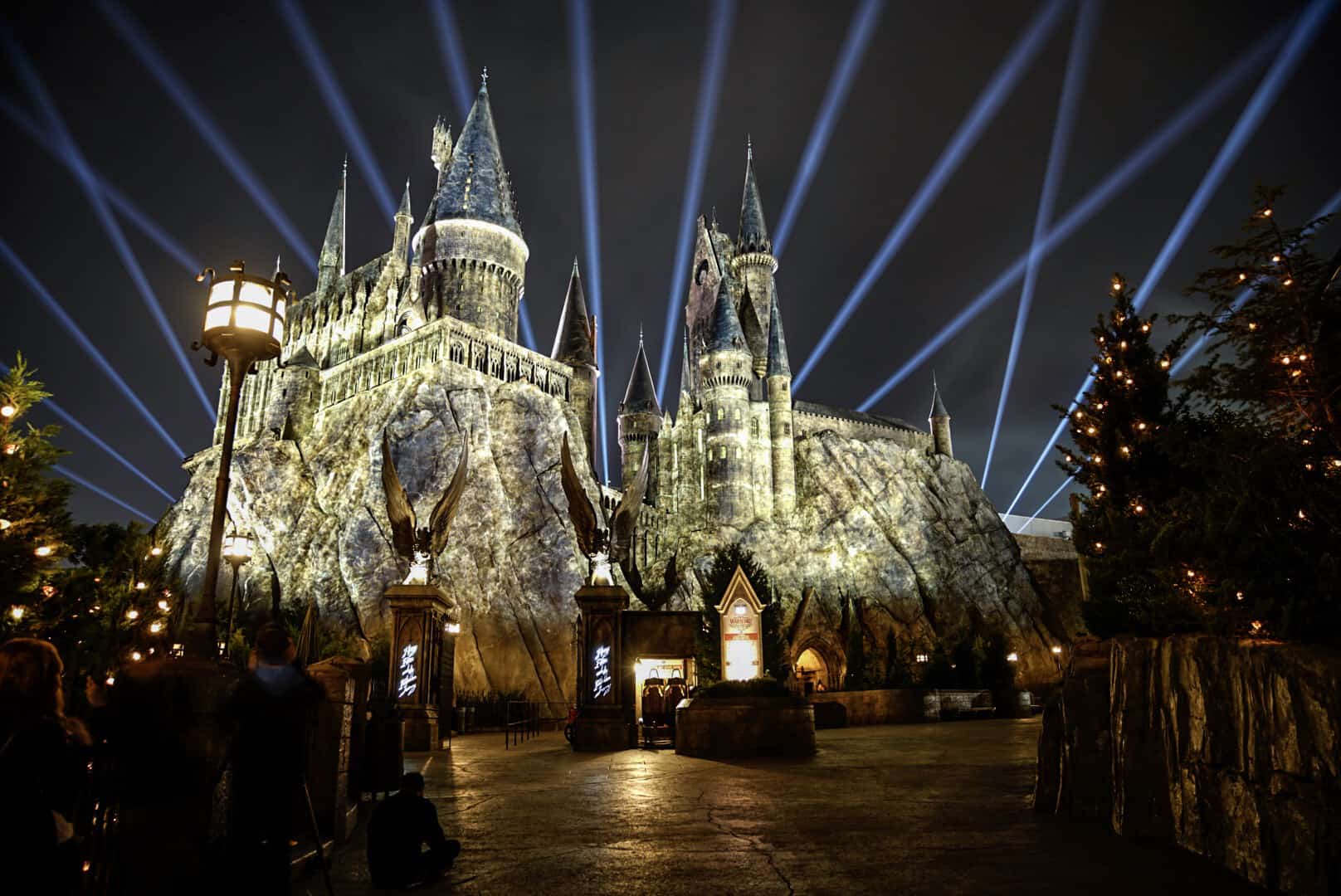 On the whole, Universal Orlando's new projection show is remarkably similar to its original, Christmas one – colors and characters swirl around the contours of the legendary castle, while the nearby trees light up to accentuate the action. John Williams's classic score is effective and nostalgic in equal measures, meaning it more than seals the deal. And by the time everything is said and done, you can't help but feel as if a spell were cast on you – and you can't wait for the incantation to start all over again.
There are some differences between the two performances, of course. Whereas Magic of Christmas at Hogwarts was something of a reflection of Forbidden Journey's slapdash story – more a collection of cool moments and nifty visuals than an actual, coherent narrative – Nighttime Lights at Hogwarts has a stronger throughline, following the Sorting Hat as he lists all four Hogwarts houses and extols their virtues while their mascots prance about the building's surface. It makes for a nifty framing device and a tighter overall package – though it still doesn't constitute a proper story by any means (not that a nighttime spectacular needs to be anything other than, well, spectacular, of course).
Despite all this, however, we couldn't help but feel that Nighttime Lights isn't quite as mesmerizing as last year's showing, that it doesn't move you quite as effectively. We're not sure if that's because the electric charge in the air that only comes from it being Christmastime was missing, or because of Magic of Christmas's longer runtime, or because of the nature of the visuals themselves – this new one is more abstract imagery than concrete appearances from the Harry Potter mythos, whether that be Hermione Granger or the Yule Ball or the Weasleys' flying car.
But don't get the wrong impression: The Nighttime Lights at Hogwarts Castle is not only a great deal of fun, it's also an absolutely must-do experience at the Wizarding World, a tour de force that will make any Potter-phile's heart explode with excitement and a nighttime show that will put a smile on the face of even the most tired of tourists. There's a certain thrill that comes from seeing the houses' mascots come to life in front of you, whether it be Slytherin's giant serpent coiling around the castle or Gryffndor's lion frolicking along Hogwarts's rock base.
We, in short, can't recommend it enough.
I've already seen Magic of Christmas. Do I need to see Nighttime Lights?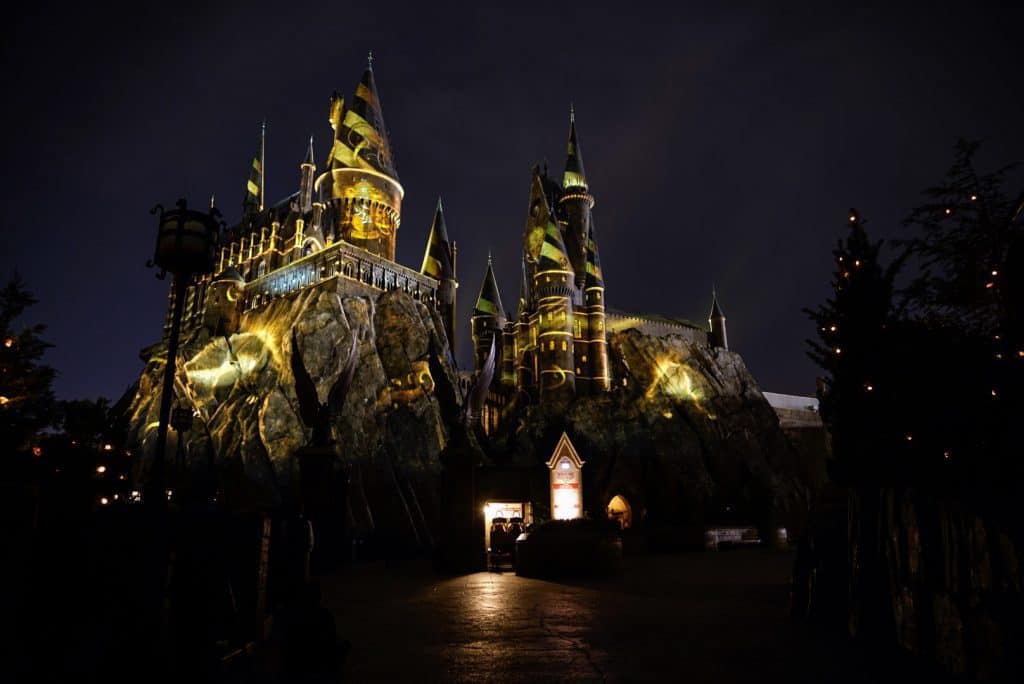 Not only is The Nighttime Lights at Hogwarts Castle the second production of its type at Islands of Adventure, it's also something of a hand-me-down – the show originally debuted at Universal Studios Hollywood last summer, running on through to the holidays (when the park imported Orlando's Magic of Christmas at Hogwarts, funnily enough). Given all this, those who have yet to see it may have reduced excitement levels, and those who have already witnessed the show (whether in person or online) may be unsure about braving the crowds to catch it again.
While the two productions share a large deal in common (just how different can a projection-mapping show revolving around Hogwarts Castle be, after all?), they are different enough that, at least in our opinion, Nighttime Lights justifies an in-person viewing. And since we're pretty hopeful that Universal will extend this new show's viewing dates throughout most of the year – just as the company did over on the West Coast in 2017 – there'll be more of an opportunity to catch a less-crowded show time, which can only serve to improve your experience.
And since it doesn't really hurt to state this again, we're going to go ahead and do so right now: even though the show is already a year old, and even though it's nearly three minutes shorter than The Magic of Christmas at Hogwarts Castle, it's a riveting, captivating, and immersive experience that should go to the top of your not-to-be-missed list when visiting the parks. Miss this production at your own muggle peril.
The Nighttime Lights at Hogwarts Castle will run on select nights from now through February 26. Universal has promised to announce additional dates in the very near future.
–
You can find out everything you ever wanted to know about A Celebration of Harry Potter in our complete guide.
And you can follow all of the latest news and updates from the event on Orlando Informer's various social media channels: Facebook, Twitter, and Instagram.