As spring rolls into summer at Universal Orlando Resort, Mardi Gras festivities have drawn to a close – but the culinary celebration lives on! As of Saturday, May 8, several new food and beverage venues have opened across Universal Studios Florida, introducing a fresh variety of flavors to experience, and bringing back a few fan-favorites from International Flavors of Carnaval.
While this unannounced, food-based venture does not have an official name or event associated with it, there appears to be a tropical summer theme that connects each location. Of course, as theme-park foodies who embrace every opportunity to indulge in something new at the parks, our team promptly arrived on Saturday to try (almost) every item these seasonal menus have to offer – and our taste buds were not disappointed.
Join us as we share our opinions on every dish and drink we encountered on our summery sampling adventure!
Review and photos of new summer bites and beverages from Battery Park venue
This food and beverage venue is located on the lagoon, across from Transformers: The Ride – 3D.
Elotes Asados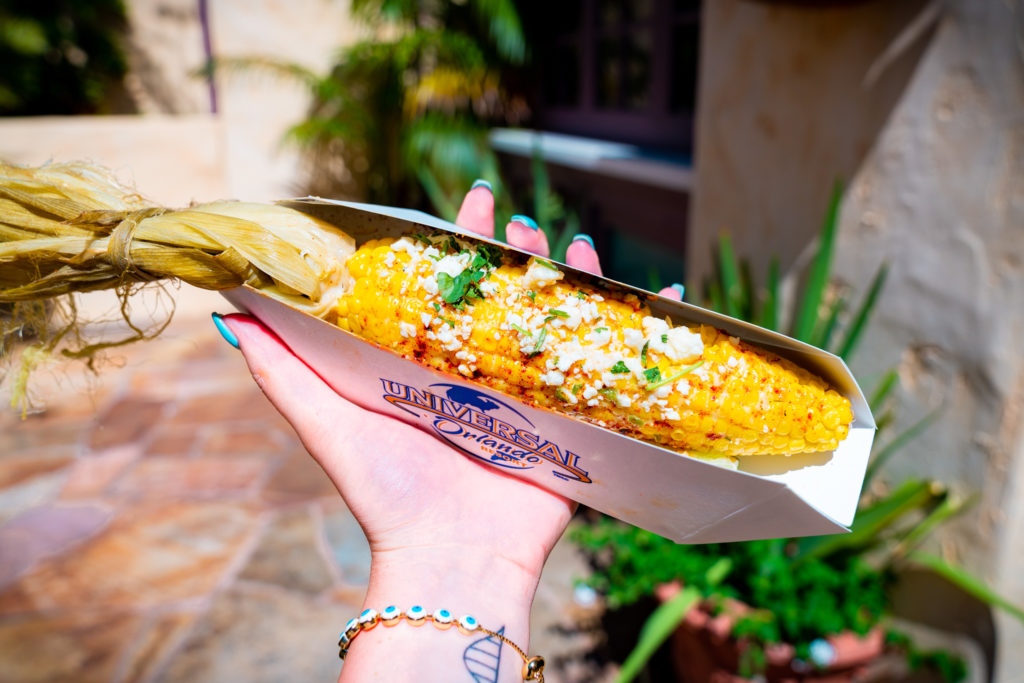 Price: traditional – $5.79; cilantro butter – $5.29
Our rating: 9/10
This small dish is bursting with great flavor! Corn on the cob is delicious on its own, but the traditional-style toppings – which include cotija, chili powder, and vegan jalapeño mayo – take this snack to the next level. For those of us who prefer their food to be on the plainer side, the cilantro-butter option served as a simpler-yet-equally-enjoyable alternative.
Equites Asados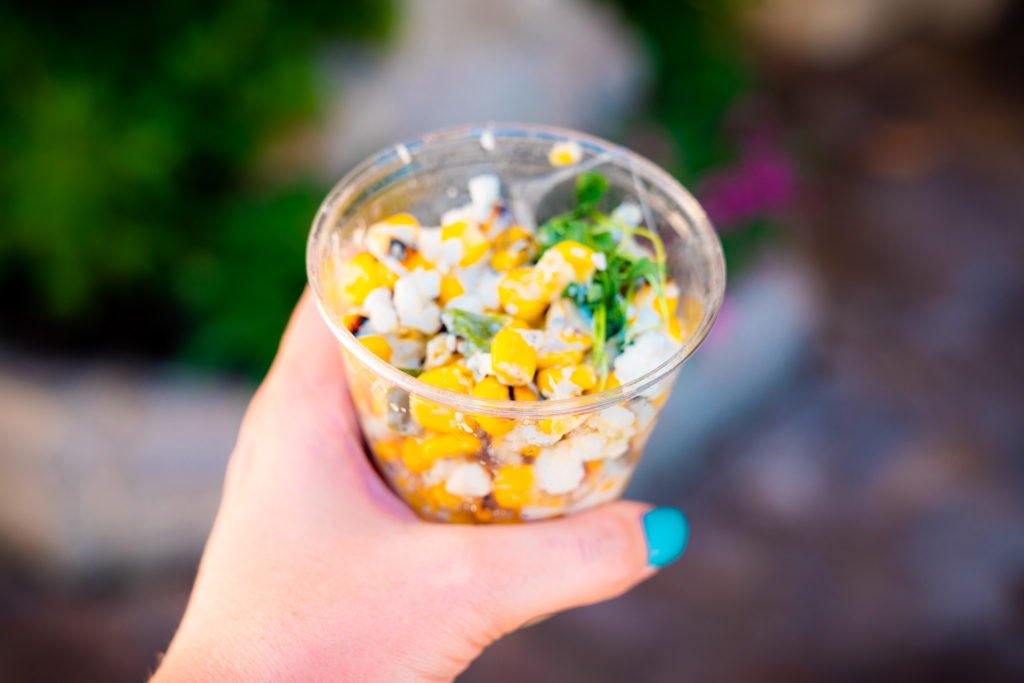 Price: $5.99
Our rating: 8/10
This item is essentially the same thing as the Elotes Asados – the ingredients are identical but served in a cup! While street corn tastes just as yummy either way, we personally preferred it straight off the cob. However, if you are not a fan of messy eating, the Esquites Asados may be the better choice for you.
Carnitas Arepa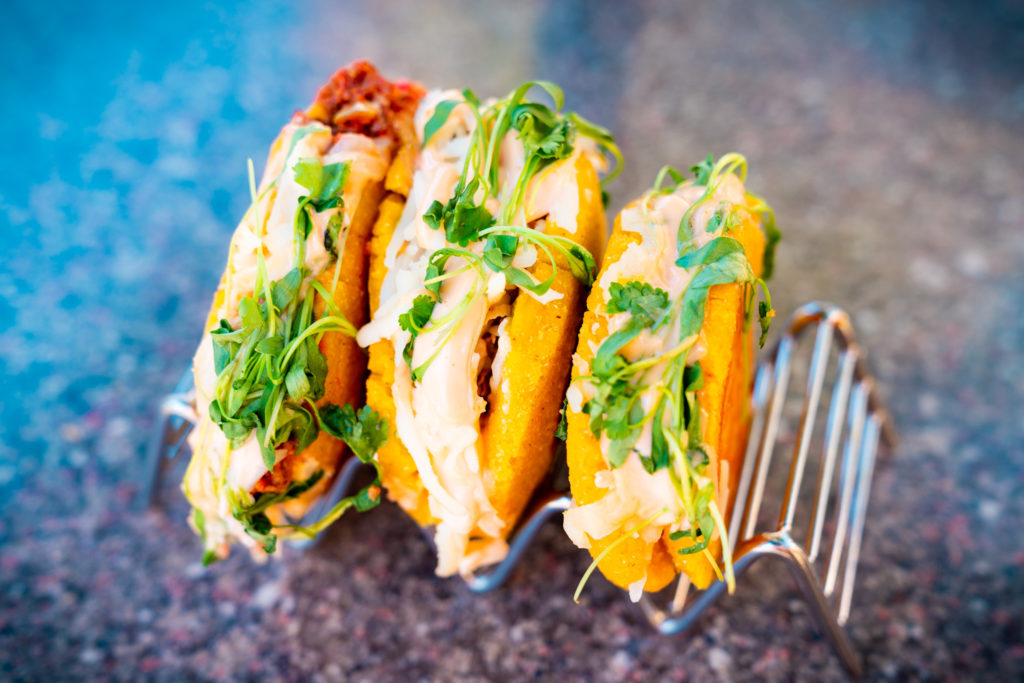 Price: $9.29
Our rating: 8/10
Of all three arepas available, the carnitas was our favorite! The tender, simmered pork paired beautifully with the avocado and mayo-ketchup sauce that was generously slathered on top.
Beef Picadillo Arepa
Price: $9.29
Our rating: 7/10
This arepa was a close second to the carnitas, packing more of a savory kick and contrasting nicely with the corn-meal shell. If you (and your taste buds) tend to lean more towards beef than pork, then this is the arepa for you.
Queso Arepa
Price: $8.29
Our rating: 4/10
We found this arepa to have a steep drop in boldness compared to the other two – composed of just shredded cheese, cilantro, and mayo-ketchup, it doesn't have much to stand out from the slightly bland corn meal. Although lacking in flavor for us, it may be more enjoyable for sensitive eaters, or those who prefer a milder dish.
Coxinha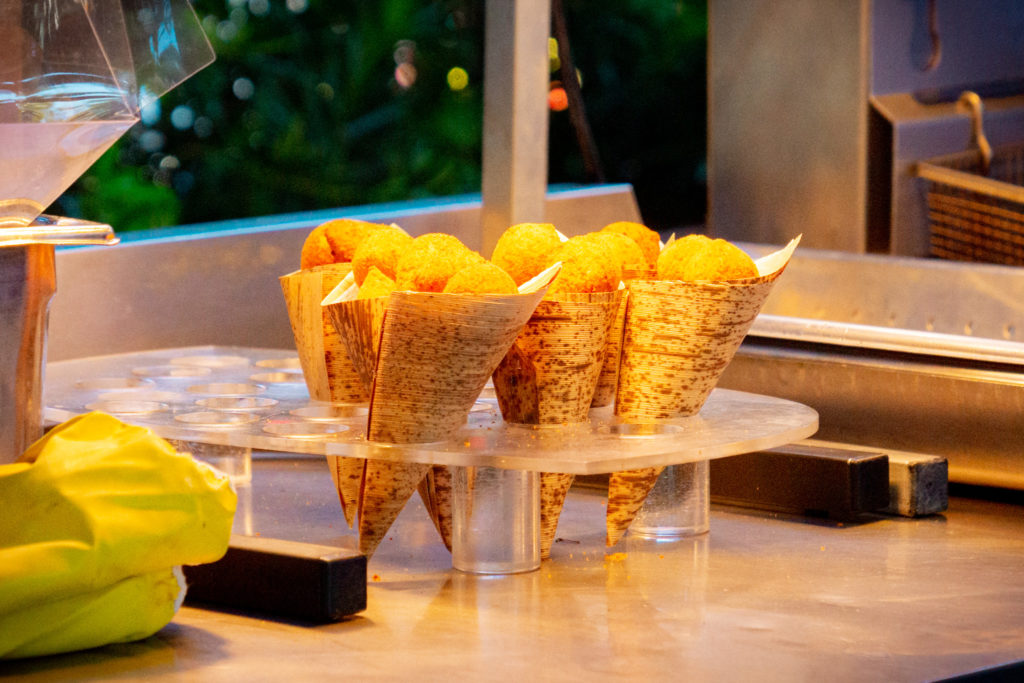 Price: $5.49
Our rating: 10/10
We absolutely loved these scrumptious little bites! A seemingly simple combo of flash-fried potato and chicken proved to be one of our top items of the day. Although we wished they were served with a complementary dipping sauce, we still found these to be an awesome snack that satisfied the whole team.
Mangonada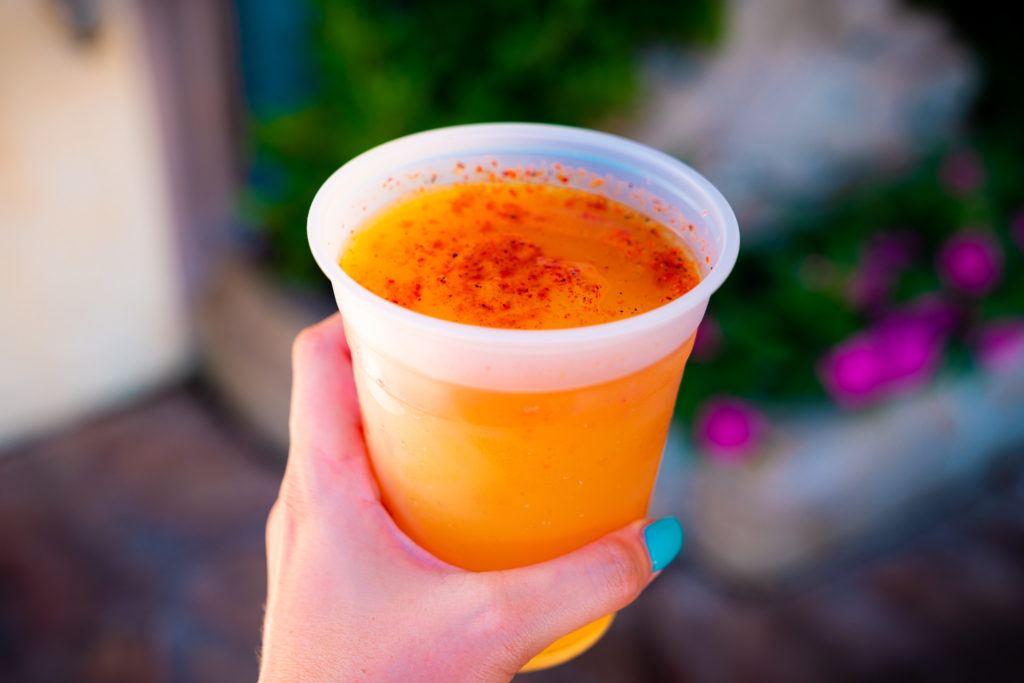 Price: non-alcoholic – $7.00; with a Monte Alban tequila floater – $12.50
Our rating: 7/10
This fruity, frozen beverage took us out of the theme parks and straight to the tropics. The mango and lime pair refreshingly with chamoy and chili salt, making for an interesting combination of sweet and savory – and, even, a little spicy. As a unique bonus, when you purchase a Mangonada with the tequila floater, it's served with a tamarind candy straw!
Chispas de Fuego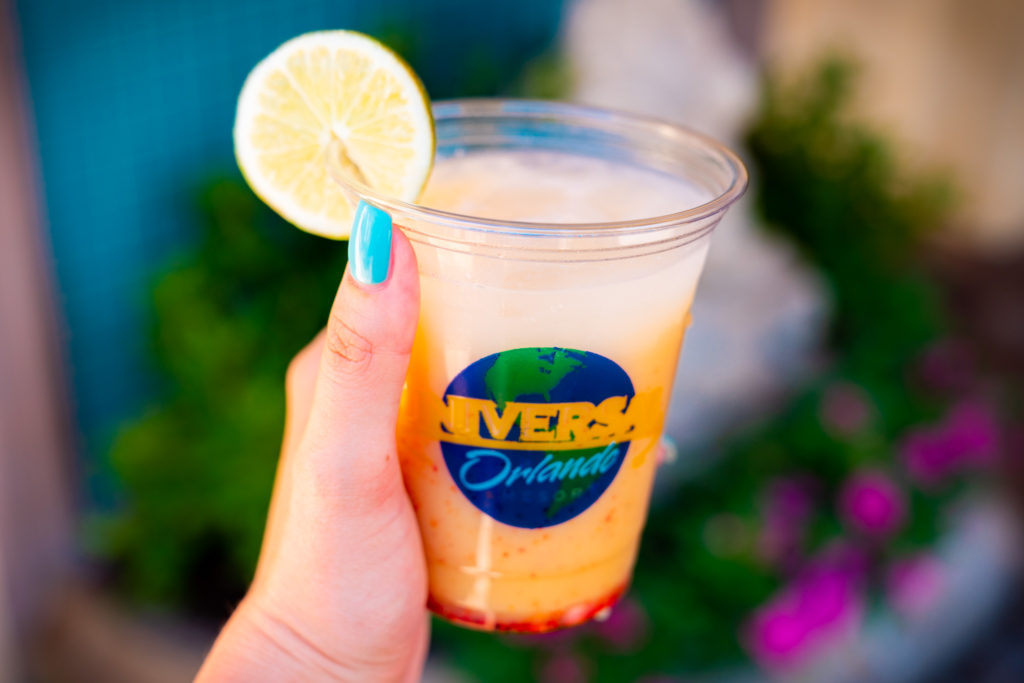 Price: $13.50
Our rating: 5/10
Although this cocktail has a gorgeous and colorful presentation, it received mixed reviews from our team. We found the tequila and spiced Tajín to be strong in comparison to the mango-lime colada, making for a somewhat salty and tart flavor. If you have a liking for drinks with a sharp and sour edge, you might want to give it a try!
Lime-Falernum Agua Fresca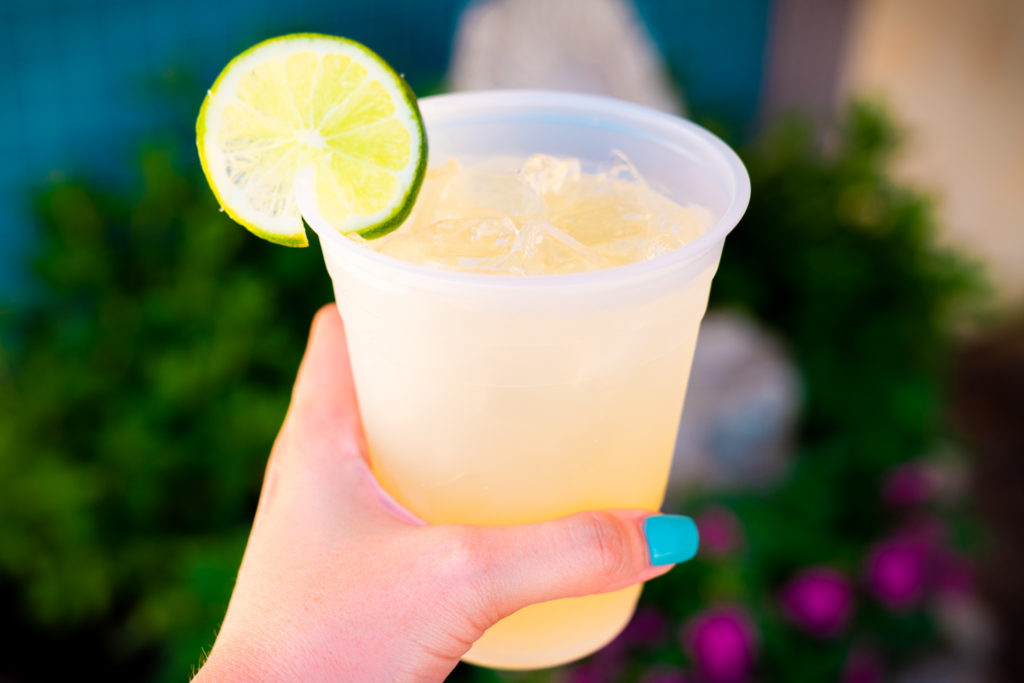 Price: $6.00
Our rating: 8/10
This light and breezy lime-based drink pairs perfectly with a blazing summer day – it's not too sugary or sour, and it includes the tiniest touch of ginger for a very smooth and easy-to-sip flavor. (Note: each of us thought that this beverage tasted remarkably similar to "SweeTARTS" candy!)
Tamarind Agua Fresca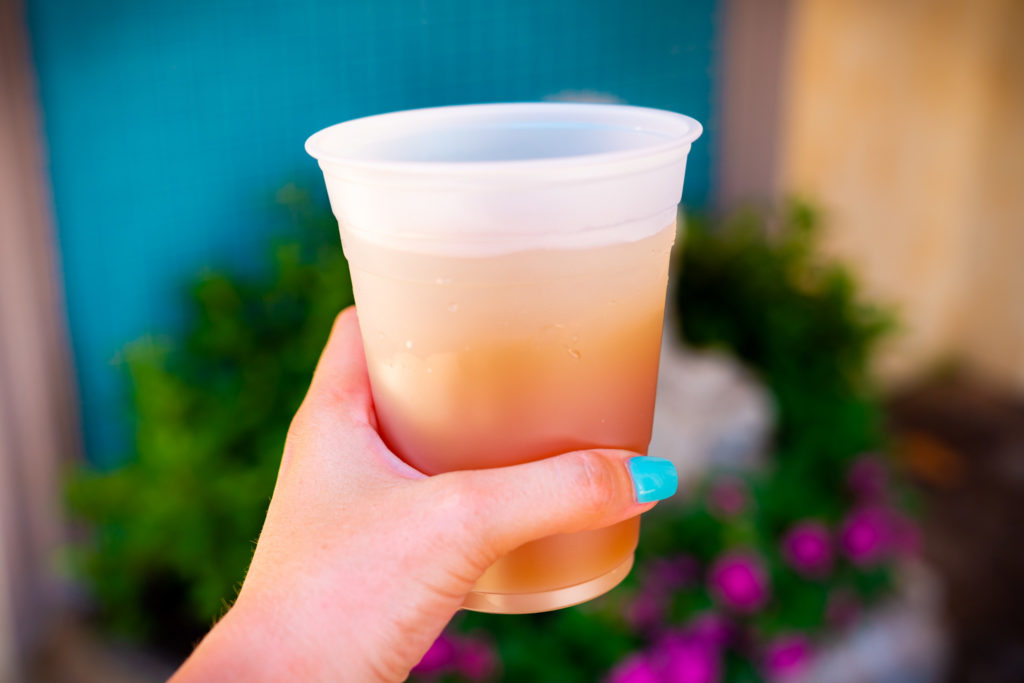 Price: $6.00
Our rating: 10/10
While we had very neutral expectations for this drink going in, it turned out to be our surprise favorite! The earthy sweetness balances a hint of sour, creating a very unique and rejuvenating flavor. We recommend it to anyone looking to try something refreshing and different.
Review and photos of new summer bites and beverages from San Francisco food truck
This food truck is located in the San Francisco area of the park (across from the Fast & Furious – Supercharged gift shop).
Pressed Cuban Sandwich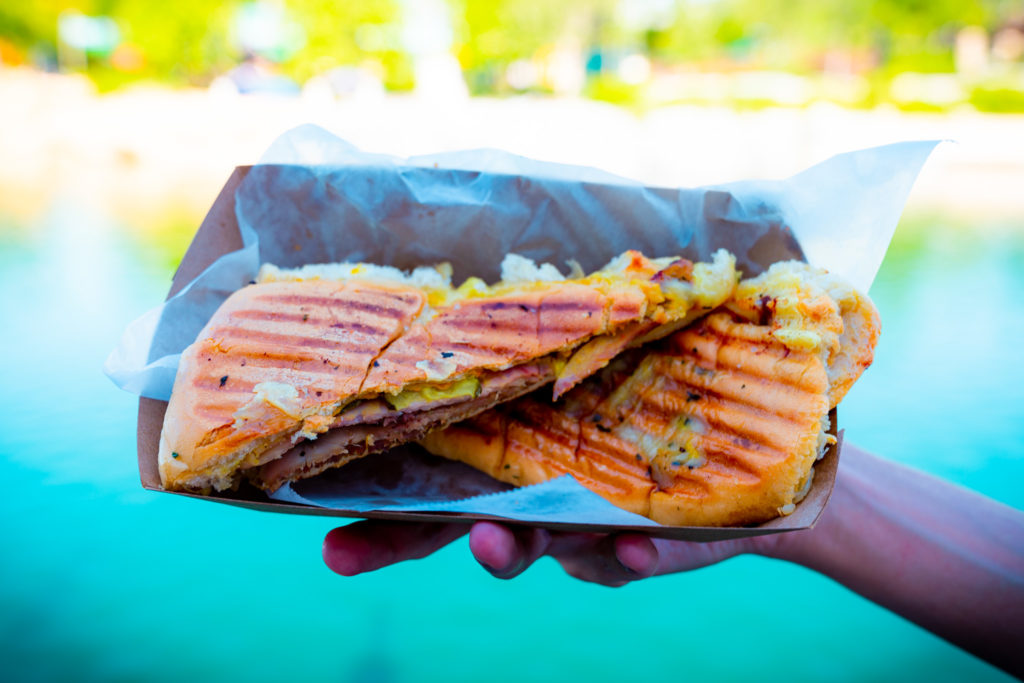 Price: $14.99
Our rating: 9/10
We were excited to see this item revived from Mardi Gras, as it was one of our top picks from International Flavors of Carnaval. Once again, we were impressed by the mouthwatering combination of meat, mustard, and pickles wedged between warm Cuban bread slices. Much to our delight, we found this sandwich to be almost double the size of the Mardi Gras portion – which means double the yum!
Beef Empanadas
Price: $12.99
Our rating: 6/10
This dish is yet another crowd-pleaser carried over from Mardi Gras. While tasty, these empanadas are pretty par for the course – they don't quite stand out as anything special. However, the cucumber and tomato salad served alongside them makes for a nice pairing.
Dogfish Head SeaQuench Ale Session Sour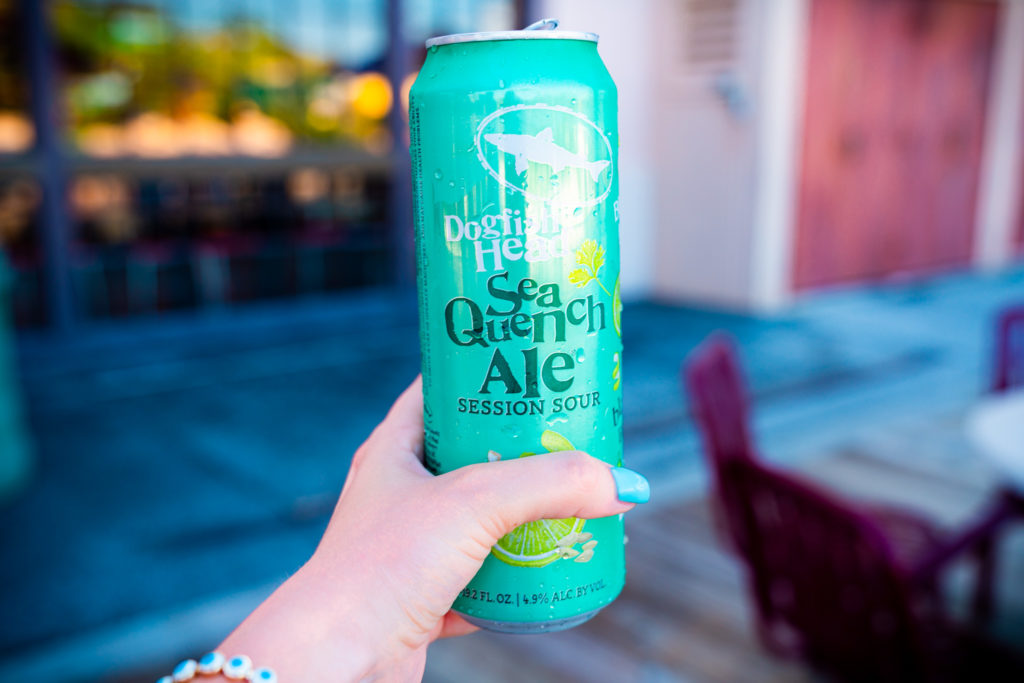 Price: $10.00
Our rating: 8/10
Unlike Mardi Gras, these summer food and beverage offerings don't include the same variety of unique wines and beers to try – which is why we were pleased to come across this less-common sour ale. This crisp blend of lime and sea salt gave us nothing but beachy vibes, as though we were sipping summer straight out of a can!
Review and photos of new summer bites from Lombard's Landing food truck
This food truck is also located in the San Francisco area of the park, between Richter's Burger Co. and Lombard's Seafood Grille.
3 Cheese Classic Melt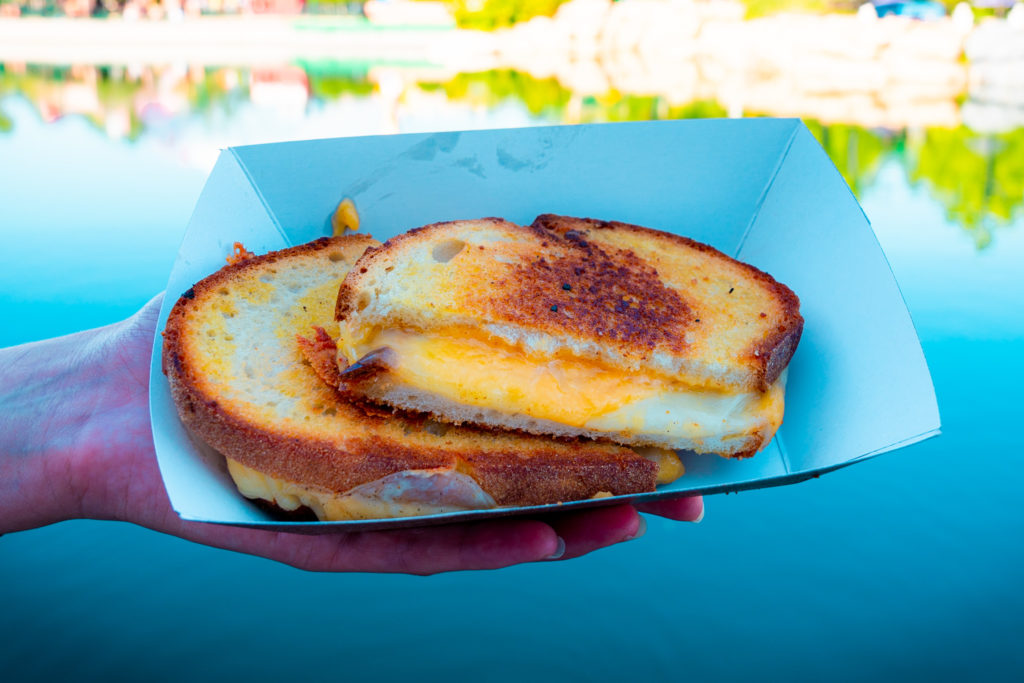 Price: $9.99
Our rating: 7/10
While conventionally yummy and buttered to perfection, this melt was no more than a very well-made grilled cheese sandwich. We found it to be fairly standard on its own but particularly delish when dipped in the cream of tomato soup.
Smoky Brisket Melt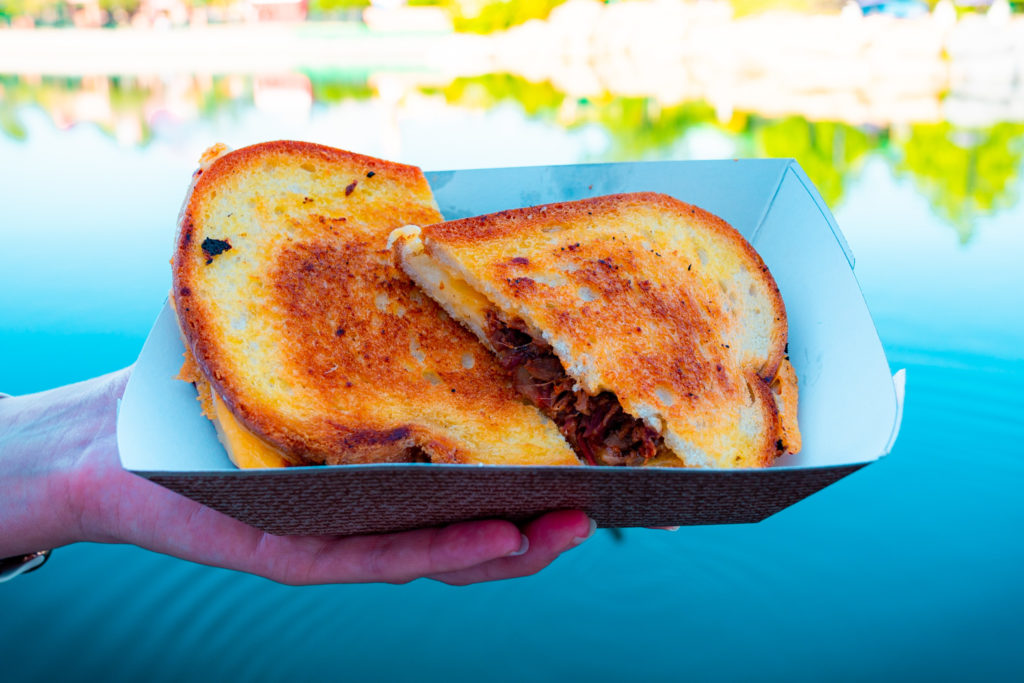 Price: $11.99
Our rating: 8/10
Hello, flavor! This sandwich is similar in composition to the 3 Cheese Classic Melt but is packed with bold BBQ brisket. We agreed that the addition of savory meat really brought this cheesy creation to life.
Vegan Melt
Price: $10.99
Our rating: 7/10
The vegetarians on our team were thrilled to see this menu option and had mostly good things to say about it! The highlights of this sandwich were its flawlessly charred bread and palatable pesto dressing. The vegan cheese, however, could have benefitted from a cheesier, meltier texture.
White Cheddar Mac 'n' Cheese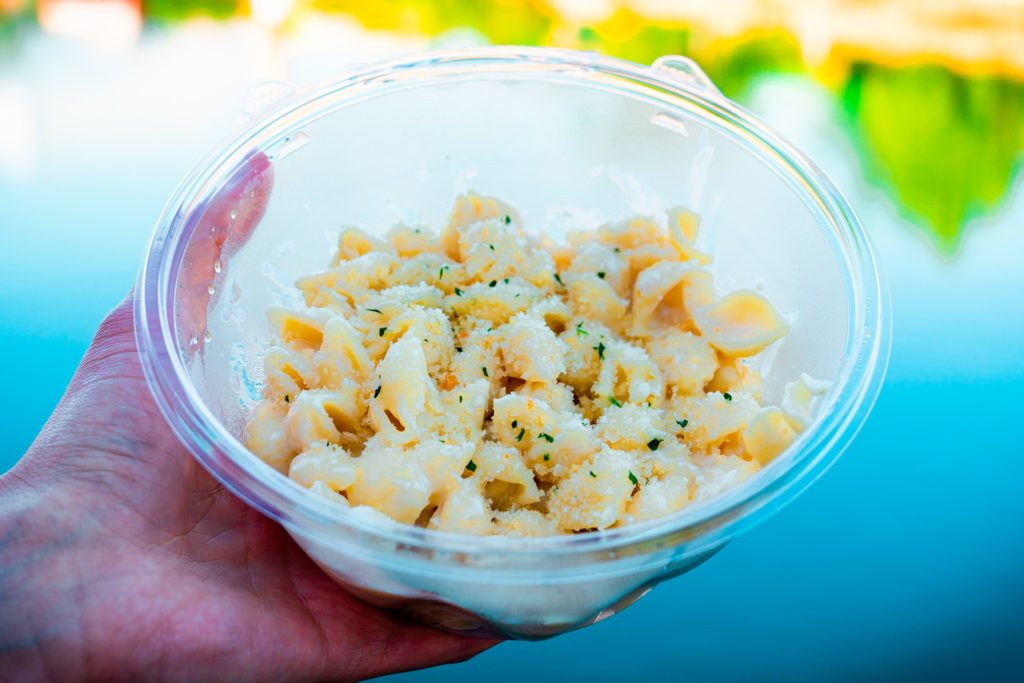 Price: $9.99 full portion, $5.99 side portion
Our rating: 6/10
This dish is exactly what you'd expect it to be – creamy, cheesy, and generally satisfying. If anything, it came up a bit short in the flavor department. A sharper cheese or extra dash of seasoning could have improved this mac, but we still enjoyed it overall.
Carnitas Mac 'n' Cheese
Price: $11.99
Our rating: 9/10
BBQ-drenched pork and green onions were exactly what this dish needed! We loved the pairing of both texture and flavor between the meat and macaroni, and will be sure to return to this flavorful favorite again.
Cream of Tomato Soup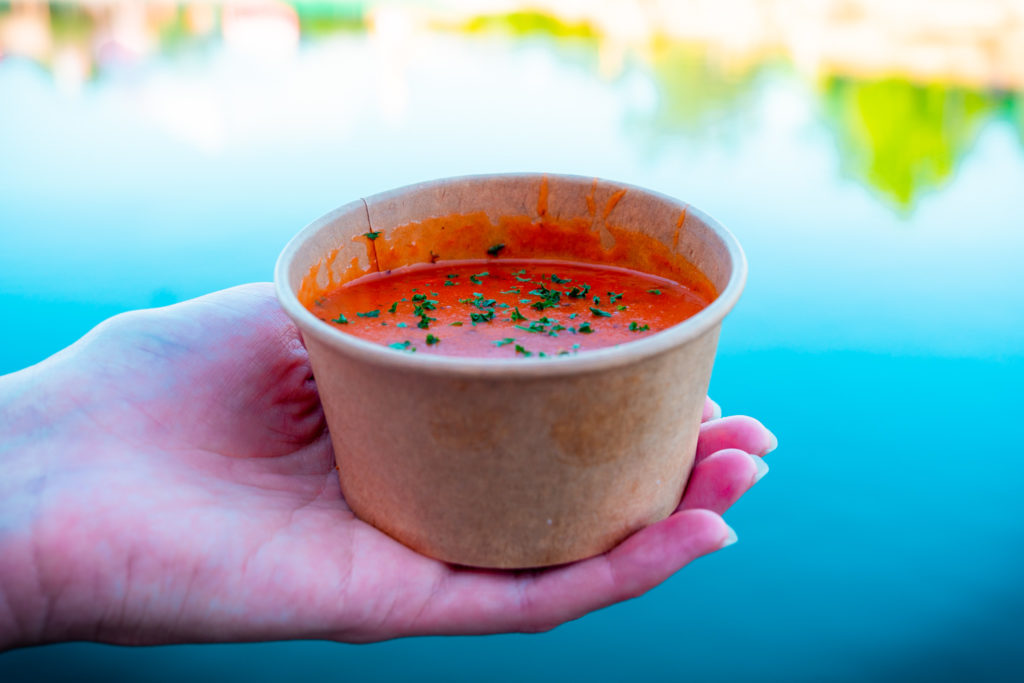 Price: $5.99
Our rating: 5/10
This small cup of soup isn't quite remarkable on its own; however, it is an excellent side item for dipping melts into, or as a tasty complement to your bowl of mac.
Review and photos of new summer bites from World Expo food booth
This food booth is located in the World Expo area of the park, on the Bridge near Men in Black Alien Attack and The Simpsons Ride.
Tripleta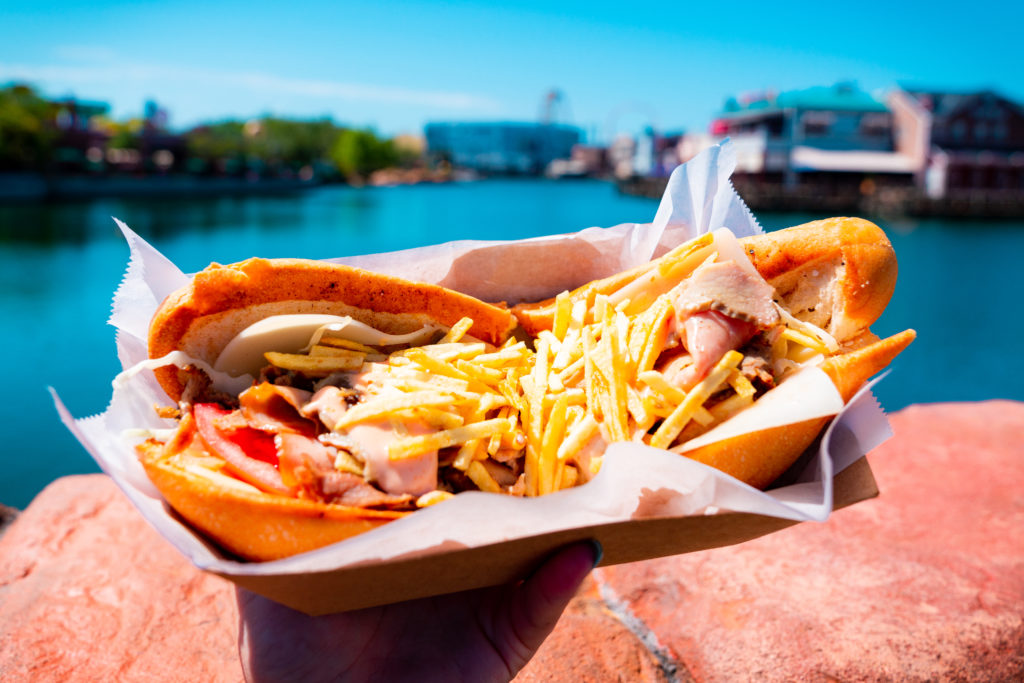 Price: $14.99
Our rating: 10/10
We were huge fans of this Puerto Rican platter! It is filled to the brim with flavor, boasting several types of sliced meat atop delicious, kneaded bread. What really makes this sandwich special, however, are the crispy potato crisps sprinkled generously upon it – these create an amazing, crunchy contrast to the otherwise soft components within.
Yucca Fritta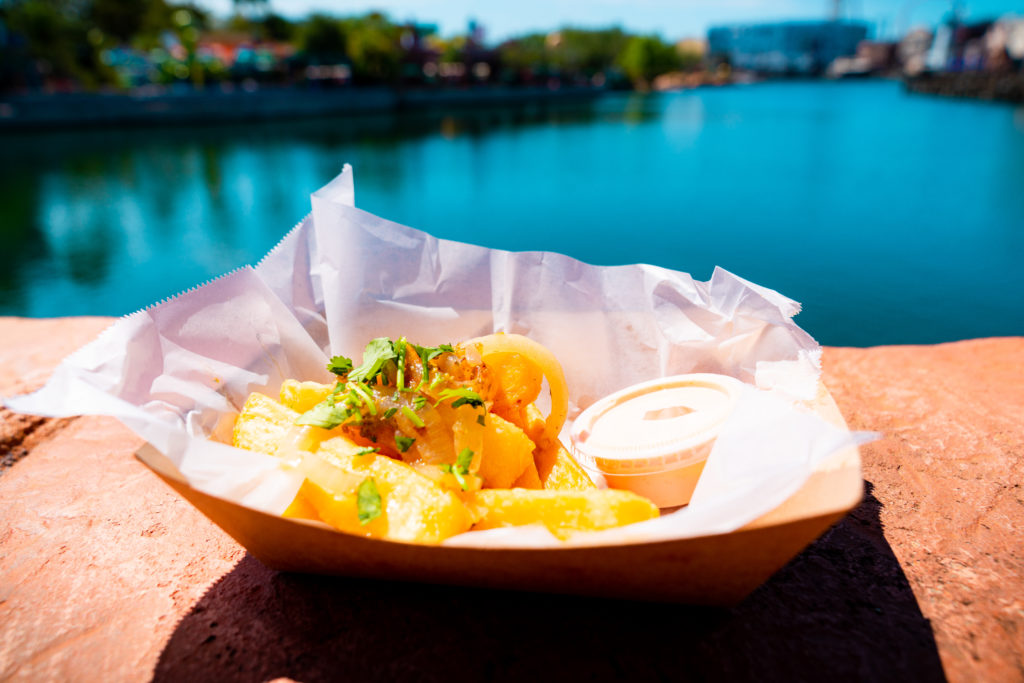 Price: $5.99
Our rating: 8/10
Although less interesting than its tripleta counterpart, this fried finger-food still holds its own as a pleasant and popular snack. The addition of garlic and onion mojo, along with the yummy sauce it is served with, really help to bring it up a notch in terms of taste.
---
All things considered – and tasted – we greatly enjoyed Universal's summer selection of bites and beverages, and we appreciate these extra yummy ways to celebrate the bright, sunny, and fun-filled days ahead. We hope to see even more seasonal offerings pop up in the future!
Which dishes and drinks are you most excited to try? Share your foodie bucket list with 120,000+ theme-park lovers in our Orlando Informer Community on Facebook – and follow us on Facebook, Twitter, and Instagram to feast on the latest announcements and updates.
Do you have a question about the information on this page, would like to provide feedback, or did you spot an inaccuracy? Join us in our Orlando Informer Community Facebook group, and let's talk about it!