There are two ways to look at Mickey and Minnie's Runaway Railway.
On the one hand, it's the new flagship attraction at Disney's Hollywood Studios, replacing The Great Movie Ride after its 28-year run at the heart of the park. This makes it the capstone of a six-year-long overhaul project at Hollywood Studios, which has seen a plethora of closures and (re)openings that have massively reshaped Walt Disney World Resort's third theme park (adding such lands as Star Wars: Galaxy's Edge and new experiences as Lightning McQueen's Racing Academy).
On the other hand, Runaway Railway is, of course, an attraction in and of itself, one that is the very first dark ride to star Mickey and Minnie Mouse. It has its own story to tell, using all of the new technologies that Disney has been developing and deploying over the past two decades, such as trackless ride vehicles and "full 3D" audio-animatronics (which feature physical, mechanical bodies and animated faces). There's even a slew of projection-mapping, the tech that has transformed Cinderella Castle into the canvas for some pretty eye-popping nighttime spectaculars; here, it's just as immersive, used just about everywhere you can look to make static rooms into animated environments.
Mickey and Minnie's Runaway Railway succeeds on both of these counts, and it does so wildly – it is a stellar first impression for visitors making their way through Hollywood Studios (particularly if they're already heading over to the Star Wars-themed land, providing a much-needed diversion for crowd-control purposes), and it's an impressive landing for Mickey's first ride. The experience feels like a marathon of the current Mickey Mouse television series that airs on the Disney Channel, with each scene representing a different episode. Yes, the resulting effect is something a little on the disjointed side, but it more than fits with the zany, cartoony world that the source material exists in (and, besides, it's not too far removed from Universal's Harry Potter and the Forbidden Journey) – going from a downtown city to a canyon to an underwater section actually creates a certain flow that only helps to make the ride experience more fun.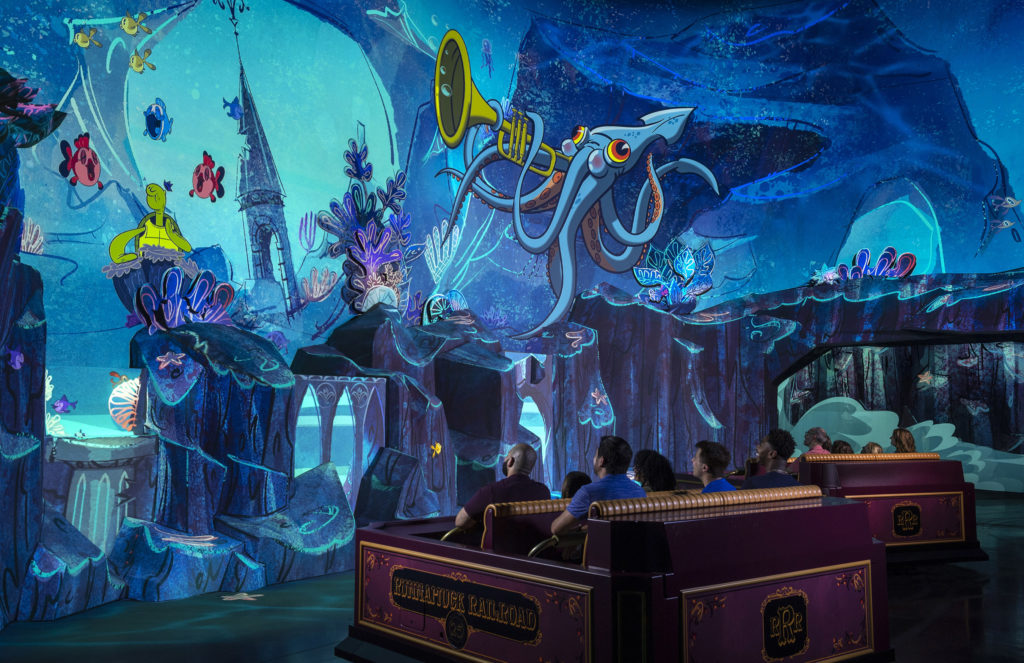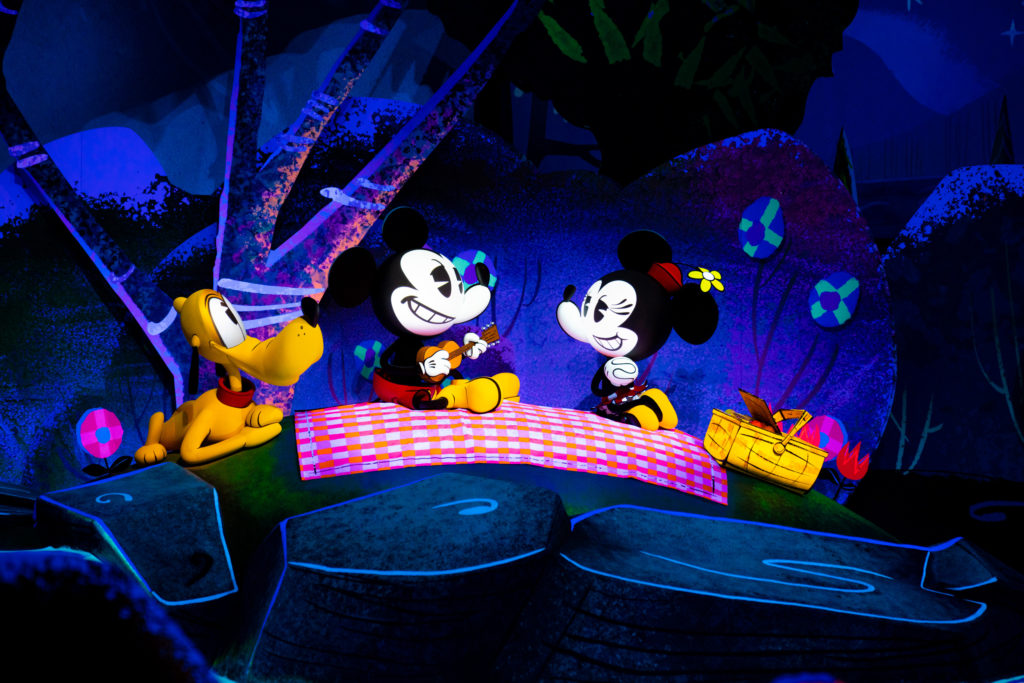 And we do mean fun. There is a song, "Nothing Can Stop Us Now," that was written exclusively for the ride and which is incredibly infectious all the way through; the preshow features a transition into the loading station that is equal parts surprising and mind-blowing; and there are more than enough bits during the ride itself, ranging from a surprisingly practical tornado to a transformative grand climax, that keep you engaged and delighted (our favorite part just might be the dance routine, when Daisy Duck instructs all of the trackless ride vehicles to engage in a series of different dance moves). You really do feel as if you've stepped into an animated world, and it's easily one of the most immersive rides we've seen in Central Florida in recent times – no small praise, given the glut of high-quality experiences that have been arriving as of late.
In fact, the best way to sum up the entire experience is to call Runaway Railway one of the very first attractions of – and for – the 21st century, deploying an astounding and impressive array of technology to tell a story that is captivating and to weave an experience that will stay with you for long after you exit Runnamuck Railways. It may very well be the new crown jewel of Hollywood Studios for the next three-decade period.
Mickey and Minnie's Runaway Railway opens today at Disney's Hollywood Studios.
Do you want even more Runaway Railway goodness? Be sure to check out our impressions of the ride's preshow and our first-time-through reactions.
–
What are your thoughts about Mickey's first-ever dark ride – and all of the other enhancements coming to Walt Disney World Resort? Discuss it with thousands of other Disney fans in our OI Community Facebook group.
And don't forget to follow Orlando Informer on Facebook, Twitter, and Instagram for the latest news and tips at Universal Orlando, Walt Disney World, and other Orlando experiences.