Over 1,000 photos, 10 OI Center pages, and countless visits to Sapphire Falls later… All that's left? Our official review of the new on-site hotel. Read on to learn why Loews Sapphire Falls Resort is now my favorite hotel at Universal Orlando Resort!

Sapphire Falls opened on July 14, 2016, and is the sister hotel to Royal Pacific. Both hotels are in Universal's "preferred" category, the middle tier for on-site hotels. One of the core differences between the two hotels is that Sapphire Falls does not offer complimentary Universal Express, whereas Royal Pacific does. Outside of this, the hotel's offerings are very similar. They both offer guests perks like early park admission and water taxi transportation to the parks.
Due to Sapphire Falls not offering complimentary Universal Express, you'll find that the hotel's rates only fluctuate by $85 dollars from the least busiest times of the year to the busiest. (This is similar to Universal's Cabana Bay.) Additionally, rack rates at Sapphire Falls begin at $179 (compared to Cabana Bay's $124 and Royal Pacific's $244).
Design of Loews Sapphire Falls Resort at Universal Orlando
As to be expected, Sapphire Falls is beautiful. This can be said for all of Universal's on-site hotels, although all for varying reasons. What sets Sapphire Falls apart from the other options is its design and theme. It is loosely based around the idea of a Caribbean oasis, celebrating the concept of something the folks at the hotel call "island time".
Barb Bowden, Complex Managing Director for Loews Sapphire Falls Resort and Loews Royal Pacific Resort, told us that she feels that the Caribbean theme is the first thing that sets Sapphire Falls apart from the other on-site hotel offerings.
A different take on this theme can be found throughout the resort. Unlike Universal's other on-site hotel, you'll often find varying architecture and color schemes at Sapphire Falls. Just off of the hotel lobby is Strong Water Tavern, the hotel bar, which features earthy tones and impressive stonework. Go downstairs, however, and you'll find Sapphire Fall's sit down restaurant, Amatista Cookhouse, has a far more simplistic design with plenty of blues.
While this has left some confused, I absolutely love it. It makes traversing the property almost feel like an adventure. You truly don't know what to expect around each corner. No matter where you find yourself, all areas are equally relaxing and embrace the underlying theme.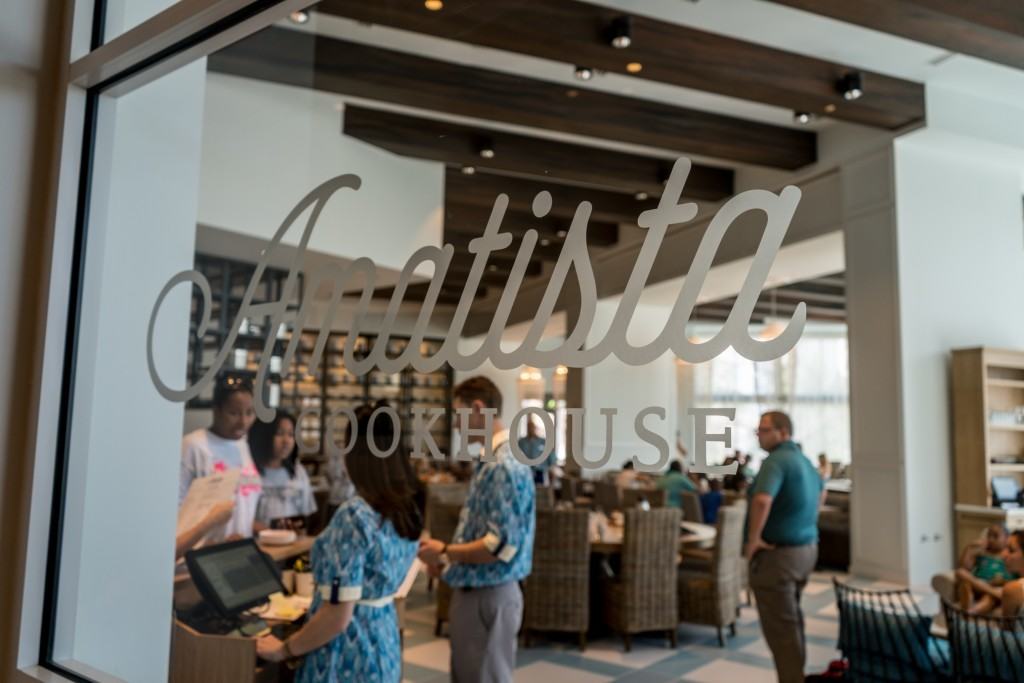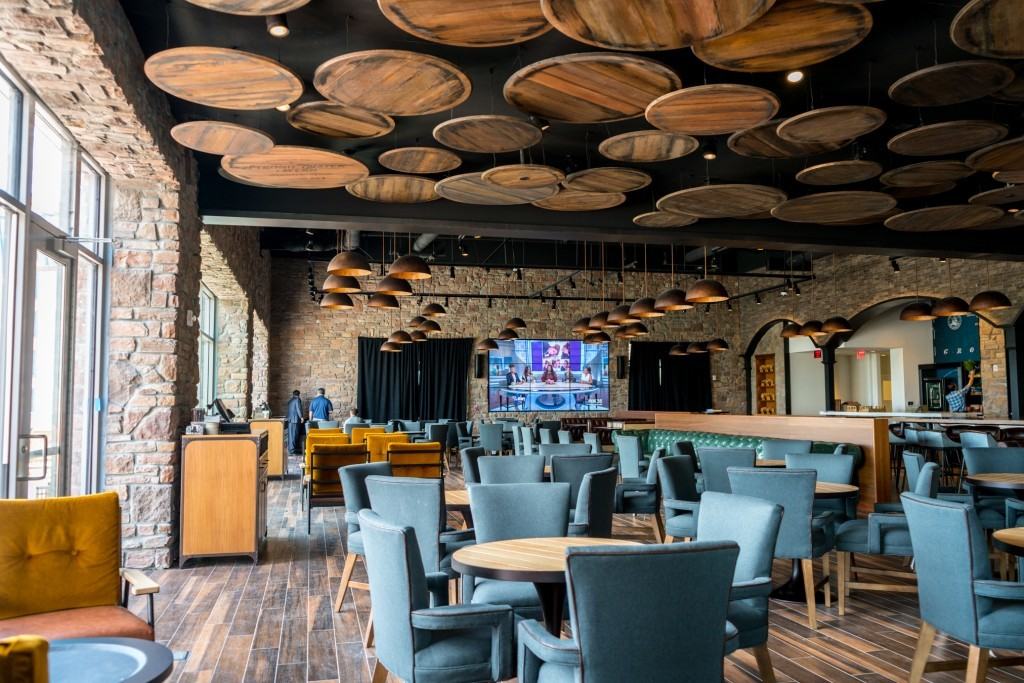 We had the pleasure to tour the new hotel with Russ Dagon, Vice President/Executive Project Director of the group within Universal Creative that designs Universal's on-site hotels. "One of the challenges in all of our designs is what's the story behind it," Dagon shared when asked about the looser story behind Sapphire Falls. "Portofino, Hard Rock, Royal Pacific, those are very, very simple, concise stories. Cabana Bay was a place in time as much as it was a place, but it's always about placemaking."
"For this [Sapphire Falls], the consistent story is the Caribbean and it is the water. But, there's different ways to look at that. So, there's kind of an older […] ruin type approach to looking at the Caribbean. Then there's a newer approach, if you were building in the Caribbean today what would you be building? We've got a little bit of both of those," Dagon elaborated.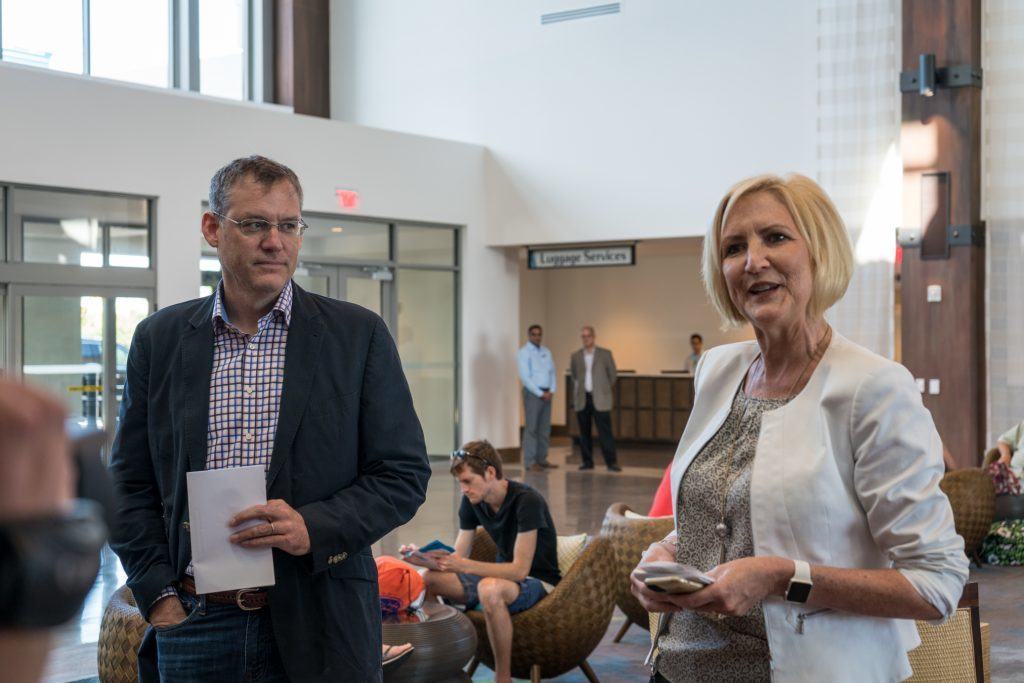 One final element I feel sets Sapphire Falls apart from the other options is how bright and open it is. Almost everywhere you turn, there is floor-to-ceiling panes of glass. Especially on a sunny day, the hotel is energizing with light shining in on the hotel lobby, while you wait for an elevator to go to your room, or while you enjoy waterfront dining at Amatista.
Hotel Lobby at Sapphire Falls
In my opinion, Sapphire Falls has the best lobby out of any of the on-site hotels. Upon entering your eyes are almost immediately drawn to the huge chandelier that looms above the hotel lobby. It's also centrally located. Just a few steps from the entrance is the front desk, concierge, Hertz rental desk, Universal ticket counter, Universal gift shop, New Dutch Trading Co. (grab and go food options), and Strong Water Tavern. As if that wasn't enough, the lobby is in the center of all of the guest towers and Amatista Cookhouse and the water taxis to the parks are just an elevator ride away.
If you're lucky, you can even catch an epic sunset over Islands of Adventure without ever leaving the lobby. "We're very pleased with the fact that you can stand in the lobby and look out and see the Islands of Adventure lighthouse," Dagon had to say about the lobby.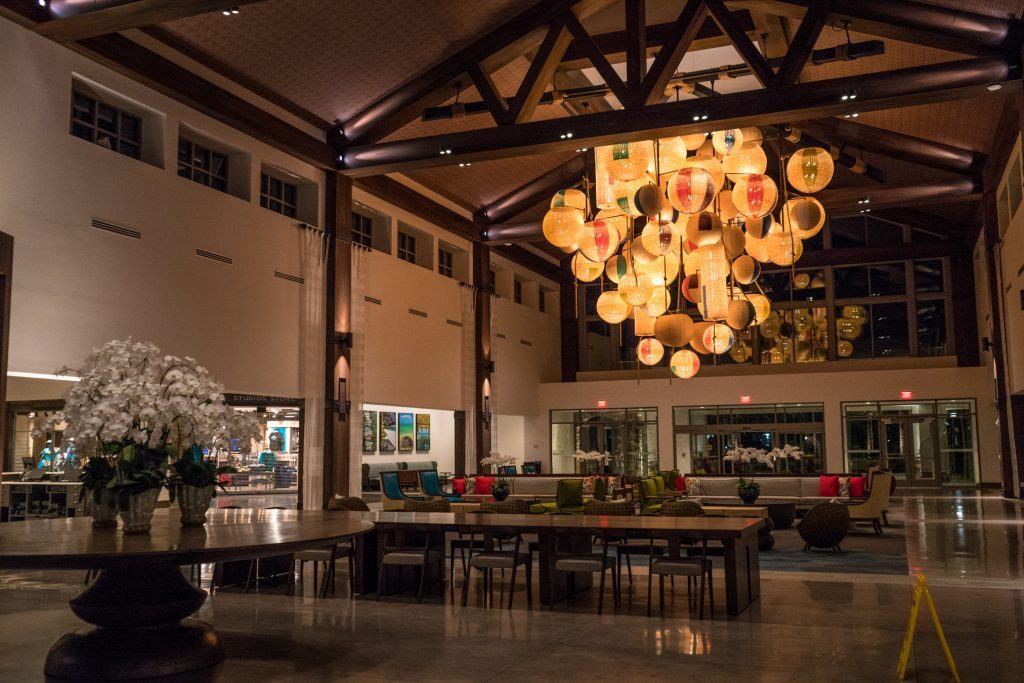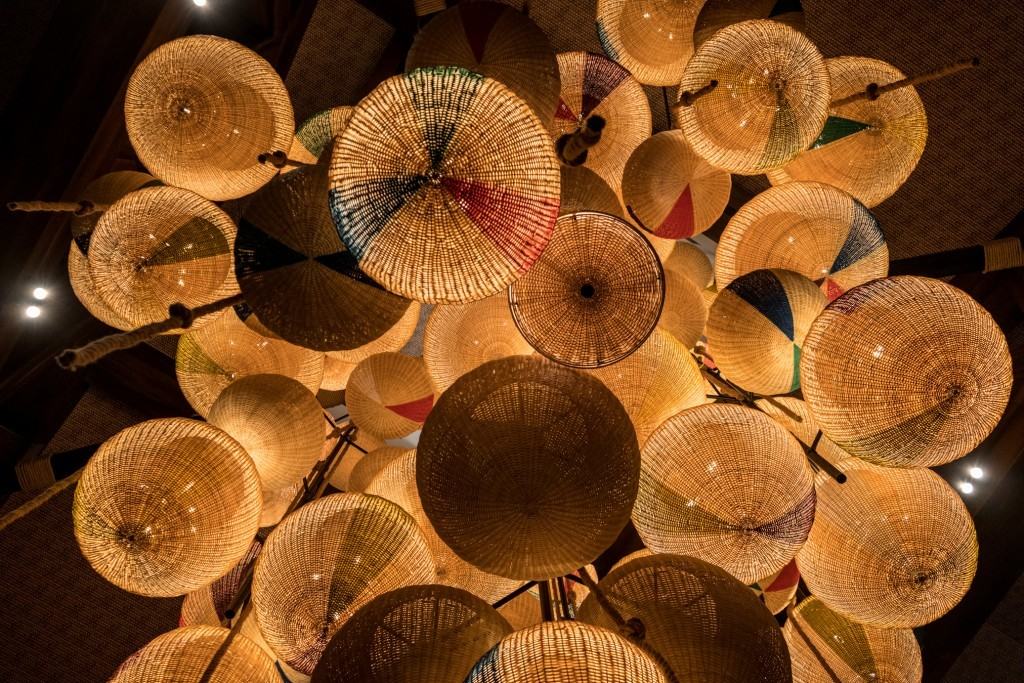 If you want to see more of Sapphire Falls lobby, we published a really neat 360 degree look on our Facebook page. Additionally, you can view this page in our OI Center.
Sapphire Falls' Pool
Water weighs about 8.34 pounds per gallon. This means, at 313,434 gallons of water, the water in Sapphire Falls' pool weighs about 2,614,039 pounds. In case that doesn't give it away, Sapphire Falls offers the largest pool at any of Universal's on-site hotels. Other features include a slide, kids water play area, Drhum Club Kantine (bar and grill), and 2 (count them, two) white sand beaches.
Having the tough job of relaxing on one of the white sand beaches and testing out the slide, I can safely tell you that this pool comes head-to-head with Portofino's pool offerings. It may even beat Portofino's pools, but that decision will require a few more visits.
The pool is a zero entry pool. Those of drinking age will quickly notice the zero entry point happens to be a fast route across the pool to the poolside bar. Dagon jokingly shared on our tour that this was an important design choice for his team.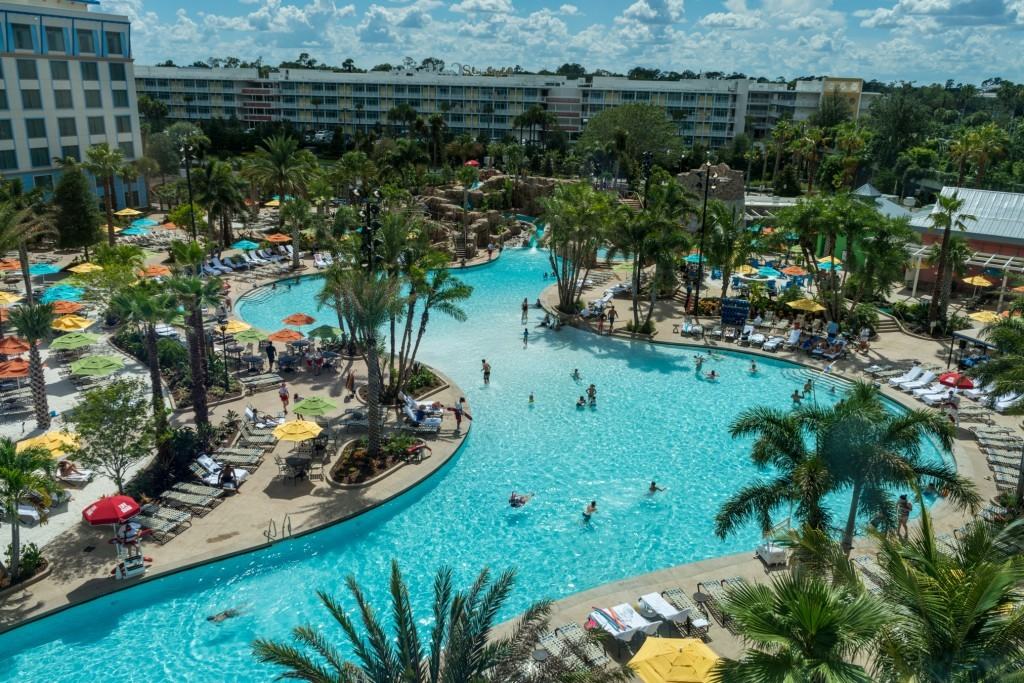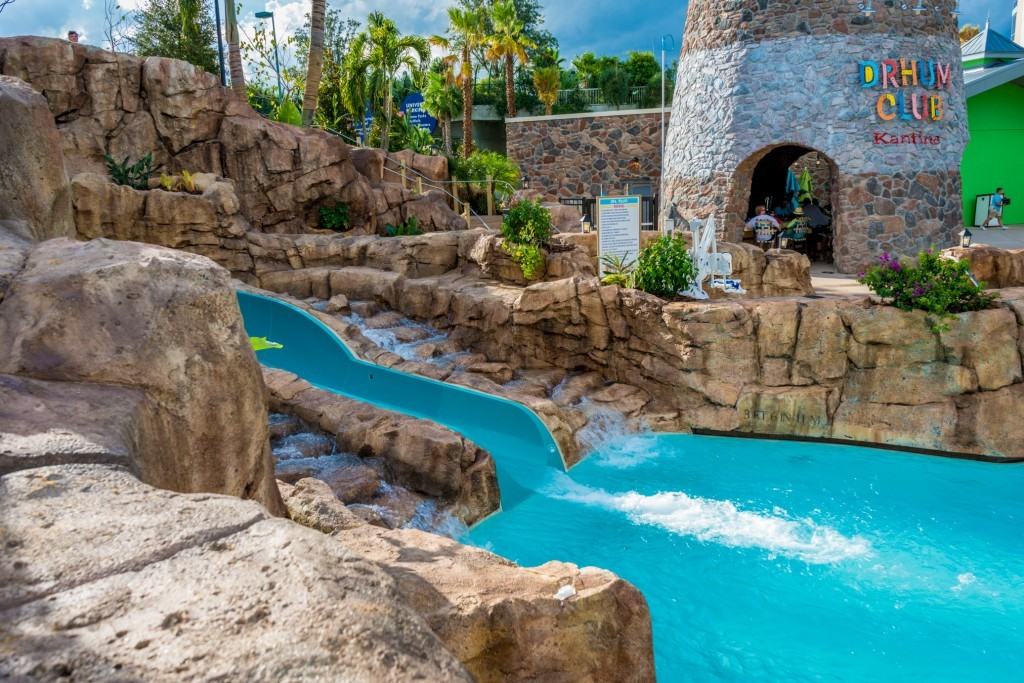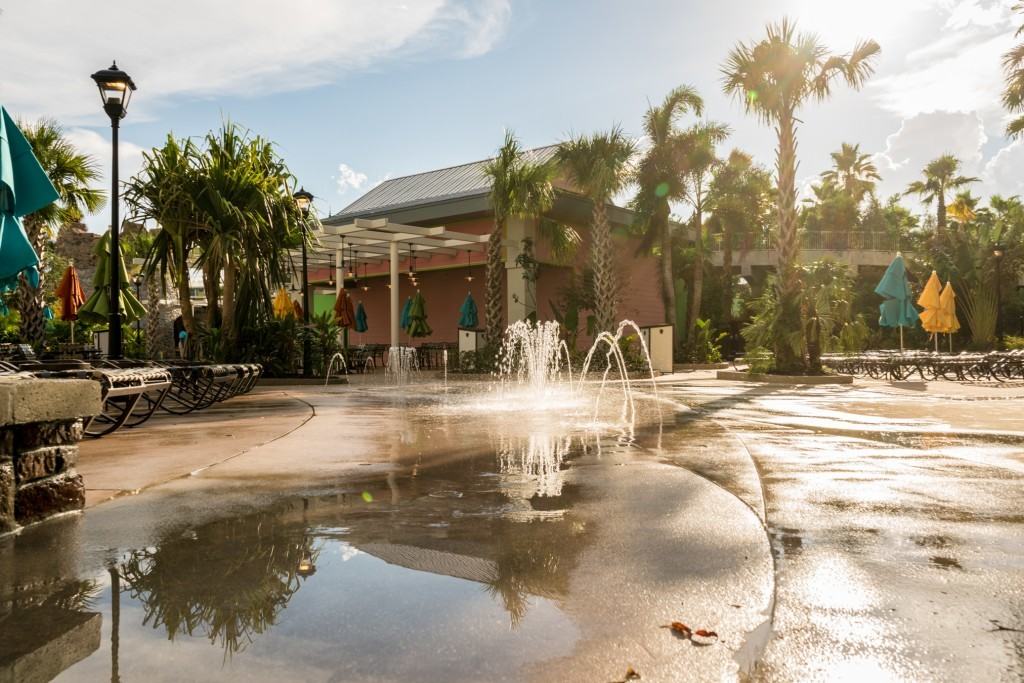 Click here to learn more about Sapphire Fall's pool.
Sapphire Falls' Sapphire Falls and lagoon
Yes, there's a reason it's named Sapphire Falls. Accessible from the first floor of the hotel and the pool is a beautiful waterfall area that overlooks the lagoon. It's relaxing during the day and breathtaking at night.
Dagon said that the water is among his favorite elements. "There's so much water on the property. It's tough to walk through the place and not engage with the water. That's an element that runs throughout the whole property that we really enjoy."
Bowden was in agreement with the Universal Creative executive. "[T]hat [Sapphire Falls] really is our signature and represents […] the beauty of the whole Caribbean journey that we have here."
This waterfall is viewable from the lobby, Amatista Cookhouse, Strong Water Tavern, and even the boat docks as you await a water taxi to take you to the theme parks. While I could go on forever about how epic this area of the hotel is, I think pictures do it more justice.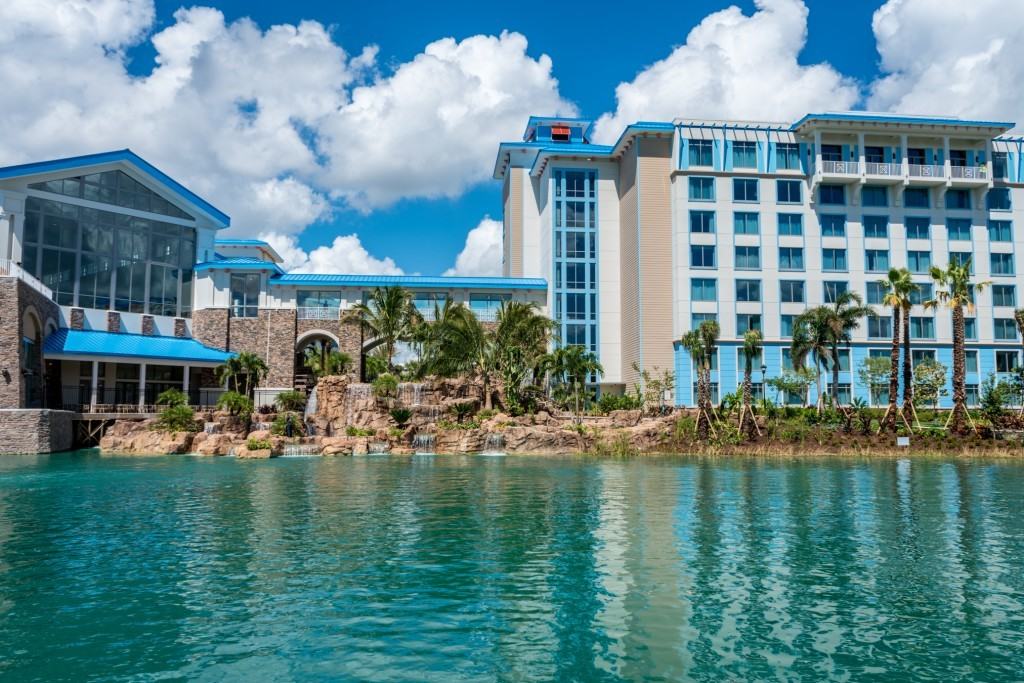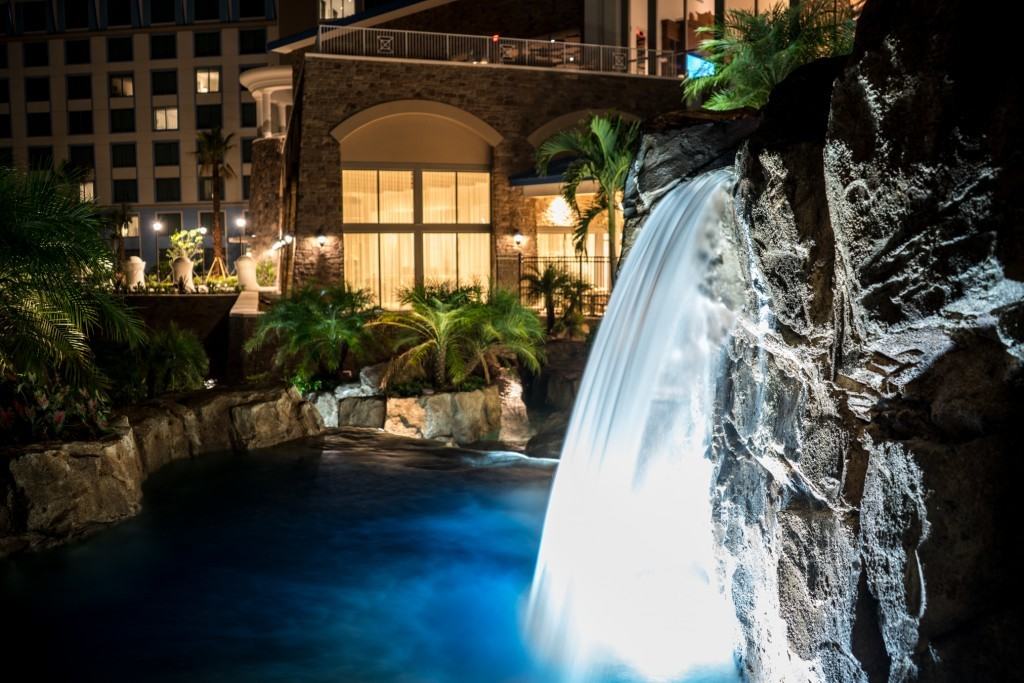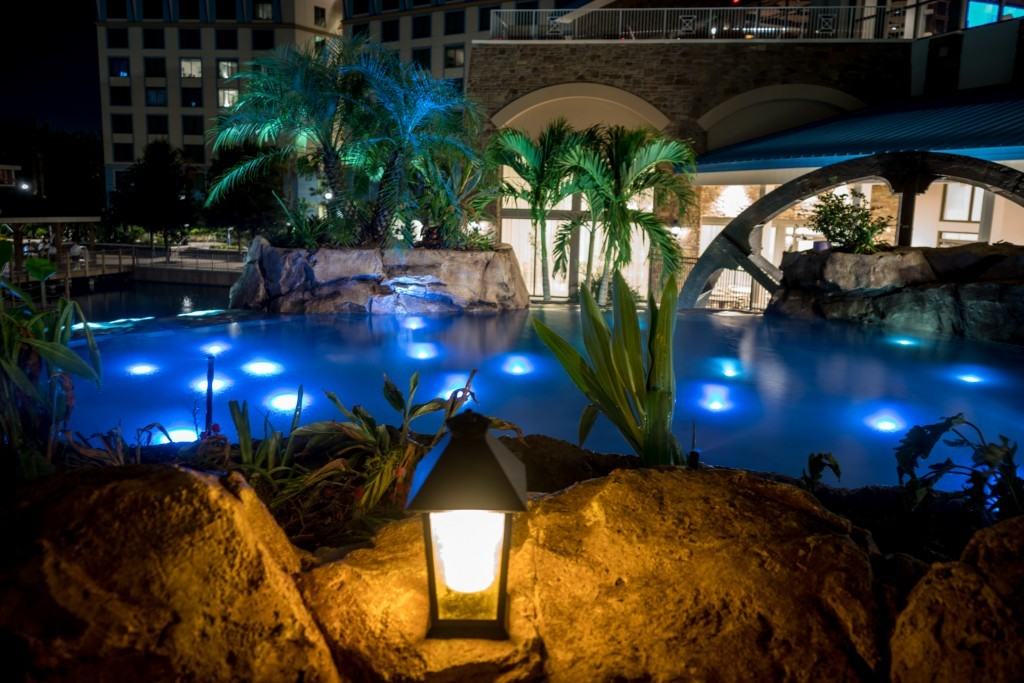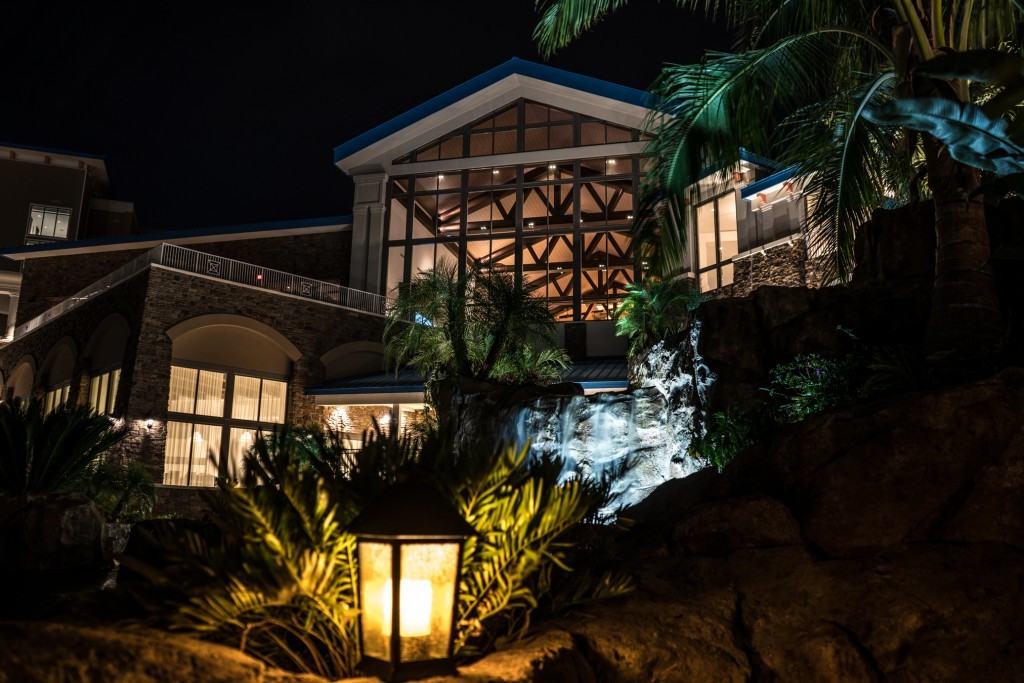 We have many more pictures of this area of the hotel in our OI Center!
Hotel Rooms at Sapphire Falls
Before you're able to get to your room, you'll travel through Sapphire Falls gorgeously lit hallways. As minor as it might seem, seeing the hallways for the first time was one of the standout moments of my first visit to Sapphire Falls. Upon arriving to your room, you might notice that this is the first on-site hotel to utilize room keys that you tap against the door, opposed to swiping. This system is far more efficient and allows you to enter the room on your first attempt.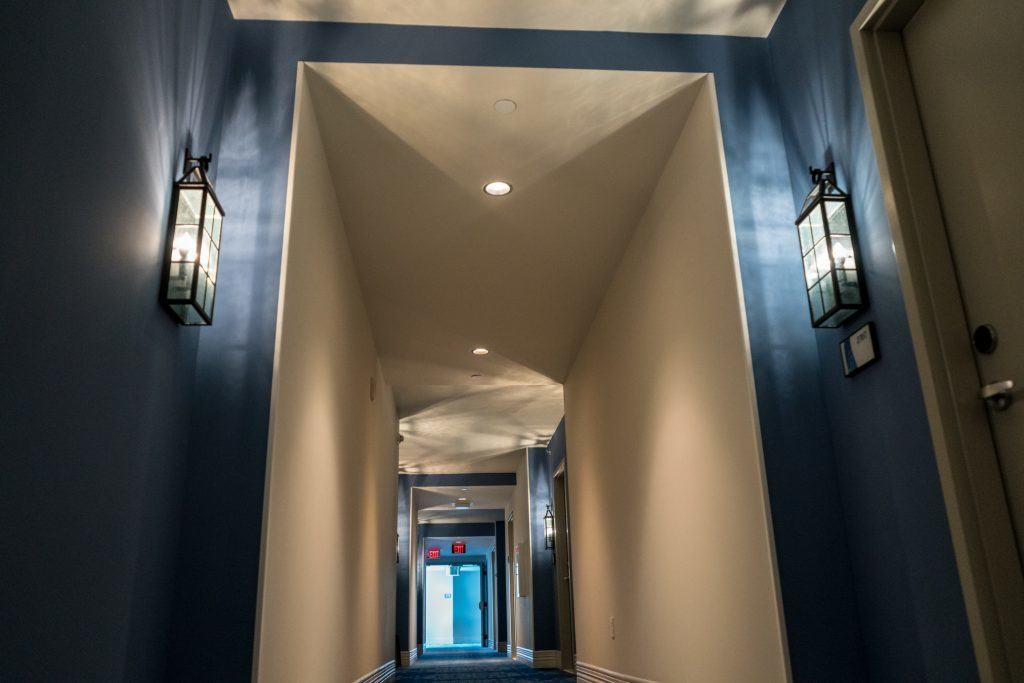 During my visits to Sapphire Falls, I had the opportunity to see a few of the hotel's standard rooms and stay in one of the hotel's Sapphire Suites.
I think Sapphire Falls offers the best guest rooms out of any of the Universal Orlando on-site hotels. The rooms boast plenty of blues and invoke a sense of relaxation. The theme is present down to each and every detail. Trash bins in the rooms are large beach buckets. Caribbean-esque lights illuminate each side of the bed.
Speaking of the beds, they're extremely comfortable. The shower is enclosed in glass and has great water pressure. The Sapphire Suite is a huge upgrade and one of the best suite options at Universal. It adds a spacious living area, dining room table with one of the most unique lights I've ever seen, and an extra shower and bathroom. Decor is plussed in the Sapphire Suite. For example, the bed's headboard wraps onto the room's ceiling.
The only complaint I have with the rooms, is that the bathroom door in the standard rooms is a sliding door with no lock. This door does not provide much privacy and is often a subject of guest complaints. A similar problem occurred when Royal Pacific's rooms were recently remodeled. The Sapphire Suite sort of corrects this, with both toilets being separated by an actual door. However, the two showers (both of which are in the same room) are only separated by a sliding door.
Just like the rest of the hotel, the walls of the guest rooms are adorned with beautiful photography and artwork. The Sapphire Suite in particular has an abstract metal Carribean-themed painting that truly compliments the room. On our tour, Dagon shared that much of the photography is sourced from a local photographer.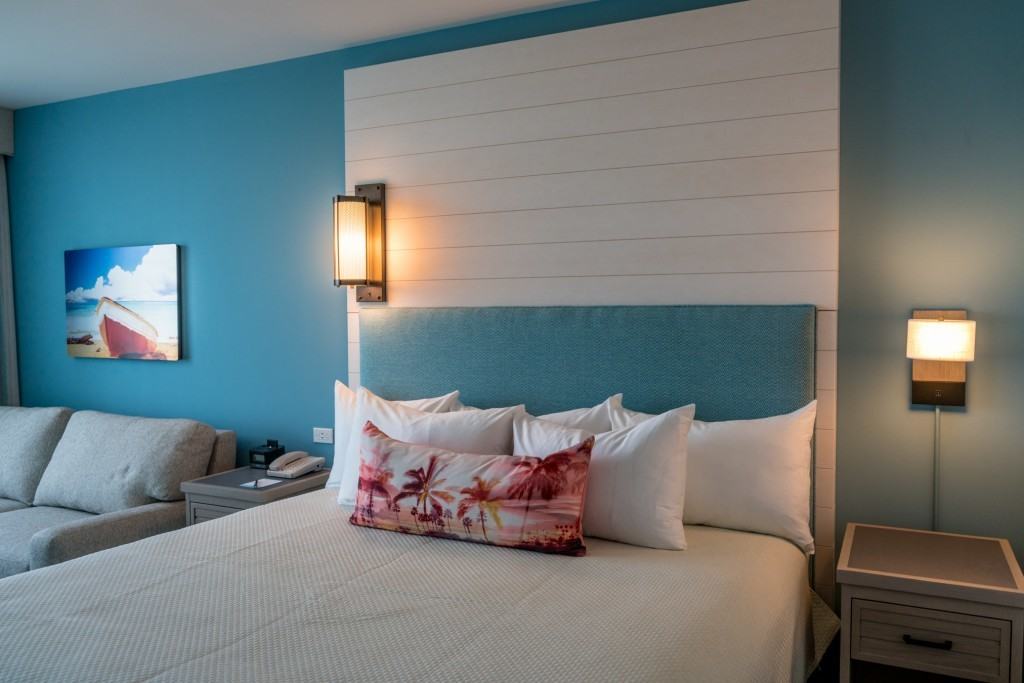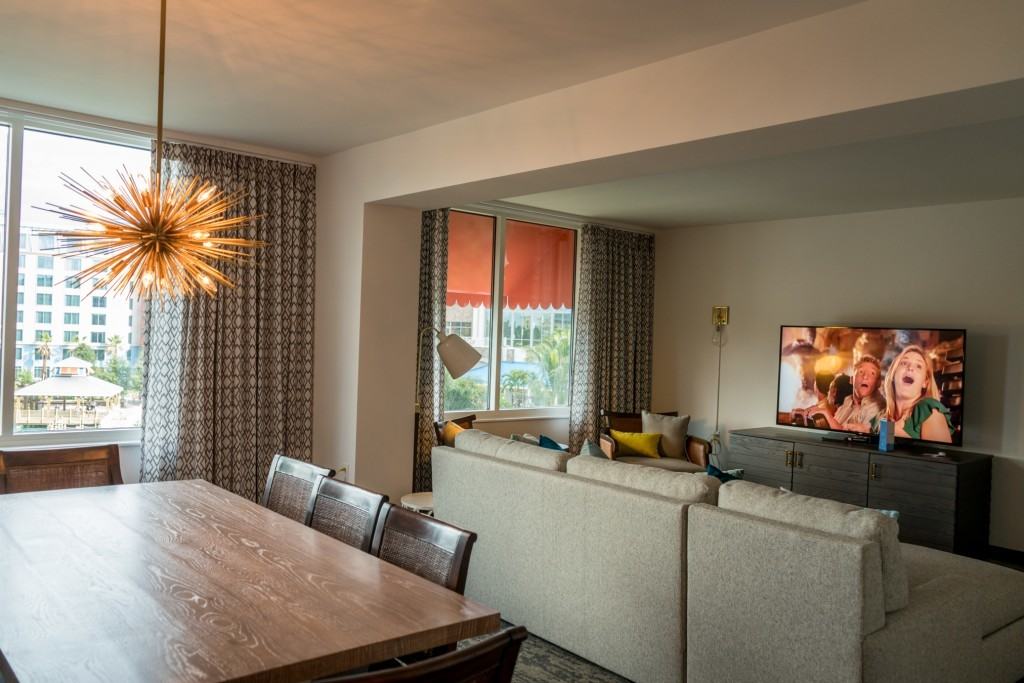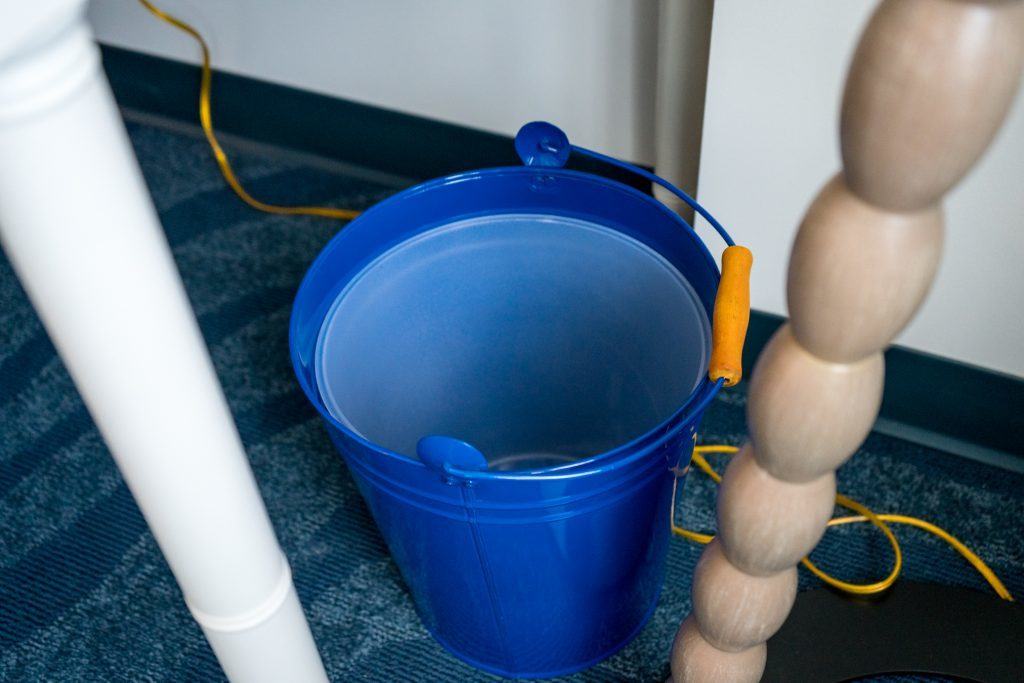 For more information and pictures of the hotel rooms at Loews Sapphire Falls Resort, click here.
Food and Drinks at Sapphire Falls
What sets Sapphire Falls apart from the other on-site hotels is the culinary options. There's even 5 variations of ceviche available throughout the hotel!
The culinary operations of the hotel are overseen by Complex Executive Chef Nando Belmonte. Chef Belmonte has over 17 years of experience, most recently acting as the Executive Chef at Royal Pacific for 10 years.
Outside of The Palm at Hard Rock Hotel, I don't think you'll find better food at any of the on-site hotels. The downside to the food offerings at Sapphire Falls is definitely the pricing. While a certain level of increased pricing should be expected with this being a vacation destination, Sapphire Falls' food is often a bit pricey for the portions offered.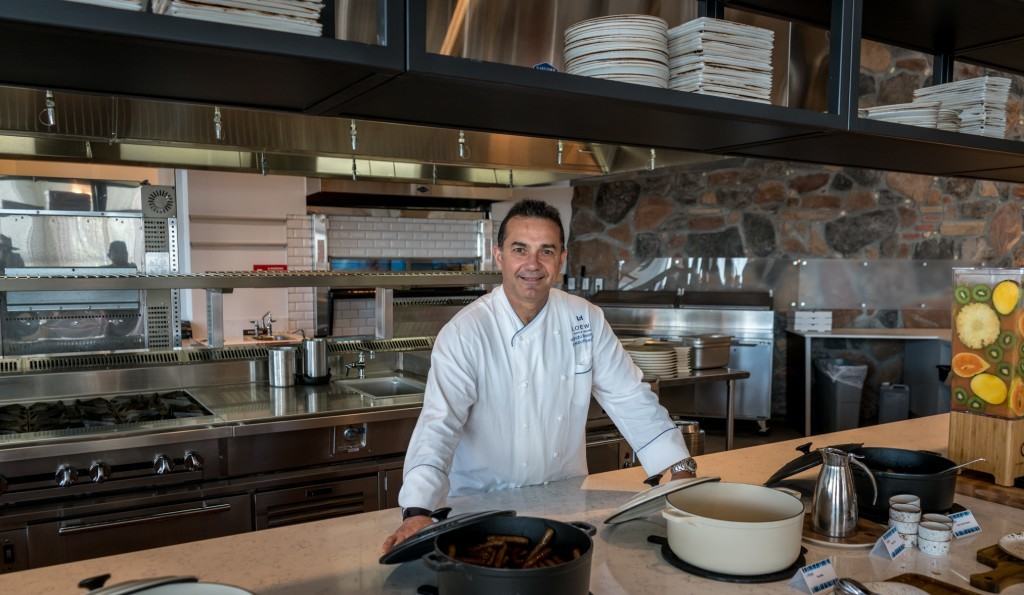 Amatista Cookhouse
Amatista Cookhouse is the sitdown restaurant at Sapphire Falls. Throughout my visits to the hotel, I was able to try it out for breakfast, lunch, and dinner. I was equally impressed with all three meals.
Items I would recommend at Amatista Cookhouse include the Belgian Waffle (breakfast – $12), Mojo Marinated Rotisserie Chicken (lunch/dinner – $20), Margherita Pizza (lunch/dinner – $14), Pineapple Rum Cake (dessert – $8). The last recommendation has joined the elite rankings as one of my favorite desserts at all of Universal Orlando.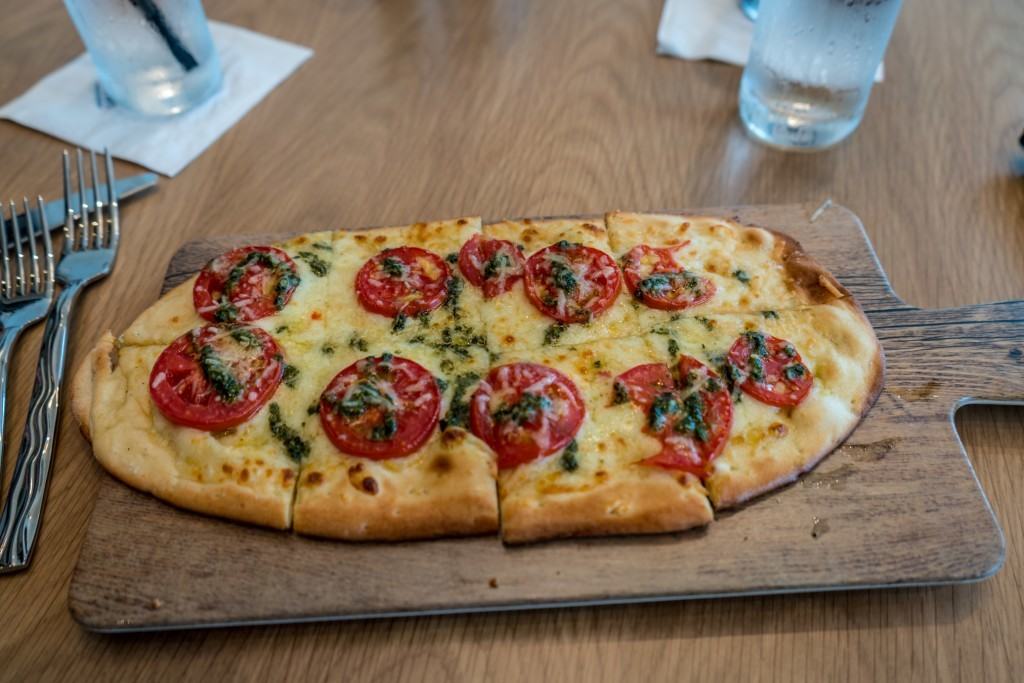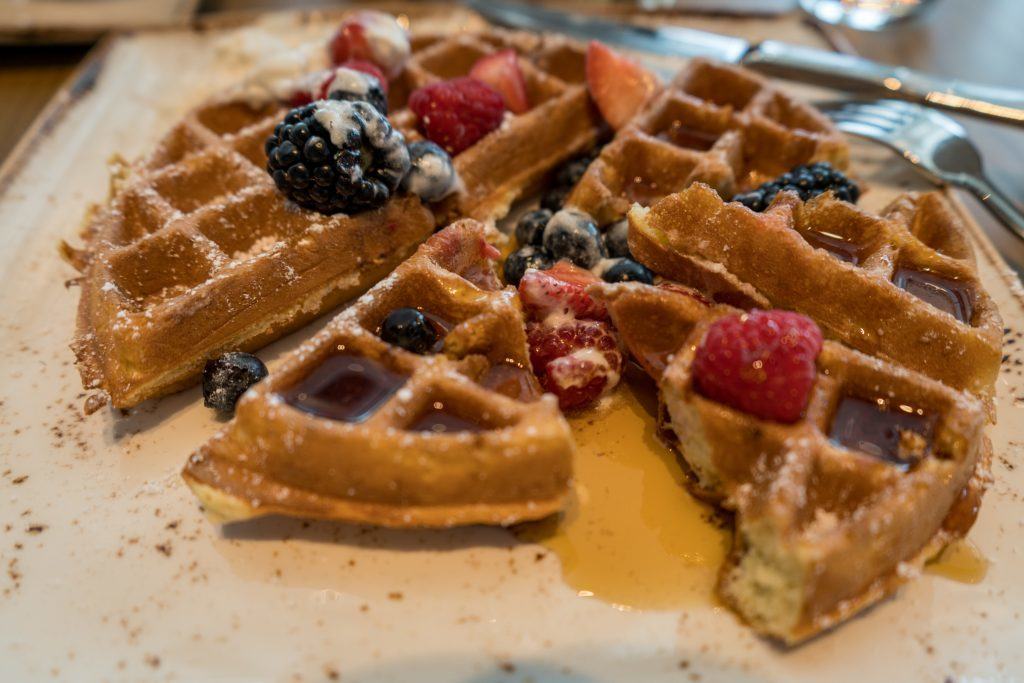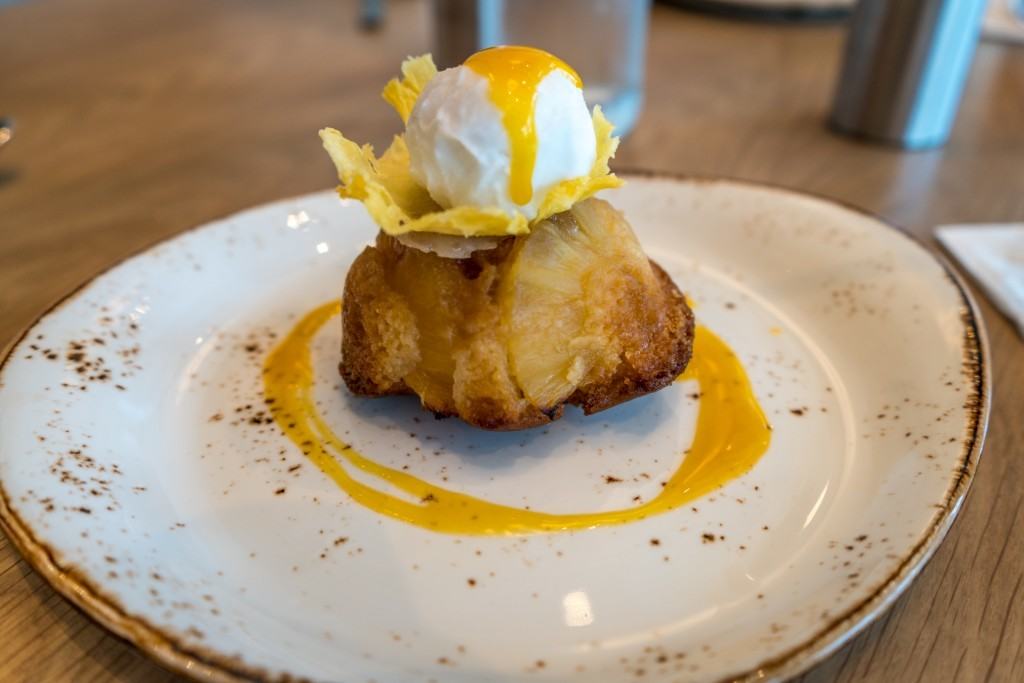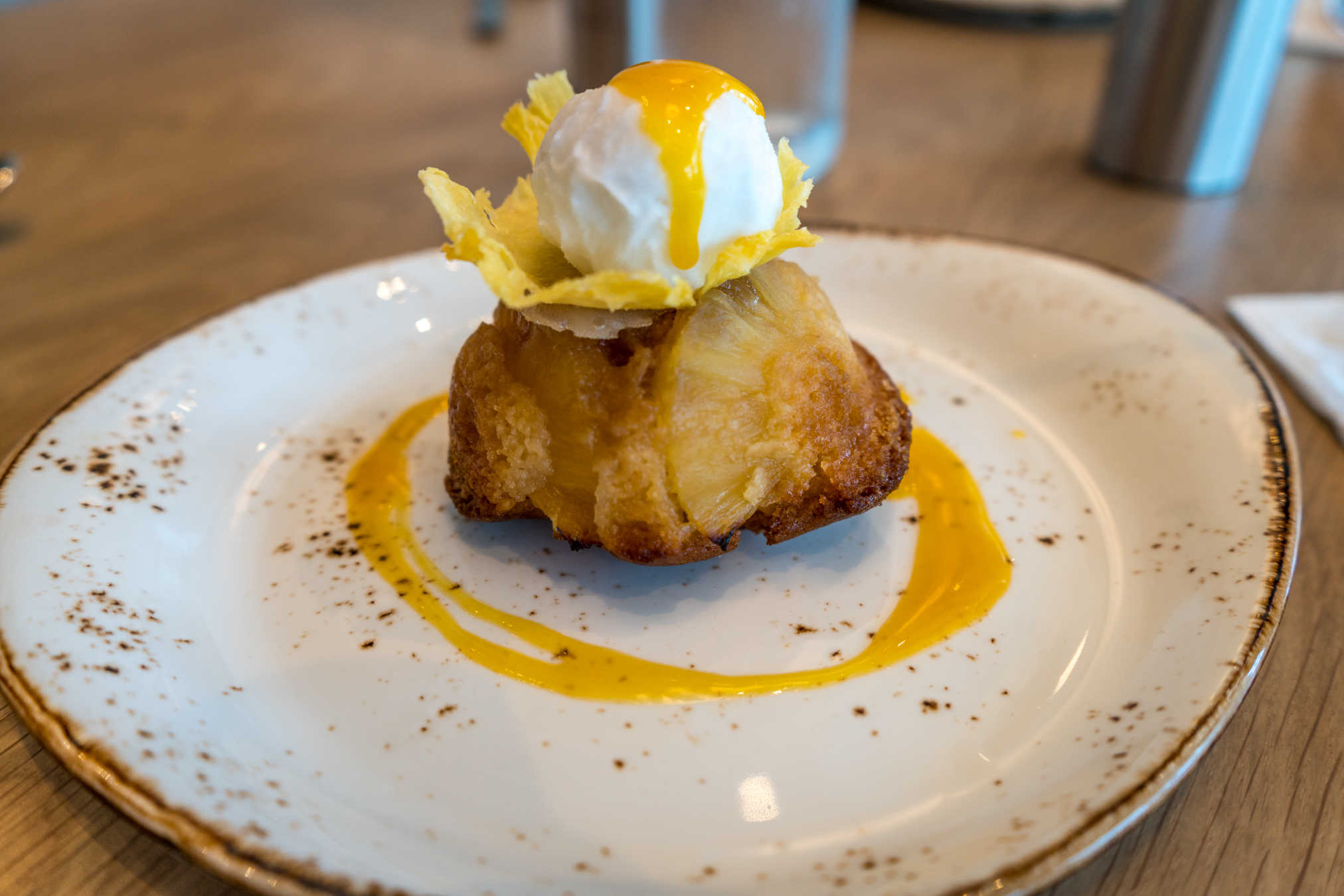 Click here for more information, pictures, and reviews of Amatista Cookhouse.
Strong Water Tavern
This is Dagon's favorite area of the hotel, and he's not alone. One of the most unique elements of Sapphire Falls is its daily rum tastings. We covered the rum tastings and Strong Water Tavern in a separate article here. The bar leads to a spacious porch with scenic views of Universal Orlando and the hotel's lagoon, undoubtedly a hotspot when the weather is cooler. There is also a fire pit located off of Strong Water Tavern.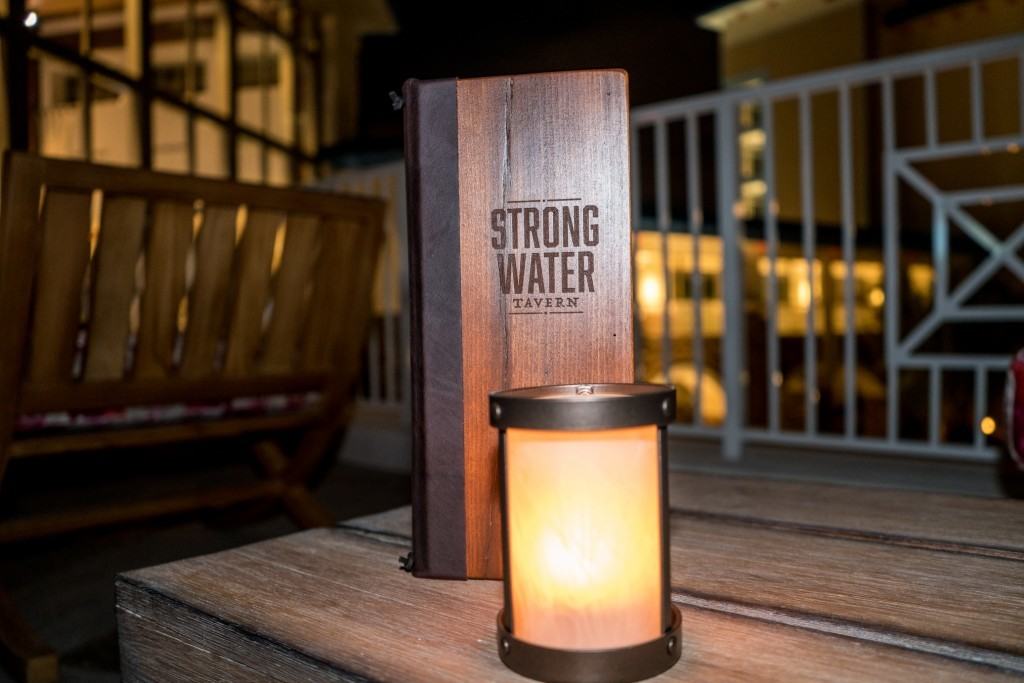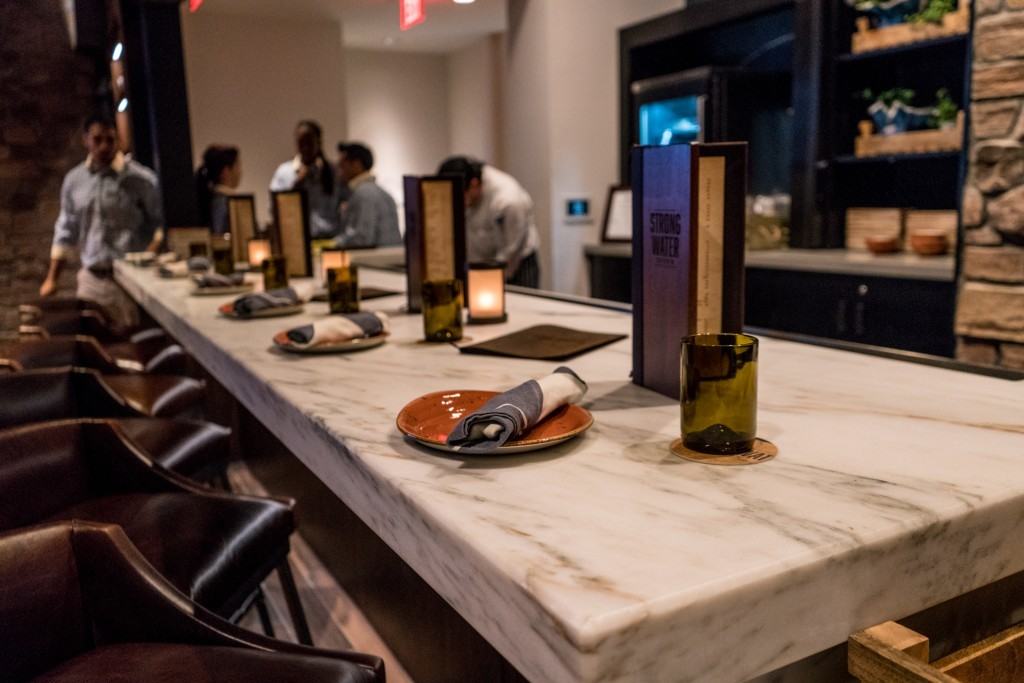 Click here for more information, pictures, and reviews of Strong Water Tavern.
New Dutch Trading Co.
This is the "grab and go" eatery at the hotel. It's perfect for grabbing a quick bite before or after your day at the parks. Unfortunately, several items on the Dutch Trading Co menu weren't available during the opening. I did, however, get to try the cuban sandwich and thoroughly enjoyed it. Dutch Trading also sells souvenir refillable cups. They're refillable within the eatery and by the pool. Finally, s'mores kits ($8) can be purchased here for roasting by the pool or outside of Strong Water Tavern (sticks included)!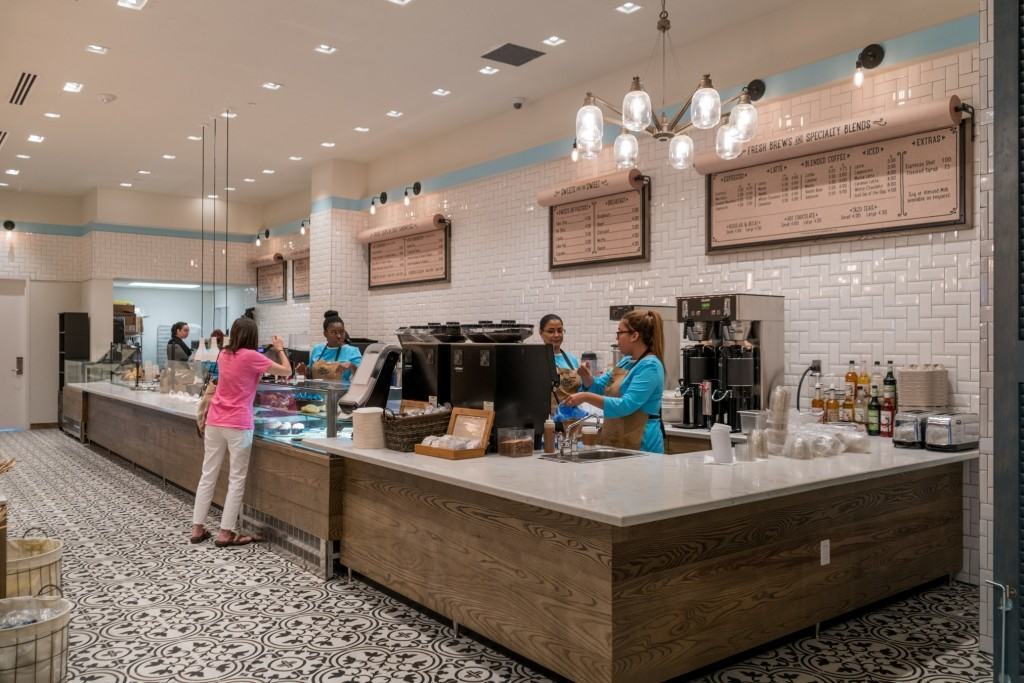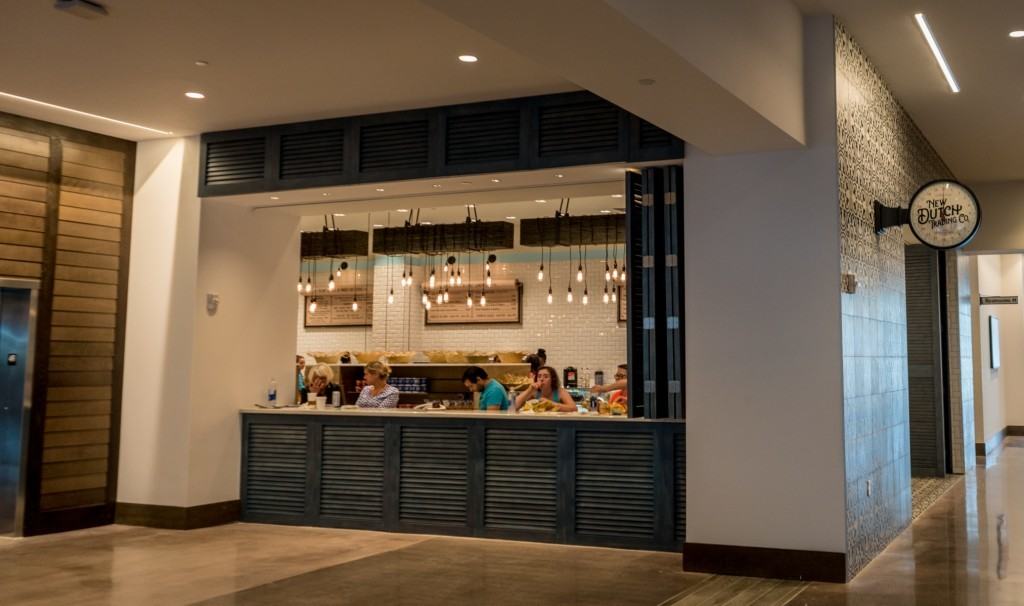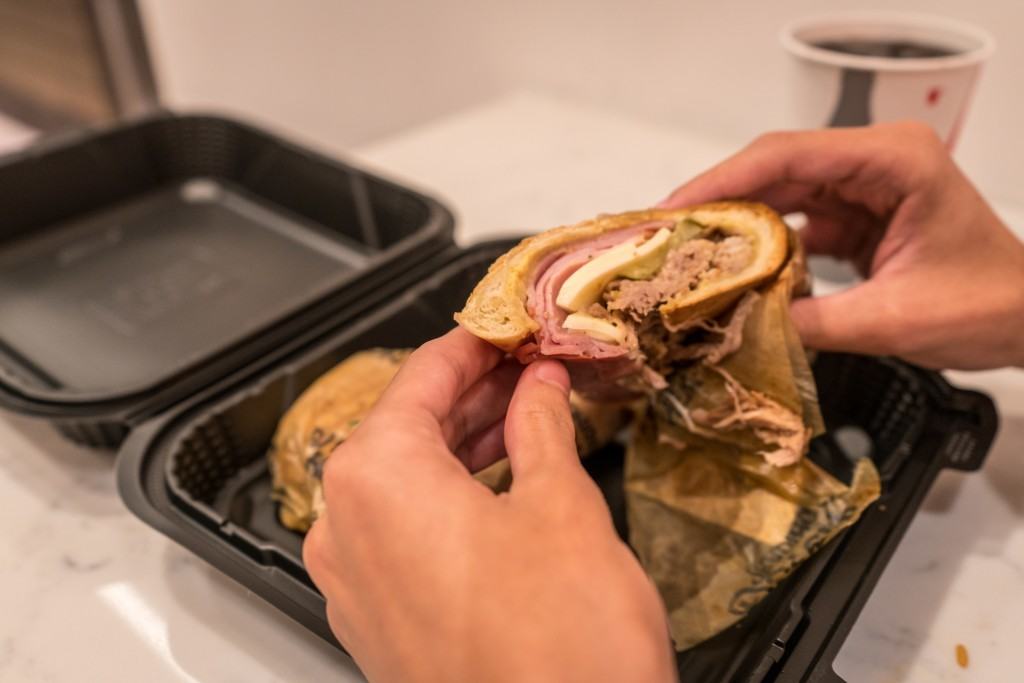 Click here for more information, pictures, and reviews of New Dutch Trading Co.
Finally, Drhum Club Kantine serves up regular poolside foods and drinks.
Overall, Loews Sapphire Falls Resort is a fantastic addition to Universal Orlando's on-site hotel lineup. I cannot recommend enough that you experience "island time" on your next visit to Universal Orlando.
Want to learn more about Sapphire Falls? We have 10 pages and hundreds of photos and video in our OI Center!
Need help planning and booking your stay? Contact Orlando Informer Travel for assistance at no additional cost to you!
Miscellaneous notes about Sapphire Falls that we weren't able to include in this review:
 Keep an eye out for the hotel's project number (664) hidden in numerous locations across the property.
We were very impressed with the staff throughout the hotel. Hiring and training for this large of a hotel is no small task. All of the Loews employees we encountered were friendly and attentive.
Room service is inline with the other preferred and premiere on-site hotels, including a menu for pets.
Speaking of pets, Sapphire Falls is a pet friendly property with a beautiful pet walk.
Multiple laundry areas are scattered across the hotel, for an additional charge.
Sapphire Falls has a fantastic gym and arcade room. Games can be found near the pool area.