After over two years of watching this attraction evolve from a freshly constructed hatchling to a towering, breathtaking beast, the day has finally come for the OI team to take on one of the most highly anticipated rides Universal Orlando has ever cooked up – Jurassic World VelociCoaster.
Our expectations were high – as in, 155-foot top-hat high – and, somehow, they were still exceeded by the ferociously fast launches and unreal amounts of airtime we experienced. It's safe to say we felt the rush of the hunt… and then some! But, before we flesh out all of the most thrilling details of our wild ride, let's start with an element of the attraction that we were greatly impressed by first: the queue.
Soon after stepping through the torch-bearing arches of the ride's entrance, it became obvious that Universal spared no expense when it came to theming. Grandiose, sweeping music straight from the Jurassic World soundtrack greeted us upon our approach and was soon punctuated by the jarring sounds of velociraptors as we made our way down the opening hallway and into the first room.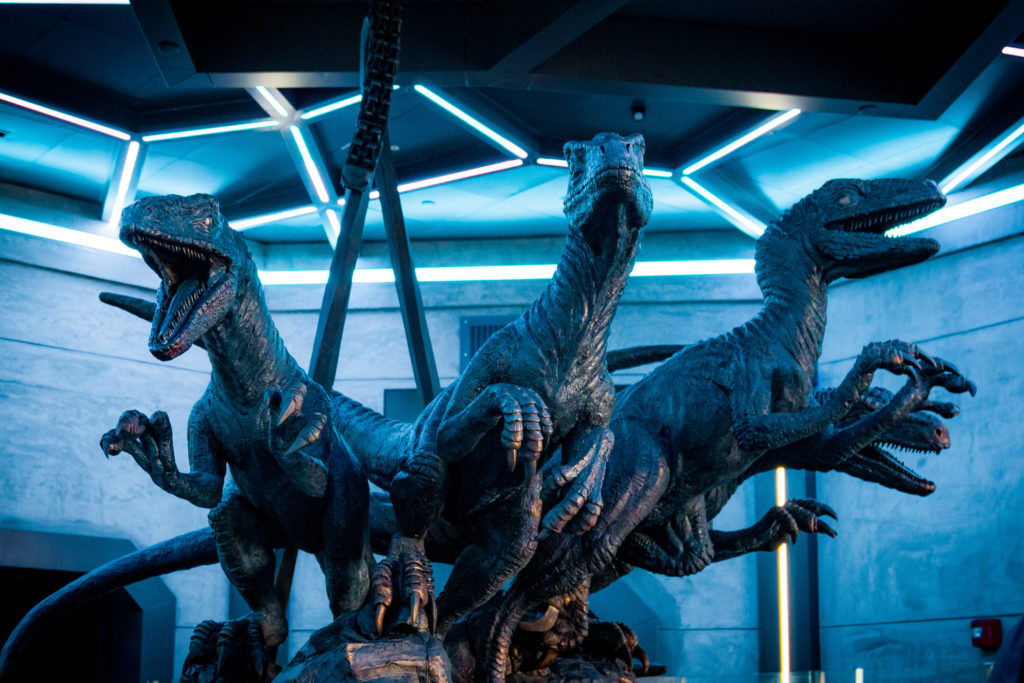 This initial indoor space was alight with flashing neon strips that crowned the ceiling and pulsed in shades of purple, red, and blue. Posing as a bold centerpiece were four steel raptors, each with claws out and jaws agape, protruding outward from a model of the coaster's signature plunge. A smoothly voiced announcement occasionally welcomed us into the raptor paddock, and large, mounted televisions displayed the VelociCoaster logo. Here, the tone is set for the rest of the ride experience – futuristic, fierce, and most cleverly designed.
Winding around a blue-and-red lit corner, we entered one of the highlights of the queue: the launch viewing room. Here, multiple windows lined the wall, allowing us a glimpse at the tunnel in which the first launch takes place. We were then able to catch the coaster zooming by, chased by a familiar raptor pack that appeared on the windows shortly after.
Upon entering the next space – titled "Raptor Training Room 1" – we were met with videos of the infamous Dr. Wu (the scientist behind Jurassic World's dinosaur creations), who briefed us on the backstory of the raptor paddock and basic safety information about the ride. Behind metal cages set up on either side of the hallway were various books and artifacts that reference the Jurassic Park universe, including the works of Ian Malcolm and Dr. Grant.
The following area boasted what is arguably the most impressive feature of the entire queue – startlingly realistic, life-sized raptor heads, restrained by steel, muzzle-like contraptions. These dinos are just about as close as you can get to experiencing the real thing; their highly detailed, scaly skin flutters as they breathe excitedly, eyes darting around the room, periodically shoving against their metal constraints.
The anticipation only continued to build as we arrived at our next stop: the lockers. As with many elements of this attraction, these lockers are sleek and innovative. They are a double-sided model that we have never seen at Universal Orlando Resort before, in which you insert your items on one side before boarding, and then open them on the opposite side to retrieve your belongings upon exiting. This set-up works to alleviate the congestion that is typically seen at locker stations for popular attractions, and we found it simple and easy to navigate.
From here, we hopped up two sets of stairs into a spacious chamber where we were spoken to by two of the most iconic characters from the Jurassic World series, Claire Dearing (Bryce Dallas Howard) and raptor alpha himself, Owen Grady (Chris Pratt). Claire politely prepared us for our experience while a skeptical Owen expressed concern over the idea of mixing coasters and live dinosaurs, creating an atmosphere of impending danger.
Finally, we approached the loading dock – a gorgeously modern platform that offers floor-to-ceiling windows overlooking the raptor paddock. We filed into our assigned rows and ushered ourselves into our seats as soon as the gates opened. The safety restraints came down over our heads from behind us and lowered snugly atop our laps.
(Note: these lap bars, while very comfortable, safe, and secure, are the only constraint that "hold you in" through the multiple inversions throughout the ride, making for intensified feelings of both freedom and vulnerability. Immediately, we noticed that not even the tallest person in our party could touch the ground with their feet, which heightened the sense of exposure and thrill even more.)
We knew we were in for a one-of-a-kind experience as the coaster turned the corner and prepared for the opening launch. Feisty velociraptors shuffled impatiently on either side of us, and our ride vehicle rolled slightly backwards into position. Cued by the voice of Owen Grady himself, an electrically charged sound began building around us – and then, with a deep, booming culmination of bass and raptor screeches, the chase was on!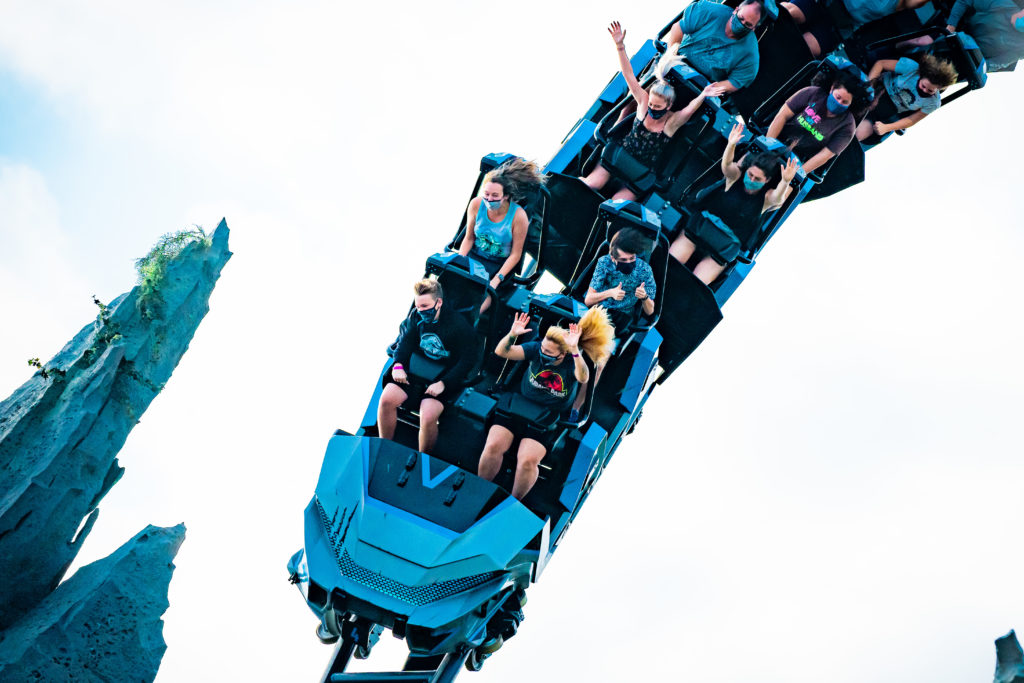 We're not exaggerating when we say the first launch is mindblowingly fast. Immediately, we were blasted up into a steep bank, which continued into speedy swoops, dips, and twists around the paddock. Everything happened at such a quick pace that the ride appeared to go by in snapshots – a flash of raptors here, a near-miss with rocks and waterfalls there. All it can be described as is an insane rush of pure fun.
Upon the final turn in the enclosure, the coaster straightened out into yet another launch tunnel, and red lights indicated that it was time to break out of the paddock. This launch marked a pivotal moment in both the coaster's story and design; the first half of the coaster winds through the foliage and rockwork of the paddock, while the second half thrusts riders up and away from danger and into a series of untamed inversions over the lagoon.
For us, the top hat was everything we hoped it would be – and more. A dizzyingly powerful launch sent us high above the ground, and for just a second or two at the peak, we were presented with an incredible view of Islands of Adventure. This moment on top of the world quickly plummeted into invigorating chaos, sending us straight into a 100-foot zero-gravity inverted stall – in layman's terms, a very long time hanging upside down.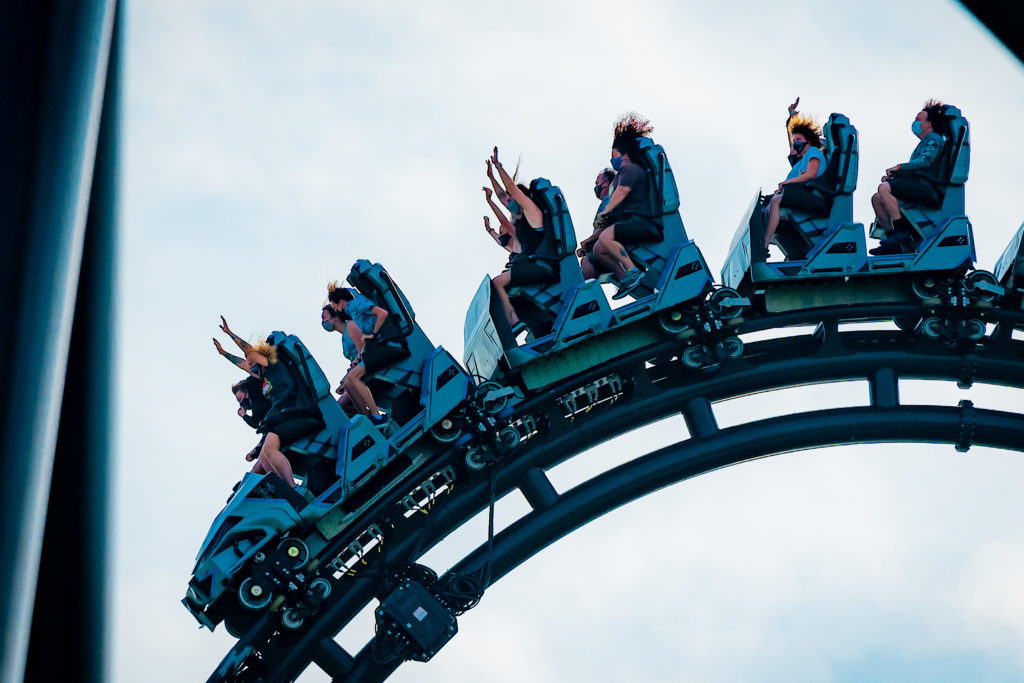 From here on out, this rapidly paced adventure had our faces beaming, our voices screaming, and (some of) our hands thrown up in the air. One particular twist over a hill sent us floating straight out of our seats, and we loved every second of the airtime.
The last leg of the coaster presents what we concluded to be our favorite part of the ride overall: the "mosasaurus roll" just feet above the water. While many of our expectations were focused on the thrill of the top hat (which did not disappoint), we collectively decided that this unique spiral is quite possibly the most intense and interesting piece of track that we encountered.
Pulling into the unloading area ignited a celebration among both riders and team members, and it seemed as though not a single guest left this coaster unimpressed. Our general consensus was that Jurassic World VelociCoaster takes first place as the most thrilling ride at Universal Orlando – and, for some of us, our new favorite coaster of all time.
Between beautifully immersive theming, fantastic coaster design, and an unforgettable sense of exhilaration, we are proud to say we've officially joined the raptor pack, and we cannot wait to experience it all again and again.
---
Our ride took place during the Jurassic World VelociCoaster Passholder Preview, which is valid at select times from May 2-5 and requires a reservation in advance.  The attraction officially opens on June 10th. Additional technical rehearsals are possible between now and the opening date but are not guaranteed.
Have you had the chance to experience Jurassic World VelociCoaster? If not, which parts are you most looking forward to? Share your thoughts with 120,000+ other Universal fans in our Orlando Informer Community on Facebook.
And be sure to follow Orlando Informer on Facebook, Twitter, and Instagram for the latest news and tips at Universal Orlando, Walt Disney World, and other Orlando destinations.