Among the many diverse options across Universal Orlando Resort property, Jake's American Bar at Royal Pacific Resort is one of my favorite restaurants. This location is fully themed and even has its own detailed backstory based on the legendary and fictitious pilot Jake McNally, who disappeared after a tremendous heartbreak. The in-depth theming, food, and service here are great and warrant checking out during any time of year – but, once every six months or so, there's an even better reason to visit the bar: Jake's Beer Dinner, a $55 (plus tax) special event.
Don't worry – I know what you're thinking when you see that price tag, but let me assure you it's well worth the cost. Simply put, the Beer Dinner is a (semi) hidden gem of Universal's on-site hotels, and before you let that price possibly deter you, allow me to go into further detail about why you should go out of your way for this.
Arrive early and hungry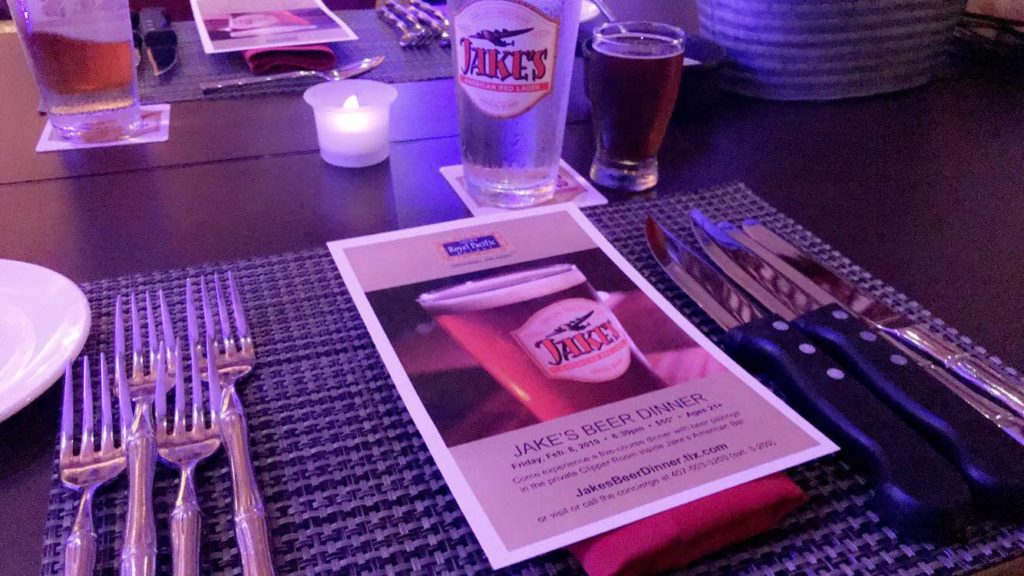 Jake's Beer Dinner's menu is ever-changing and based on its featured beers. Due to this, it's difficult to pinpoint a proper review. Fortunately, the process is pretty consistent: the venue's award-winning chefs expertly pair the different beers with complimenting, high-end dishes over five courses, with each being more delectable than the last. Guests check in at 6:30 pm with the host at Jake's American Bar for the dinner at 7:00 pm. We would recommend arriving early for this so you don't miss the preliminary treats. A nice addition is that general parking at Royal Pacific Resort is validated for anyone dining here, with the additional option to valet at $5.
While you wait to be seated in the Clipper Room (Jake's private seating area), guests are treated to small hors d'oeuvres and Jake's American Red Lager (a beer exclusively brewed for the bar) in the restaurant's outdoor patio. The combination of the cheese-guava pastries (one of three appetizers being passed around while I was there) and the waterfall centerpiece amidst the palm trees of Royal Pacific's theme did a great job in beginning our culinary journey as we were transported to the island oasis Jake's is said to be set in.
After your pampered welcome, the host then seats you for your session of indulgence and education.
Beer me! But also feed me!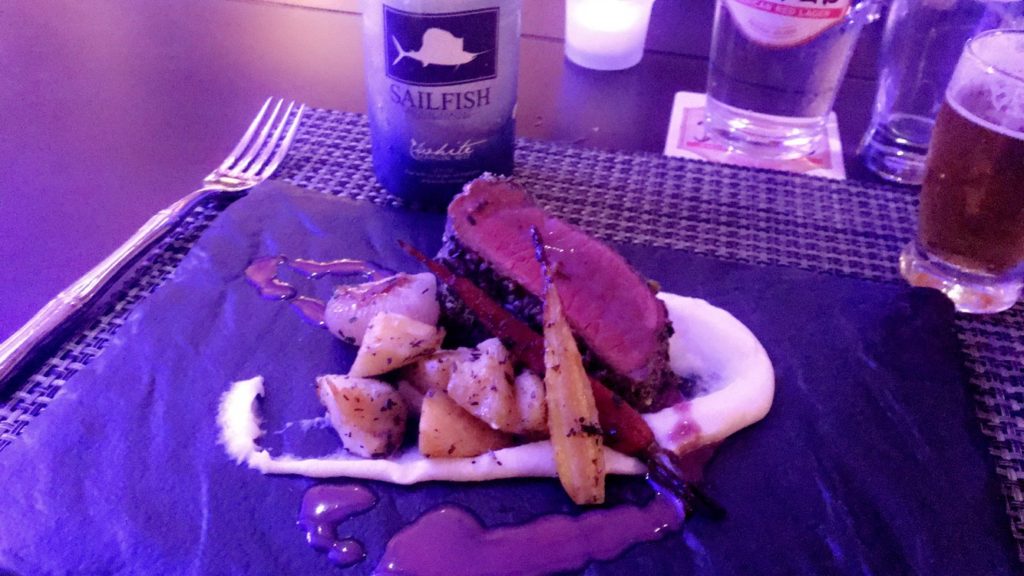 The meal begins with an introduction to Jake's American Bar's culinary team as well as who the featured brewery is (Sailfish Brewing Company was ours). The brewery representatives explain a little about themselves – about how they stand out – and then double as "guides" to the night's sampled flavors. The courses start with a lighter fare (seafood or chicken) and become progressively more savory and intense (usually richer, red meats) before ending with dessert. In between courses, Jake's also provides its pretzel bread and house-made beer cheese dip, which were just as much of a hit as the event itself, as no one could keep their hands off them.
As part of this high-end experience, each attractive plate provided not just a flavor balance, but also intricate textures. The grilled swordfish was an excellent example of this, as the accompanying kumquat jam provided a balancing sweetness to the fish's smoky flavor. Its additional side of haricot verts brought a fresh, crunchy life to even out the plate. A room favorite was the herb-crusted bison loin that was partnered with baby carrots, parsnips, charred onion,and cauliflower puree, then complemented by the Port Fierce (a very hoppy IPA with a mildly bitter bite). As the final entree to the event, the hops of the IPA did a great job of wrapping up the complex flavors of the bison and its flavorful sides.
Anyone should know that the culinary journey doesn't just include the food's consumption, but also the presentation. Jake's certainly doesn't shy away in this – each colorful plate looked like a work of art. Part of the foodie fun isn't just appreciating the chefs' finished masterpieces – it's also the ability to take in the process. During the bison entree, for instance, the chefs take on a sort of "Bob Ross-esque" role by setting up an assembly-line at a prep table in the center of the Clipper Room. This allowed everyone to see them cut and portion the meat and plate each happy little dish, which certainly upped the experience for any foodies in the room.
Another!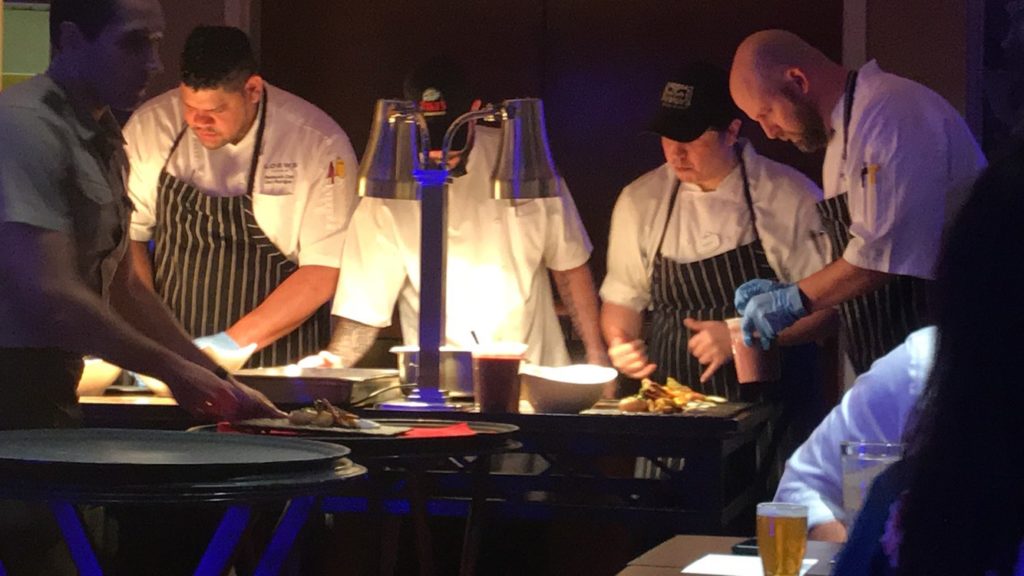 Objectively, I don't know if I would recommend this if you have dietary needs – I'll leave that up to you. However, I was very impressed by Jake's efforts to not only accommodate any allergies and restrictions, but also ensuring that those with needs won't feel left out during the event. As an example, there was a black-bean-based alternative to the lamb chop dish for the vegetarians in the room. I especially enjoyed that it looked just like what it was being served in lieu of, and, while it's no lamb chop, it was still pretty darn good! There was even a tofu option that was denied twice by a guest because it looked so similar to the grilled swordfish it was being substituted for.
The dinner event – as well as Jake's standard – is of the quality we all know and love from the deluxe onsite resorts. Throughout the meals, guests are also treated to complimentary cans of the sampled beer, which could be replenished if you found one you enjoyed. My favorite ended up being the Hammerdown Tripel (an easy and enjoyable Belgian-style flavor), which would have tied with the Tag & Release Amber had it not been for the former's bonus benefit of 10.1% ABV. At the close of the event, guests were welcomed to take their favorites home and were also given gift bags provided by Jake's and Sailfish that were full of the brewery's merchandise, as well as stickers from the restaurant – an excellent form of promotion in both regards.
Overall, I would say this was a stellar experience I'd happily return to. An event like this would be suitable for even a non-foodie or the most casual of beer drinkers. I would advise to go in with an open mind and taste buds and be ready for a new experience – and, possibly, a new favorite or two.
–
Discuss your favorite hidden gems at Universal Orlando with 50,000 other theme-park fans in our OI Community Facebook group.
And also be sure to follow Orlando Informer on Facebook, Twitter, and Instagram for the latest news and tips at Universal Orlando, Walt Disney World, and other Orlando destinations.