A cool waterfront breeze. Savory ciabatta sandwiches. Live opera. A wide assortment of wines. Sound like an evening on the Italian Riviera? Close. It's an evening at Harbor Nights at Loews Portofino Bay. 
This event returned on October 22, 2021 after a pandemic-induced hiatus and was an absolute wonder to behold. We've reviewed it for you here so you can get the inside scoop on what Harbor Nights is, who it's for, and when you can go next!
Harbor Nights is a separately-ticketed event for adults 21 and up. This is because the event really, at its core, is a wine tasting. While accurate, we feel strongly that this category does not do Harbor Nights justice. With unlimited food and drink samples, the waterfront view, and the stellar live music, it is so much more than just a wine tasting. My husband is not a wine guy, but he agreed to be my date for the night. I couldn't help but smile when he asked when they were putting on Harbor Nights again – not even 45 minutes in.
We pulled into Loews Portofino Bay a little after 6:00, with the event beginning at 6:30. There was a short line to get into the parking garage, but it moved quickly with the aid of several attendants. After parking, we took the elevator up to the main floor and followed the crowd and signage for Harbor Nights. We received our wine glasses upon check-in and were pleasantly surprised that they were real wine glasses – no plastic here!
Walking into Harbor Nights was like stepping into an evening thousands of miles away, truly in Italy. The breeze off the water and the cooling October air made you forget for a minute that you were in the heart of Florida. Even though we had arrived a few minutes early, the event seemed well underway already, with people enjoying food and wine samples and many more people lining up to start their evening. The band was in full swing, and many of the tables were already occupied with friends and couples enjoying their time.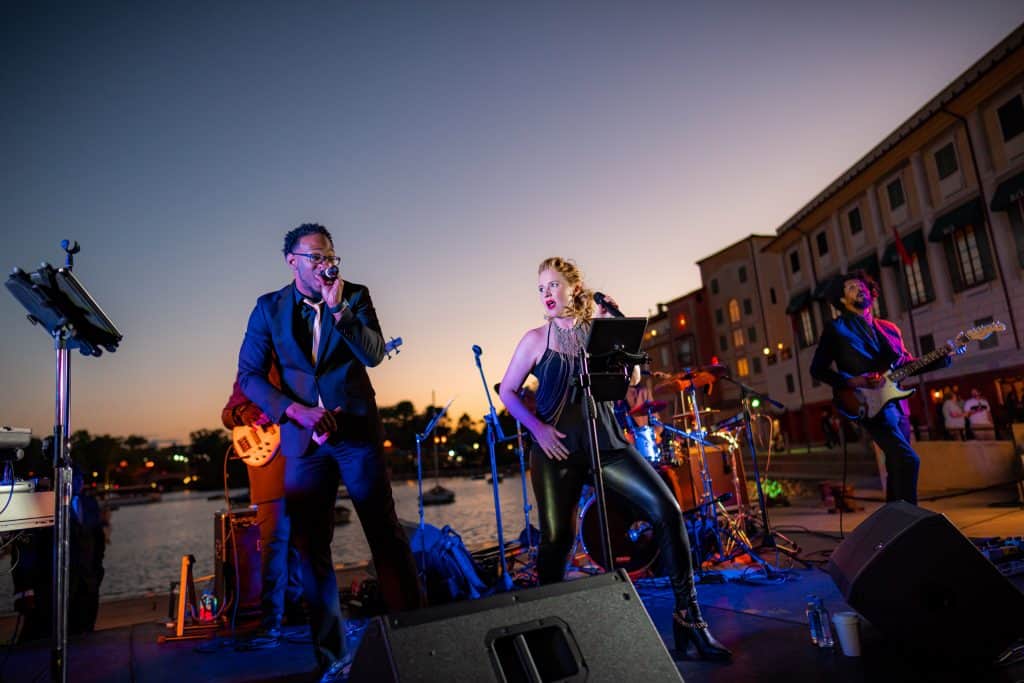 My husband and I did a lap around the Harbor Piazza to see what was available and what we wanted to get in line for. We decided on our wine selections and got to business! Each wine station had red and white options, with selections ranging from delightful proseccos to dark zinfandels. The attendants were friendly and knowledgeable, and each wine station was equipped with buckets and water in a pitcher so that you can rinse your glass between tastings.
The food selections were absolutely delightful, and we both felt by the end of the night that we were leaving on full stomachs. Samples like the Gamberi Genovese (pesto sauteed shrimp) from Mama Della's Ristorante or Apple Spiced Creme Cake from Sweet Corner paired perfectly with our wine selections and the ambiance of the evening. I personally thought the star of the entire night was the Milk Chocolate Raspberry Panna Cotta from Sweet Corner – it was an exceptional mixture of light and fluffy chocolate, a salty sweet pretzel stick, and bright and tangy raspberries.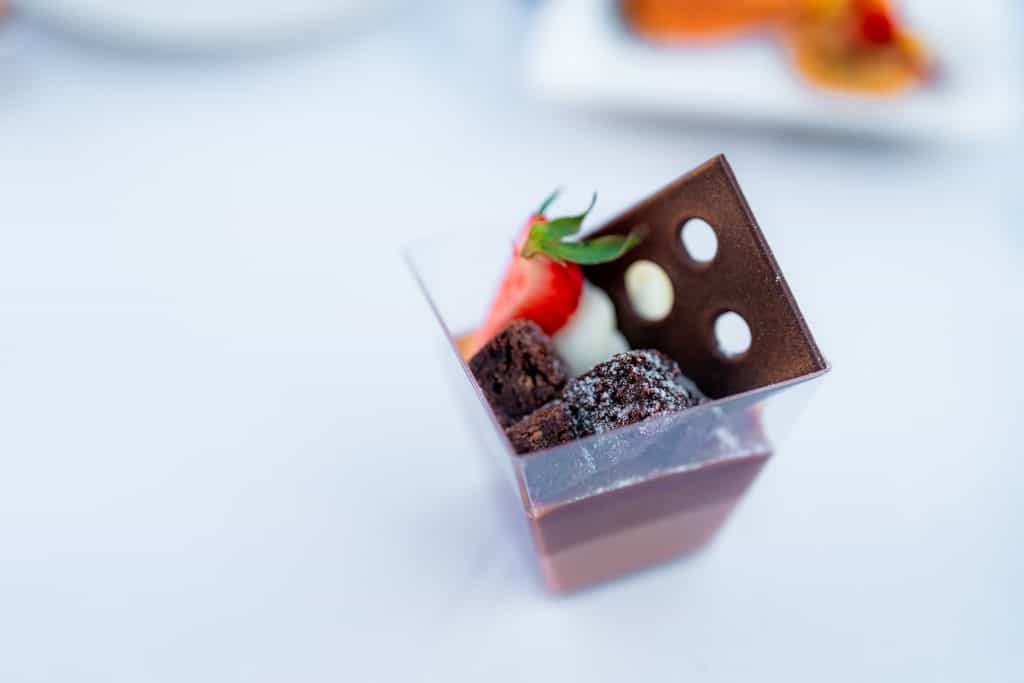 After the delights of the Panna Cotta, we decided to head over to the band, who had gotten our attention early on with their high energy and obvious talents. The live music featured swinging, vintage songs from singers like Frank Sinatra and Sam Cooke. Once the sun went down, the band said they were taking a break, and the real show began. If you've attended Harbor Nights before, you know what comes next here. On one of the balconies overlooking the Harbor Piazza, opera singers began their performances. Featuring male and female singers ranging from baritone to soprano, the evening took a magical turn with these performances. The opera singers sang everything from classical arias to Ed Sheeran covers, and each song was better than the one before it.
All in all, we personally can't recommend this event enough. If you are looking for a great date night or a unique evening out for any reason, this is something you should definitely check out. The prices for Harbor Nights aren't bad either, considering all that comes with it. Tickets start at $69 a piece, with the option to purchase a VIP experience for $99. We'll definitely be back!
The next Harbor Nights will take place on Friday, November 26 and is a special one! Holiday Harbor Nights means you get to enjoy everything I've reviewed here and witness the grand illumination of the hotel's Christmas tree on the Harbor Piazza. You can get your tickets here.