Another year of fears has begun at Universal Orlando Resort's Halloween Horror Nights!
Halloween Horror Nights 2022 brings familiar HHN concepts, such as Halloween and The Horrors of the Blumhouse, as well as introducing household names to the event, such as The Weeknd's haunted house – The Weeknd: After Hours Nightmare. Licensed property-themed houses aside, Universal Studios Florida brings the classic, simple concepts of witches, zombies, and monsters to life in intricately decorated mazes with incredible storytelling.
This creativity also translates over to the scare zones with all five being original concepts. Scarecrows, sorceresses, and blood-thirsty trick-or-treaters roam the streets of HHN to tap into your worst nightmares.
With all this event has to offer, we have compiled a ranked list, from weakest to strongest (in our estimation), of all ten houses, five scare zones, and two shows to help you navigate through it all. Our rankings come from a complicated algorithm from the online community and our own team here at Orlando Informer. Both groups bring the same elements to the grading scale: an understanding of Horror Nights in years past, an appreciation of the source material, and an unrivaled enthusiasm for Halloween.
The Haunted Houses at Halloween Horror Nights 2022
10. Spirits of the Coven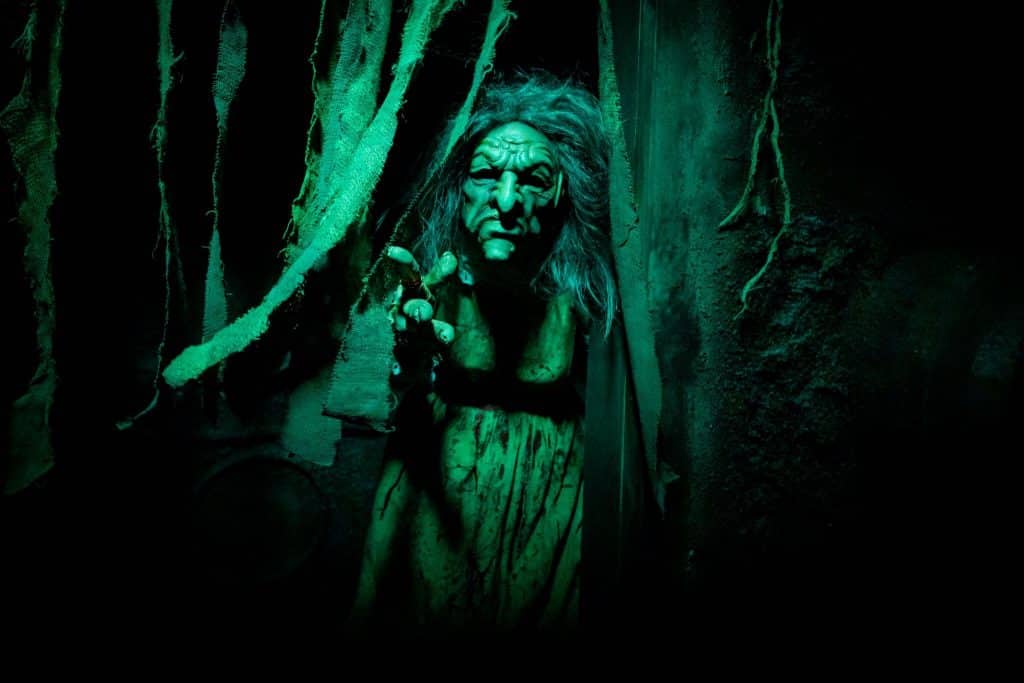 Turn back time to Halloween long ago, when this witch's speakeasy is in full swing. What's on tap? A homemade concoction of brew that is made from… YOU. The blood from HHN visitors is the top item on the menu, and it is up to you to get out before being juiced.
This house earns the last spot on our list due to the choppy nature of the storytelling. While the premise has much to offer, this maze fell a bit flat as the various scenes you travel through feel incohesive.
9. The Horrors of the Blumhouse
The Horrors of the Blumhouse has returned for a third year, with its first appearances being in 2017 and 2018. In this year's rendition, the Blissfield Butcher from Freaky and The Grabber from The Black Phone fuel your nightmares as you fight to escape their grasp and navigate through this maze.
You will begin in the world of Freaky and on the run from high schooler, Millie Kessler, who has accidentally switched bodies with the Blissfield Butcher, the local, legendary serial killer. This house made sure to call out pivotal plot points, such as the La Dola, and depicted the familiar slasher moments from the film. Moving into the world of The Black Phone, the overall tone shifts to match the darker nature of the film's material. You'll find yourself holding your breath as you venture further into the story.
While the scenes portraying each movie were excellent on their own, the transition between the two different stories felt abrupt. However, this did lead to the feeling that this was essentially two houses in one. It also felt particularly long, something we'd never complain about!
8. Hellblock Horror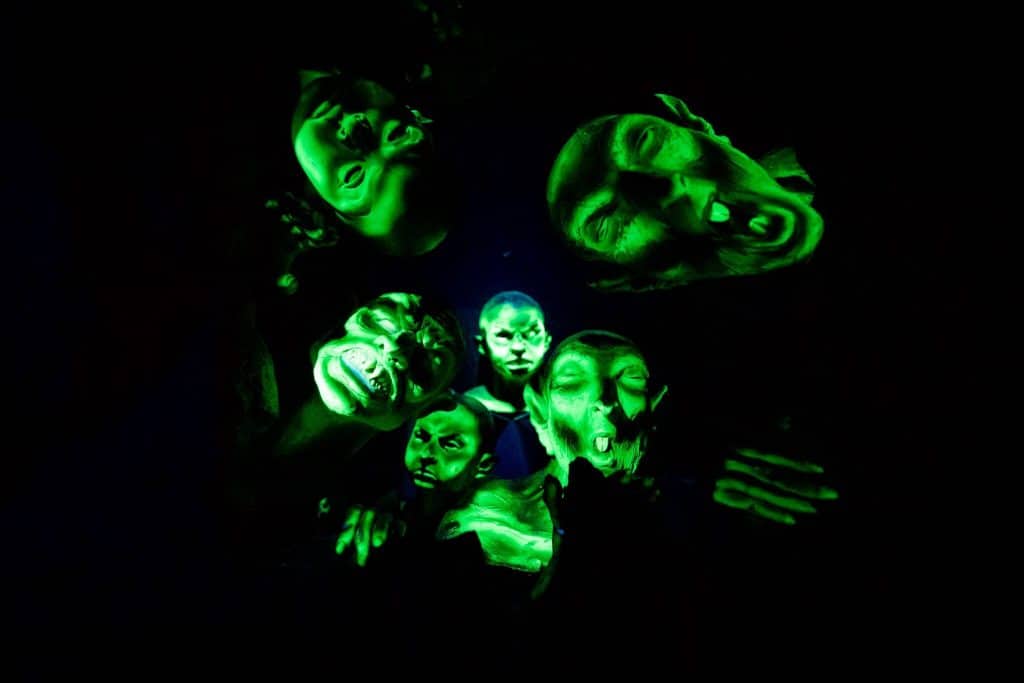 In an effort to end their reign of terror, terrifying monsters have been locked in prison – and it's visiting hour. The only problem? The power has just gone out. The doors have opened and it's your mission to destroy this jailhouse and save humanity. We enjoyed this new twist on a prison theme, showcasing various monsters instead of regular prisoners.
7. Descendants of Destruction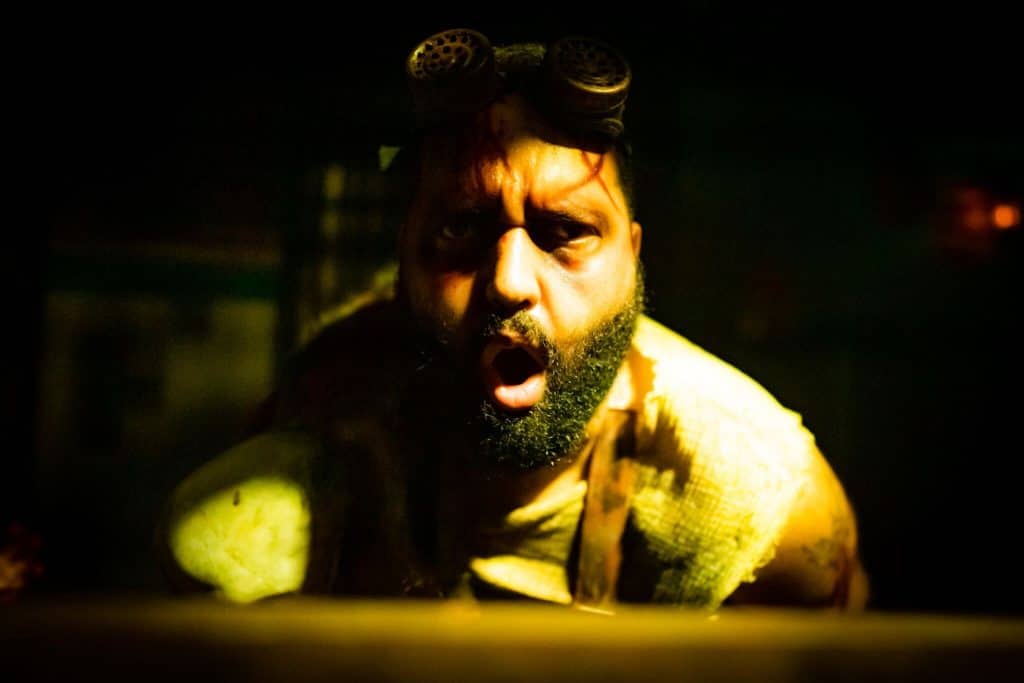 Enter a dystopian world where the surface is no longer viable for life. Humans have slowly morphed into mutants and moved underground to sustain themselves. It is a tale of every person for themselves as you fight to escape the grasp of these creatures, desperate to survive.
HHN designers did an excellent job creating a post-apocalyptic subway system that transports guests to an entirely different world. We enjoyed the world-building and had moments where we felt that this was a maze we may never escape from.
6. Universal Monsters: Legends Collide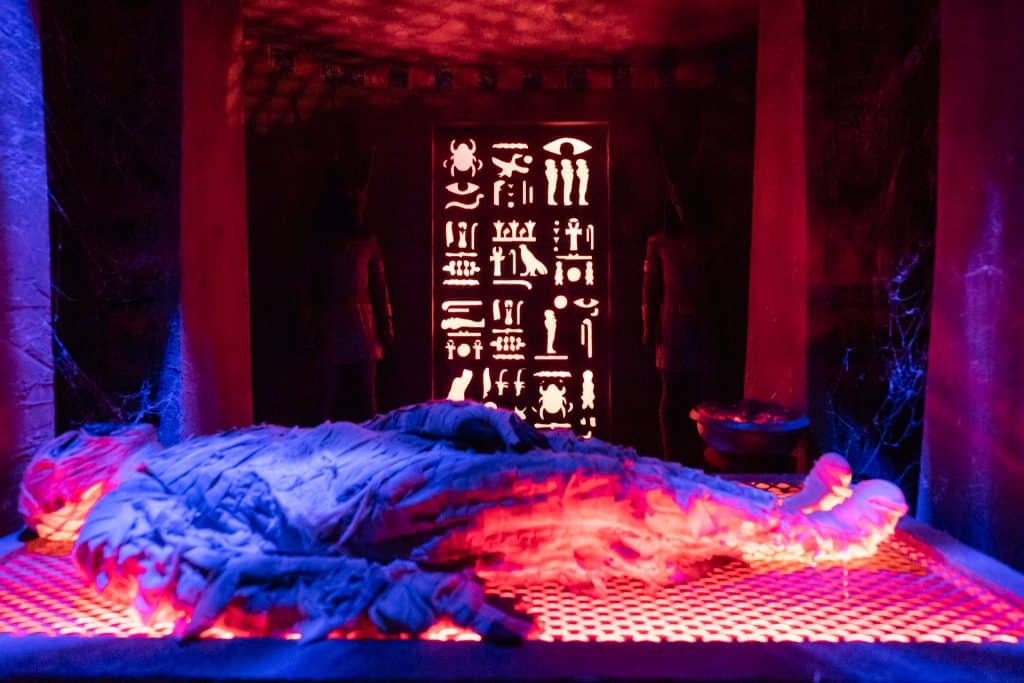 In this house, three classic Universal Monsters, The Wolf Man, Dracula, and The Mummy, battle each other to claim the amulet that will free them from their eternal curse. The character introductions and story progression were well-paced given the amount of time we had to experience this house's original story in its entirety.
Who will emerge from the scrimmage a victor? That depends on the evening you attend HHN. Guests attending multiple event nights may see a different conclusion to this house's brawl, which both keeps us coming back for more and has gained it a nice ranking on our list for its creativity.
5. The Weeknd: After Hours Nightmare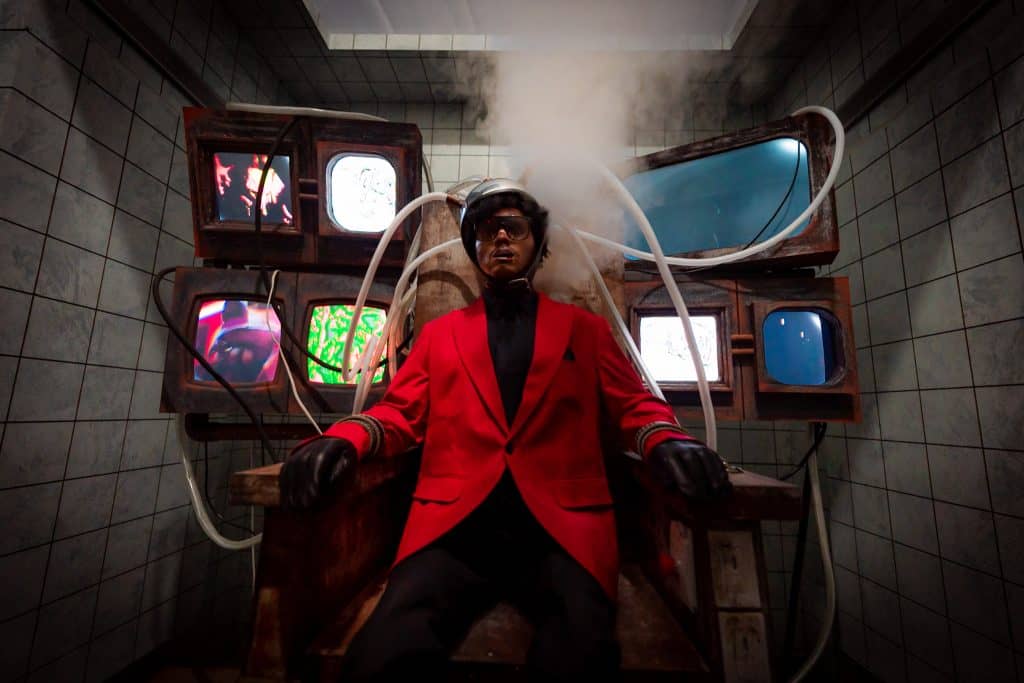 As this is one of the very few licensed-property houses themed after a music album rather than a horror film in the history of HHN, we were intrigued to find out how Universal Orlando Resort would portray this concept. We stepped into the mind of The Weeknd and his inspiration for his album, After Hours, and were pleasantly surprised (and the right amount of HHN horrified).
This house is certainly interpretive as it is frightening. The combination of surrealism, horror, and illusion makes this house unlike any other this year. The transition from nightclub to surgeon's office and then train station, with all the jumpscares and technical elements in between, will keep you on your toes as you plummet further through The Weeknd's vision. While we enjoyed this experience, we are left to wonder what the future will be for HHN collaborations with artists.
4. Halloween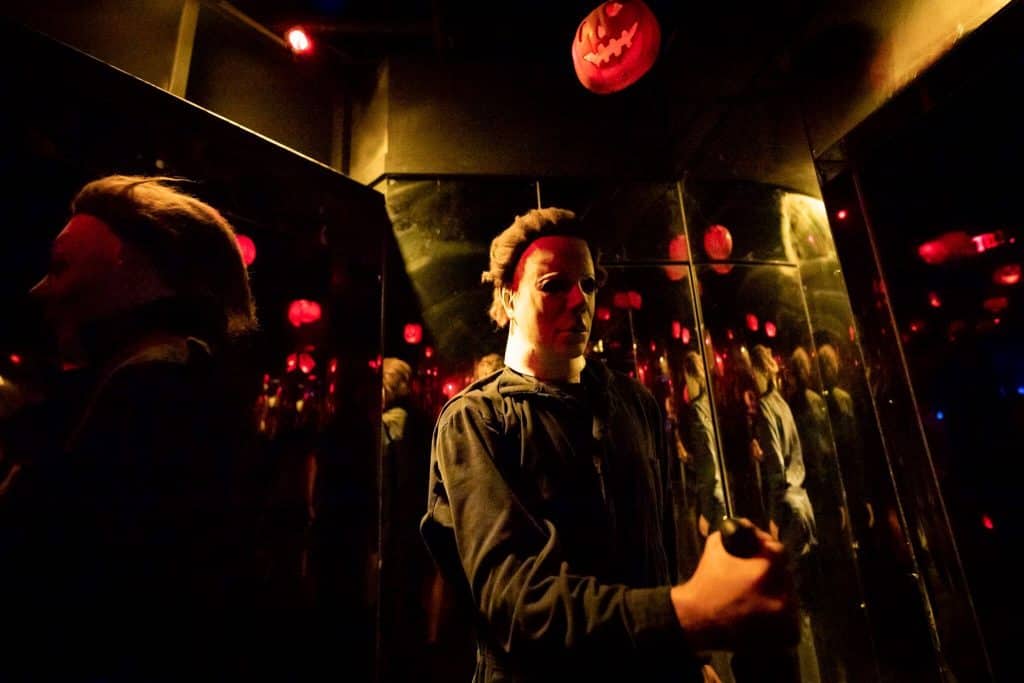 Michael Myers also makes his return to Halloween Horror Nights 2022 after his last HHN appearance in 2018. This year, we travel through time to where it all began in his original 1978 spree of carnage in Haddonfield, Illinois. This Halloween-themed house pays homage to the classic slasher many horror fans know and love with intricate jumpscares and the chilling theme music that indicates Myers is on the hunt for his next victim.
We feel confident that any horror fan will appreciate this house as much as we did. While the original movie was a low-budget, small production, this house grew upon the enthusiasm the film garnered by adding special effects and illusions to familiar movie moments.
3. Bugs: Eaten Alive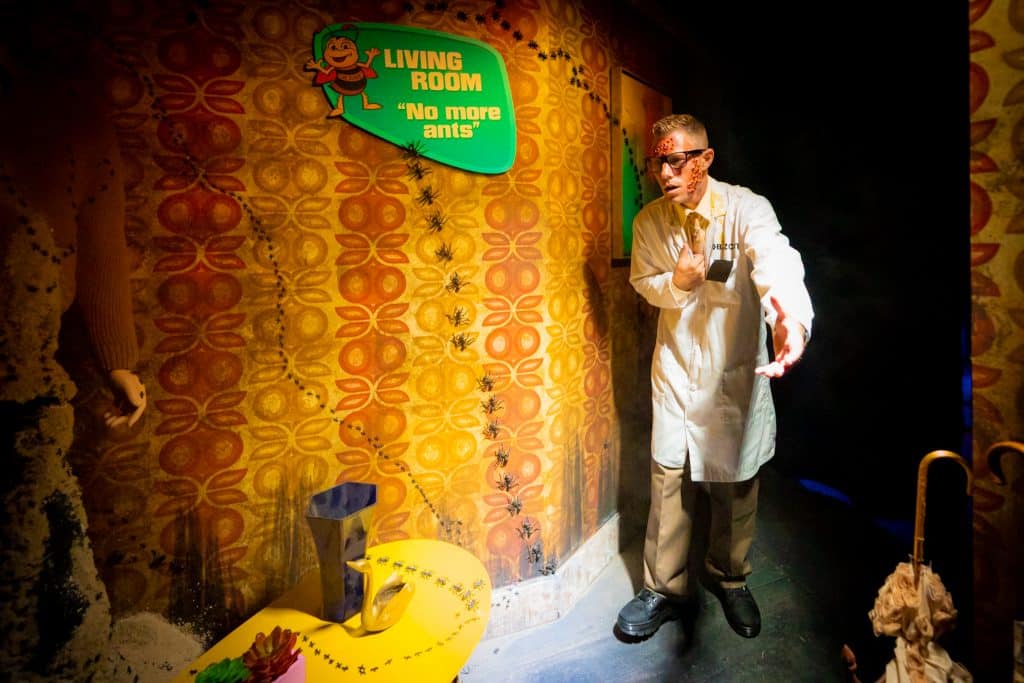 Creepy, crawlies have become the main attraction at the 1950s World's Tech Fair gone wrong. Bugs continue to grow and take over as you explore the main exhibit, a "Home of the Future." It's hard not to get goosebumps imagining these critters crawling on you as you watch your worst fears play out on convention guests, scientists, and exterminators.
This is the first year that bugs have been the overall theme of an HHN house. Some may find this house to be playing a bit too close to a common phobia and may not be able to separate this fictional tale from their fear. But isn't that what HHN is all about? If you can stomach it, this house brings the scares and some fun to make for our third-place rank.
2. Fiesta de Chupacabras
This celebration is certainly not for the faint of heart – which makes it a perfect addition to the Halloween Horror Nights line-up. In this village, the legendary, blood-sucking chupacabras are hungry and preparing to feast. To avoid any members of the town falling prey to this beast, tourists are trapped and sacrificed instead.
Fiesta de Chupacabras was a fantastic dedication to a legendary creature whose tale has inspired fear for generations. HHN thrives off of its no-fail equation of blending familiar folklore with realistic elements, like blood and carnage, to feed off of terror from stories we may have been told in our youth.
1. Dead Man's Pier: Winter's Wake
This fisherman's tale receives the top accolade for Halloween Horror Nights 2022. The sets for this house are intricate and purposeful. Artificial weather elements set the mood and scare actors are woven into the nautical decor. Most importantly, how could we not place this house so high when the development team managed to make an entire ship part of the decor?
The Scare Zones at Halloween Horror Nights
5. Horrors of Halloween
The creatures of Halloween Horror Nights past have returned to welcome guests to this year's festivities. We were overcome with nostalgia from seeing The Pumpkin Lord reign over Halloween Horror Nights once again. While we felt that this area was a bit bare in its scares and decor, this zone is rooted in the true spirit of Halloween that set the scene for another year of HHN trickery.
4. Conjure the Dark
What's a Halloween celebration without witches? This scare zone receives second place recognition for its showstopping "sacrifices" that appear throughout the night on their stage.
3. Scarecrow Cursed Soil
Inspired by the 2017 HHN house Scarecrow: The Reaping, this zone expanded into the Central Park streets to instill fear in the passersby. The blend of evolved farm animals roaming the barnyard with the unique bluegrass soundtrack playing in the background made for a fun, yet scary atmosphere.
2. Graveyard: Deadly Unrest
Make your way through gothic-style mausoleums and avoid an army of the undead. You can't go wrong with zombies and Halloween as they are a match made in horror. The characters roaming the graveyard were hauntingly mesmerizing that we didn't expect some of the surprises this scare zone had in store.
1. Sweet Revenge
We loved the juxtaposition of the classic Halloween decor that you would find in your hometown neighborhood while the haunted trick-or-treaters brought the horror. With the bright, inviting pumpkins and candy decor, this scare zone relied on scare actors to bring the frights. Their devious tricks are ultimately treats, leading us to rank this scare zone the highest on our list.
Read the Scare Zone announcement
The Shows at Halloween Horror Nights 2022
2. Halloween Nightmare Fuel Wildfire
The Fuel Girls have returned to be part of a new dreamer's nightmare and we were thrilled to see another year of illusions and stunts. Much like last year's performance, this show is edgy and has a raunchy characteristic to it – playing into the adult nature of Halloween Horror Nights.
1. Ghoulish! A Halloween Tale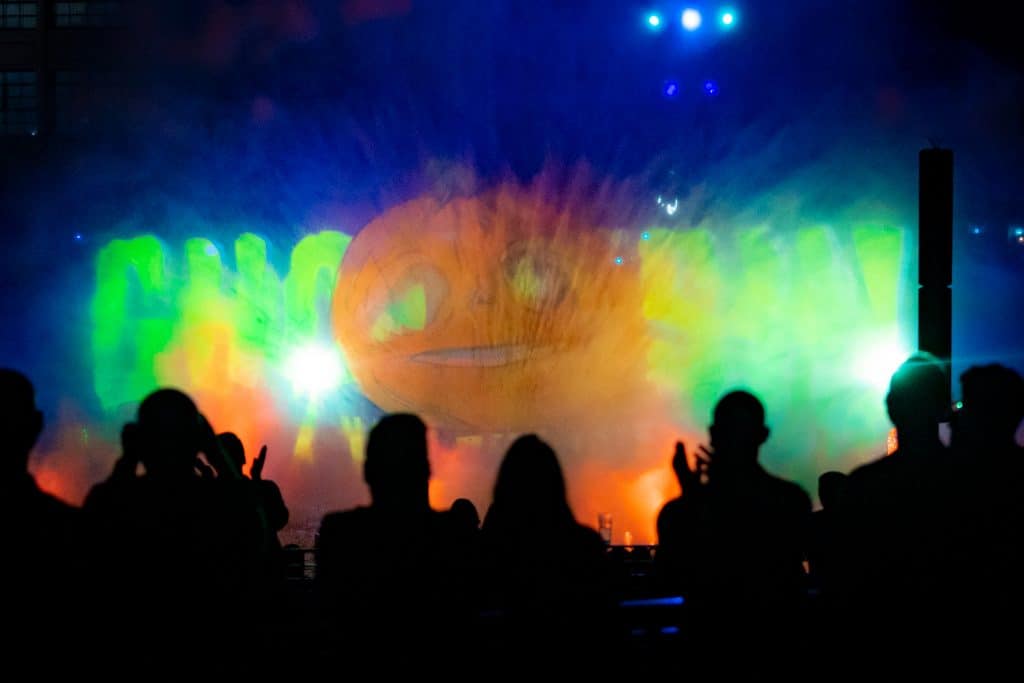 After two years and versions of Marathon of Mayhem, the inaugural Halloween Horror Nights lagoon show has been replaced by Ghoulish! A Halloween Tale. Initially, we were hesitant to hear that this would be replaced as change is never easy. However, we were blown away by the storytelling, theming, and theatrics of this brand-new tale on water.
This year, the lagoon show was hosted by The Grim Reaper and took onlookers on a journey to the great beyond. We were frightfully delighted with the show's soundtrack which featured recognizable music from The Weeknd, as well as some vintage tracks. You'll find it hard to resist tapping your feet along to the music as familiar scenes from fan-favorite movies come to life on water before your eyes. You may even catch a peek at our favorite pumpkin too!
Read the entertainment announcement
If you want to know more about Halloween Horror Nights, check out our complete guide here.