It's here: after 30 years and 30 fears, Halloween Horror Nights 2021 delivers for newcomers and die-hards alike.
It goes without saying that a lot was riding on HHN 2021. Last year's quieter daytime affair was lovely to have, and considerably better than the alternative of a complete and entire cancellation, but it still wasn't the "real thing." This year? It is. In celebration of Halloween Horror Night's 30th anniversary, Universal Orlando Resort returns a line-up as impressive as ever: a mammoth ten houses and five scare zones to enthrall guests and kick off one of the best times of the year.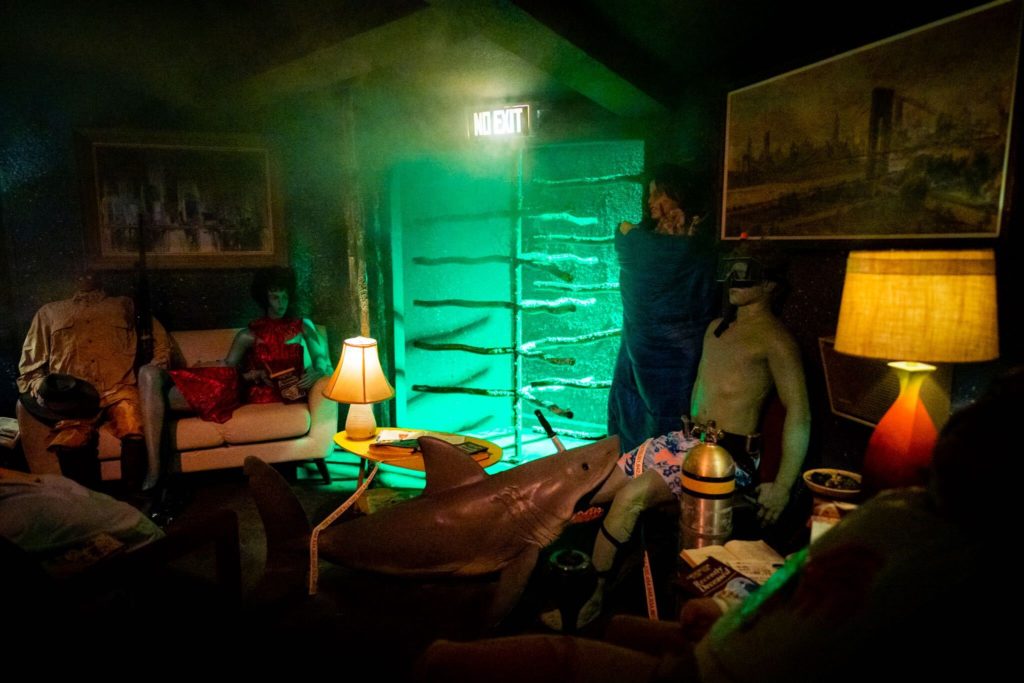 If you're thinking to yourself: I'm not that into scary stuff, that's ok. Halloween is all about "trick or treat", and this event relies on the successful blend of both. This article will rank all ten houses, all five scare zones, and both shows (from weakest to strongest), and we promise there is something for everyone on this list.
Our rankings come from a complicated algorithm from the online community and our own team here at Orlando Informer. Both groups bring the same elements to the grading scale: an understanding of Horror Nights in years' past, an appreciation of the source material, and an unrivaled enthusiasm for Halloween.
Alas, not everything with Horror Nights 2021 is all brimstone and sunshine, unfortunately – opening night was marred with heavy rain and strong winds, which, while adding to the general "feel" of the evening, simultaneously drove out scare actors from zones and ushered attendees into covered, albeit cold, safe havens. The general "give me my space" overlay (compliments of the pandemic) was also noticeably present in the scare zones. As usual, Halloween Horror Nights brought high-quality props and sets, which many of us dearly missed last year. Therefore, while it is obvious that not everything we assess here gets rave reviews, there is a general standard of high quality off of which all HHN material is judged, and that should be kept in mind as you scroll through this article.
Remember, our category rankings will go from the weakest (in our estimation) to the strongest. We should note here that while we try not to spoil things for you in this article, the nature of a review will give some elements and details away. Just keep that in mind as you read along. Without further ado, let's get into it!
The Haunted Houses at Halloween Horror Nights 2021
10. Scarey: Horror in the Heartland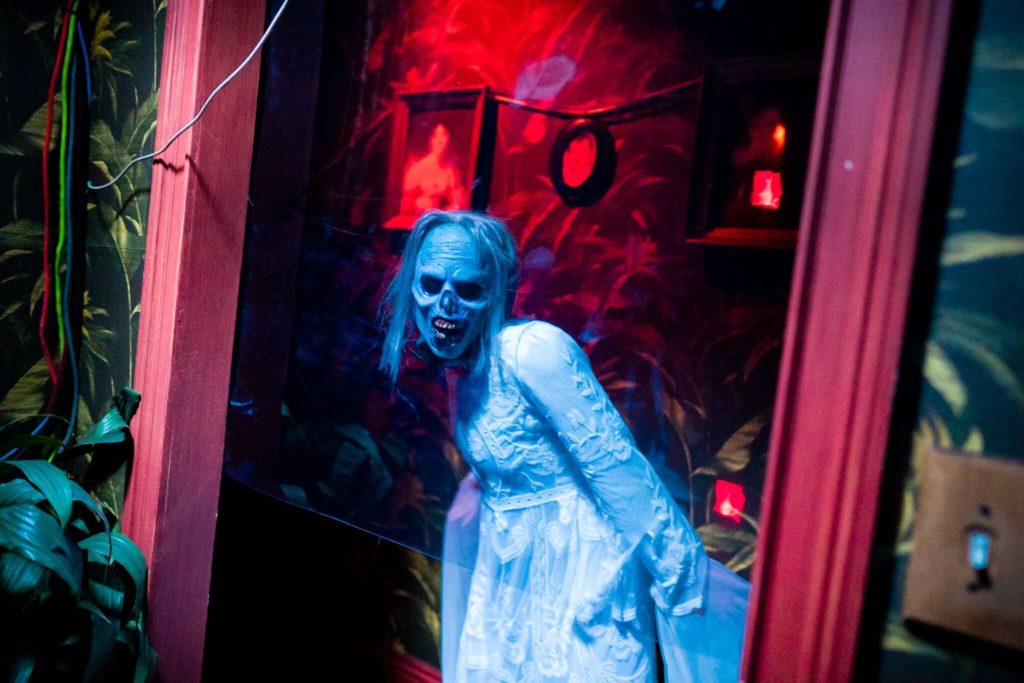 One of the mazes dedicated as homage to Horror Nights legend and lore, Scarey: Horror in the Heartland takes guests through a maze of creepy, midwestern, small-town elements. Things get messy through the house though, and at one point become downright interactive – for example, guests are hit with water to mimic the "blood" from a butcher knife being flung at them.
Predictably, this house rewards Horror Nights mega-fans, with lots of familiar faces (hi, H.R. Bloodengutz!) coming along for the ride and popping up unexpectedly. One noticeable detractor in this house was the heavy presence of vinyl dividers, although we admit that the integration of these safety features blended in this house considerably better than it did in other mazes, and did not detract from several solid scares along the way. We won't try to spoil too much – but all in all this is a fun maze that does not seem to have a point of diminishing returns. In many ways, we feel that this house could improve greatly over the course of HHN, once scare actors lean more deeply into their roles and become accustomed to the house and how audiences react to their scares.
9. Beetlejuice
Maybe you can relax in a haunted house, despite what Delia Deetz says. As is the case with the source material, this house is more fun and playful than outright scary. Guests have the chance to walk through some of the most well-known scenes from the film, including the waiting room and Dante's Inferno. These familiar spaces come to life in a whole new way with big illusions and impressive practical effects. One of the coolest of these is the large, spinning tunnel that kicks off the maze.
We love this house because it provides a respite from the straight-up horror that comes standard for Halloween Horror Nights while still staying true to the core of the event itself – that is, to just enjoy yourself and remember to not take things too seriously. It's only life!
8. Revenge of the Tooth Fairy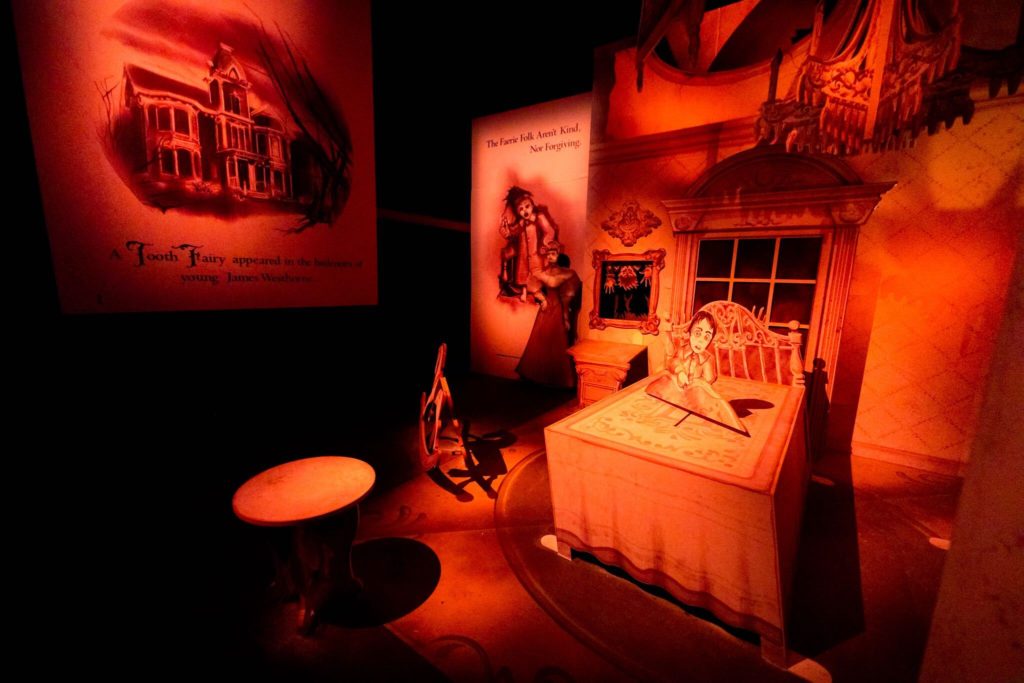 This haunted house turns a lighthearted children's fantasy into a brutal, bloody nightmare. Revenge of the Tooth Fairy wields gruesome creatures and depictions of dental torture that could make a root canal look like a Swedish massage.
The set design is impressive and unique from the start, quickly immersing you in a childlike storybook atmosphere with very sinister intentions. A strong throughline is established via both visual and audio narration before you even enter the house, and it echoes hauntingly through the various rooms as you wind through narrow halls and violent scenes.
Even though Tooth Fairy is frightening, we found the scares to be somewhat on the generic side; you won't discover any groundbreaking stunts or illusions, but you'll still be caught off guard by traditional jumpscares. The "wow" moments are more in the innovative opening set and high-quality prosthetics and puppeteering. Likewise, the mix of children and gore added to the disturbing tone and kept us on edge the whole time. This maze did not seem to blend its protective vinyl sheets into its set as smoothly as The Bride of Frankenstein Lives, which could sometimes take away from the otherwise-unnerving environment.
7. Texas Chainsaw Massacre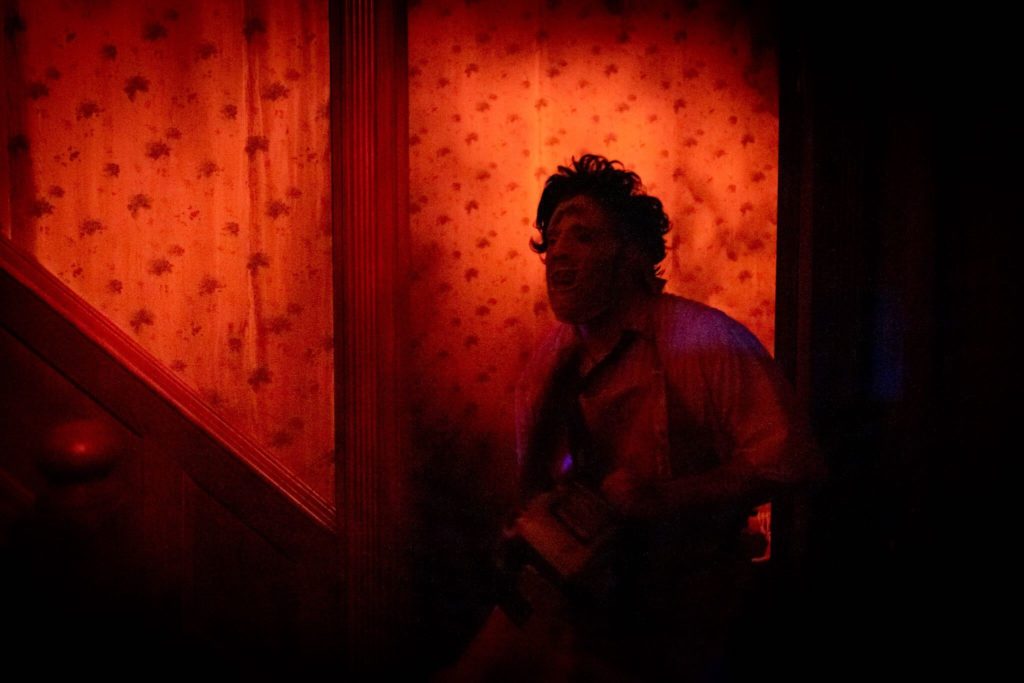 One of the biggest licensed property (LP) names to come out for Halloween Horror Nights 30, Texas Chainsaw Massacre is what you would expect – horrifying, scary, and grotesque. This house was – and we cannot emphasize this enough – dark. Terrifyingly dark. While easily one of the scarier (and certainly more gorey) houses, the scares became a bit repetitive and relied heavily on one of two things: the scare-acting chops of Leatherface or the jump scares from chainsaws and/or townspeople.
One thing we were impressed by was the use of grinders and chainsaws. The sparks produced by the grinder effect juxtaposed beautifully against the darkness of the house, and were done primarily behind "windows," keeping the scares close to your face, but ultimately protecting guests. The conclusion of the house was a fenced-in area, taking advantage of those of us who suffer a little from claustrophobia, and grinders and chainsaws flank you on either side as you try to escape. Overall, this maze was an all-around improvement on the 2016 version of the same house.
6. Universal Monsters: Bride of Frankenstein Lives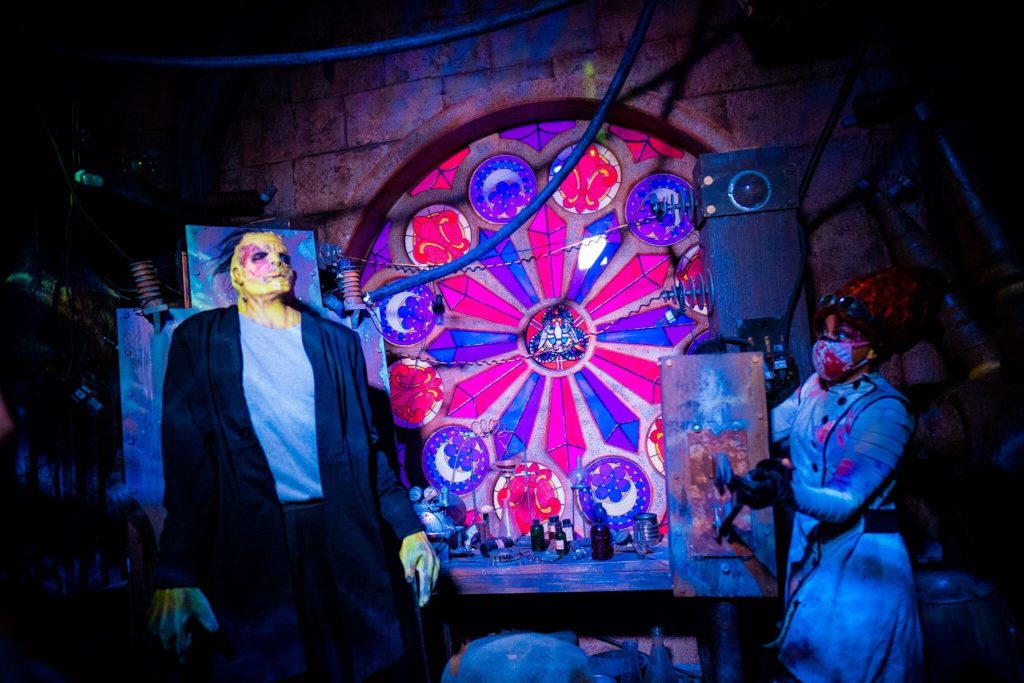 There are a few reasons why this house sits here on our list of mazes. For one, its classic theming and high production quality earmark it as a classic representation of Horror Nights inspiration. While scary, the story you follow in the house is ultimately more redemptive than terrifying (the Bride is just trying to bring her love back from the dead, after all), and the characters are familiar.
We will say that the narrative of this house was broken up into two distinct "acts," the first of which was relatively slow and didn't have outright scares so much as beautiful scenes to help develop the Bride's torment and mourning. The second act picked things up considerably, relying more heavily on noticeable usage of the clear dividers between scare actors and guests as the story came to a head. None of that is an outright knock against the house, and so we determine "Bride" to be a solid contender this year.
5. The Wicked Growth: Realm of the Pumpkin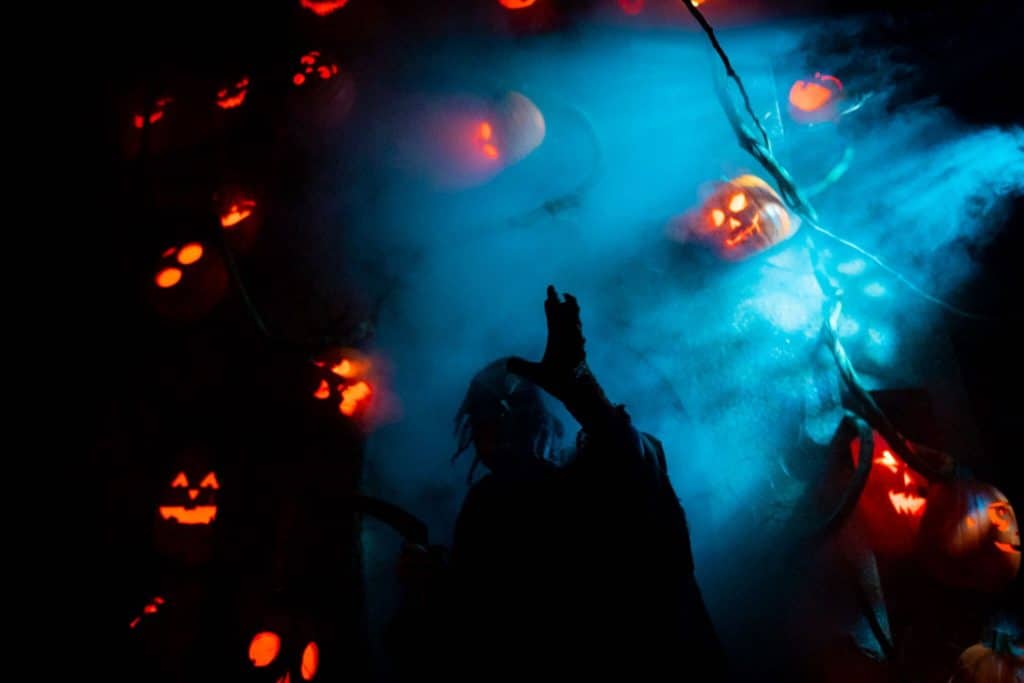 Wicked Growth, in our humble opinion, is a great example of what makes Horror Nights such a great event. Universal's ability to take a cheesy concept (in this case, a haunted house of demented pumpkins) and turn it into something visceral is simply unparalleled, and it's why Horror Nights has had 30 years of successful fears.
With one of the most impressive exteriors from any house this year, Wicked Growth had immediate feedback in regards to the sheer number of jump scares in this house. You won't make it far without jumping or crying out, and at the end of the day, isn't that what Halloween Horror Nights is all about?
4. Haunting of Hill House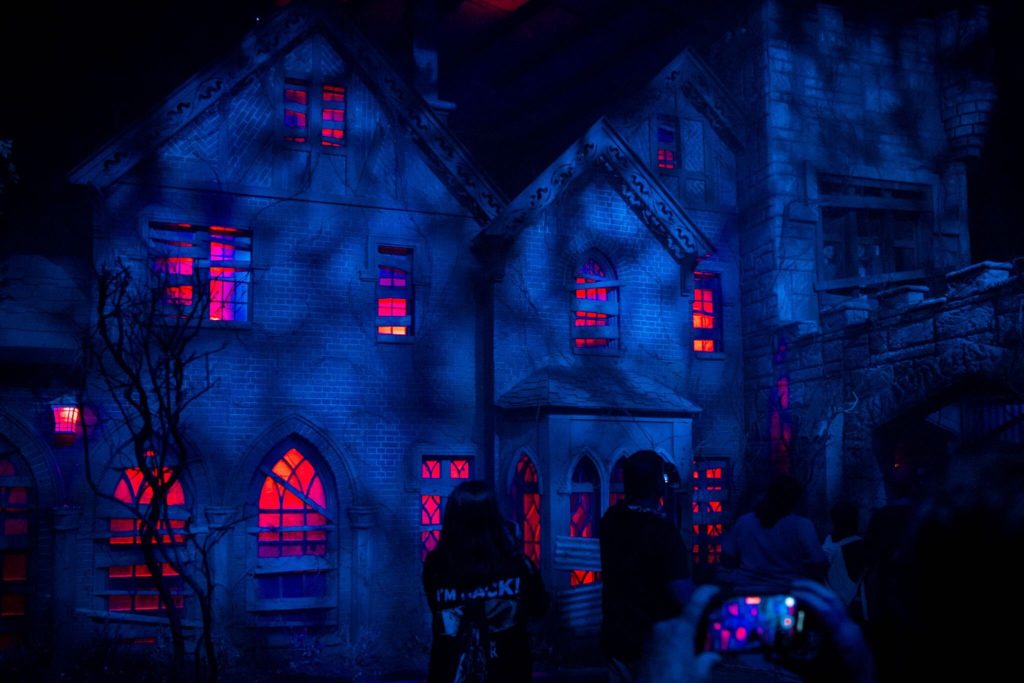 Arguably the most anticipated house of this year's lineup, Hill House served as the marquee LP for this year. Unlike its namesake show, which is pretty well-established as an all-time great in the category of horror television, the Haunting of Hill House…house…returned decidedly mixed reviews. Some criticized it for having weak scares, cheap effects, and ultimately, lackluster storytelling (which is, of course, a far cry from the show).
We couldn't disagree more. In our estimation, the thing that sets Hill House apart from the rest of the line-up is that this is a paranormal-based house. These houses rely more on developing atmosphere and a having a strategy for subtle-yet-horrifying tension building. Hill House understands this, and the set design and storytelling services both fans of the show and those who have never seen the Bent-Neck Lady or the Tall Man.
The only way for you to determine which side of the argument you'd ultimately be on is to go through the house yourself. Let us know what you think!
3. Puppet Theatre: Captive Audience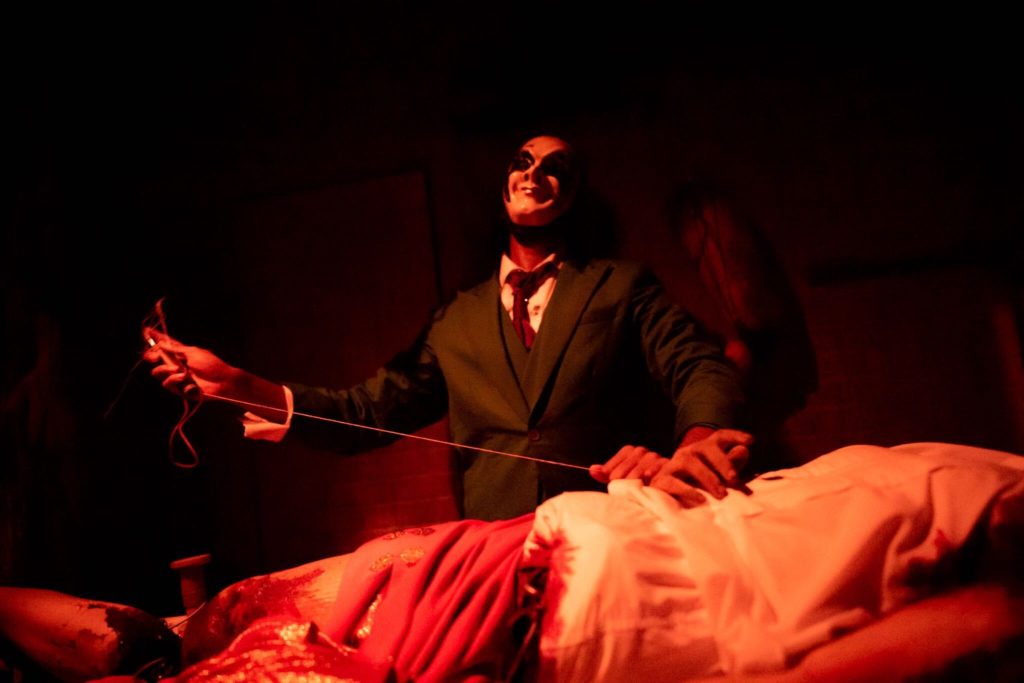 Puppet Theatre: Captive Audience operates at the intersection of aesthetically beautiful and horrifyingly captivating. The story of this house is that puppets have taken over the theatre, and the narrative comes across in carefully crafted increments. The scenery is beautiful, meandering guests through costume racks and detailed props such as traditional rigging for an old theatre. Some of the scare actors are puppets, others are holding them. Life-sized puppets as well as standard-sized puppets come to life in this space.
2. Halloween Horror Nights Icons: CAPTURED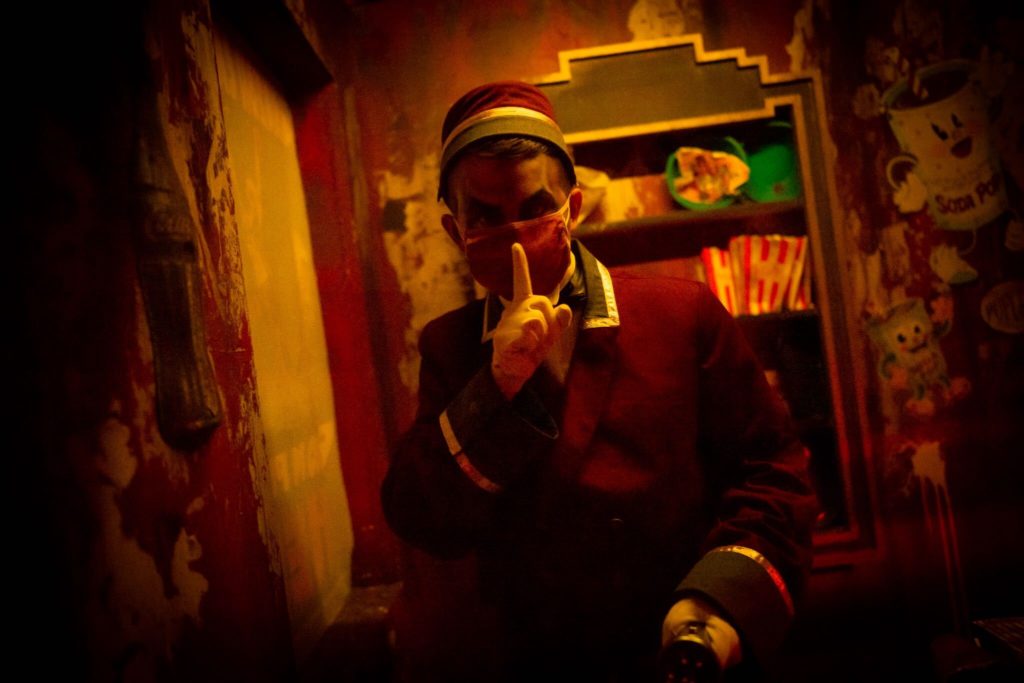 It was pretty clear from the beginning that Halloween Horror Nights: Icons was going to be in serious contention for best (or at least, most loved) house. This maze brought everything together – immersive sensory details, sincere and classic Halloween appreciation, and deep, deep Horror Nights fan service.
Halloween Horror Nights fans will love this house for all the references to past years. If you're new to the scene, it's a great recap of the icons (even going so far as to reference Bloody Mary). The narrative of this house is that you are stepping inside torture scenes with each icon, the characters in some kind of macabre competition to see who can be the King of Horror. The finale (or throne scene) changes depending on, well, who wins that time! That means guests attending multiple Horror Nights (or those of us who just like going to the same house multiple times in one night) will see the story change.
1. Case Files Unearthed: Legendary Truths
In our humble opinion, this is the best house in the anniversary line up. In the same vein as HHN Icons: Captured, Case Files Unearthed: Legendary Truths is the house to go to if you are a die-hard Horror Nights fan. Absolutely littered with easter eggs and references to all things Halloween Horror Nights, this new maze explains and expands on the history of this beloved event. In fact, guests follow the footsteps of a new character, Tim Foil, who is dedicated to unraveling the history and mystery of Horror Nights legend, Boris Shuster.
If Boris sounds familiar to you, that's because for years he has had an "office" in the New York section of the park. A window advertising "Boris Shuster Private Investigations Investigating Services" has been a long-standing (and year round) element to Horror Nights lore. This maze delves into that rich and storied history, and does so in beautiful Horror Nights fashion.
The Scare Zones at Halloween Horror Nights 2021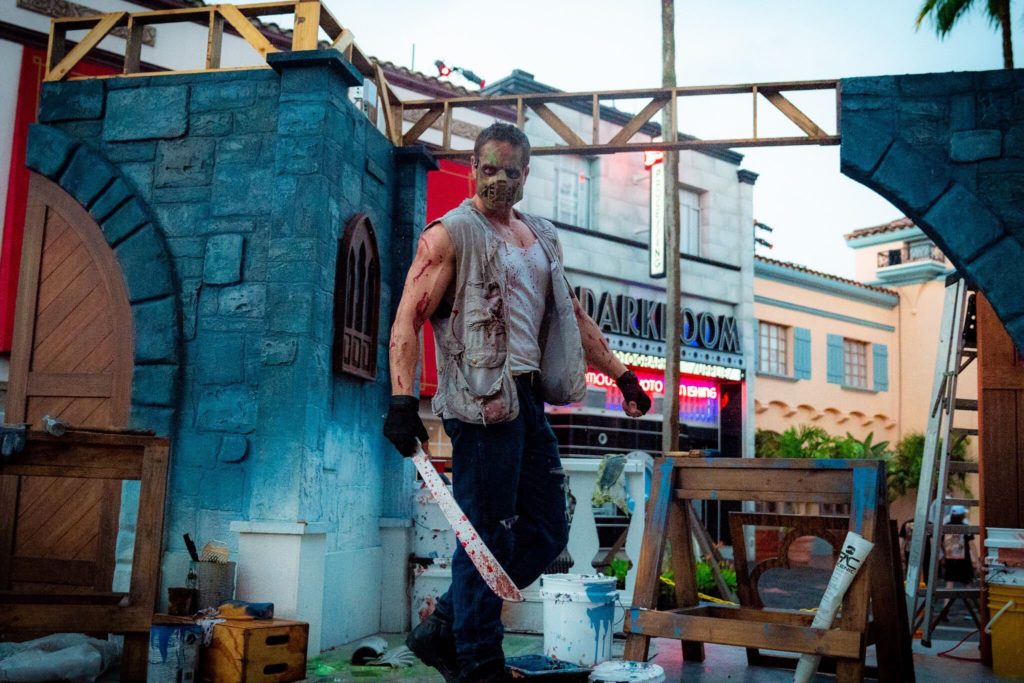 5. 30 Years 30 Fears (Production Central)
A great and intense welcome to Halloween Horror Nights, 30 Years 30 Fears sets the tone for the rest of the event. This scare zone relies on neon signage, lots (and lots) of fog, and even the occasional burst of fire from the main structure to evoke feelings of excitement more than abject terror.
4. CryptTV (San Francisco)
We truly recommend watching some of the most well-known shorts from CryptTV. This scare zone utilizes set production that rivals what you would find in any of the best houses, but the set-up requires these vignettes to stand on their own, on separate stages. This encourages people to stand in front of each stage for a few moments as opposed to moving through the zone in attempts to escape the terrors of the Look-See, The Birch, or Miss Annity.
3. Gorewood Forest (Central Park)
The land of Terra Cruentus and the Rituale de Blud have returned (as foretold years ago). The Terra Queen must make a ritual blood sacrifice to keep up the harvest of the sweet blood berries, and she has her selection at Halloween Horror Nights.
This scare zone features incredible costume work (most notably, the Terra Queen) and great sound design. The area has a woodland creepy vibe, which always plays well in this area of the park. There are also beautiful cave structures that skillfully hide scare actors before they pop out at unassuming guests.
2. Seek & Destroy (New York)
We are happy to report that Seek & Destroy pleasantly surprised us. New York is a hard area to cover as a scare zone (just from sheer size and breadth, if nothing else), but this one delivered. The scare actors were highly interactive and as a whole, the zone didn't give the same "apocalyptic" feeling that zones from the past have tended to slide into when eliciting an "alien overlord" theme.
1. Lights, Camera, Hacktion: Eddie's Revenge (Hollywood)
This scare zone easily wins the accolade of best scare zone at Halloween Horror Nights 2021. After years of near-attempts at Eddie getting his time to shine, we were all overjoyed for him to finally get the attention he deserves. This scare zone felt like the most complete of all the zones, with an army of scare actors and a number of returning characters, all against fun and detailed sets, with Eddie and his revenge at the center.
Read the scare zones' announcement
The Shows at Halloween Horror Nights 2021
2. Marathon of Mayhem
We've said it before, and we'll say it again: we can't imagine our HHNs without Halloween: Marathon of Mayhem. We got our wish that the show would return for Horror Nights this year, and now here's hoping that the company will trot out the same basic premise for next year's event, and the next, and the next.
The impressive lagoon show celebrates the beloved horror properties in this larger-than-life nighttime spectacular. Everything from the collection of scenes and images that play out across the water to the iconic soundtracks that accompany them are superb, and a thrill all unto itself. That being said, we didn't enjoy Marathon of Mayhem as much as we did in 2019, so while it remains beloved, it ranks second on our list this year.
1. Halloween Nightmare Fuel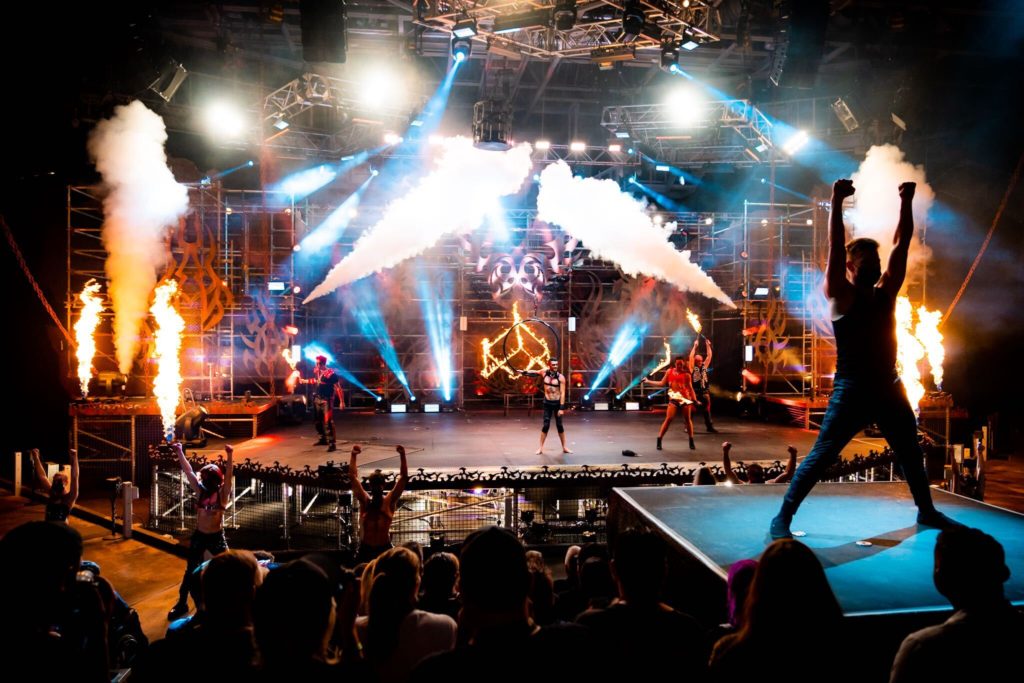 Held in the Fear Factor Live stadium, this exciting and edgy show blends pyrotechnics, acrobatics, and magic for a show you won't soon forget. We'll be the first to admit that the raunchy nature of this show caught us a little off-guard. While not entirely out of step for Halloween Horror Nights, the explicit overlay of this show is definitely a testament to the adult nature of the event itself.
But hey, we're all adults here, and this show is a good time for everybody. It's a great way to end the night on a high note, or serve as an entertaining break from the horrors found elsewhere within the park. Halloween Horror Nights doesn't just have to be about blood, guts, and gore, and it serves us right to occasionally be reminded that Halloween is all about celebrating the topsy-turvy nature of the season.
If you want to know more about Halloween Horror Nights, check out our complete guide here.