Let's just come right out and say it: Halloween Horror Nights has continued to get bigger and better with nearly every single year.
Part of this progression has had to do with Universal's continuing acquisition of bigger-name intellectual properties, starting with The Walking Dead in 2012 and arriving now at Stranger Things, which has brought in more people and revenue; part of this has to do with a growing sense of sophistication on the company's part, which has resulted in a continually raised bar. All of it means that 2019 consists of a breadth and depth in its haunted-house lineup that is particularly solid, delivering some experiences that are intense and scary, some that are humorous and show-heavy, and some that are somewhere in between.
(The rankings that have been produced by the online community stand testament to this – when they tend to be as varied as this year's so far have been, that's the sign of a good event. [Just look at Us! What has routinely come in as a top-tier contender for others is near the bottom of our own pack, which makes us all sorts of giddy at the possibilities.])
Alas, not everything with Horror Nights 2019 is all brimstone and sunshine, unfortunately – whereas the mazes are all practically top-notch in one way or another, the scare zones leave a lot to be desired specifically in the scares department. But even here there is a silver lining in the horror cloud – although three of this year's five streets may not necessarily result in you jumping with fear, they still offer their own points of appreciation, from scenic design to authenticity to their source materials.
And rounding out HHN's package of experiences is the live entertainment, which, for this year, has jumped back up from one to two productions. It's here that we think perhaps the biggest mark 2019 will make on the event moving forward can be found, and we're excited to discuss it with you.
Actually, we're excited to discuss it all – so let's get started, moving from one category to the next and offering our picks from the weakest (in our estimation) to the strongest.
The haunted houses
10. Stranger Things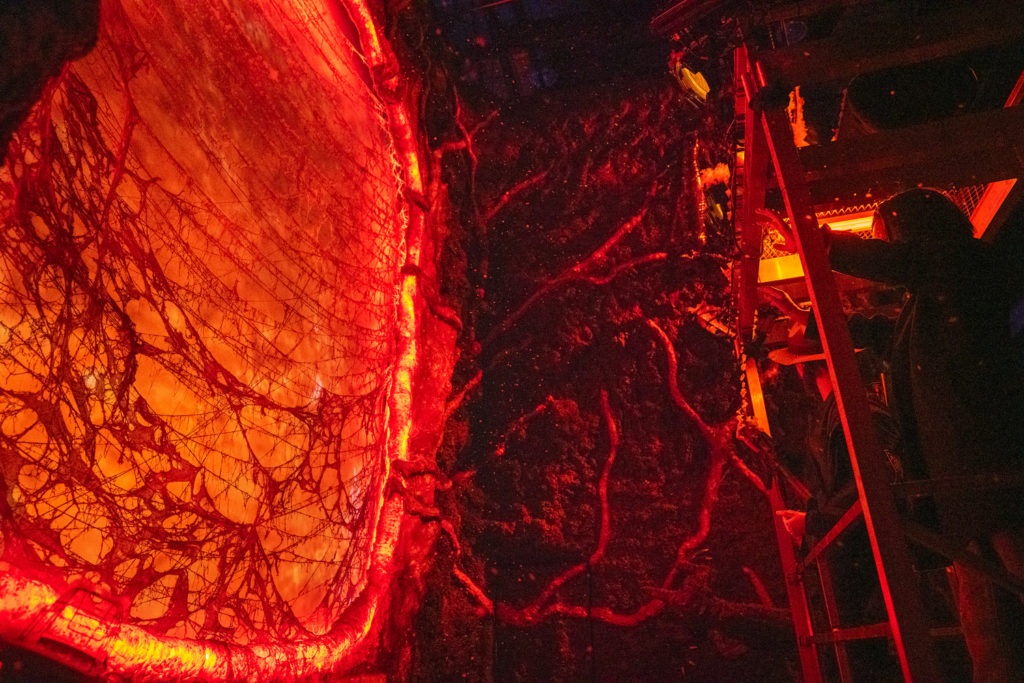 The consensus surrounding last year's Stranger Things outing was that it was a remarkably detailed and authentic recreation of the hit Netflix show's first season, but that it was noticeably lacking in the scares department.
This is precisely the same situation for 2019's haunted house. And while, this time, there were two seasons' worth of material inserted into the proceedings – and while Universal certainly managed to hit all the big highlights, including season three's captivating Starcourt Mall and the action-packed standoff inside of Police Chief Jim Hopper's cabin – the Stranger Things 3 portion felt more tacked on than anything else, unfortunately.
Still, for all the fans out there – and there are a lot of them, if the opening's crowds are anything to go by – this is a haunt that is highly authentic and is not to be missed.
9. Us
Us at #HHN29 has a few fun, different scenes. Definitely some tension and suspense between you and the actors. pic.twitter.com/SazbdWjSqb

— Orlando Informer (@OrlandoInformer) September 7, 2019
2019's Us, the second film from acclaimed writer-director Jordan Peele, was undoubtedly one of the bigger challenges facing Universal and its designers this year – a movie based on doppelgangers with slowly-built-up tension and heavy symbolism doesn't necessarily scream "haunted house" on first blush. But with its recreation of some of the more iconic scenes (NWA, we're looking at you) and its usage of mirrors for the various scareactors, there was more here than you'd expect – and some of that tension and suspense from the screen was successfully translated to the maze, to boot.
All in all, we'd consider Us to be solid but ultimately somewhat lacking when compared to its HHN brethren – hence its placement in the rankings.
8. Nightingales: Blood Pit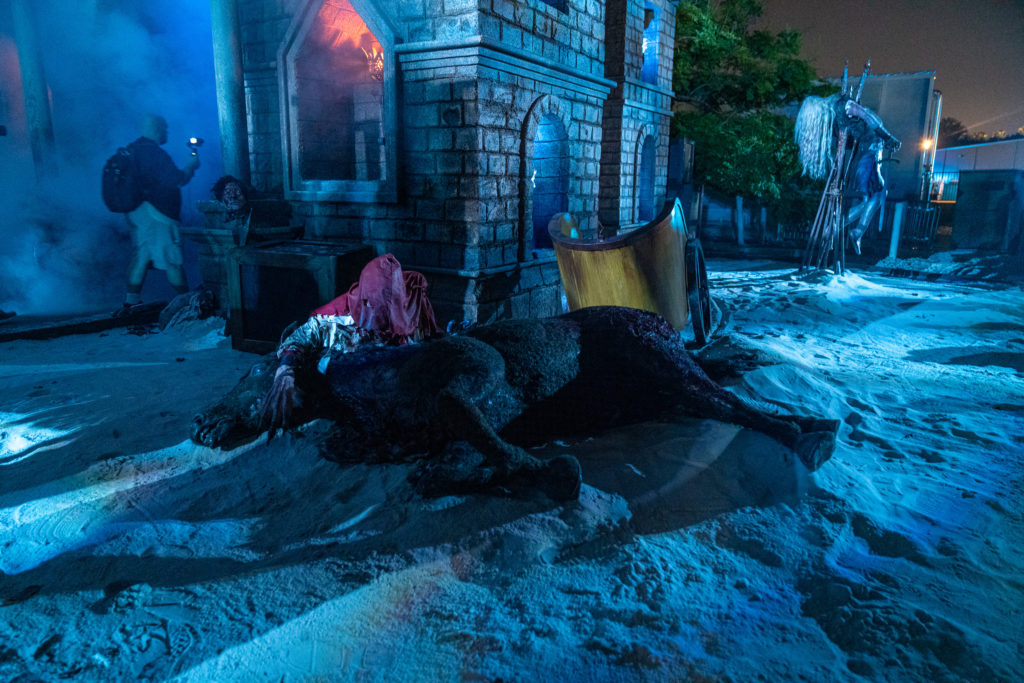 On the one hand, Nightingales: Blood Pit – a long-awaited follow-up to a 2011 haunted house – is a very fine experience. It exudes atmosphere and authenticity to its ancient-Roman time period, its sets are appropriately claustrophobic, and it possesses a certain flow that works extremely well, both for the scares and for the story it's telling. It even manages to feature one of the event's now-legendary puppets, in the form of a lion that a hapless gladiator is facing off against near the haunt's climax, and, unsurprisingly, a decent bit of gore (befitting its Blood Pitt name).
On the other hand, however, given everything else that Nightingales is up against this year, the maze still manages to fall towards the bottom of the pack – something that can be read just as much as a compliment to Horror Nights 2019's roster as a fault with Blood Pit itself.
7. Depths of Fear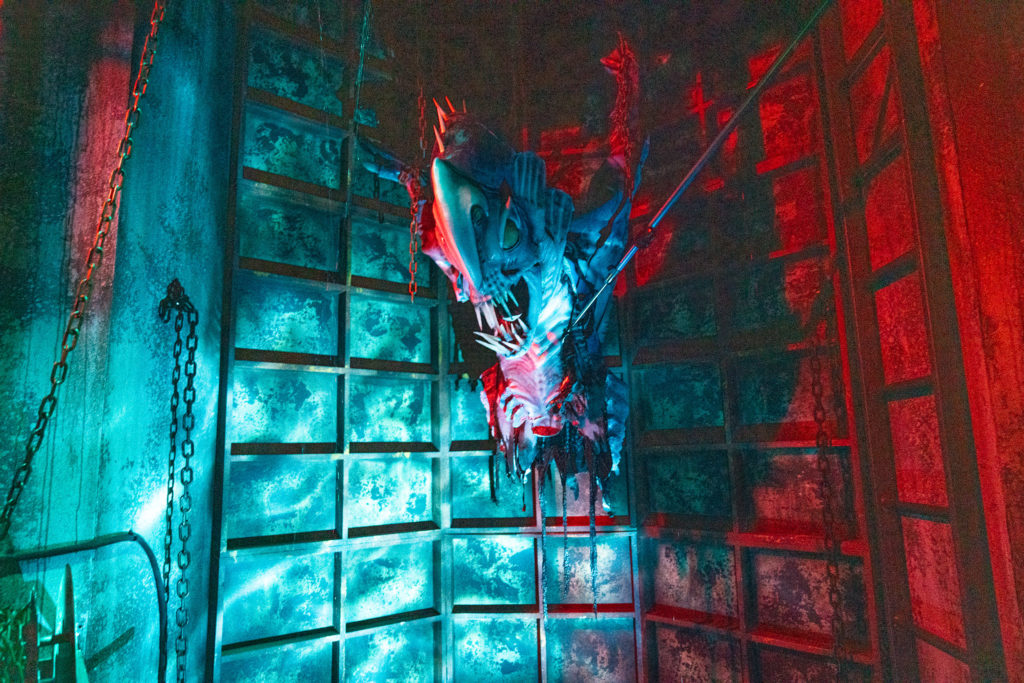 As is typical with HHN, nearly every single haunted house this year is very well detailed, whether to its source material or in creating a brand-new environment – but Depths of Fear is also one of the best themed, truly creating the illusion that you're trapped in an underwater mining facility as it's being taken over by an invasive, parasitic lifeform. The ceiling is low, the sets are festooned with cables and buttons, and the water effects are plentiful, creating immersion along with claustrophobia. It's a gorgeous haunt.
But beyond all these little thematic touches, there's something that sets Depths of Fear apart from everything else: a countdown sequence, which – well – counts down to the base's destruction. It's a tidbit that stood out to us immediately in the maze's original announcement, and it certainly doesn't fail to deliver in actual execution – the intensity of the experience continues to increase as the remaining time decreases, and the payoff is an appropriately cataclysmic effect.
6. House of 1,000 Corpses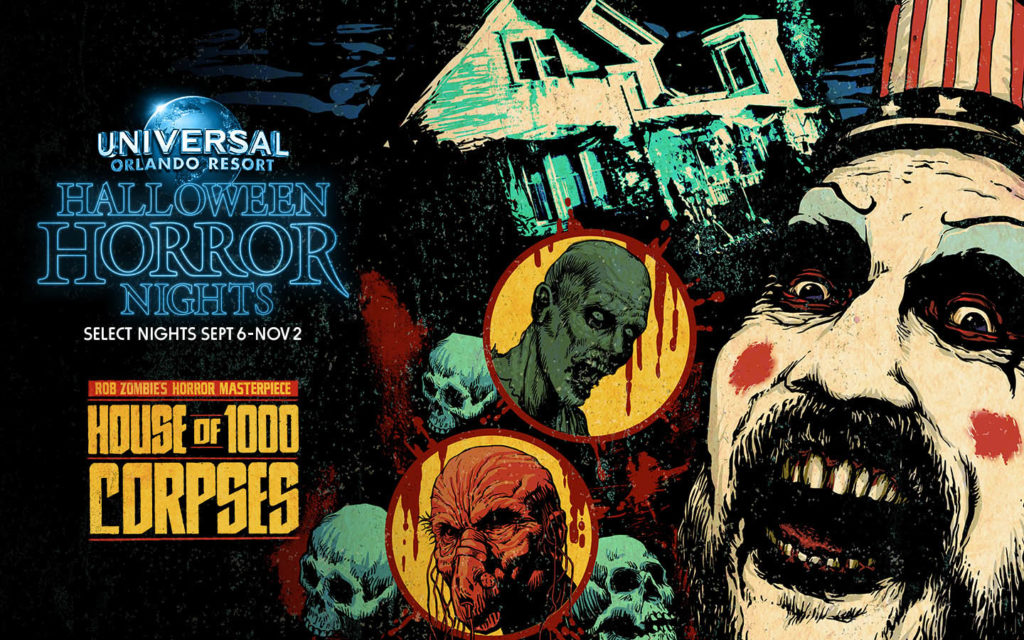 House of 1,000 Corpses has a strange, twisted history – originally conceived of as a haunted house for Universal Studios Hollywood's event nearly two decades ago, then adapted into the 2003 film, and then, finally, converted back into maze form. Given all this, it's not surprising that the 2019 haunt has a strong showing in the scares category, delivering an experience that just may be the best representation of Rob Zombie's story yet (this current incarnation is actually the fourth or fifth one over the years and over the different parts of the country, we should probably note). The scareactors are not only aggressive, willing to get into your face, they're also nearly screen-perfect – as is the production design, resulting in one of the biggest facades of the year and, even, a sly Bill & Ted callback.
In fact, considering all this, we'd go so far as to say that House of 1,000 Corpses is the best house that has ever been in this particular tent in this particular spot, which was added to Halloween Horror Nights's roster several years ago.
5. Killer Klowns from Outer Space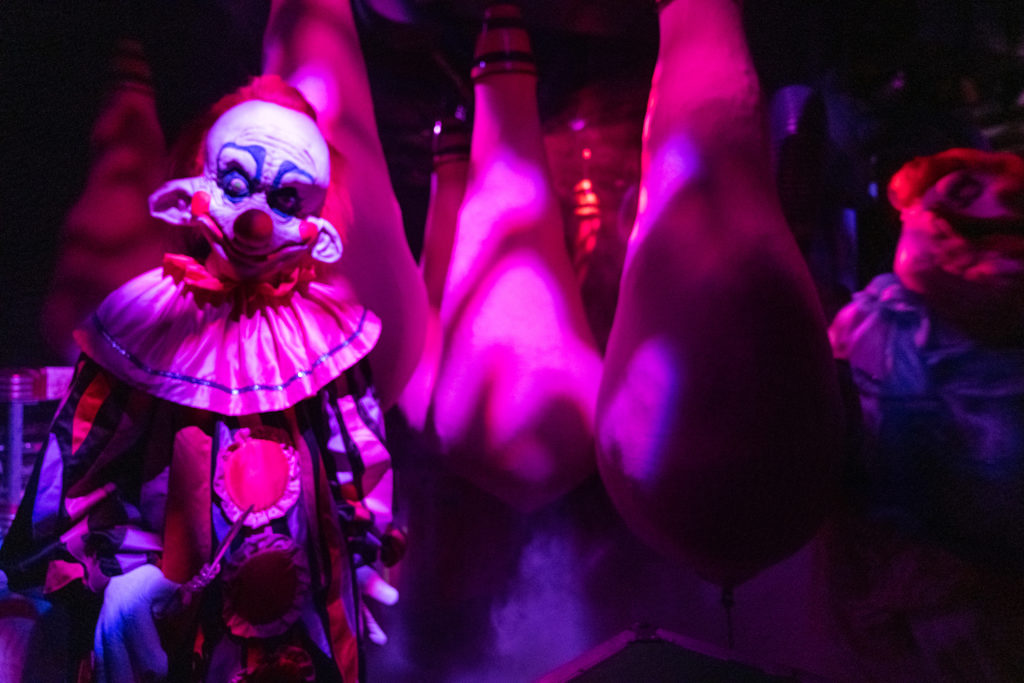 Starting something of a (mini) trend for Halloween Horror Nights 2019, the Killer Klowns from Outer Space maze is more comedic than horrific, featuring a lot of the iconic scenes or characters from the 1988 cult classic – the shadow puppets on the wall, the big-top UFO, and the truly impressive 18-foot-tall Jojo the Klownzilla being chief among them – but not necessarily realizing them in scary form.
This doesn't mean that the haunted house is completely devoid of scares, however – the scareactors were already really good at coordinating to deliver some tag-team scares, which is a good sign for how Killer Klowns may continue to shape up in this department as the event's two-month run plows on.
4. Ghostbusters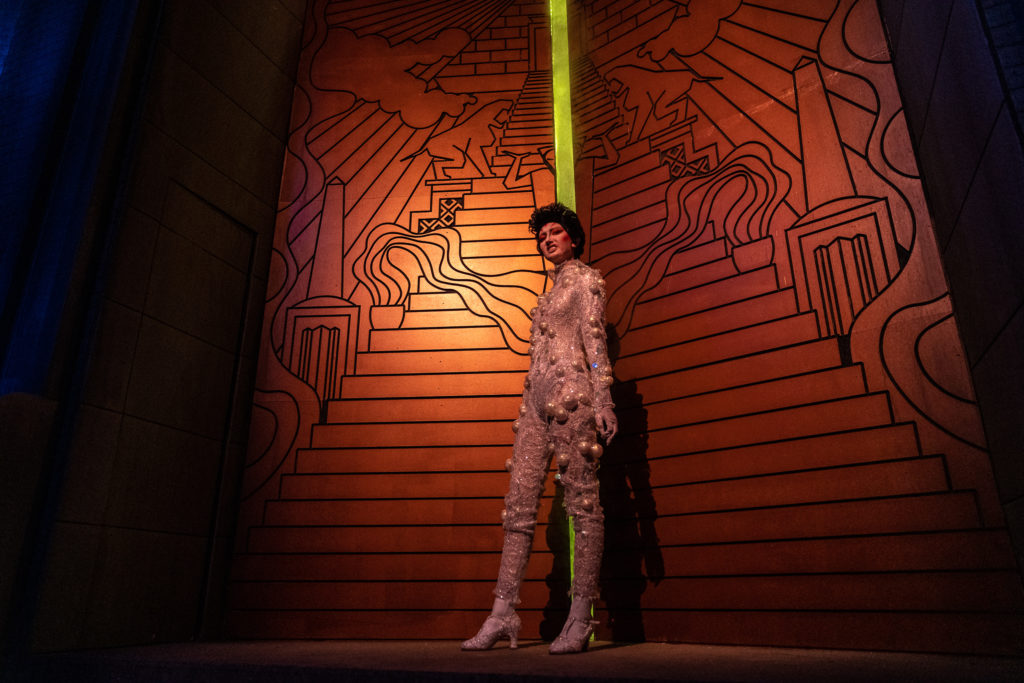 It's not unheard of for Halloween Horror Nights to feature a comedy house – in fact, it became a tradition quite a while ago – but Ghostbusters just may be the very first instance of a show-oriented house.
As many might expect from a maze based on the 1984 comedy, this is not a particularly scary experience, though there are a few jumps that are still snuck in – especially in the section that is a bit more creative interpretation than straight adaptation from the source material (think last year's Poltergeist house here, and you'll have a very good idea of what to expect). But it's riddled with show scenes and high production values, including a proton pack that was copied almost exactly from one of the film's original props – there is so much in this regard, in fact, that one of Universal's senior directors, Mike Aiello, referred to it as almost like a dark ride.
3. Graveyard Games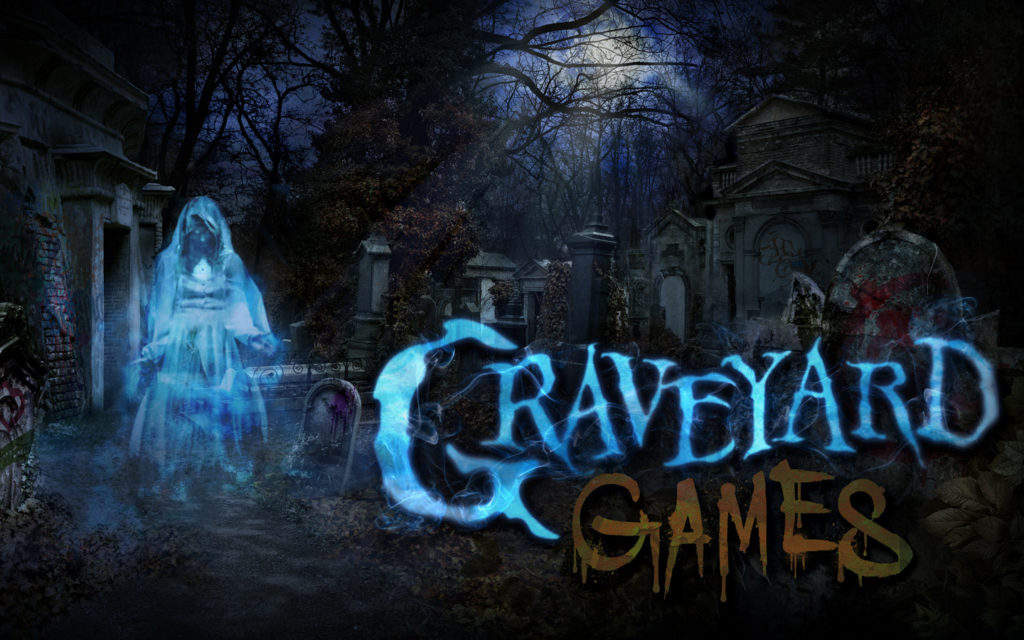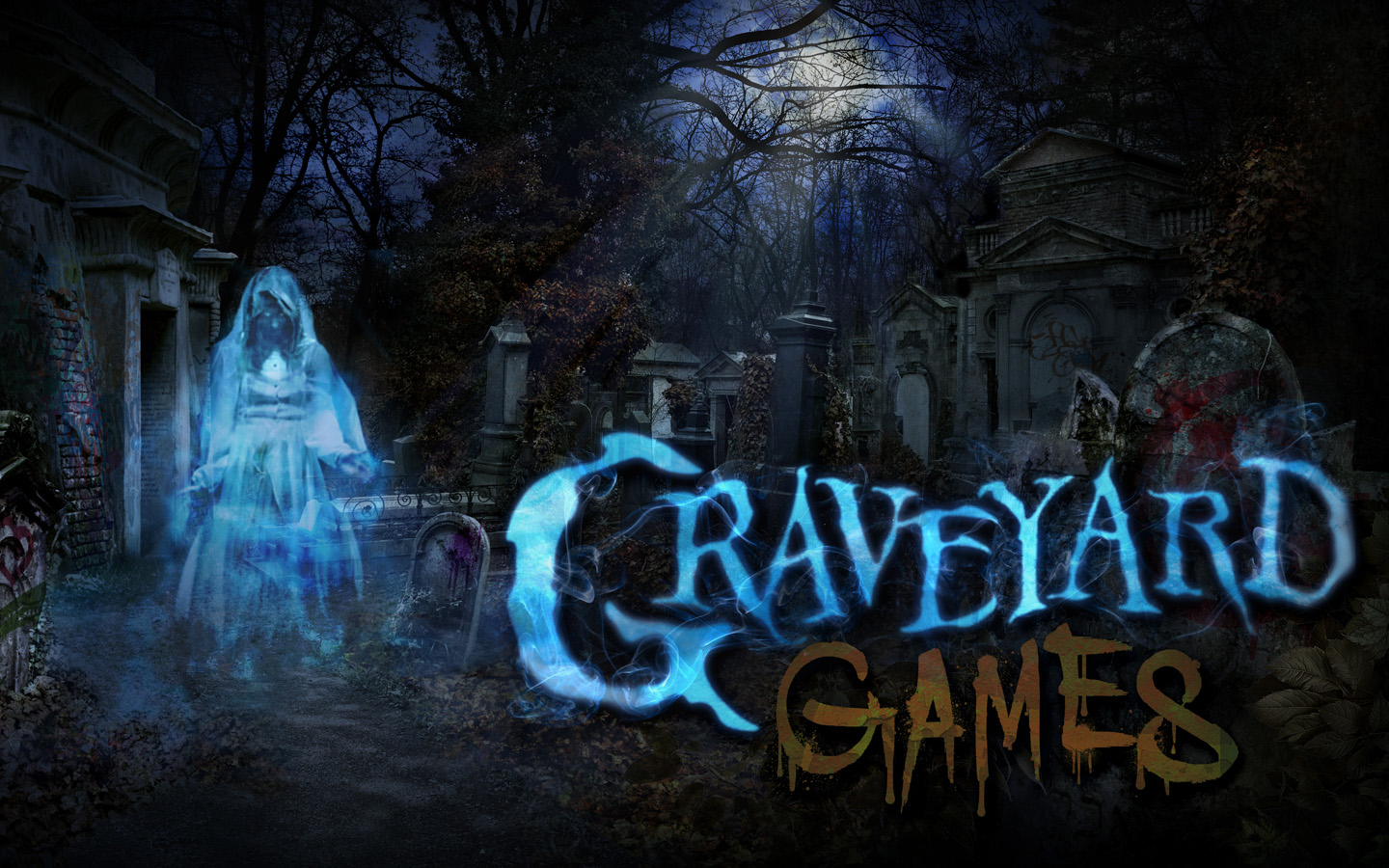 There was a moment in Graveyard Games that made us all metaphorically (and, maybe, literally) take a step back and say, "Oh, wow": a wall of dolls that, as you pass, has all of their heads pop off. It was a simple effect, but an impressive one, and one that essentially sums up the whole haunted house for us.
This motif of "creepy but fun" continued on throughout the entire, beautifully-realized experience, in fact; its collection of cool little moments extends to a scene that involves a bunch of children – inspired by a nightmare that Senior Director Mike Aiello once had – and an actual, definitive ending that made Graveyard Games feel like a total experience (instead of just abruptly cutting off, as most haunts tend to).
2. Universal Monsters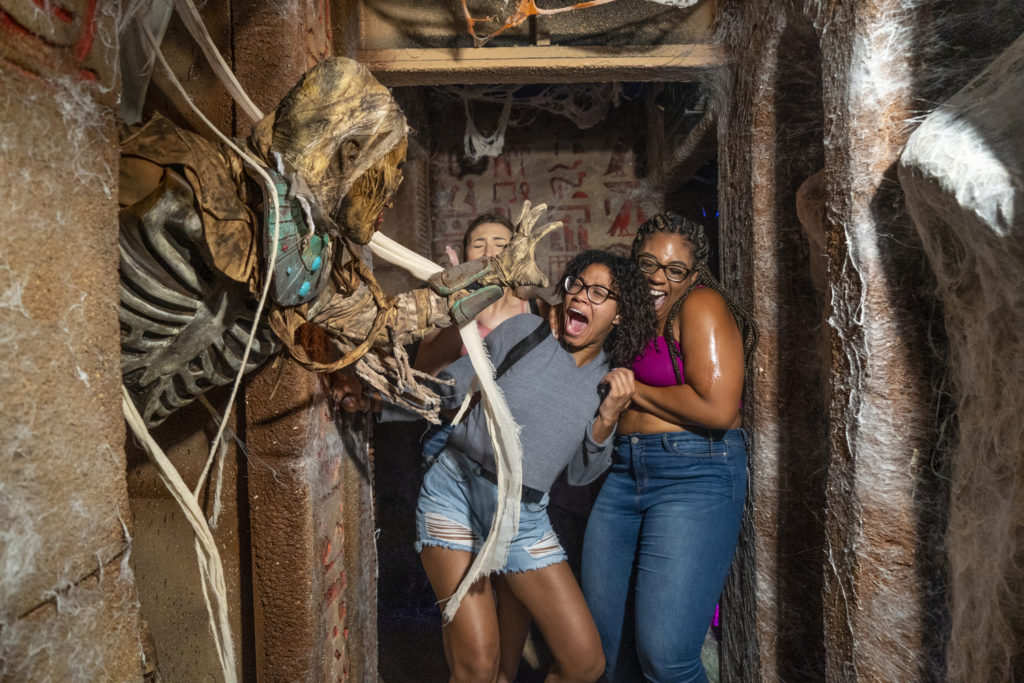 Typically, whenever Universal has deployed its pantheon of Classic Monsters at Horror Nights, the results have been on the high-quality side, starting with good and extending all the way up to fantastic. The Universal Monsters maze for this year is, we're extremely happy to report, no exception to this rule – each iconic character is given his or her chance to shine, with each moment building upon the others that preceded it.
There is no other word for the house than, simply, great. The set design is superb, and the scares really deliver – with the Mummy section really delivering on both in spades. (Another fantastic example: the Phantom of the Opera portion contains a translucent wall, which transforms at just the right moment to reveal the monster in all his masked glory.)
We keep going back and forth on whether this is our personal favorite of 2019 or Yeti: Terror of the Yukon is – a testament to its sheer quality.
Speaking of Yeti…
1. Yeti: Terror of the Yukon
Yeti: Terror of the Yukon has a lot of varying environments and a good mixture of victims and scares. Very well designed! pic.twitter.com/W1pwqQwVUZ

— Orlando Informer (@OrlandoInformer) September 7, 2019
It's something of a truism that Universal's original-concept haunts are where the company truly gets to shine, and Yeti: Terror of the Yukon is easily the proof in the pudding (it was also an original maze that took the show for us in both 2018 and 2017, as well).
This is a maze that essentially has it all, starting with tons of varying environments that range from the frigid exteriors of northern Canada to yeti-infested caves. There are lots of scares, as well – some of which land in rapid succession, practically back-to-back – and, finally, lots of scareactors, to boot, including a pretty good number who play victims and who have some really superb interactions with the titular terrors of the Yukon.
Yeti is one of the best-designed houses we've had the pleasure of experiencing in quite some time.
The scare zones
5. Zombieland: Double Tap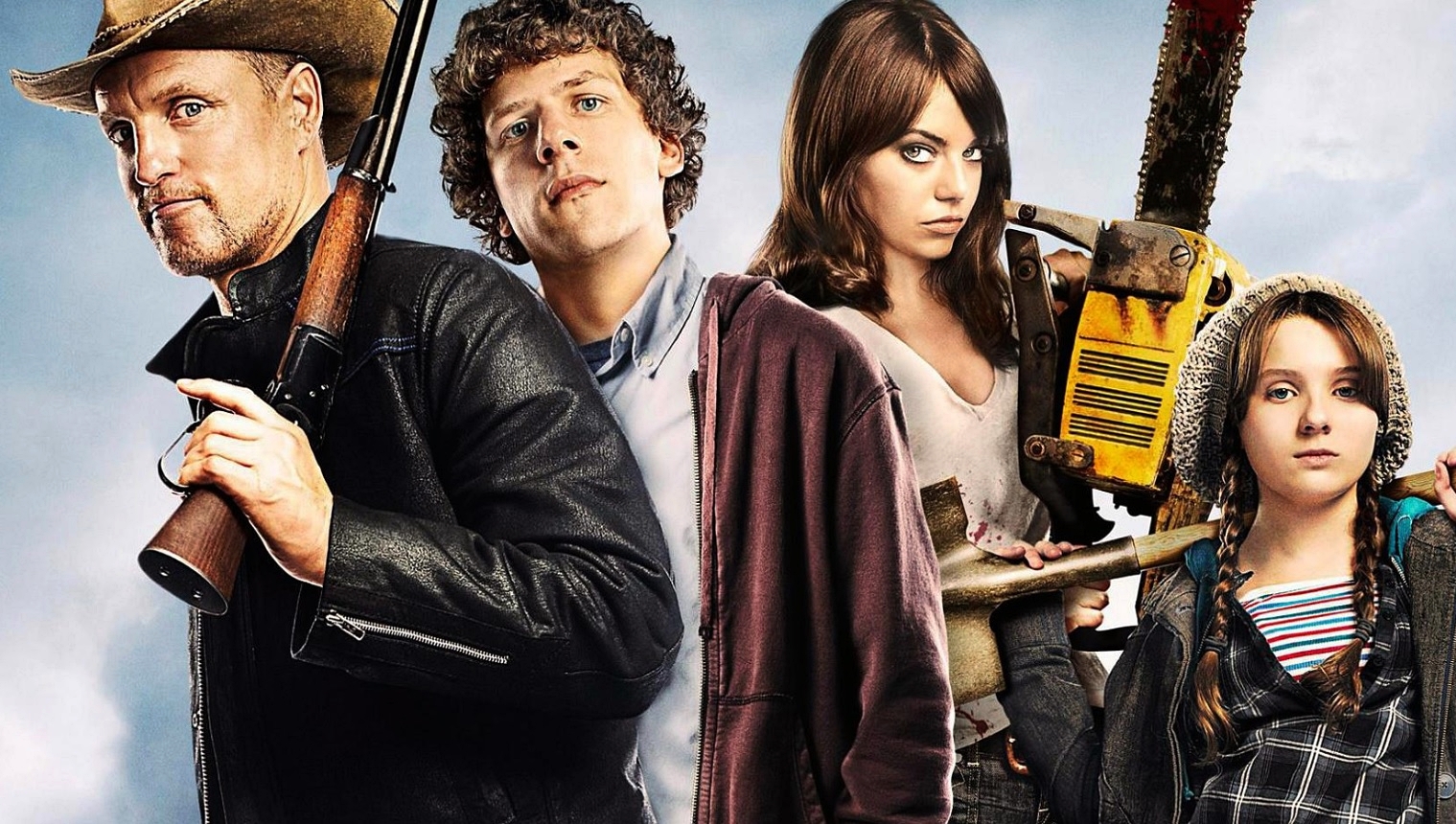 The New York scare zone holds, arguably, the biggest challenge of all the streets – it's quite a large area to populate with props and personnel, and, in turn, the more of those items that get funneled in, the more of a dramatic payoff guests expect.
Zombieland: Double Tap, based off of the soon-to-be two-film series, doesn't quite manage to live up to those expectations. Yes, there are some big set pieces, and, yes, there are some great scareactors walking about (particularly the one dressed as the disguised-as-a-zombie Bill Murray), but it doesn't manage to congeal into one overarching experience, let alone one that is anywhere near scary – something which the giant photo-op movie poster in the middle of the zone certainly doesn't help with. (Even the big show moment, when the character of Tallahassee does his zombie kill of the week, fails to stick the landing.)
4. Rob Zombie: Hellbilly Deluxe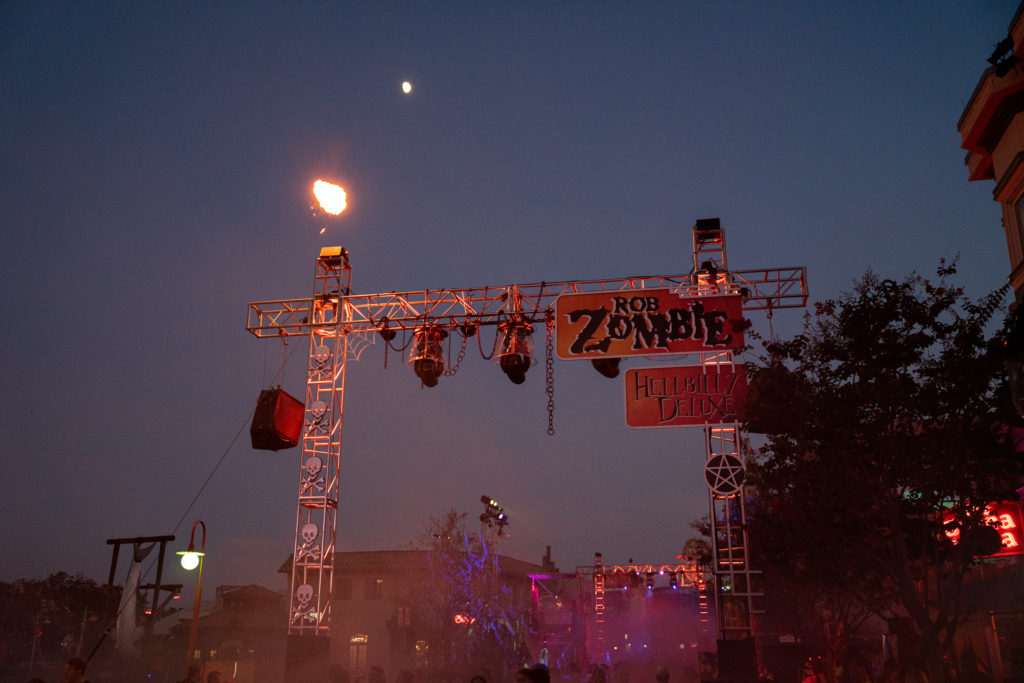 The trend of not quite being cohesive carries over, unfortunately, to Rob Zombie: Hellbilly Deluxe.
Fans of the musician-turned-director will point to the sheer authenticity of the various props, sets, and actors, which feature striking resembles to the various music videos produced for the singer's 1998 debut solo album, Hellbilly Deluxe: 13 Tales of Cadaverous Cavorting inside the Spookshow International. And while that is impressive in its own right, the spectacle doesn't necessarily translate into a street presence – and, even worse for a scare zone at Halloween Horror Nights, neither does it translate into a set of scares.
Compounding Rob Zombie's situation is the fact that Universal opted to relocated it back to San Francisco, which now also is home to Fast & Furious – Supercharged, an attraction that remains open during the event. This may have had something to do with the fact that the themed area has been truncated by a fair bit, making Hellbilly simultaneously small and disconnected from itself.
3. Vanity Ball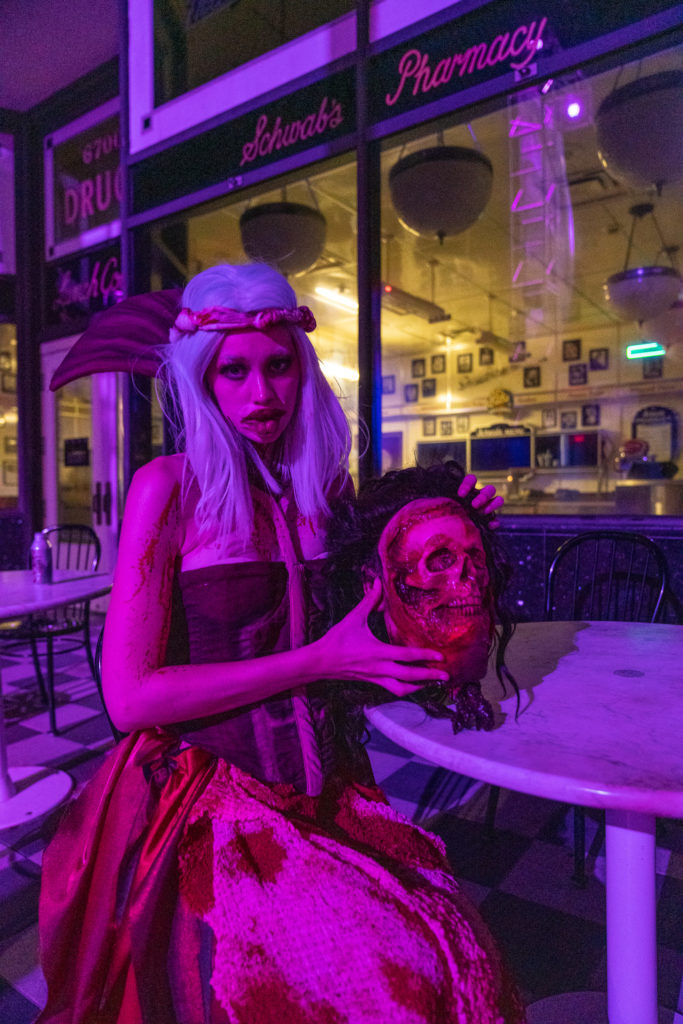 Vanity Ball has an intriguing premise: plastic surgery gone mad, unleashed on victims who very much are up for the grotesqueries and who are therefore more than willing to show them off to all the passersby. And there's more than a fair bit of '80s-Madonna-meets-Lady-Gaga to the proceedings, as well, finishing off its rather novel package.
It's just that most of this interesting setup and visuals don't make the gap to delivering actual scares: there is an emcee who constantly talks on his or her microphone the entire time, nearly drowning everything else out, and the giant runway that dominates the street is, once again, more for visuals than for facilitating any heart-stopping action. It's fair to say that Vanity Ball still seems to be finding its balance between scares and spectacle.
2. Vikings Undead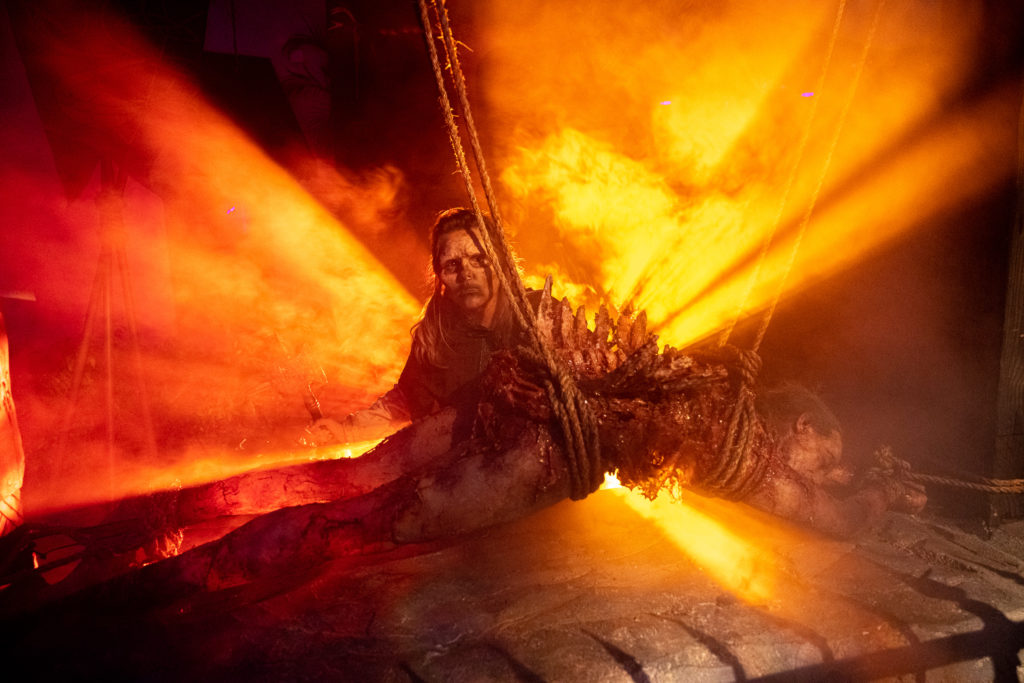 As the name might suggest, a scare zone dedicated to zombified Vikings involves a great degree of detail – in its costumes, its props, and its sound effects; the area has a high degree of immersiveness and atmospherics, making walking through it a great deal of fun.
And part of that fun, actually, has to do with Vikings Undead's predecessors: for the past several years, the Central Park zone has been dedicated to tons of jack-o-lanterns in its trees and other traditional Halloween imagery, which resulted in beautiful visuals. For this year, Universal finally opted to switch it up a bit, exchanging some of the familiar iconography with lanterns and creepy sideshows (that typically involve the undead Vikings doing some kind of ritual or slaughter [or both]).
The only item keeping Vikings Undead from the top scare-zone spot is that, although the area certainly tries, it's not all that actually scary. However, we'll hold out hope that maybe this is something that will improve as the event continues on with its two-month run.
1. Anarch-cade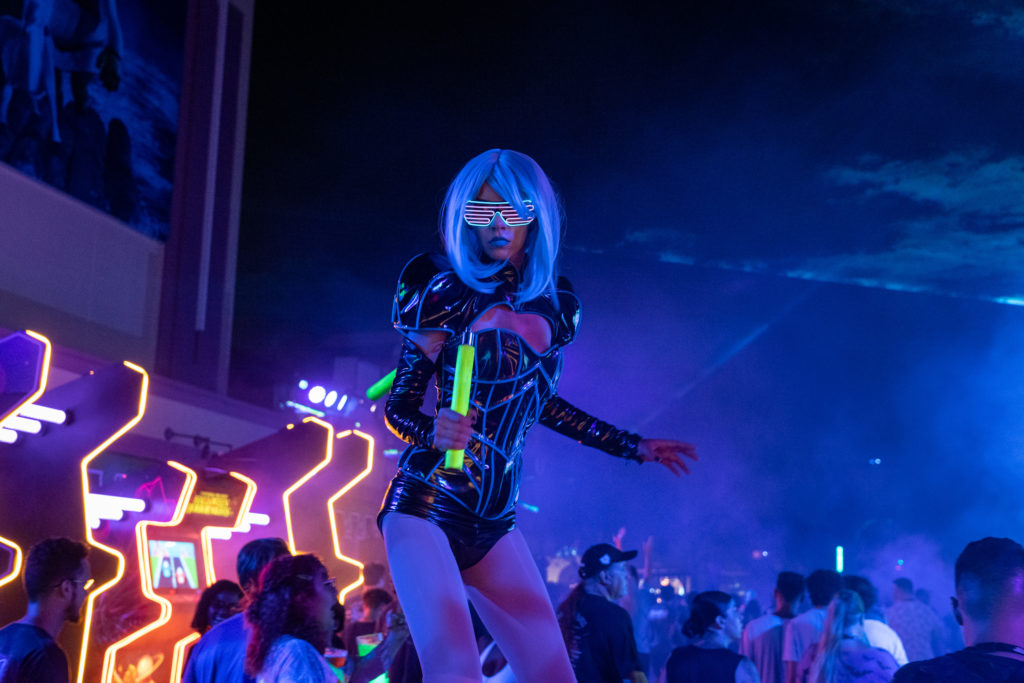 If the New York streets typically are challenging to Halloween Horror Nights's creators, then Production Central's Avenue of the Stars is downright problematic – how to create a themed experience right at the front of the park, with tons of guests constantly pouring into (and out of) Universal Studios Florida?
The answer in recent years was to go more the photo-op route, but with Anarch-cade, Universal seems to have gotten serious about adding substance along with the spectacle, working overtime to infuse this section with actual scares. The results more than speak for themselves, with an arcade straight out of the '80s and similarly retro-stylized scareactors that brandish neon, chainsaws, and whips in equal measure. It's enough to tip Anarch-cade into our number-one ranking for the year.
Read the scare zones' announcement
The shows
2. Academy of Villains: Altered States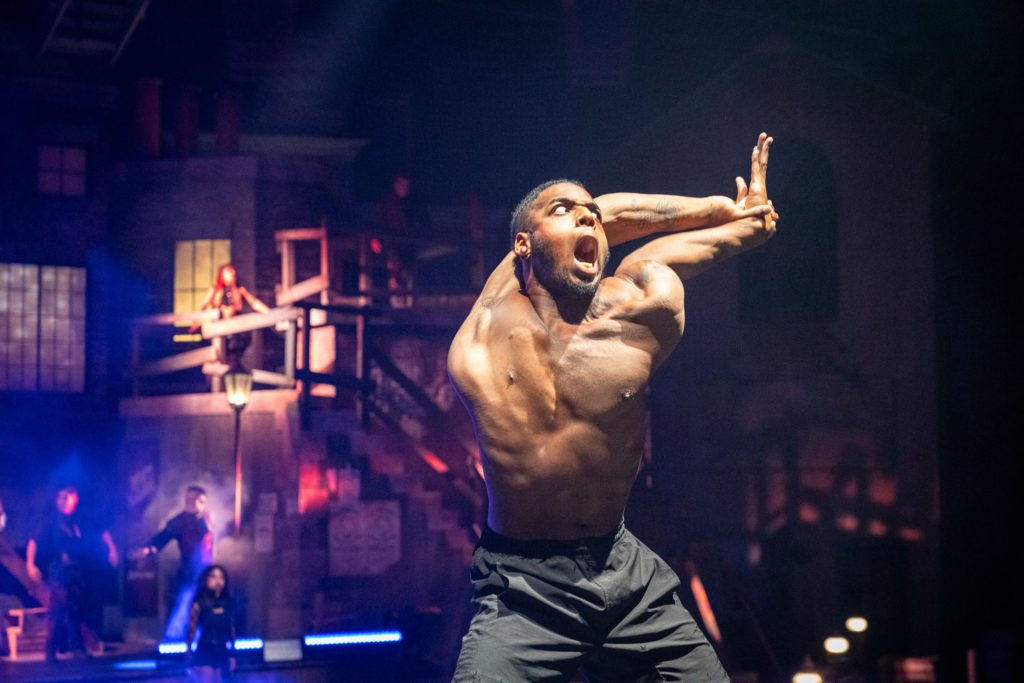 We admit to a certain level of fatigue starting to settle in with Academy of Villains's presence at Halloween Horror Nights, but we also admit that the renowned dance troupe's acrobatics and theatricality remain impressive.
This odd combination could help explain where we think its newest production, Altered States, falls among the now-four years it's been at Universal's annual event. On the one hand, this Black Plague-themed showing is strong enough to catapult it over the past two years – 2016's House of Fear still holds a particularly special place in our little horror hearts, we have to say – but, on the other, we still can't quite shake the feeling the dancers belong on the street, where they were for their first two HHN outings (until Bill & Ted's Excellent Halloween Adventure departed, bequeathing the massive Fear Factor Live amphitheater to them).
The only other factor keeping Altered States back from being the best in AOV's roster (or the best in 2019's showings, for that matter) is, once again, a certain lack of cohesiveness; while all of the constituent parts that are the contortionist, aerialist, and (of course) the soccer-ball performer, among others, are strong and memorable on their own, they don't necessarily add up to one compelling overarching narrative.
Halloween: Marathon of Mayhem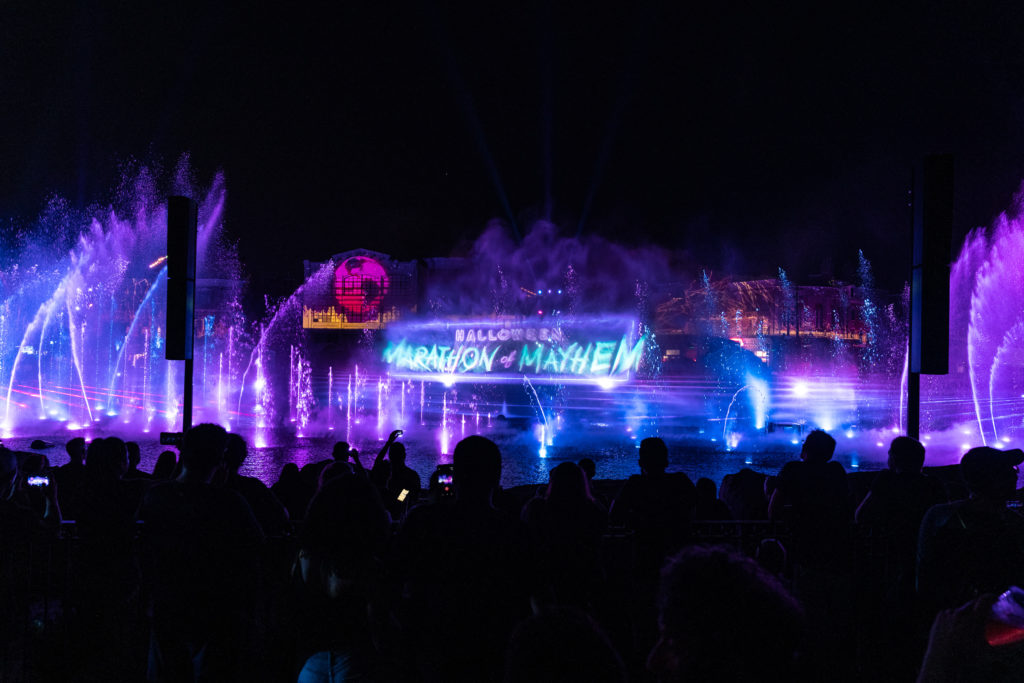 Getting a Halloween-themed lagoon show is, of course, astounding and exciting, but, on top of all that, Halloween: Marathon of Mayhem also manages to actually be quite good.
Four of the bigger intellectual properties at this year's event – Universal Monsters, Ghostbusters, Stranger Things, and Killer Klowns from Outer Space – get to have their moment in the Cinematic Celebration sun, getting projected on massive water screens and, even, the buildings on the other side of the lagoon. Everything from the collection of scenes and images that play out across the water to the iconic soundtracks that accompany them are superb, and even just getting the chance to experience some pretty beloved horror properties in this larger-than-life way is a thrill all unto itself.
We can't imagine our HHNs without Halloween: Marathon of Mayhem – here's hoping that the company will trot out the same basic premise for next year's event, and the next, and the next.
–
Whether at The Kitchen or somewhere, share your favorite culinary experiences at Universal Orlando with 80,000+ members in our OI Community Facebook group.
And be sure to follow Orlando Informer on Facebook, Twitter, and Instagram for the latest news and tips at Universal Orlando, Walt Disney World, and other Orlando experiences.