We've all been there, and some of us even plan for it – you've finalized an itinerary for your vacation and, almost inevitably, you've wound up with a quiet night. No high-intensity, fast-paced theme-park adventures; no crowded shopping malls; no additional tour excursions anywhere. Just you, your family, and a night to relax by your own means.
However, you're still on vacation, and the stillness from the lack of plans could produce a sense of restlessness, leaving you with the challenge of finding something to do. Well, readers, the lanes at Cabana Bay Beach Resort's Galaxy Bowl may be right up your alley!
Dude, let's go bowling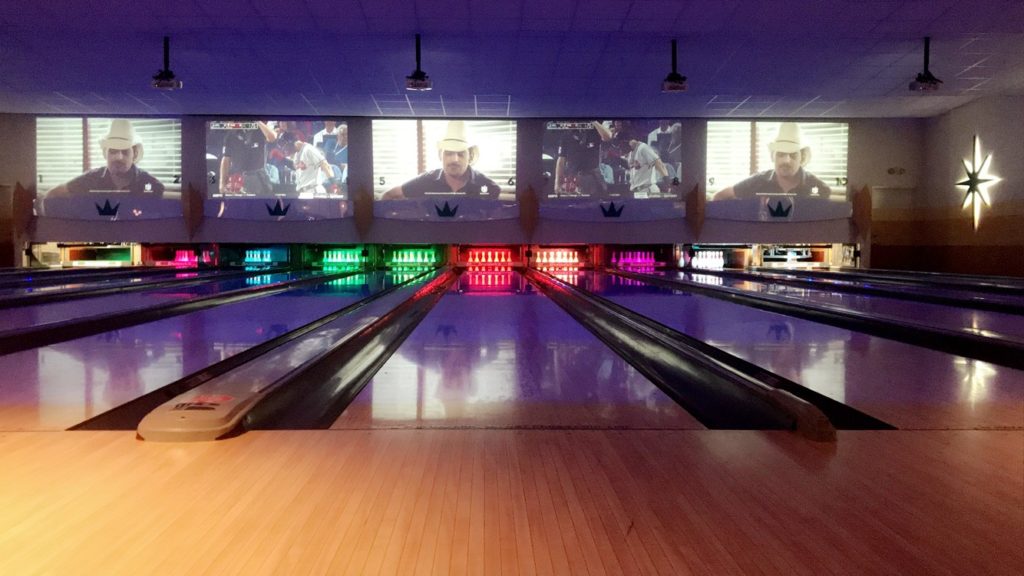 Galaxy Bowl is located on the second floor of Cabana Bay's central building and offers a laid-back, colorfully-lit bowling experience. Their theme matches the retro-modern chic of the hotel, bringing to mind a classically designed bowling alley with some technological flare added in. On a personal level, this is my favorite thing about them – the establishment pulls inspiration from the former Hollywood Stars Lanes (I mention "former" here because that location sadly shut its doors in the early 2000s) in its color scheme, overall look, and stylish star mounts, which accent the alley walls. Each of the 10 lanes utilize consoles and monitors of the digital age and are illuminated for both day and night bowling experiences.
During the day, Galaxy uses the industry-standard fluorescent lighting; however, you'll see everything a bit differently if you play at night, as I prefer – during the evening, they turn off most of their standard lighting and flood the venue with black lights, while multi-colored LEDs cascade down the tops of each lane's channel (or the "gutters," for those keeping track at home) like shooting stars through the cosmos! Additionally, each pin deck is individually illuminated with bold colors, just like little nebulae.
Sticklers to the term may disagree with calling this "cosmic bowling," and I can see why – true cosmic bowling is lit only by the effects lighting and will sometimes switch a single, white pin out for a red one. Galaxy Bowl dims the standard lighting rather than turning it off completely. I wouldn't judge anyone for applying the term here, though, as I would say that the modernized features provide the "galactic" theme inherent to the venue's name.
As we focus on the prices, Galaxy Bowl has a few options to go over: general bowling rates are about $17 for adults and $11 for children aged nine and younger. Both of these price points are before tax and include your shoe rental as well as lane time (to be more specific, the lane time would be 45 minutes for one to three players and 75 minutes for groups of four to eight, since they're larger parties). If you have some spare time before you have to catch a ride for your flight home, or just want a quick fix, the Speed Bowling option grants players 20 minutes of lane time and would only run about $9 (again, not including tax).
Burning up rocket fuel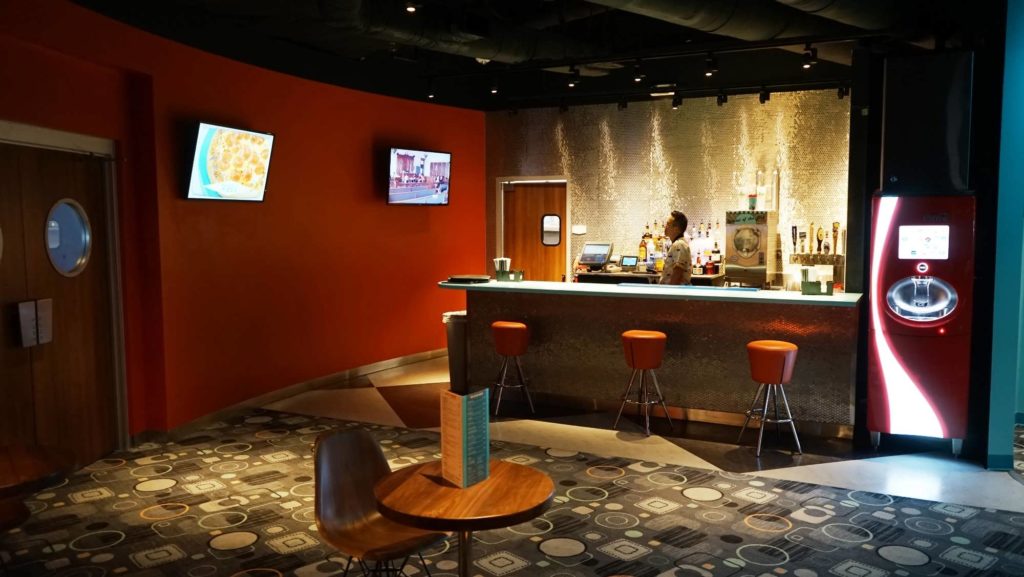 While bowling is what we came in here for, it's fair to mention that it isn't the only thing to take advantage of.
If you get hungry while you're striking into the celestial neon, never fear! Galaxy Bowl performs double-duty as a full-service restaurant, so you can satiate the gravitational void of your appetite. Guests can dine either at the high tops located throughout the venue or the dual tables at the alley entries. The prices are roughly mid-ranged (about $10 to $12 for an entree), with the food resembling what you'd find in Cabana Bay Beach Resort's food court, Bayliner Diner – meaning that it falls in line with what you may think of for a slightly-higher-end bowling venue.
(If you're like me, you may have raised an eyebrow when you found out that it's the only full-service restaurant at Cabana Bay. When you think about it, though, it fits well; bowling had a resurgence in popularity during the era this hotel is themed to, and the convenience for guests not having to go elsewhere doesn't hurt, either.)
Galaxy Bowl also features a full bar within its quarters. It's a little tucked away behind the service/shoe rental desk, but they offer plenty to keep your spirits satiated. Bar patrons can choose to either have a drink on the rocks or pick from one of their signature cocktails or a Pin Blaster, which is one of three signature drinks in a 21-ounce, bowling pin-styled souvenir cup.
And if the drinks don't strike your fancy, but you still dig those souvenir cups, they're available separately as part of Galaxy Bowl's merchandising. You can purchase them as well as keychains, t-shirts, hats, neon bowling socks, and koozies at varying prices between $5 and $22. (Although, if you were to press me, I'd happily point you to that snazzy bowling pin cup.)
Retro charm and more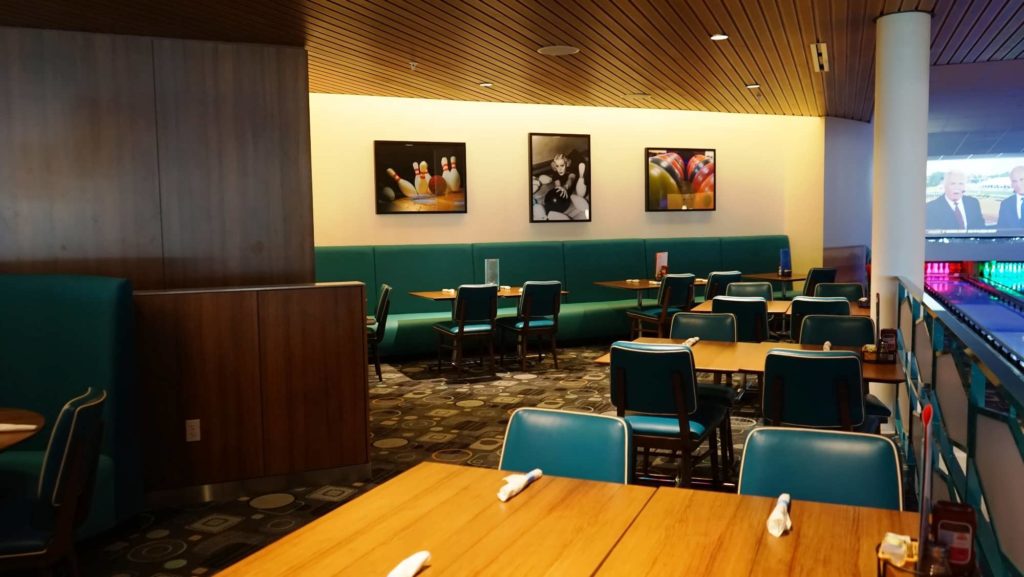 We've covered Galaxy Bowl's basic offerings, but what makes this place so gosh-darned great? Well, it holds a certain charm in comparison to other Orlando "retro-chic" bowling alleys, as it leans deeper into the hotel's overall retro theme rather than the contemporary chic. Some of the similar establishments tend to direct their focus more on the young-adult and older crowds, whereas all ages are welcomed at Galaxy Bowl. While doing my research, I even found some guests had actually chosen this alley due to its welcoming inclination – and to further the point, I even caught a larger group bowling with members of all ages for someone's birthday (yes, this also means they host private events, too).
While it is housed at a Universal Orlando Resort hotel, you don't have to be a registered guest to play. If you're concerned about the hotel parking fees, that won't even be an issue – just visit the desk at Galaxy Bowl to get your parking validated when you're ready to leave. If you're an annual passholder, there's a benefit to this end, as well – Galaxy offers special rates during appreciation days. Typically, this means that valid passholders can bowl at the child rates, but it could also be whatever they can work out for you during that time.
All of this is without considering its convenience for anyone staying at the Universal hotels, visiting the parks, or just within the nearby vicinity. In my humble opinion, there's plenty of reason why Galaxy Bowl should be on your list when you're on Universal's end of the cosmos.
–
What's your favorite wind-down activity at Universal Orlando? Share it with 80,000+ other vacation-planners in our OI Community Facebook group.
And be sure to follow Orlando Informer on Facebook, Twitter, and Instagram for the latest news and tips at Universal Orlando, Walt Disney World, and other Orlando experiences.