It takes a space shuttle around eight minutes to break the earth's atmosphere. Yesterday, it took us nearly six hours. Despite the delays, our team eventually had the chance to eat at Space 220, the newest restaurant at EPCOT. We were able to eat from the prix-fixe menu and, in this blog review, will tell you everything you need to know about dining at this unique space. Your first fun fact of the day is that the name of the restaurant comes from the concept that you dine 220 miles above Earth. To do this, you must take an elevator, giving you stunning views of EPCOT and earth as you ascend to your stellar dining experience. Without further ado, let's launch into a play by play of our cosmic evening.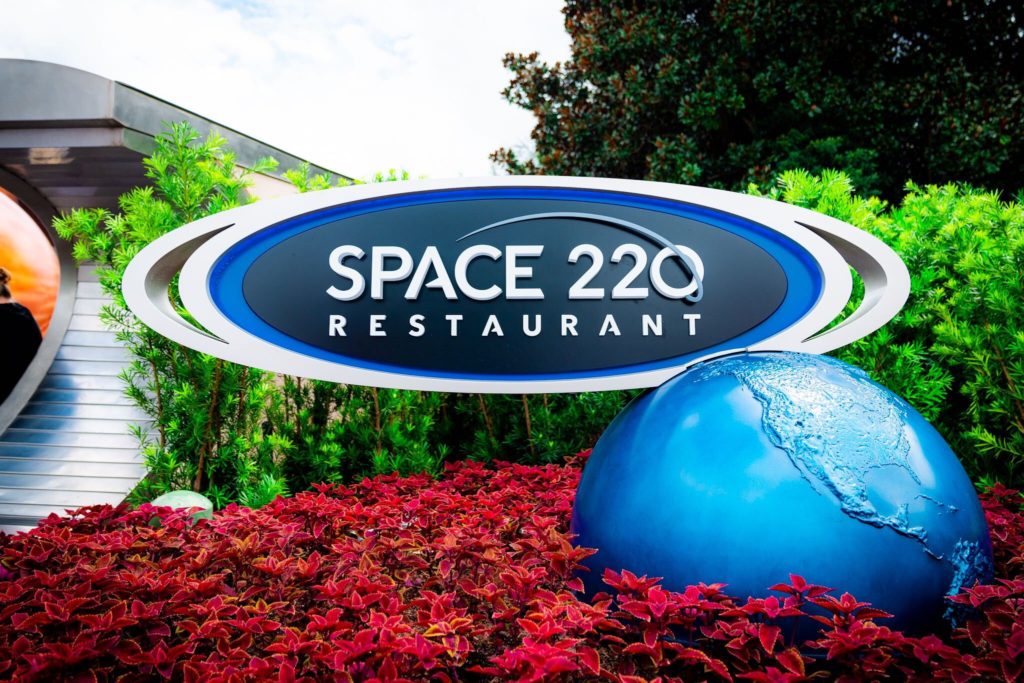 If you couldn't tell already, the check-in experience was predictable for a major theme park opening a new restaurant. Guests flooded the check-in station and, and since no reservations were permitted, we did what you'd do at any restaurant and formed a queue to wait. Notable Disney executives (like Bob Chapek himself) were also present for the opening moments. Although the long wait was a slightly uncomfortable experience, it is not uncharacteristic or unforgivable for a big theme park restaurant to have opening day waits and jitters. Now through September 26, Space 220 will utilize a virtual queue for guests. Space 220 will begin taking reservations starting September 27.
One final note before we get started – drinks here were by the glass (so I only got one soda, to avoid that surcharge) – neither here nor there, just something that might go unnoticed until you get the bill. Now, let's walk through our late lunch/early dinner and give our feedback on what really matters – the food and the atmosphere!
First Course, Appetizer (Lift-offs)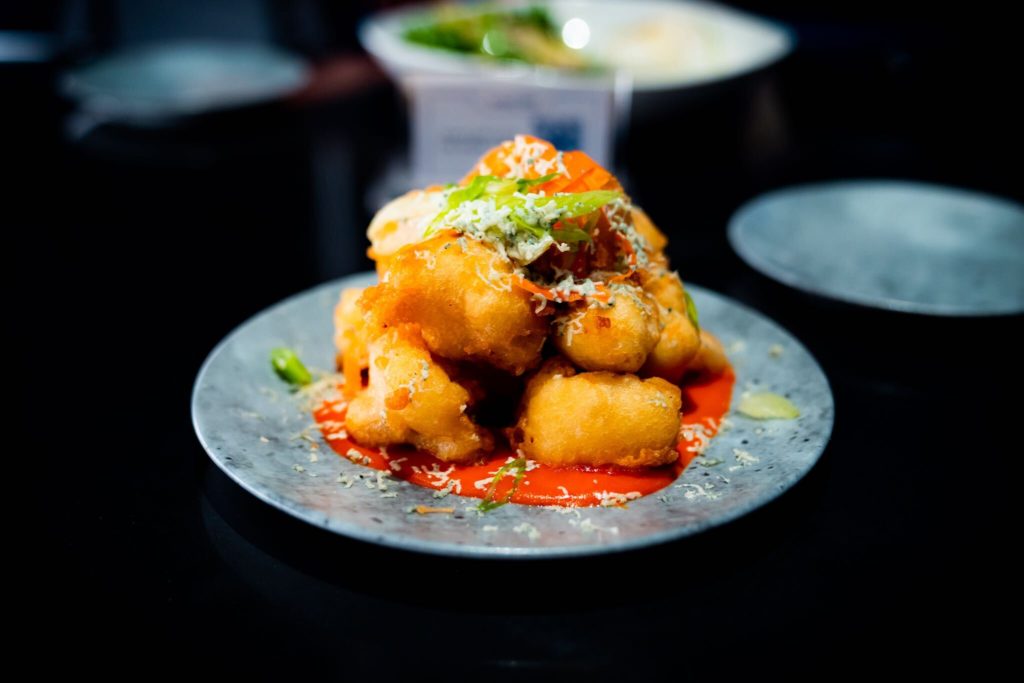 Here's what's on the menu for Lift-offs. Guests select one of the following menu items:
Big Bang Burrata
Burrata di Mozzarella with Grilled Artichoke Hearts, Arugula, Sunflower Seeds, Romesco
Starry Calamari
Fried Calamari with Italian Cherry Peppers, Spicy Marinara, and Roasted Pepper Citrus Aioli
Blue Moon Cauliflower
Tempura Fried Cauliflower served with Housemade Hot Sauce, Blue Cheese Dust
Neptuna Tartare
Yellowfin Tuna served with Yuzu Ginger Miso, Soy, Avocado, Radish, Apple, Sesame Crackers
Centauri Caesar Salad
Miniature Romaine, Classic Caesar Dressing, Parmigiano Reggiano
Space Greens
Bibb Lettuce served with Dried Cranberries, Roasted Pears, Spiced Pecans, and Apple Cider Dressing
Galaxy Grain Salad
Quinoa with Beluga Lentils, Roasted Red and Golden Beets, Oranges, King Oyster Mushroom, and Cashew Hummus
We tried the Blue Moon Cauliflower and the Big Bang Burrata. In a course of opposites, the Burrata rates as 1 out of 5 stars for us, while the Cauliflower comes in at a 5 out of 5. The Cauliflower was delightfully fresh – crispy but not crunchy – and the hot sauce brought the flavor up and out, while the blue cheese dust acted as a neutralizer and brought the flavors back down for the next bite. The Burrata, on the other hand, came out with too tough of an outside and was missing any practical pairing like bread or fresh tomatoes. The Romesco was flavorful, but was used sparingly, and overall the dish was relatively unsatisfying compared to the Cauliflower.
Second Course, Entree (Star Course)
Here's what's on the menu for the Star Course. Guests select one of the following menu items:
Slow Rotation Short Rib
Braised Short Rib with Cheddar Grits and Bacon
Florida Red Snapper
San Marzano Tomato Broth, Fingerling Potatoes, Broccolini, and Sicilian Tapenade
Roasted Free-Range Chicken
Chicken Roulade, Mashed Potatoes, Brussels Sprouts, with Roasted Garlic Thyme Jus
X2 Duck
Roasted and Confit Crescent Duck, Butternut Squash Flan, Brussels Sprouts, and Orange Glaze
Terra-Bolognese
Corn Linguine, Tempeh Ragu, and Macadamia Nut "Ricotta" with Zucchini and Mushroom
Bluehouse Salmon
Glazed Carrots, King Oyster Mushrooms, and Baby Bok Choy with Ginger and Beurre Blanc
8 oz. Filet Mignon
Cabernet Butter, Potato Leek Croquette, and Haricot Vert
Add Shrimp $9
Add ½ Lobster $15
Space Station Special – for an upcharge, guests can select one of these entrees:
1.5 lb Baked Whole Lobster Stuffed with Jumbo Crab / $20
Roasted Corn, Broccolini, and Mornay Sauce
24 oz. Bone in Ribeye / $18
Coffee Space Rub, Cheddar Leek Moonrock, Asparagus, and Cippolini Onion
For our entrees, we tried the Terra-Bolognese and the Bluehouse Salmon. We give the Terra-Bolognese 4 out of 5 stars, and the Bluehouse Salmon 2 out of 5 stars. The Terra-Bolognese was unique enough that we feel like we couldn't find this dish (or anything truly comparable) at other places. It was served warm and had a flavorful (and slightly spicy) body to it. It also disguised itself well as a plant-based dish. The Salmon, on the other hand, was good – but not exceptional. The portions were better for the Terra-Bolognese than the Salmon, as well.
Third Course, Desserts (Supernova Sweets)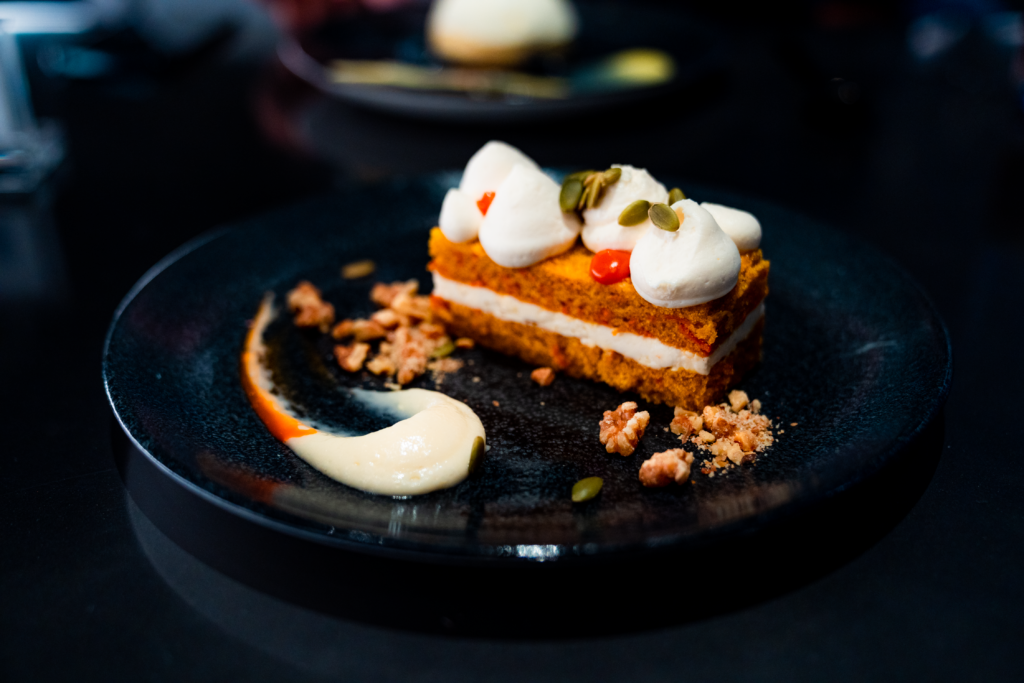 Here's what's on the menu for Supernova Sweets. Guests select one of the following menu items:
Carrot Cake
Plant-Based Carrot Cake with Plant-Based Cream Cheese, Candied Walnuts, and Toasted Pepitas
Sticky Toffee Pudding Cake
Served with Dark Chocolate Sauce, Caramel Crunchy Pearls, and Salted Toffee Drizzle
Chocolate Cheesecake
Served with Whipped Chocolate Ganache, Chocolate Sauce, White Chocolate Crunchy Pearls, Cookie Crumbs, and Dark Chocolate Shards
Gelato and Sorbet
Vanilla, Chocolate, Strawberry, or Mango
Lemon Mousse
Lemon Mousse Sphere served with White Chocolate Rings, Lemon Custard, Marinated Blueberries, and Lemon Curd
For our last course, we tried the Lemon Mousse and the Carrot Cake. The Carrot Cake earned an easy 5 out of 5 stars for us, while the Lemon Mousse came in at 3 out of 5 stars. The presentation of the Carrot Cake was absolutely beautiful, and we couldn't tell that the cream cheese icing was plant-based. The only criticism we have of this dish is the fact that the menu states it should be served with candied walnuts. Alas, we were served regular walnuts. The Lemon Mousse was good – essentially what you'd expect – but ultimately had more of a key-lime flavor than lemon. But light and tangy, it was a solid way to end the evening.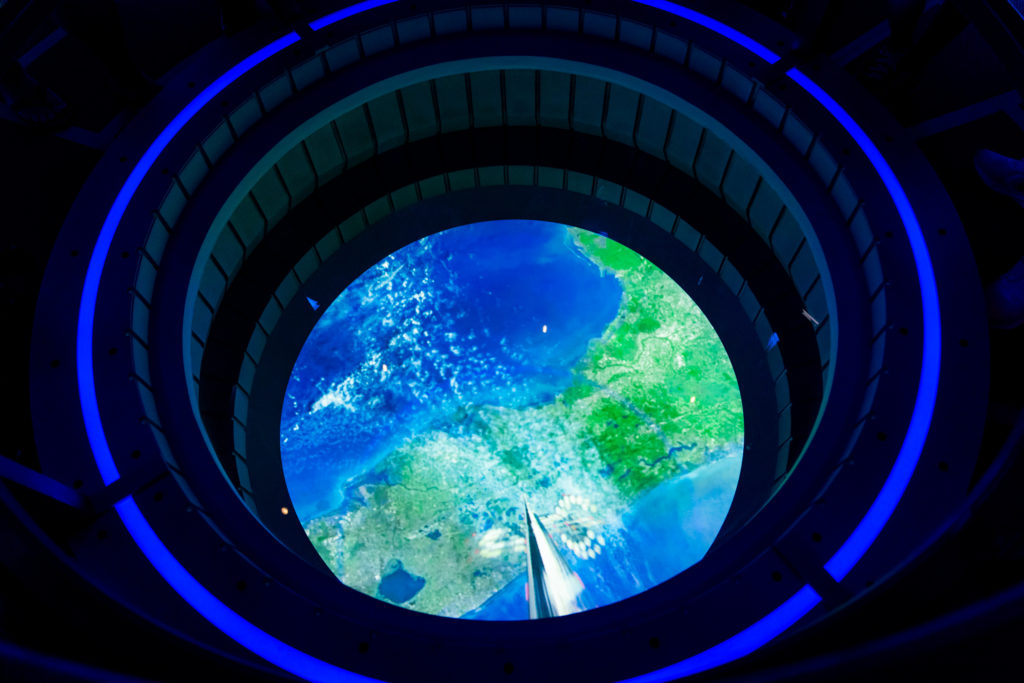 In addition to the prix-fixe menu, guests can add the following sides to their meal for an up-charge:
Roasted Fingerling Potatoes / $9
Fried Potato Wedges / $8
Brussels Sprouts / $10
Broccolini / $9
How Space 220 compares to other Disney dining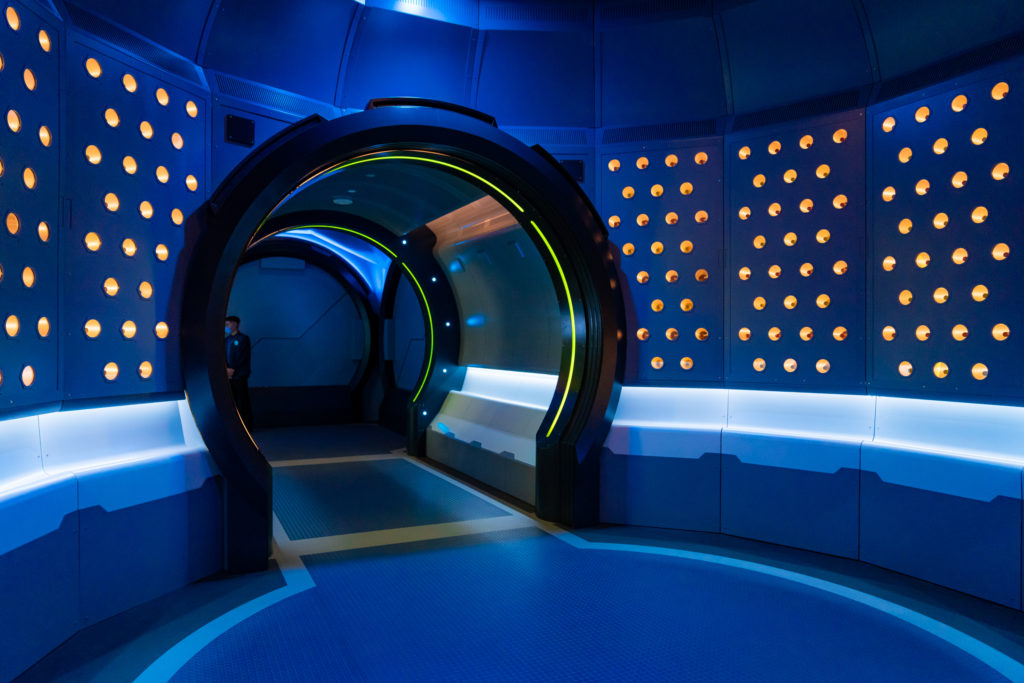 Space 220 is just one of many prix-fixe menus across Walt Disney World Resort. In comparison to the other menus, it's in range of the others in terms of price and the quality of your meal (although it would rank relatively low on our list, in honesty). We've learned over the years that these experiences, while a little on the pricey side, are absolutely worth it if you want to get the full Disney experience. And let's be honest – it's not that much more than a hefty meal anywhere else on Disney property.
Magic Kingdom
Be Our Guest
Lunch & Dinner, $62 adults/$37 kids ages 3-9
Cinderella's Royal Table
Breakfast, $42 adults/ $27 kids ages 3-9
Lunch & Dinner, $62 adult/ $37 kids ages 3-9
Liberty Tree Tavern
Lunch & Dinner, $39 adults/$21 kids ages 3-9
EPCOT
Garden Grill Restaurant
Lunch and Dinner $55 adults/$36 kids 3-9
Walt Disney World Resort Hotels
Ohana – Disney's Polynesian Village Resort
Breakfast, $25 adults/ $14 kids ages 3-9
Dinner – $55 adults/$33 kids ages 3-9
Story Book Dining at Artist Point with Snow White – Disney's Wilderness Lodge (currently unavailable)
Dinner – $60 adults/$39 kids ages 3-9
All in all, we found our dining experience at Space 220 to be fine, but not our favorite. Overall, we found the prices to be slightly inflated for the food we got (even by theme-park standards). The service was good, and there wasn't any single element of the experience we were disappointed with, but as a guest visiting the park, we wouldn't want to spend this time and money here when there are so many other great places to dine. Now, would we go back? In an answer, maybe, if the occasion called for it. The atmosphere is absolutely as unique as you'd imagine it to be, so if you have someone in your party who is interested in dining in space, this experience would likely be worth it to them. If not, we'd recommend trying to eat somewhere more earth-bound.
---
Have you eaten at Space 220? What did you think? Let us – and thousands of other Disney fans – know in our Orlando Informer Community on Facebook.
And then be sure to follow Orlando Informer on Facebook, Twitter, and Instagram for the latest news, tips, and more at Universal Orlando, Walt Disney World, and other Orlando attractions.