The chase is on! On Sunday, June 14, The Bourne Stuntacular began technical rehearsals at Universal Studios Florida. Based on the Bourne franchise that stars Matt Damon as an ex-spy looking to reclaim his lost identity, this live-action stunt show follows the character as he's relentlessly pursued by enemy operatives. (Officially, the production takes place sometime after Jason Bourne, the most recent of the films.)
Universal promised that Stuntacular would be a high-octane, visually stunning experience that would push the boundaries in blending reality and special effects – and they sure delivered on that front. If you're looking for a quick one-sentence review, here it is: The Bourne Stuntacular is a thrilling and technically impressive addition to Universal Studios, as well as a worthy successor to Terminator 2 3D: Battle across Time.
If you're here for a detailed breakdown and review of the new show, well, we've got you covered for that, too. Read on – but beware of spoilers! What follows is a general overview of the experience, and if you're looking to go in blind, we recommend you stop reading now.
Upon entering the queue, guests are met with The Bourne Stuntacular's logo, featuring the names of the CIA programs that either Bourne was a part of (Treadstone) or had grown out of his involvement (Blackbriar and Iron Hand).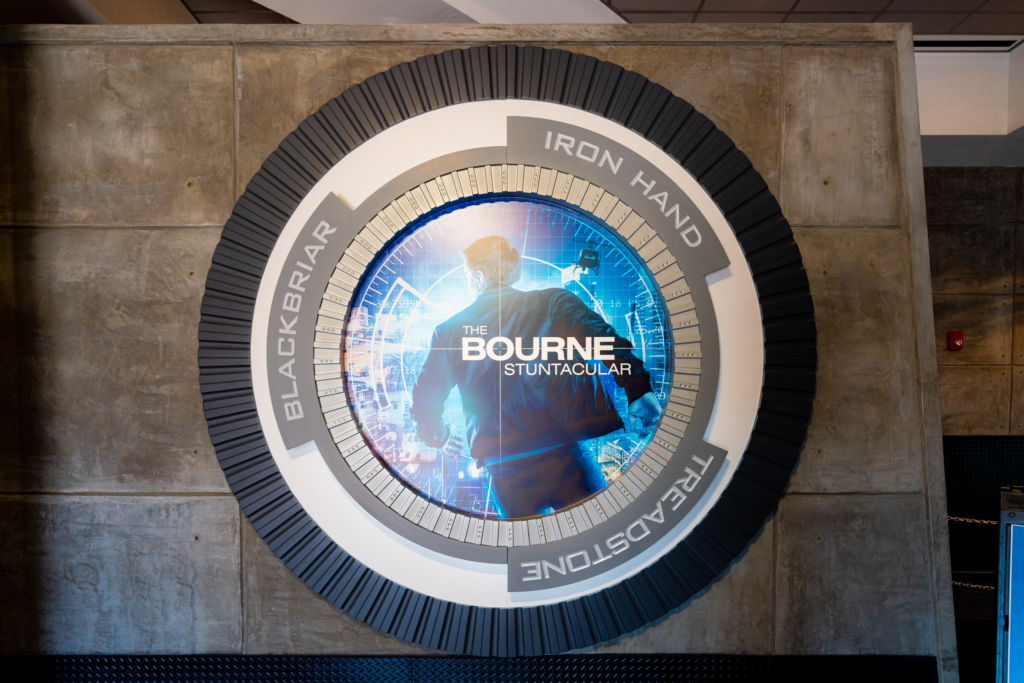 The queue also features graphics and props from the films, including a motorcycle from The Bourne Ultimatum and a replica of the Mini Cooper from The Bourne Identity. Televisions located throughout play footage from the movie series (well, except for the would-be spinoff Bourne Legacy), helping to hype you up for the thrilling experience to come. And as a fun extra detail, guests step through a scanning chamber to ensure they aren't hiding their own secret identity before they proceed to the preshow theater.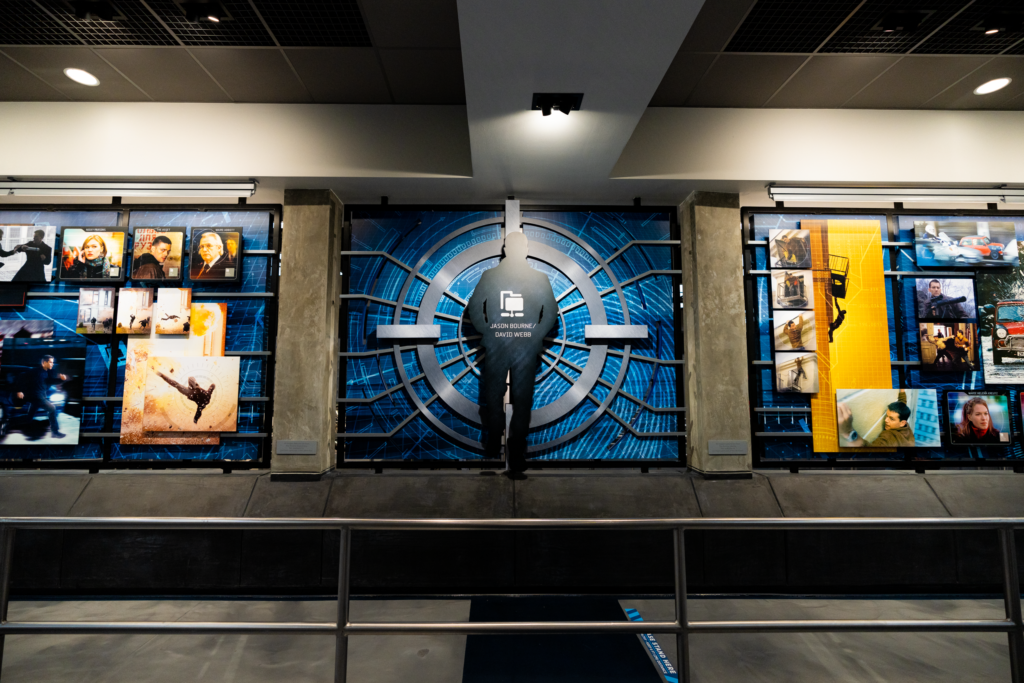 The preshow begins with a montage of action scenes from the films, followed by Nicky Parsons (played by Julia Stiles, who made an appearance in four of the five Bourne outings) introducing herself to guests. As your personal Alliance Group Homeland Security lead liaison, she briefs you on your upcoming mission and offers a little background on Jason.
If you're unfamiliar with Jason Bourne's story, be sure to check out our article detailing the backstory of the ex-spy gone rogue. But here's the short version: Bourne was recruited to Treadstone, an elite squad of secret assassins working for the CIA who were incapable of questioning orders. After a mission goes south, the super agent disappears and suffers amnesia – but he retains his boosted intellect and combat training. While trying to recall his old identity – and forge a new one for himself – Jason has since uncovered a number of government conspiracies that have eroded his trust in Homeland Security. Parsons wants to see him brought in alive so he can continue his work exposing these secret programs, and it's up to you to help her with this mission.
Guests are recruited to join a unique "situation analysis team" and asked to observe and evaluate Jason Bourne with the help of a prototype enhanced virtual surveillance room (i.e., the show theater). For all intents and purposes, you're right there next to Bourne wherever he goes. Nicky additionally requests that guests observe and evaluate Director Andrea Dixon, a CIA operative who also wants to bring the former spy in alive. (The preshow also includes the most notable reference to Terminator 2 3D, when Parsons states that she doesn't want to see Bourne "terminated with extreme prejudice.")
The plot of the stunt show follows Jason Bourne as he tries to expose the mysterious Project Rubicon. Director Dixon thinks that this new program will be a change for the better, but her villainous superior, Secretary Collins, seems to have other ideas. The Bourne Stuntacular begins with Jason street-fighting in Tangier, Morocco (just as we see in Jason Bourne), with the help of a realistic digital crowd cheering him on. At one point, one of the digital characters seamlessly slides Bourne a physical knife; it's hard to tell where reality ends and the special effects begin. Another highlight of this scene involves a tower prop and the screen background turning at exactly the right speed to make the audience feel like they're circling Bourne as he ascends, dodging bullets along the way.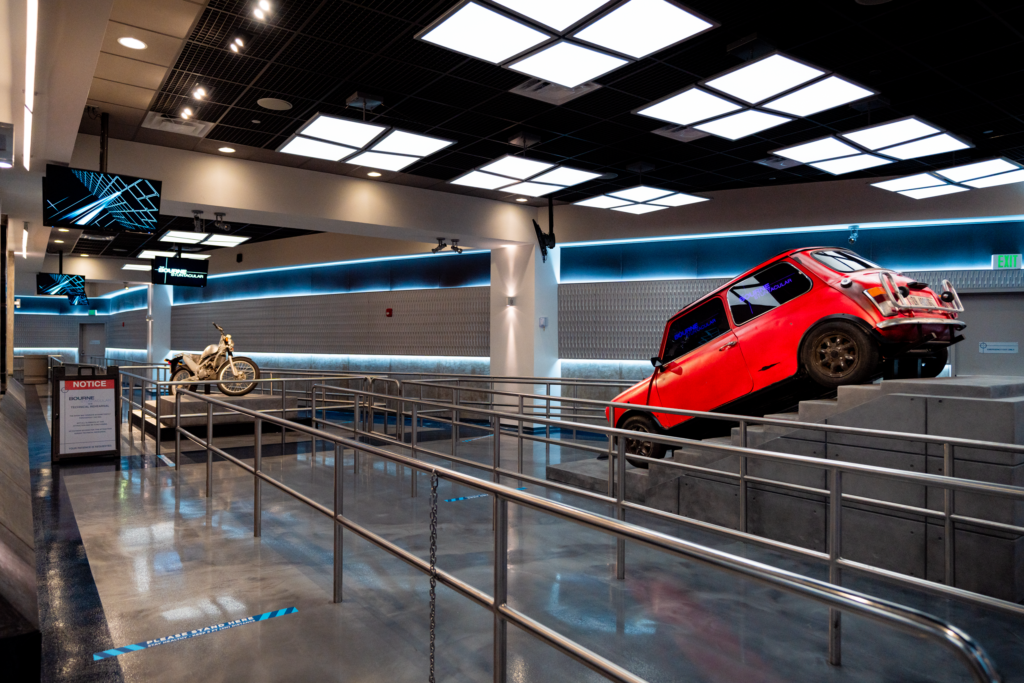 Director Dixon attempts to earn Bourne's trust, but he's set on exposing Rubicon no matter what. The show follows him to Virginia, where he breaks into the home of Secretary Collins to uncover more information about the project. He's pursued out of the house on a motorcycle, which leads to one of the most impressive scenes of the production. With a police car in hot pursuit, Jason leaps from his motorcycle – given the illusion of movement thanks to the screen behind it – and hangs from a lamp post as the screen and stage both rotate in slow motion. The level of strength and control required by the actor to make this look as seamless as it does is mind-blowing, to say the least.
We then follow Jason Bourne as he fights his way through a warehouse in search of more Project Rubicon details. The hand-to-hand combat sequences in this portion are impressively choreographed, with well-timed sound effects that add to the illusion of a real fight. (Speaking of sound effects, it's worth noting that Bourne Stuntacular is very loud. This especially applies to the gunshots, which are loud enough to make you jump even if you're expecting them.) Towards the end of this section, Bourne swings over the audience while hanging from a wrecking ball – yet another visually stunning moment in a performance that is, without exaggeration, filled with them.
After escaping the warehouse, Jason surprises Secretary Collins by breaking into his Dubai apartment, where the digital and real worlds continue to blend together seamlessly. The former CIA agent engages in combat with an operative, who retaliates by dunking his head into a digitally-imposed deck pool. Fortunately, this isn't enough to phase Bourne, who throws the other man off the balcony and leaps into the screen to hang from a flying helicopter and swing through the Dubai skyline. Now, of course, he doesn't actually leap into the screen, but the staging and special effects almost convince you otherwise.
The Bourne Stuntacular concludes with a thrilling car chase when Jason Bourne drops from the helicopter and into a vehicle driving next to Secretary Collins's car. Jason fights with another agent as the cars appear to speed through the desert and on into a tunnel. Collins slams into Bourne's vehicle, and it flies off the edge of a cliff in a fiery explosion – but just when it seems that Bourne is done for, he flies up and away thanks to his parachute. He's still on the run, but he's going to expose Project Rubicon. It's a happy ending – or as happy as the tortured former super spy could hope for, at least.
In short, the best way to sum up the experience of The Bourne Stuntacular is visually stunning. What it lacks in a cohesive story – especially for those who might not be familiar with the franchise – it more than makes up for in technical wizardry. It's a worthy addition to the park, and it's well worth seeing first-hand.
Trust us: descriptions, images, and videos don't do this one justice.
–
Have you seen The Bourne Stuntcaular yet? What did you think? Discuss it with 100,000+ other Universal fans in our Orlando Informer Community on Facebook.
And don't forget to follow Orlando Informer on Facebook, Twitter, and Instagram for the latest news and tips at Universal Orlando, Walt Disney World, and other Orlando experiences.