Preview this Page
Overview
We are here to dish all about this year's Food & Wine Festival at Busch Gardens Tampa Bay. We will let you in on our biggest secret – you can enjoy this offering at a discount through Orlando Informer by purchasing your tickets here! Let's dig in!
Jump to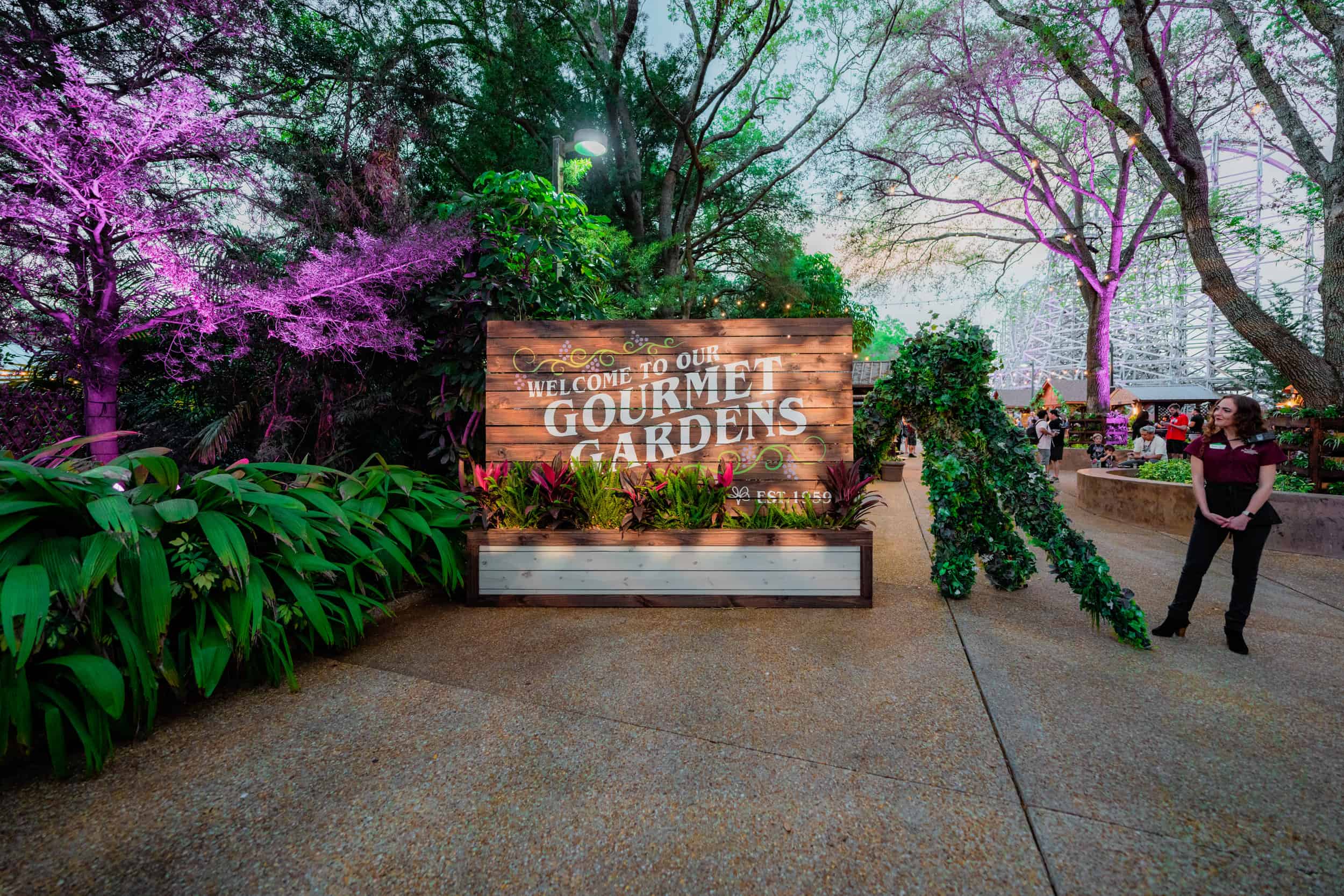 It's that time of year when Busch Garden's Food & Wine Festival brings a world of flavor to Tampa Bay! If experiencing extraordinary coasters or swinging on Busch Garden's newest attraction, Serengeti Flyer, wasn't enough reason to visit, the Food & Wine Festival provides a great addition to any trip to Tampa Bay's resident park. Plan your trip between March 10 through May 21 on a Friday, Saturday, or Sunday to partake in this flavorsome event. Even better, Orlando Informer offers discounted admission to Busch Gardens so that you can save on your visit!
On the eve of this celebration, we had the opportunity to taste some of the menu items available this spring to share our thoughts with you. Let's go!
Busch Gardens Food & Wine Menu
Trek Through Africa
Vegetable Samosa with Peppadew Tomato Chutney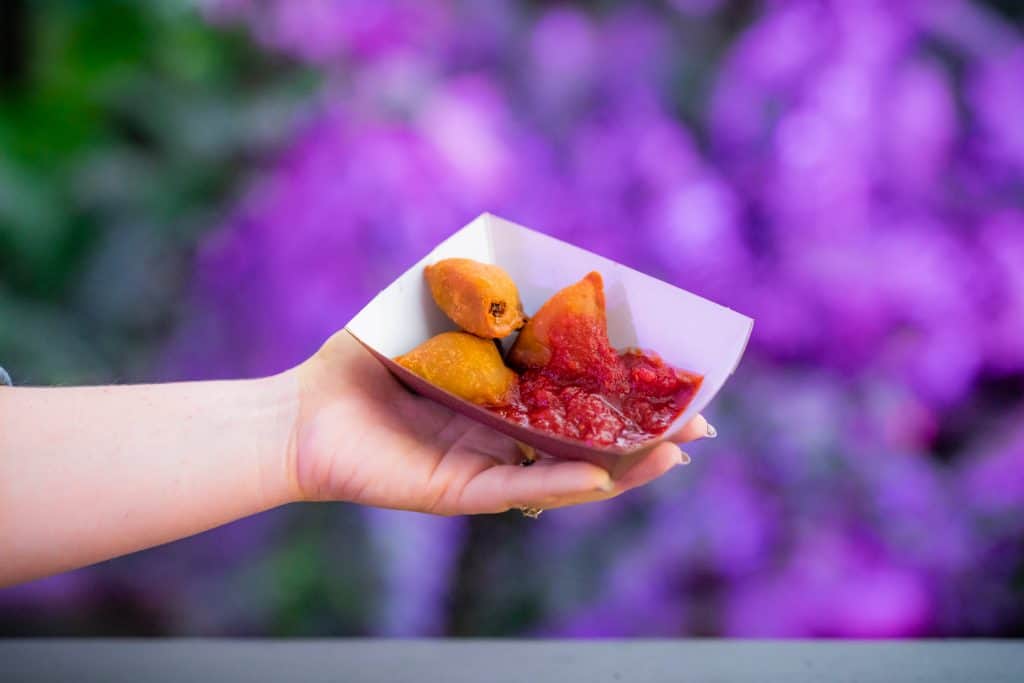 Our venture through the menu starts off hot – literally! The Vegetable Samosa with Peppadew Tomato Chutney was one of my first bites of the evening and became one of my favorites. This samosa had a crunchy exterior with a warm, delicious interior full of potatoes, onions, and peas, creating a surprising, delightful kick that achieved the perfect amount of intensity.
This dish is vegetarian and vegan, a theme you will notice when glancing at the Food & Wine Festival menu. The variety of vegetarian options was prevalent throughout the fair, and I am sure that the increased variety is greatly appreciated.
African Vegetable Curry & Naan Bread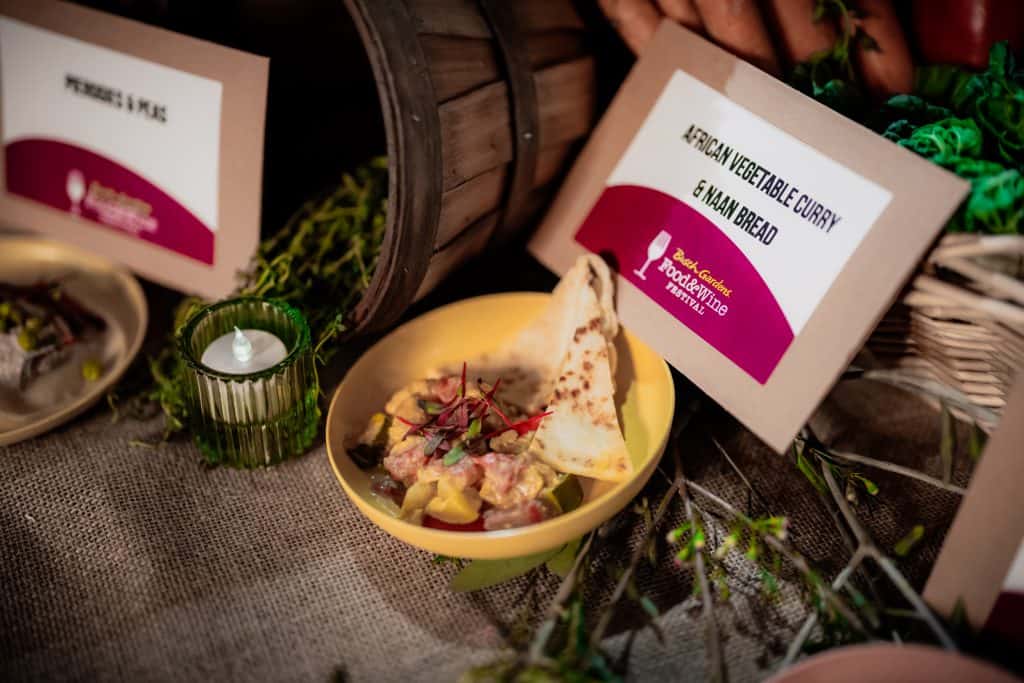 Another delectable vegetarian option warmed our hearts and stomachs. Dipping naan bread into the hearty stew made from zucchini, yellow squash, cauliflower, red bell peppers, tomato, peas, and onions satiated our hunger reasonably well for being a sample size.
I have a tip for whoever dives into this dish – this plate gives you the perfect opportunity to stop and enjoy the festival pathway, as it can be a bit messy when eating on the go. If you are looking for a quick treat while on your way to Iron Gwazi, there is no need to worry, as plenty of handheld options are still available – like our next serving!
Moroccan Market
Berbere Spiced Chicken Batbout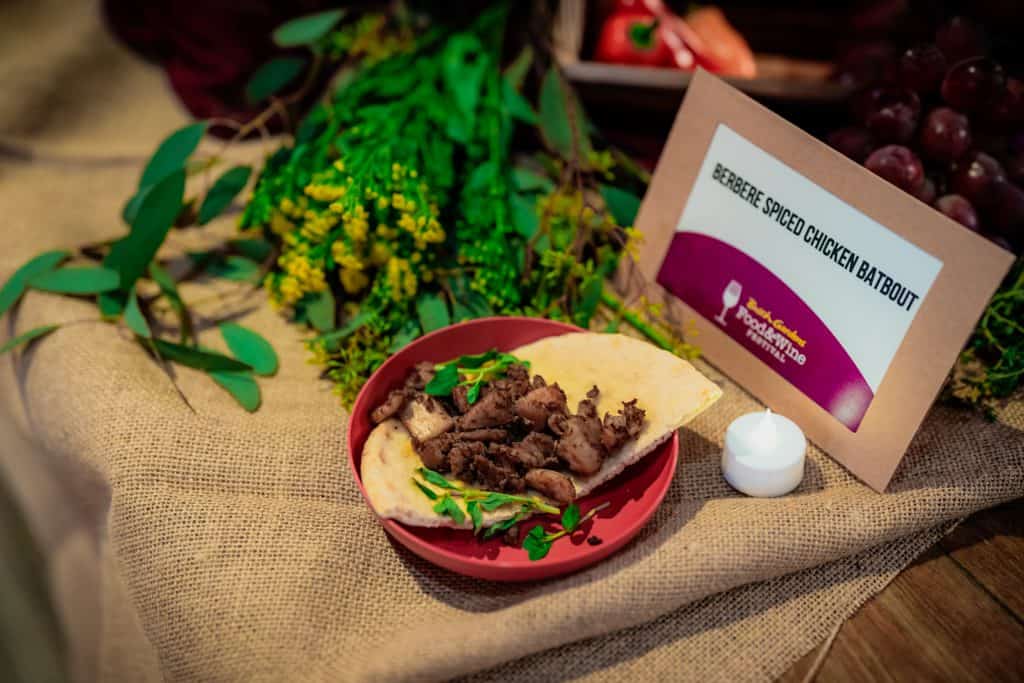 This batbout makes for an excellent handheld as the bread performs as an edible container that the seasoned chicken comfortably rests in before chowing down.
Moroccan Couscous with Roasted Vegetables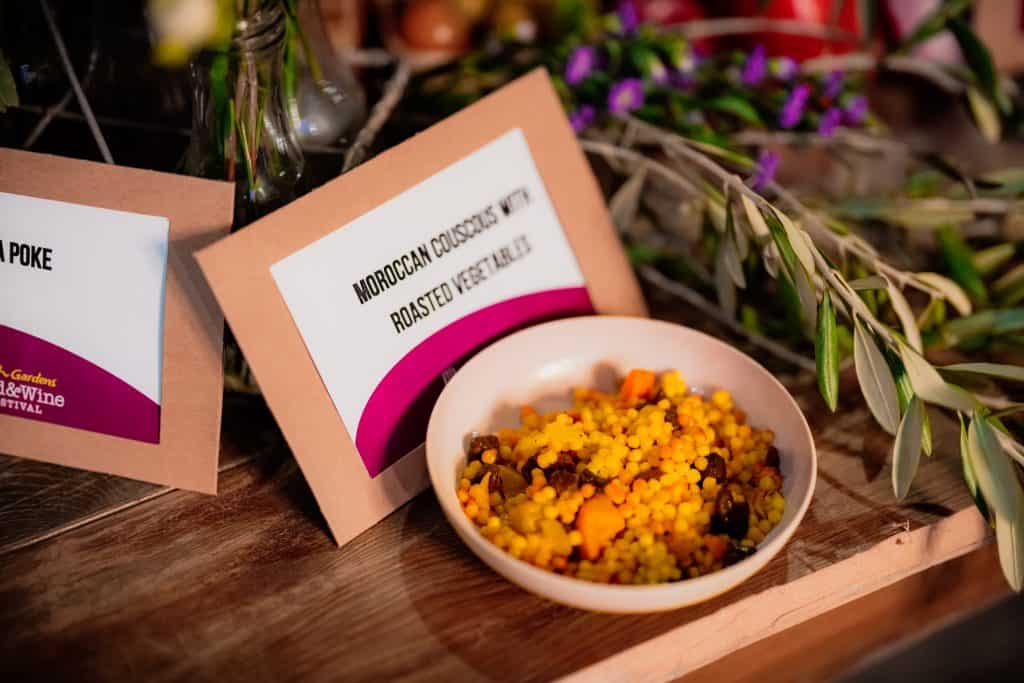 Adding to the vegan and vegetarian lineup is the Moroccan Couscous with Roasted Vegetables. Carrots, parsnip, turnip, beets, garlic, cumin, coriander, cardamom, and cilantro topped the pearled, toasted pasta. While I adored this plate, it was even better as a side dish with a wide array of options to pair with.
Greek Isles
Stuffed Grape Leaves with Tzatziki Sauce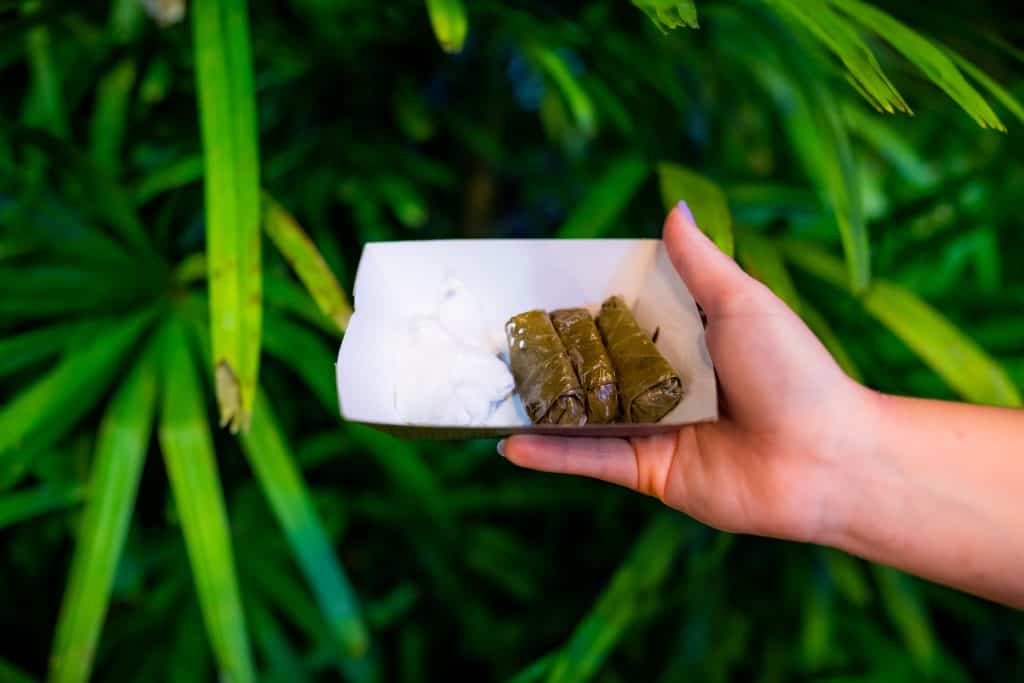 If your traveling party is searching for something to share, look no further than the Stuffed Grape Leaves with Tzatziki Sauce. You will receive at least three grape leaves filled with rice, ground beef, herbs, and spices partnered with tzatziki sauce. This was a first for me when it came to eating grape leaves, and I was left pleasantly surprised! Busch Gardens Food & Wine Festival is the perfect opportunity to try new things when it comes to cuisine, and you may walk away with a new favorite!
Lamb Lollipop with a Mint Demi-glaze
A meaty lollipop was an excellent choice on Busch Garden's part to provide a savory option that is great to gnaw on in a theme park setting. The lamb was well-cooked and seasoned with Mediterranean spices and herbs, served with a beef and lamb stock reduction.
Baklava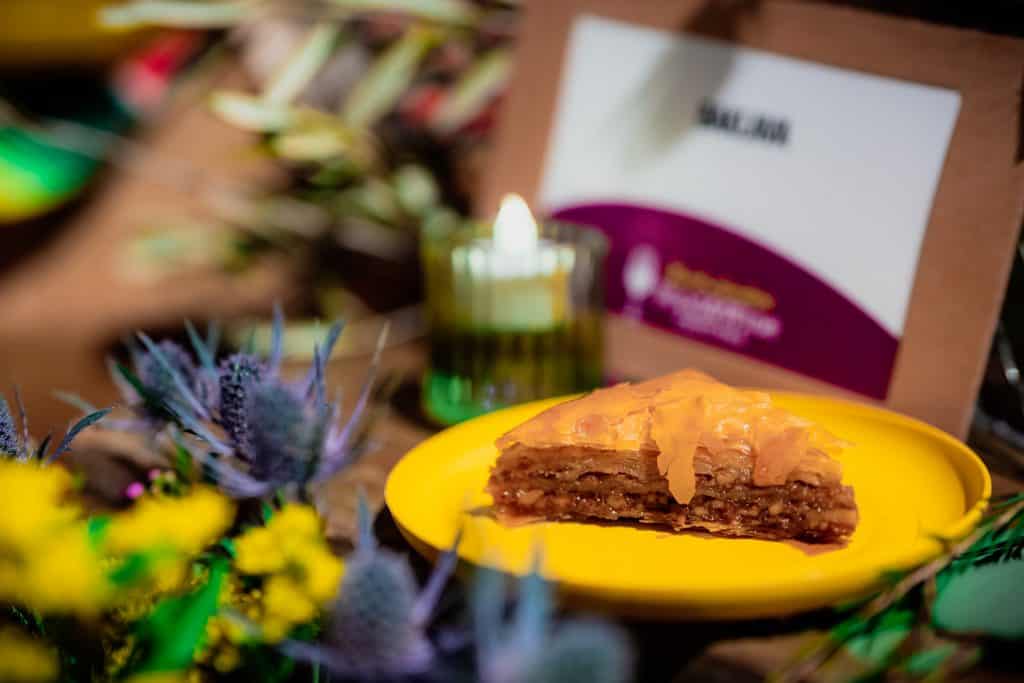 The baklava finishes off the almost miniature three-course meal available at the Greek Isles stand. With flaky crusting whose layers evoked a hint of cinnamon and honey, this goody made its way to the top of my dessert ranking.
Dessert & Sweet Wines
Island Grove Wine Company, Blueberry Moscato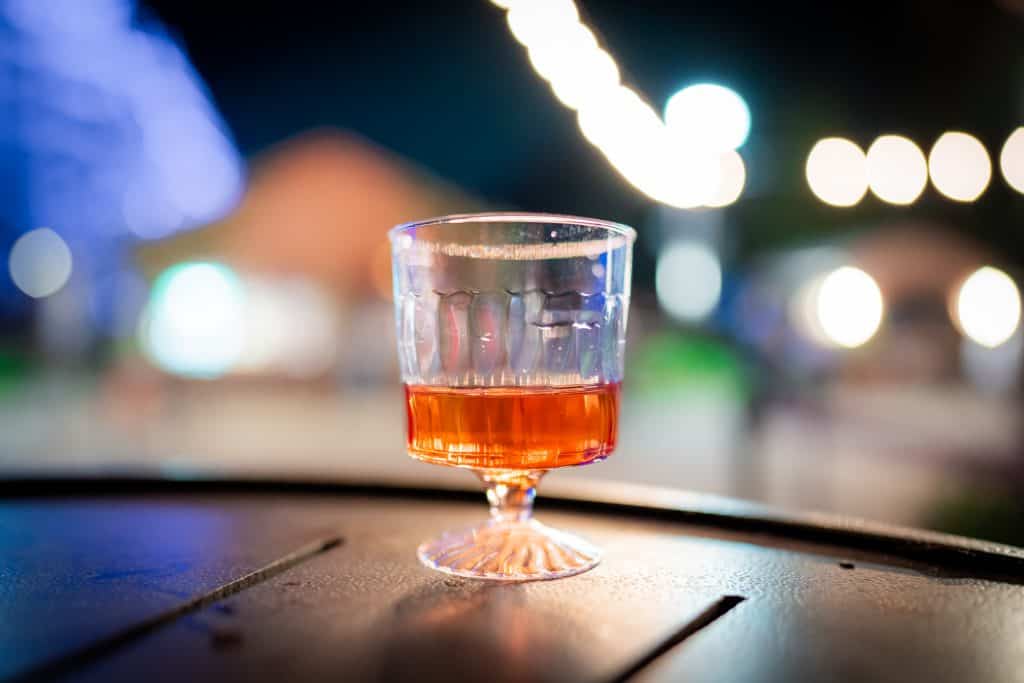 While I am no sommelier, this wine was very sweet and encapsulated Florida inside of a corked bottle. It was heartwarming to see Florida represented by Busch Gardens Tampa Bay. While this festival is a celebration of food from afar, it is nice to know that there was a spot held for our very own Sunshine State.
Chocolate & Port Bar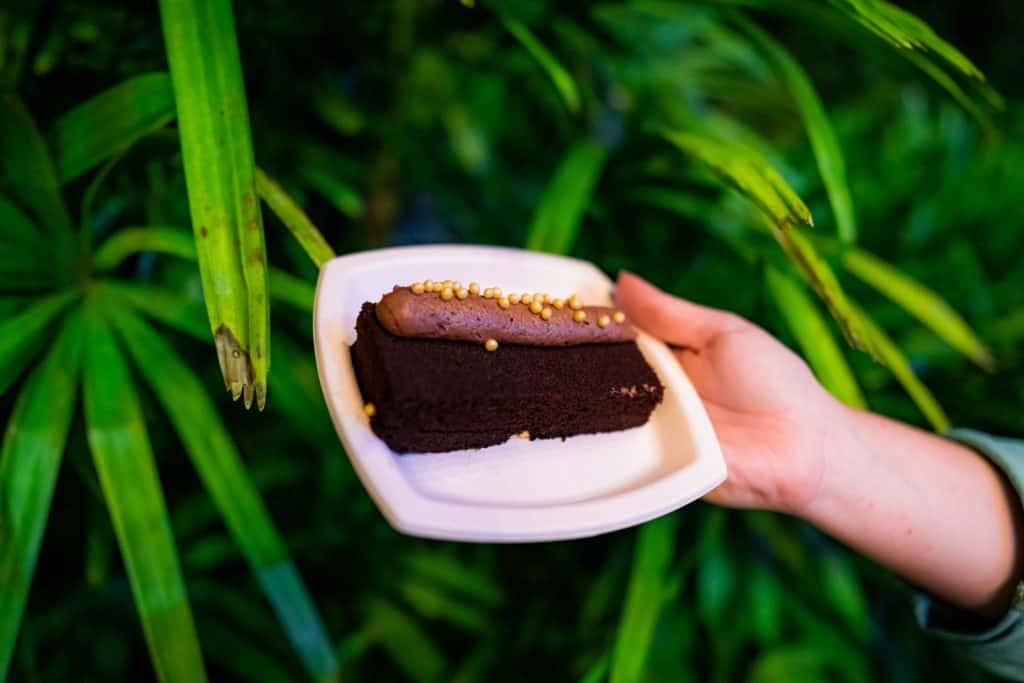 We loved this dessert a choco-lot! Puns aside, if you have a hankering for chocolate, look no further than the Chocolate & Port Bar. Sink your teeth into a fluffy cake, garnished with icing and crunchy, pearl sprinkles. While the baklava was my personal favorite sweet confection, this plate comes in a close second.
European Delight
Pierogies & Peas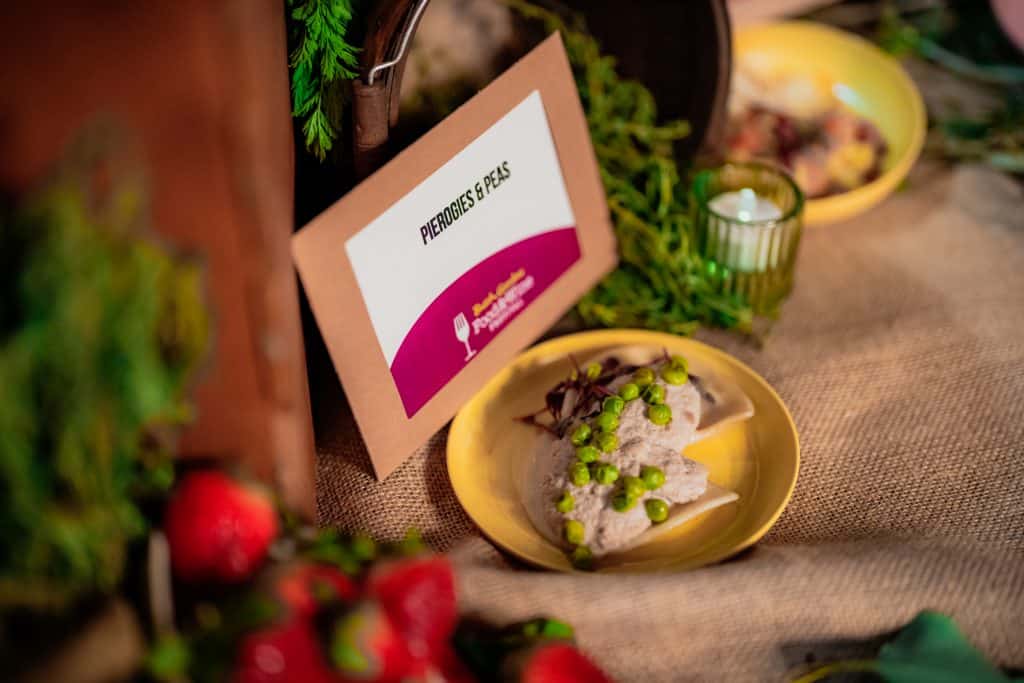 I am originally from Pennsylvania, so I dashed toward this Polish dumpling dish. I mentally listed this as my most anticipated item in this year's lineup with hopes of having a taste of the Keystone State, and it did not disappoint! These pierogies were filled with potatoes and sauced with caramelized onion puree, combining to resemble a home-cooked meal.
Mushroom Ravioli with Truffle Cream Sauce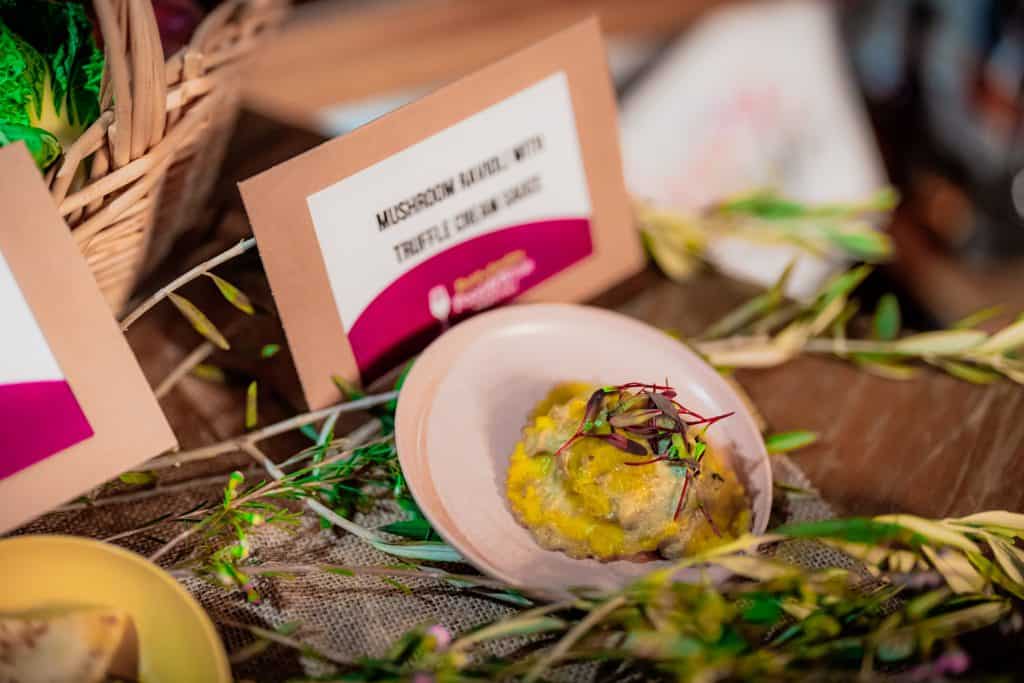 This pasta plate has our taste buds traveling to Southern Europe and enjoying a bite of Italy. Stuffed with ricotta cheese, garlic, and shallots, this Italian dumpling is smothered in a mushroom sauce. The hint of black truffle in this plate amplified the flavor and almost made me forget that I was standing inside a theme park, not a trattoria.
Tiramisu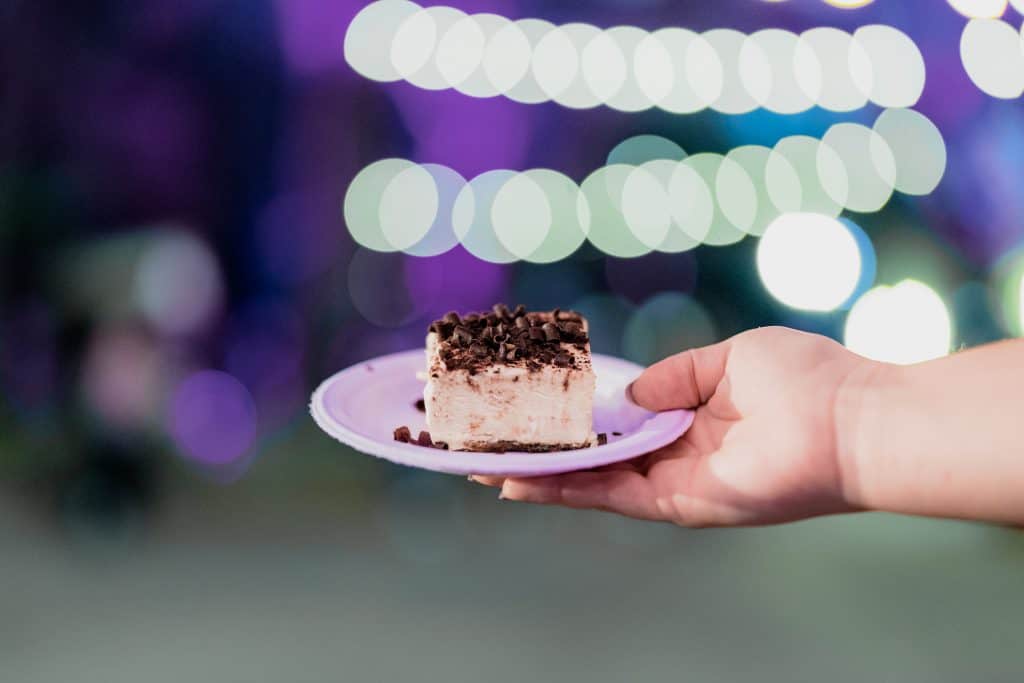 This airy, sweet treat was the perfect finale for our small tour of Europe at the European Delight booth. Sinking our forks into this dessert proved its cloud-like consistency joined with a delicious sweet and bitter flavor harmony.
This listing of plates just scratches the surface of all the offerings available at this year's Busch Garden's Food & Wine Festival. With so many delicious options, the Food & Wine Festival Sampler is worth checking out, which can be purchased for 10 or 15-item redemptions and saves you a bit of dough.
Busch Gardens Food & Wine Entertainment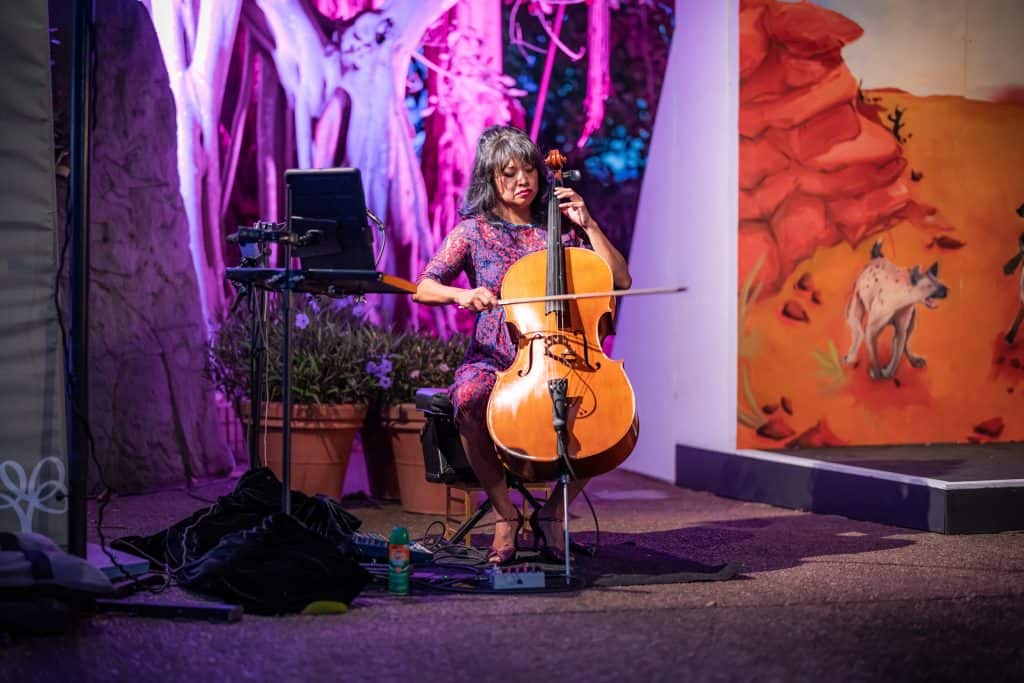 On most Saturdays and Sundays this spring, live musicians will perform on the festival field to allow guests to eat to the beats of pop, rock, Latin, country, contemporary, and classic music. Busch Garden's Food & Wine Festival concert lineup for 2023 can be found here. I can assure you that I will be making a return for the baklava and the sounds of Flo Rida.
Outside of those dedicated concert days and times, live tunes will still be playing and filling the atmosphere as you fill your stomach. For example, a cellist will be performing periodically during the cuisine-inspired celebration. It was indeed a highlight when we could hear them play during our sneak peek of the event.
Head over to Busch Gardens Tampa Bay on Fridays, Saturdays, and Sundays between March 10 and May 21 with discounted tickets from Orlando Informer to experience all that the Food & Wine Festival has to offer!