You know it already, but we'll say it again — yesterday, October 1, marked 50 years since Walt Disney World Resort opened its doors in Orlando, Florida. A man with a mouse opened Disneyland California in the orange groves of Anaheim in 1955, and the park was so successful he sought out to build a sister park here in Florida. Walter Elias Disney died in 1966, a few short years before he was able to see the dream of his Florida park become a reality, but he passed the task on to his brother, Roy Disney, who saw the project through to completion. The Magic Kingdom at Disney World opened on October 1, 1971, and Roy Disney passed away peacefully two months later, having done his duty to his brother.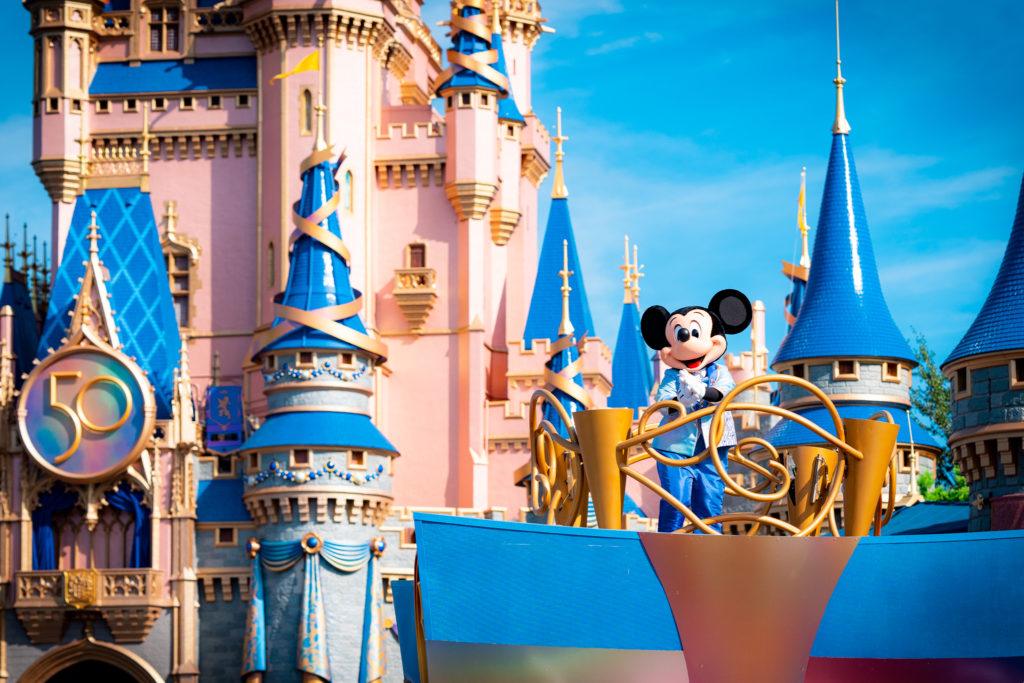 It's the kind of story that Disney itself might write today — a story that relies on themes of family, duty, and identity, and the journey we must all take to strike balance among those things. It's stories like these that the Disney company has been telling so well (better at times than others, admittedly) for nearly 100 years (October 2023 will be the 100-year anniversary of Walt and Roy founding the Disney Brothers Cartoon Studio, which went through several iterations before officially becoming The Walt Disney Company in 1986, after both men had passed away).
Orlando Informer had the chance to check on all the festivities at the four parks, and while the clear focus of everyone's attention was at Magic Kingdom, there were elements of the 50th anniversary to be found everywhere. We'll cover the details here so you can decide for yourself which things you want to check out. And don't forget — the anniversary celebration goes on for 18 months!
Disney's Animal Kingdom
Let's start with the youngest first, shall we? Disney's Animal Kingdom had a wild opening day, not just from running out of commemorative reusable gift bags and specialty food almost immediately, but also with the task of wrangling the balloons and kites for their new show, Kite Tails. The daytime attraction comes in two forms: one honoring The Lion King, the other The Jungle Book. As is the case with anything, these both versions had their share of first-day jitters, but the concept of the shows and the sheer size of the kites is enough to draw interest and hope that the logistics of flying large, cumbersome balloons goes more smoothly over time. It's worth noting that every show we saw (despite having a little blip here or there) had supportive and enthusiastic crowds.
At the end of the day, the Tree of Life was illuminated in participation of Beacons of Magic, a light and laser projection "show" that spans all four parks and their respective icons. The icon transformations happen simultaneously throughout the resort, and last approximately a minute.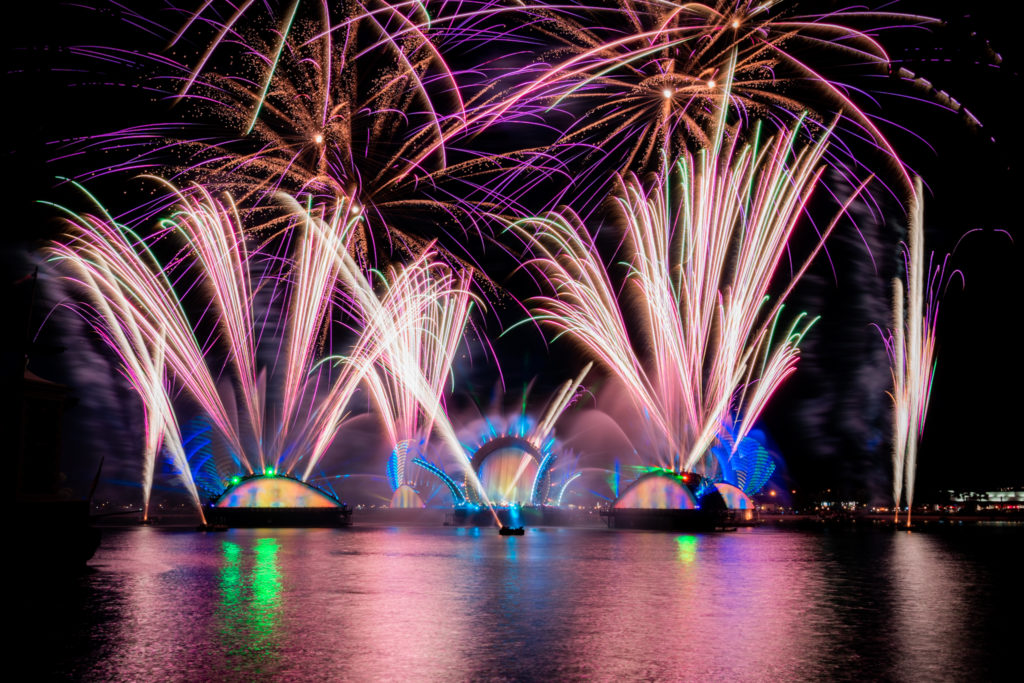 EPCOT
It might be overshadowed by its older sibling (Magic Kingdom), but it's worth noting that EPCOT will turn 40 during the course of the larger Walt Disney World 50th anniversary celebrations (it opened its doors on October 1, 1982). As such, it has gotten some attention in the form of a new attraction and an expanded area of the park. The France Pavilion in the World Showcase was bustling with attention and intrigue as guests made their way to ride Remy's Ratatouille Adventure for the first time (it hosted a passholder preview in early September) or check out the new area and its dining option, La Crêperie de Paris.
In addition to Beacons of Magic (which takes place on Spaceship Earth) is the much more impressive Harmonious nighttime spectacular, which incorporates song, projections, and pyrotechnics onto World Showcase Lagoon. The songs are all one's you'd likely recognize, but with an added twist — for the vast majority of sequences, the song is sung in the native language of the story's origin. For example, songs from Moana are sung first in English and then in Maori, Beauty and the Beast tunes are in English and French, and so on. Beloved hits from Hercules, Mulan, Aladdin, and even The Hunchback of Notre Dame (a personal favorite) are all represented in this show.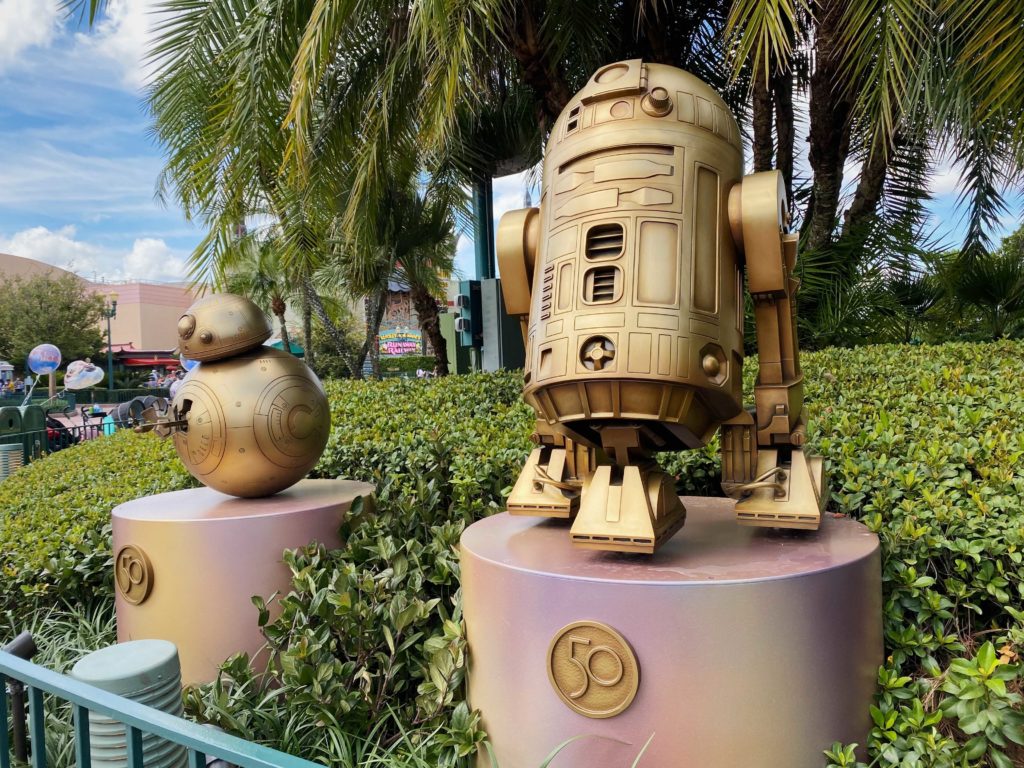 Disney's Hollywood Studios
If you are looking to celebrate the 50th anniversary, this probably isn't the best park to accomplish that goal. Disney's Hollywood Studios remains committed to its established favorites – namely, Galaxy's Edge. At this park, folks lined up for rope drop on October 1 only to rush immediately to the back of the park and get in line for Rise of the Resistance, which has stopped using its virtual queue system. Within 15 minutes of the park opening, the queue had over a 100-minute wait.
As far as a 50th anniversary presence is concerned, the festivities here are minimal. Aside from a handful of smaller merchandise items (a limited selection of pins, commemorative gift bags, a couple pastry selections, and the ever-popular popcorn buckets), the celebration here presents itself in the form of a handful of Fab 50 statues and a selection of fine jewelry in Sparkle on Sunset Boulevard. One special feature at Hollywood Studios is, as is with all the parks, Beacons of Magic, which showcases on Tower of Terror.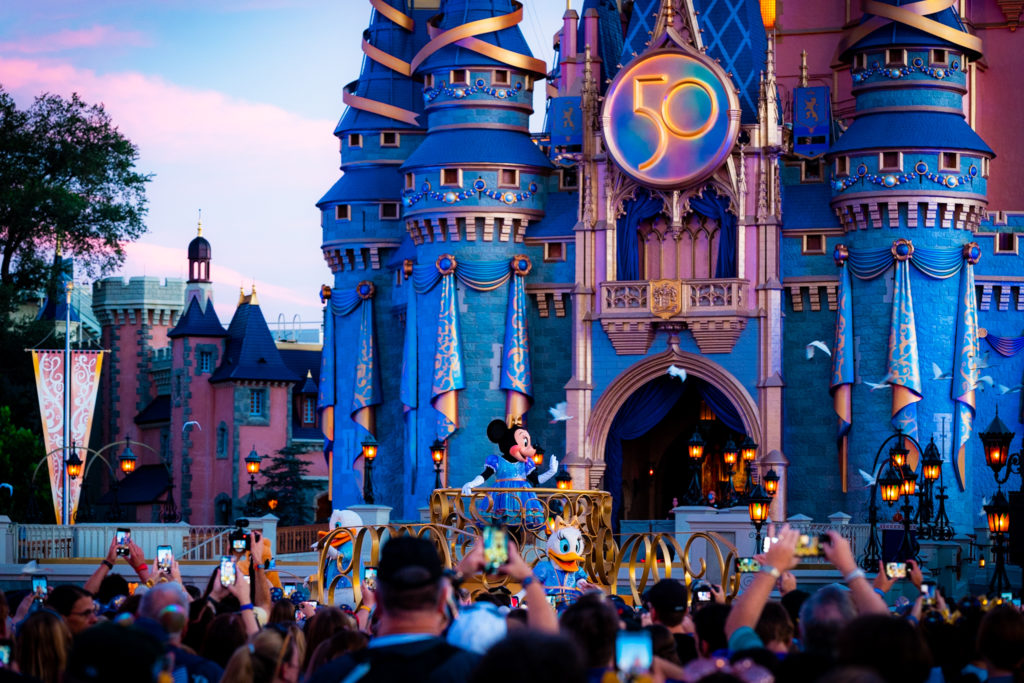 Magic Kingdom
And now, the star of the show. The rumors are true: just as things were on opening day in 1971, October 1, 2021 at Magic Kingdom was a madhouse (in the best way possible). Guests were in the park by 6:20 AM (the sun didn't rise until nearly an hour later), and within two hours of rope drop, Magic Kingdom found itself out of anniversary food items. Lines for stores and quick-serve services serpentined through crowds of people. The day was littered with allusions to opening day as well. One of the most special moments out of these was when Randy Morris reprised his role of piano man at Casey's Corner (then called Coke Corner) and played the same song he first played there, 50 years ago to the day. It was the quietest Magic Kingdom got, despite the fact that he had a crowd of people surrounding him to witness the moment. You can watch a video of that here.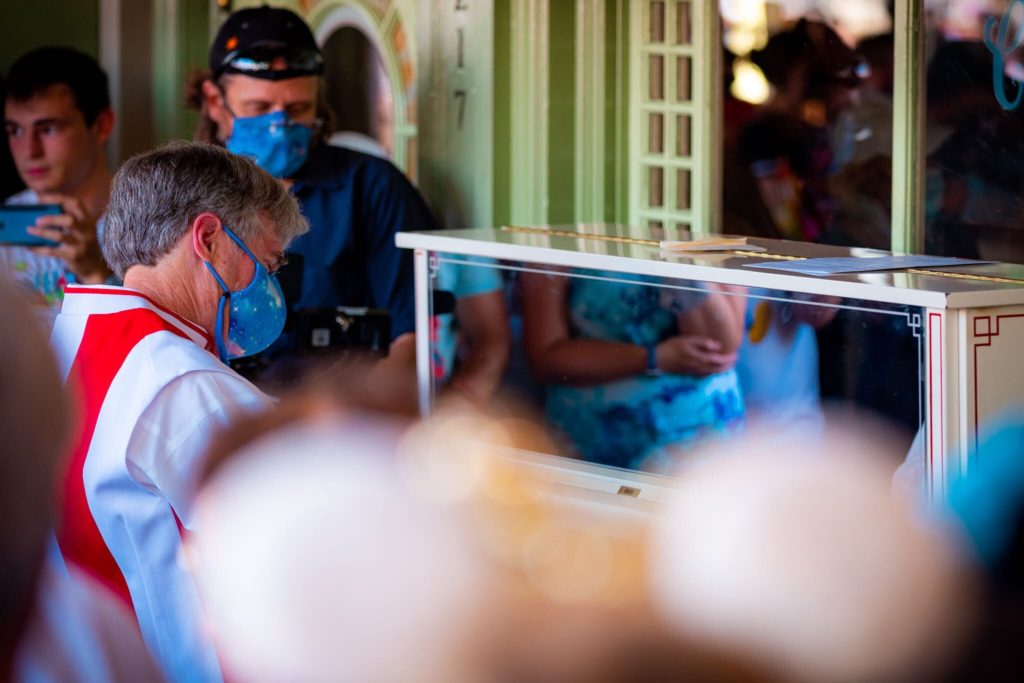 As far as merchandise and specialty options, if you can think of it, Magic Kingdom has it – pins, mugs, shirts, sweatshirts, water bottles, phone cases, purses, lanyards, lunch boxes, more shirts, kids shirts, ears, hats, spirit jerseys, soap dispensers, and other items were all available in stores lining Main Street, USA. Some of these items had been out for a couple weeks, but a handful of new merchandise was dropped specifically for October 1. Children flocked to EARidescent commemorative plushes of Mickey and Minnie, or begged parents for EARidescent balloons as they made their way towards Cinderella Castle.
A special anniversary cavalcade also premiered at Magic Kingdom. Mickey and friends toured the streets in their beautiful new costumes, waving and interacting with guests (socially distanced, of course). Magic Kingdom is the only park to feature an anniversary-specific cavalcade, which makes sense since technically this is the park that is turning 50.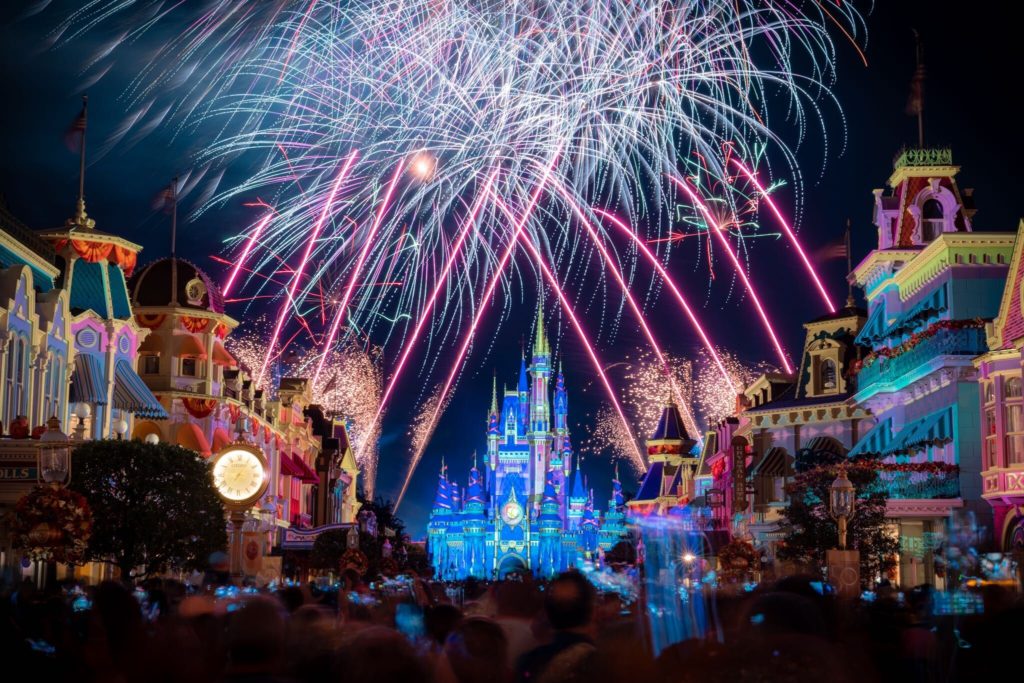 The end of the night boasted a fireworks display. On September 30, former Mouseketeer Christina Aguilera herself christened the event by singing "Reflections" on a stage in front of Cinderella Castle. Shortly afterward, Bob Iger provided a countdown to the premier of Disney Enchantment, the new fireworks and projection lightshow at Magic Kingdom. This new show serves as the "brilliant centerpiece to The World's Most Magical Celebration — celebrating the 50th anniversary of Walt Disney World Resort," and we agree that it has to be seen to be believed. While it isn't our favorite show of all-time, the spirit of the show is representative of the 50th anniversary events as a whole.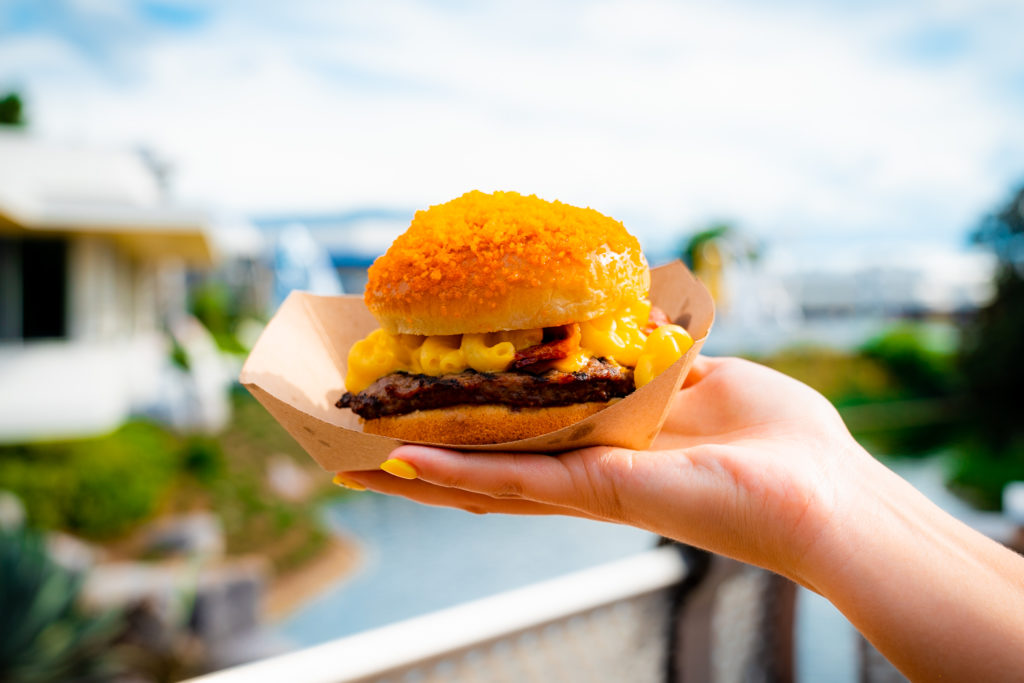 Commemorative Food Items
Ok, now down to business — food. Specialty food items across the resort were limited and at risk of selling out. Predictably, most of the food items are sweet or dessert-y by nature, but hey — we aren't complaining! Some of our favorites from this category include the EARidescent Croissant Doughnut, the Lemon Chiffon Cake with Blueberry Mousse, and the Mini Chocolate Bundt Cake. All of these selections can be found at EPCOT. Hollywood Studios had a couple of light but flavorful mousse desserts, and Animal Kingdom closed us out with classic cupcakes. Thankfully, Magic Kingdom gave us the chance to try some savory things, like the Mission to Mars burger at Cosmic Ray's Starlight Cafe. This burger was topped with bacon and macaroni & cheese, and served on a bun dusted with crushed cheese-flavored puffs. We also couldn't resist the 50th Celebration Hot Dog at Casey's Corner, an all-beef hot dog topped with strawberry bacon jam, crisp funnel cake pieces, and powdered sugar.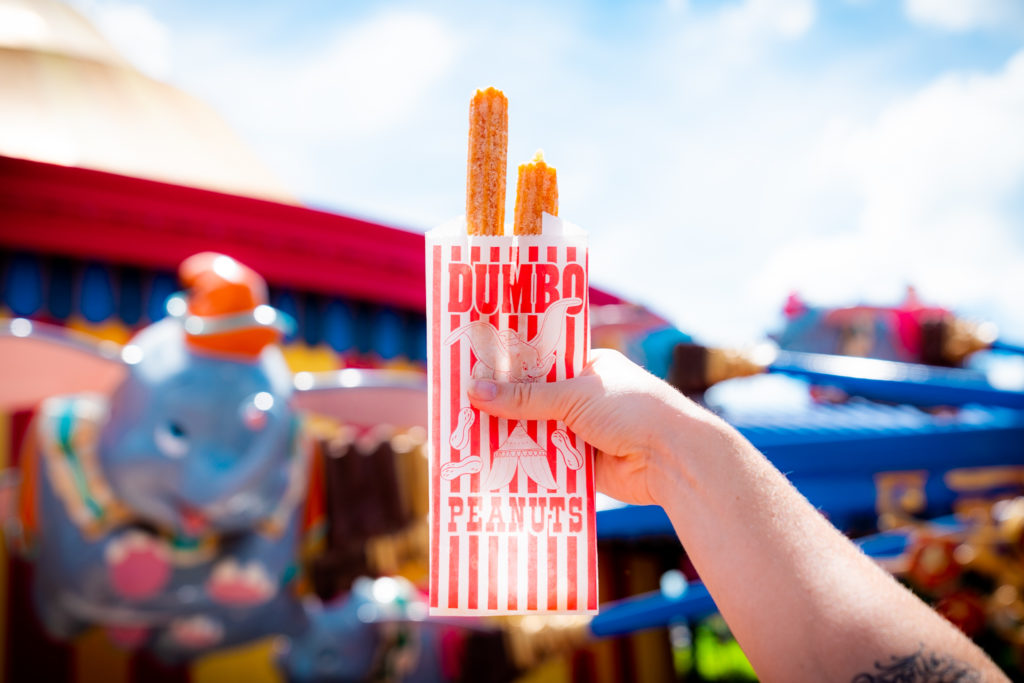 All in all, it's hard to beat any day spent at the most magical place on earth. While we wouldn't review opening day (or project the next 18 months) as being the best of Disney's work, the reason people are so interested in participating in events and moments like these isn't because of what Disney is today, but is instead a testament to the work Disney has already done. It goes without saying that we're entering a new era of Disney — you can mark the era by pandemic, start of a new decade, or installation of a new CEO. The fact of the matter is that things change and age, but the entire draw of places like Walt Disney World is that they defy this aging process. Cinderella Castle is more beautiful than it was ten years ago. The paint on Main Street is a sharper color than it was the last time you were there. You might have changed, and aged a bit, but Disney World? It's better than you left it.
---
What are you most looking forward to seeing over the next 18 months? Let us – and thousands of other Disney fans – know in our Orlando Informer Community on Facebook.
And then be sure to follow Orlando Informer on Facebook, Twitter, and Instagram for the latest news, tips, and more at Universal Orlando, Walt Disney World, and other Orlando attractions.