Universal throws several big parties over the course of the year at its Orlando resort, and these special celebrations are some of the most fun you could possibly have at Universal Studios Florida or the various hotels.
But what if you could only attend one, due to either scheduling or expense? Or what if you are like us and just really enjoy geeking out as much as possible about anything Universal Orlando-related? The answer, of course, is to take the four major annual events and rank them in order, from the least to the best. (Now, when we say "major," we essentially mean no general, holiday-themed get-togethers – sorry, Fourth of July and Thanksgiving. [But just because these are smaller get-downs, don't let that stop you from attending them! They're still a ton of fun.])
4. Rock the Universe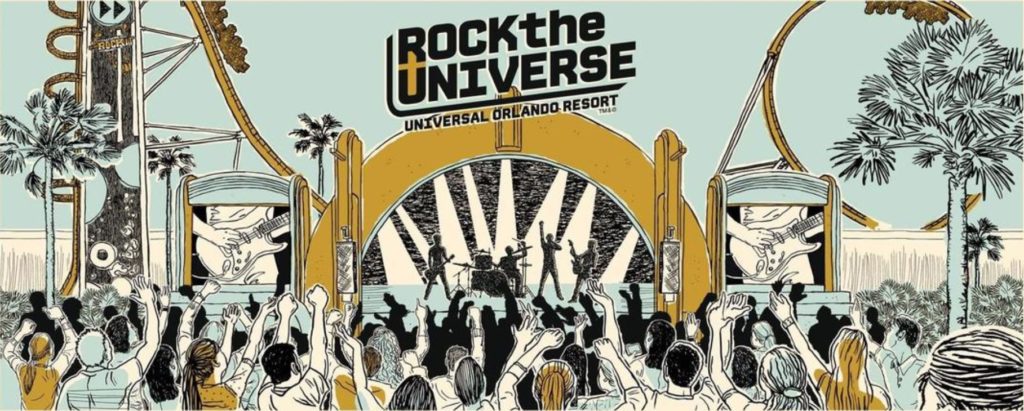 Once upon a time, back in the 1980s, Disney had its own Christian music festival. Once Universal moved into Orlando the following decade, the company decided that it needed one of its own, too – hence, Rock the Universe was born.
The event has undergone a number of changes at both resorts – at Universal, it's been moved from its customary September timeframe to late January/early February, while at Walt Disney World, it's been altogether axed. But the basics of Rock the Universe have remained the same: big-name Christian bands performing on the Music Plaza Stage, smaller bands hanging out in a secondary zone, a popular nondenominational prayer service put on Sunday morning, and, naturally, tons and tons of rides to hop on all night long.
While the music fest is certainly enjoyable for those who attend it, the reason it ranks so low on our list is due to a couple of reasons, mostly revolving around its comparatively-limited scope among guests (practically everyone celebrates Halloween, for example, whereas the Christian music scene doesn't necessarily appeal to all of society) and its truncated experiential footprint, as well (there are no exclusive parades or seasonal food and beverages to enjoy).
3. Mardi Gras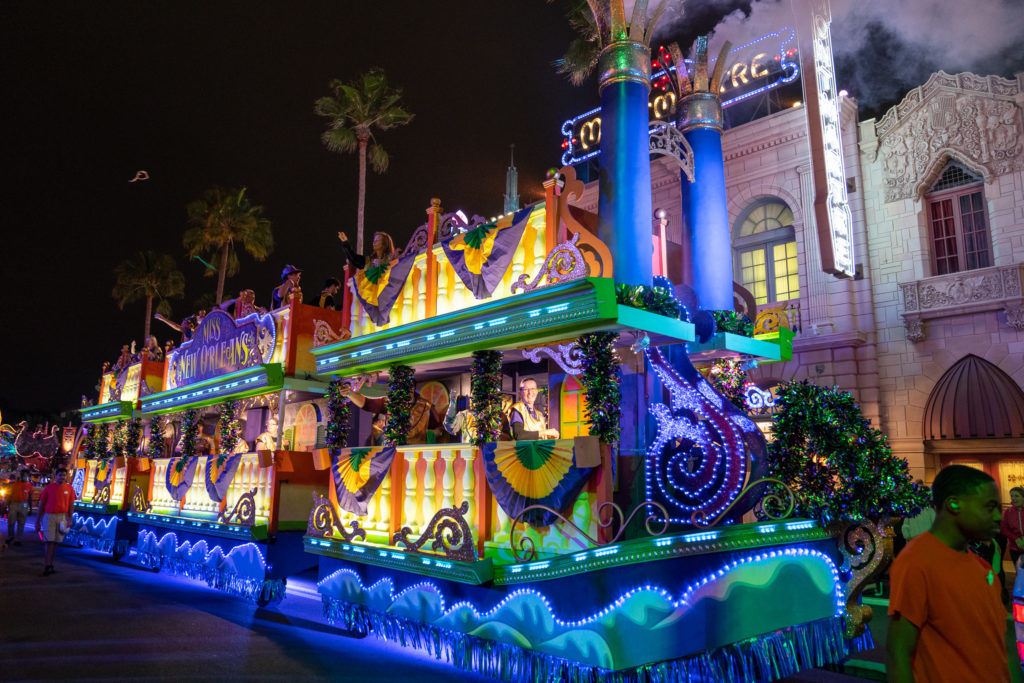 Universal's Mardi Gras, not to put too fine a point on it, is a blast.
There are tons of "characters," all decked out in their celebratory finest, roaming the streets. A nightly parade, filled with big and elaborate floats, is one of the very best pieces of entertainment Universal puts on the whole year. There are also tons of specially-themed food and drink stands, offering everything from classic Cajun dishes to decedent desserts to uniquely-flavored mimosas, and live bands imported directly from the Big Easy on the street corners, and – oh, yeah – weekly concerts featuring a somewhat eclectic range of performers on the Music Plaza stage. If that isn't enough to make you want to pack up and venture to Universal Studios Florida right now, we don't know what will.
Actually, we do have one last ace up our sleeves: instead of just watching the parade and attempting to catch all the myriad bands of beads, it's possible for you to be on the floats and slinging the coveted items to the adoring crowds. It's easily one of the most unique experiences to be had at all of the theme parks, and it's also one of our absolute favorites. (You can check out our guide for details on how to do this.)
2. Holidays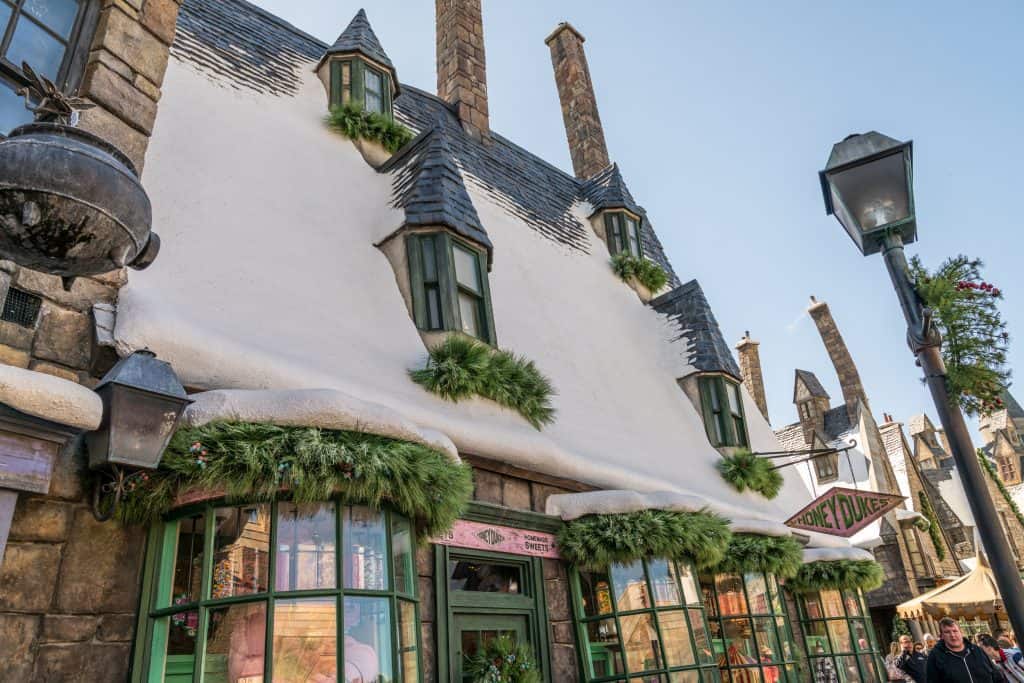 Christmas is already one of the most magical times of the year – the decorations, the music, the snow. The only thing that could possibly make it better is entwining its grandeur with the spectacle that is Universal Orlando Resort – there's just something about walking down the streets of the New York backlot listening to the yuletide jingles (especially if they're coming from the Blues Brothers!) or of seeing Christmas trees snuck unassumingly into the King's Cross Station queue of the Hogwarts Express.
And that last point, actually, is one of the major reasons why the Holidays celebration is thrust towards the front of the annual-event pack. Christmas in the Wizarding World of Harry Potter is nothing short of breathtaking, with the highly customized decorations affronting both Hogsmeade and Diagon Alley's various shops, with the seasonal food offerings on tap (topped by Hot Butterbeer, but of course), and with the special programming replacing the standard fare (Celestina Warbeck belts out both traditional and wizarding carols, while The Magic of Christmas at Hogwarts Castle is the best projection-mapping show at the resort, hands down). One could be forgiven if she spent all of her holiday time just in Harry Potter's two domains.
But there is, of course, so much more! The Holiday Parade is a great deal of fun, featuring the likes of the Despicable Me and Madagascar casts, and Grinchmas isn't to be missed (how can you possibly go wrong with the Grinch?).
1. Halloween Horror Nights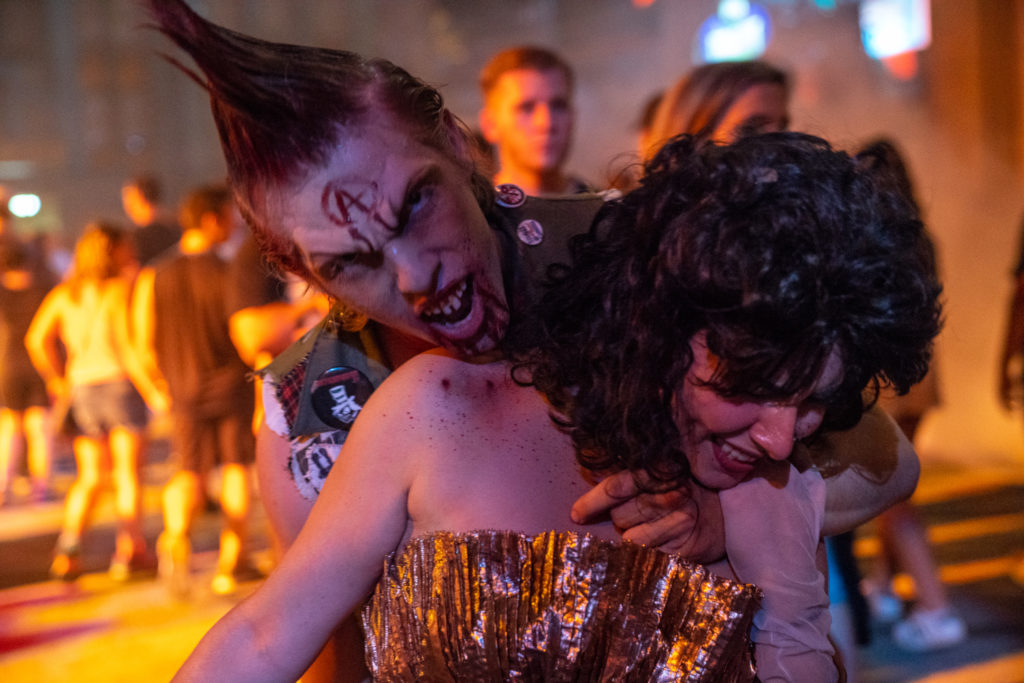 There is only one thing on this planet that could possibly top Universal's Christmas, and that it is the company's take on Halloween.
Halloween Horror Nights is the biggest event that descends upon Universal Orlando each and every year, and it's easy to see why: 10 in-depth, highly-detailed haunted houses, five scare zones, and live entertainment (which, most recently, has been the incomparable dance troupe Academy of Villains) greet visitors every September. A number of incredibly high-profile franchises routinely make an appearance in either haunt or scare-zone form – The Walking Dead and American Horror Story being past examples, and Stranger Things and Ghostbusters being current ones – with the result being full-fledged, all-out recreations of some of the most seminal scenes in cinematic history.
(And if all this just isn't proof enough of HHN's mammoth size, then consider this: the annual event is the only one to have five sub-pages in our guide, covering everything from its various ticket options to its culinary lineup. Phew!)
But as we've noted before, it's not just about the scares! Universal tends to use Horror Nights as the proving ground for a number of different concepts, such as having a bevy of themed (and exclusive) dishes and drinks and up-charge dining experiences – ideas that have increasingly permeated most of the other annual events on this list. And, even beyond all that, there's simply an atmosphere that can't be found on the property at literally any other time of the year – there's this electric charge pulsating through the air that's simply something to behold. Setting foot in Halloween Horror Nights is unlike anything else on the Universal docket – period.
–
Find out everything you ever wanted to know about all of Universal's various annual events in our in-depth guide. And then discuss them all with 70,000+ other die-hard fans in our OI Community Facebook group.
And be sure to follow Orlando Informer on Facebook, Twitter, and Instagram for the latest news and tips at Universal Orlando, Walt Disney World, and other Orlando experiences.