Preview this Page
Overview
With the recent announcement of Pipeline: The Surf Coaster opening on May 27, we wanted to share our ranking of SeaWorld Orlando's current coaster lineup in anticipation of the new ride's opening. Experience these iconic coasters yourself by purchasing discounted SeaWorld Orlando tickets here.
SeaWorld Orlando is known as a family-friendly amusement park that strives to entertain and create conservation awareness among its guests. While this is true, SeaWorld is also home to some of the industry's award-winning, record-setting, and thrilling roller coasters –one of which is even this writer's favorite in the state. Over the years, they've embraced the prospects of providing more thrills to their guests with four fantastic coasters currently on their ride roster and more soon to come with Pipeline: The Surf Coaster's opening on May 27!
SeaWorld truly deserves more credit for the exceptional experience it provides as a world-class theme park in Orlando. Each of its attractions are intricately based on specific kinds of sea life and are sure to provide an exciting experience. With this in mind, allow us to clue you in on what SeaWorld Orlando offers in that respect and how its roller coasters rank against each other. This includes going over each track's length and peak, the ride's speed, and, of course, how well they executed the theme and their thrill factor.
Now then, let's dive in!
4. Ice Breaker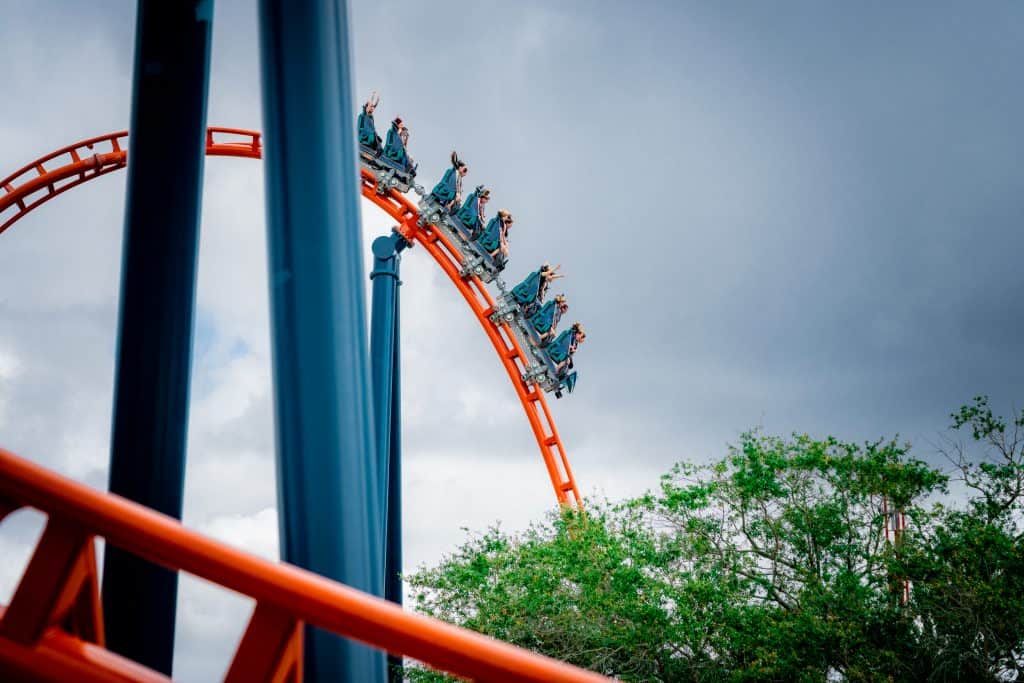 Peak: 93 feet
Track Length: 1,900 feet
Max Speed: 54 miles per hour
After a delayed opening due to the COVID-19 pandemic, Ice Breaker broke out in February 2022. It was created by Premiere Rides, who are also responsible for The Revenge of the Mummy rides at the Universal theme parks in Orlando, Singapore, and Hollywood, as well as Tigris in Busch Gardens Tampa and Full Throttle in Six Flags Magic Mountain. SeaWorld's latest addition to its family of coasters is certainly not one to dismiss as Ice Breaker features Florida's steepest beyond-vertical drop at a 100-degree angle from its 93-foot peak.
That said, the thrill factor is the least for this one when put up against the other mammoth rollercoasters SeaWorld Orlando has to offer. Objectively, it's the shortest coaster in the park in both height and length and doesn't hold the speed of the other attractions. While that sounds harsh, it shouldn't be seen negatively. What it lacks in that department, it makes up for as an excellent experience for someone who may not be an adrenaline junkie or is just dipping their toes into the coaster fandom. The ride launches its cars back and forth four times, as if preparing you for propelling into the track's steep turns and near-top-hat maneuver. This provides a ride that's riveting enough to keep you entertained while not overdoing it.
3. Kraken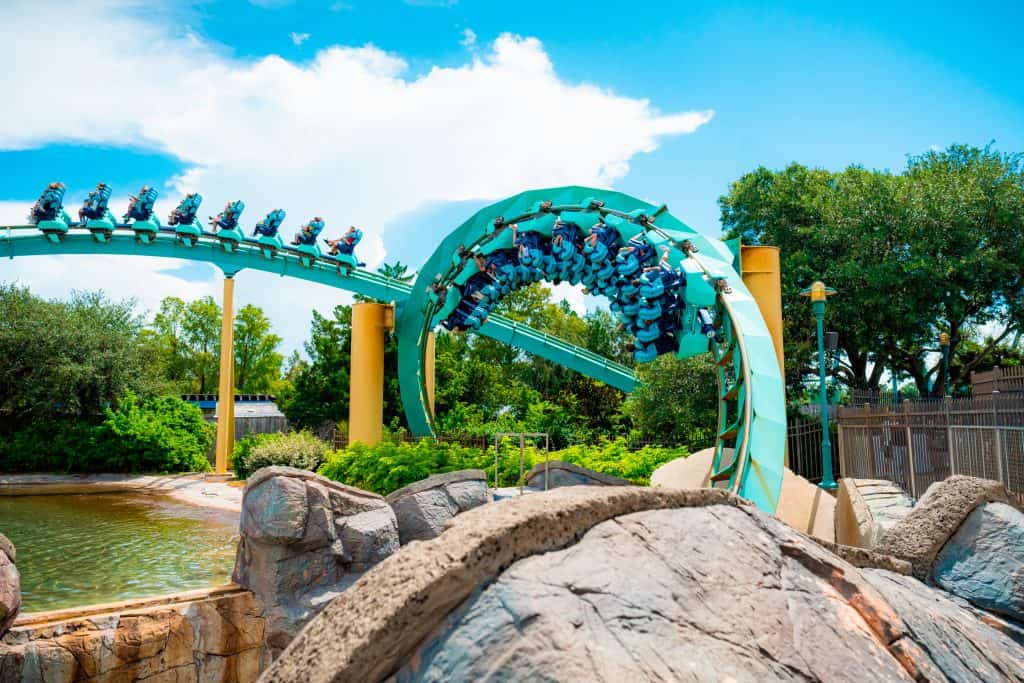 Peak: 153 feet
Length: 4,177 feet
Max Speed: 65 miles per hour
SeaWorld Orlando's Kraken roller coaster was inspired by the legendary sea monster and isn't for the faint of heart. Guests enter a queue themed as a Greek village that an adventure capitalist repurposed into an offshore sea base. Its goal being to create eco-tourism in the area and to learn more about the mythological Kraken. From its debut in 2000, Kraken held the title of Florida's longest, tallest roller coaster until 2005.
This beast of a coaster moves like its monstrous namesake. Kraken begins with a climb to its 144-foot peak, ending with an almost equivalent dive into its record-setting track at intense speeds that top off at sixty-five miles per hour. Its vict- er, riders take on seven kinds of inversions, including a zero-gravity roll, a 128-foot loop, and two subterranean dives – all surely leaving guests thankful for the Kraken's mercy in the end.
2. Mako
Peak: 200 feet
Length: 4,760 feet
Max Speed: 74 miles per hour
Keeping in line with SeaWorld's mission statement, Mako is part awareness exhibit and part amusement ride. Its queue is tied together with its surroundings in the park as a shark-inhabited shipwreck (or a "shark wreck" if you will.) which leads you to take on the perspective of a Mako Shark. Its track and car design were specifically chosen to resemble the sea predator's movements as closely as possible, allowing it to deliver several hills, banks, and a helix along its 4,760-foot track. In addition to its record-breaking stats, Mako is the recipient of multiple awards and recognitions. It can also be consistently found among coaster rankings in a high placement.
On a personal level, Mako just narrowly missed being at the top of our ranking of SeaWorld's roller coasters. Orlando's only hypercoaster is certainly deserving of being a fan-favorite as it has a great, well-thought theme, and it features nine points of zero gravity at smooth, high-velocity speeds, making out at 74 miles per hour. This matches, if not tops, those of its competitors and comes after its own introductory climb up its two-hundred-foot peak right next door to Kraken, the former holder of that same record! Add this to its stats and you have every reason to experience Mako for yourself.
1. Manta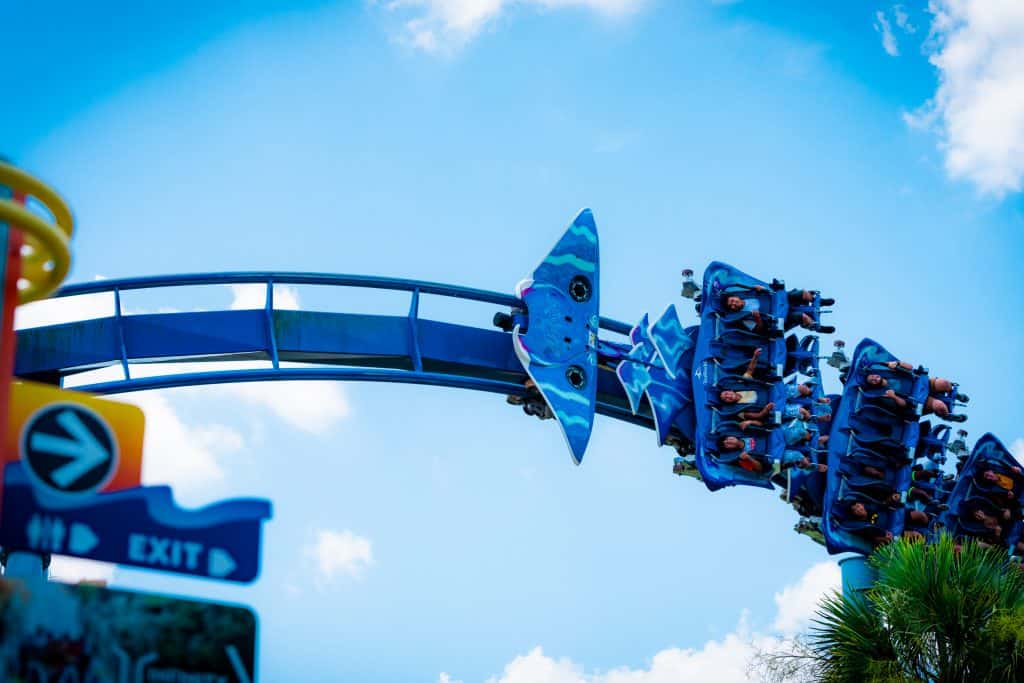 Peak: 140 feet
Length: 3,359 feet
Max Speed: 56 miles per hour
Pulling from its namesake, Manta mimics the movements and design of a giant manta ray and is the only roller coaster of its design in Florida. Riders experience the attraction from a "flying" position (those who may be unfamiliar with the term, can think "Superman" here) and begin the ride with an inverted nosedive from the top of its 140-foot peak. From there, riders soar above passing guests and nearly skim across Manta's surrounding waters, setting off a row of fountains underneath them. Since its 2009 debut, Manta has won awards and can be found numerous times in coaster rankings.
If readers spot this writer at SeaWorld Orlando, it's a good bet that Manta is on his top priorities. It's unique take on flying coasters allows me to live my dreams of being a superhero, soaring above the City Beautiful and the queue is a captivating attraction on its own. Guests enter its cove theme and wrap around an aquarium of ten tanks containing an artificial reef and over three-hundred sorts of sea creatures, including several kinds of rays, sea horses, and other tropical sea life. Even if you aren't a roller coaster or are traveling with smaller family members, this doubles as a great walk-through experience with its own entrance and viewing area.
Honorable Mention: Pipeline: The Surf Coaster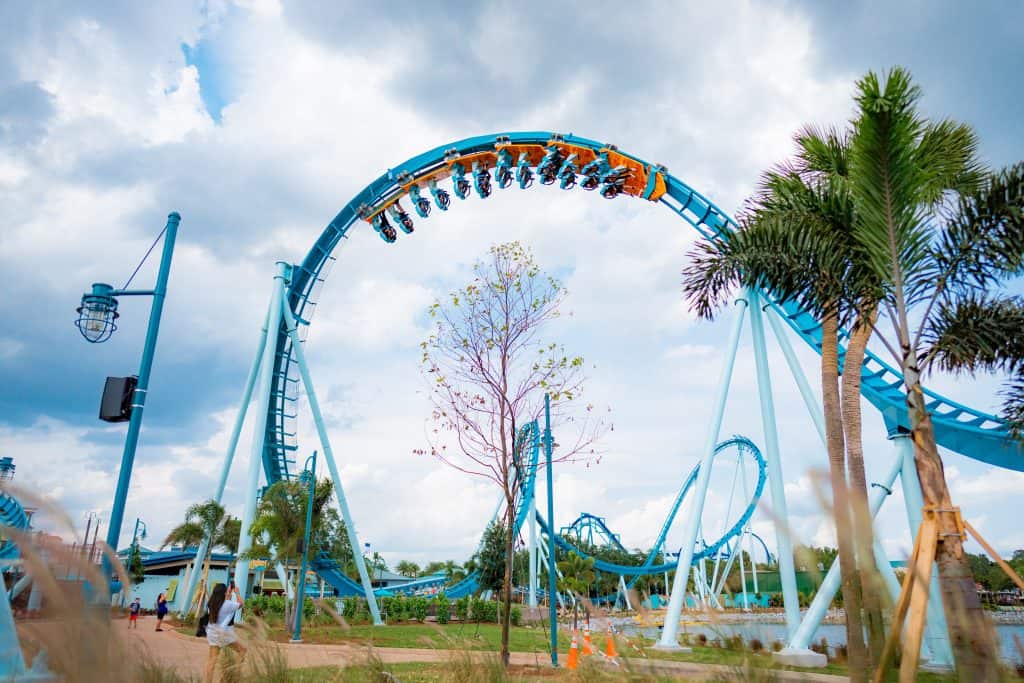 Peak: 110 feet
Length: 2,950 feet
Max Speed: 60 miles per hour
SeaWorld's first-of-its-kind roller coaster is sure to set a bar within the industry. Pipeline: The Surf Coaster is designed to mimic surfing on the wakes and curls of an endless ocean. Riders will strap into surfboard-themed trains that launch at 60 miles an hour into its almost 3,000-foot-long track that includes several curves, two helixes, a corkscrew, and a "wave curl" inversion. What's most exciting is that guests will experience this all from a near-standing position as their restraints dynamically shift as if they were surfing the waves of the Californian and Australian seas.
Objectively, Pipeline is a unique roller coaster with some impressive stats. It's just short of Manta's track in height and length and only five miles under Kraken's speed. Given this, it will be perfect for anyone wanting a tubular thrill without the need of a wetsuit. Try Pipeline: The Surf Coaster out for yourself after it opens on May 27 to see where it ranks for you!
---
What is your favorite roller coaster? You can discuss with the rest of our SeaWorld Community on Facebook and get your discounted admission tickets to SeaWorld at Orlando Informer.