Nearly a year before the event itself, Universal officially announced Halloween Horror Nights 2021's very first haunt, Puppet Theatre: Captive Audience.
The reveal came in the form of an eight-minute behind-the-scenes video that Universal dropped on its YouTube page. Universal Orlando's Senior Director of Creative Development Mike Aiello, Senior Show Director Charles Gray, and special guest Greg Nicotero (an executive producer on The Walking Dead and showrunner of Shudder's Creepshow, plus a collaborator on previous HHN houses) walked us through the new – and already-complete – maze, explaining its backstory, touring its makeup shop, and otherwise explaining the tricks of the haunting trade. It was not only a fun peek for horror (and Horror Nights) fans, it was also a surprisingly informative preview of what's to come next fall.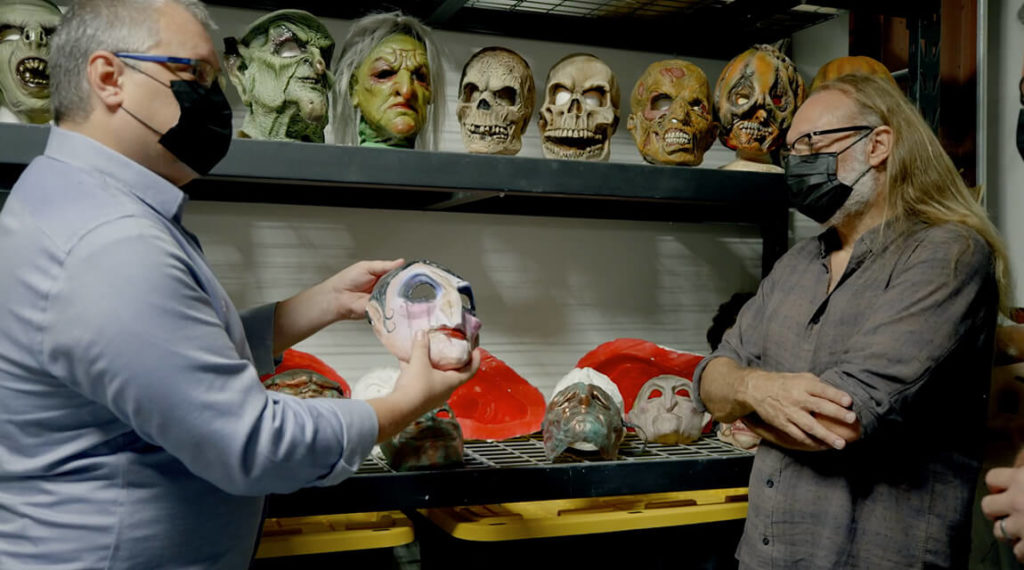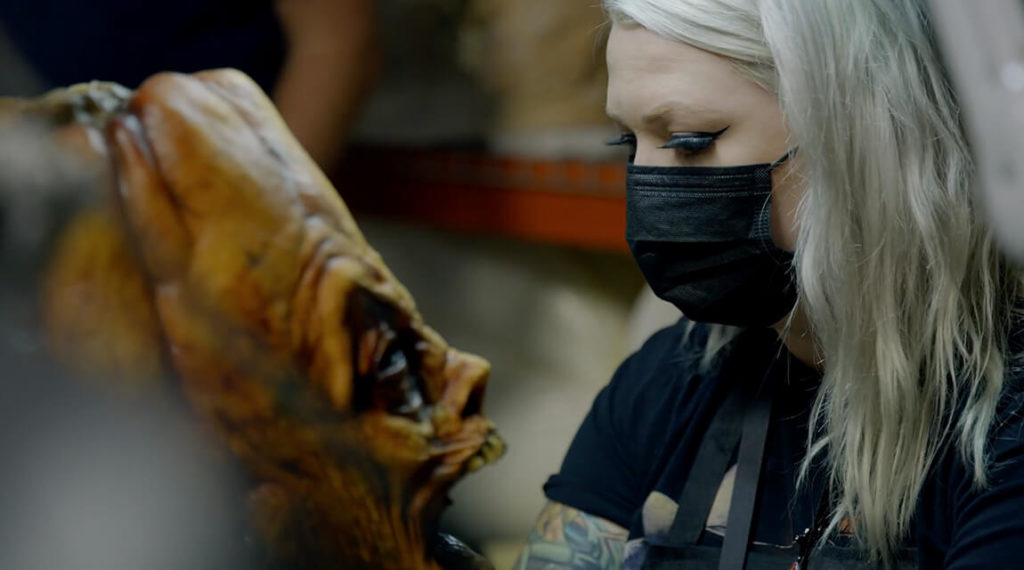 And here's what to expect from Puppet Theatre: after an earthquake in turn-of-the-20th-century San Francisco (which may or may not be the infamous 1906 one that is memorialized in Richter's Burger Co.), the Grandeur Theater collapses, permanently trapping inside three different constituents – a puppet troupe that hails from Eastern Europe, a similarly touring ballet company, and, of course, the patrons that came to see them all perform. The puppeteers crack and lose their minds, turning on their erstwhile spectators, butchering them, and transforming them into lifesize puppets themselves.
Charles Gray, during his video tour, promised that the new haunt would be a gory, creepy affair, but also one that'll retain a number of its artistic considerations; a wide range of puppetry will be represented (including the more avant garde styles that hail from Eastern Europe), and one of the sound bytes that was played was a scareactor reciting the obligatory Hamlet soliloquy. Additionally, it was revealed that the haunted house will wind guests all through the different parts of the dilapidated building – including the orchestra pit, backstage rehearsal areas, and the audience's seating out front – before the theater itself starts to collapse once and for all, trapping the visitors in with the demented performers for good (an effect that'll be achieved via sound effects and blasts of smoke).
Puppet Theatre: Captive Audience will arrive at Universal Orlando's Halloween Horror Nights, which will return in the fall of 2021.
---
Find out everything you ever wanted to know about HHN – plus more! – in our insider's guide. And then discuss it all with 150,000+ other Universal die-hard fans in our Orlando Informer Community on Facebook.
And be sure to follow Orlando Informer on Facebook, Twitter, and Instagram for the latest news, tips, and more at Universal Orlando, Walt Disney World, and other Orlando attractions.