PR's Taco Palace: Winter Park's Mexican restaurant "roommate" that don't give a flip
Remember in college when you had that roommate who just didn't care about cleaning up his side of the room, or going to class, or doing anything other than exactly what he wanted to do? And yet he was getting along just fine.
Made you wonder if you should have been trying so dang hard to impress everyone, right?
Well, you're Winter Park–with your fancy boutiques and art festivals–and PR's Taco Palace is that roommate you secretly admire.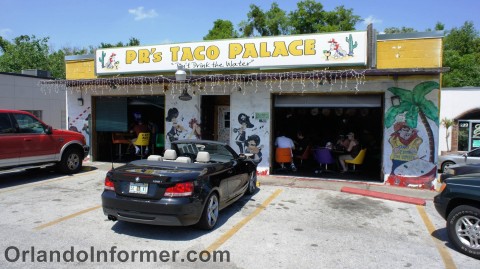 You can click on any photo to view it full-screen. Also, you can view an extended photo album on the OI Facebook page.
We stopped by PR's Taco Palace last Sunday afternoon just to see what this laid back lifestyle was all about. The atmosphere of PR's Taco Palace, as you can see from the pictures, is going to be something you either love or hate. I'm one of those guys that loves it.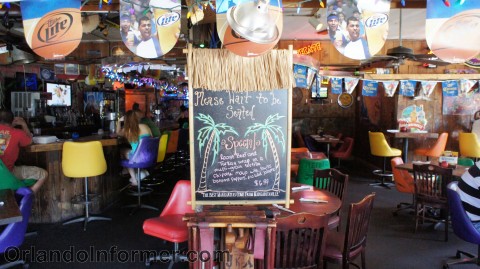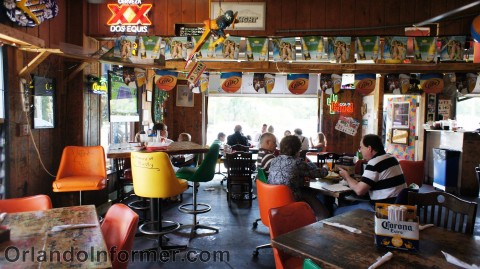 As it was pretty early, I'd say around 12:30pm, the place was kind of empty. Not surprising for a Sunday. Nevertheless, I was quite surprised by the diversity of the patrons. Sure there were the young guys you'd expect to see. But there were also a couple of families enjoying their Sunday lunch, and some older folks too.
We got our drink order in right away and it was time to take a look at the food selection. Here's a copy of their take out menu: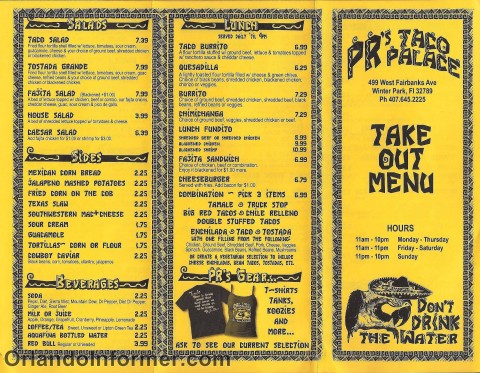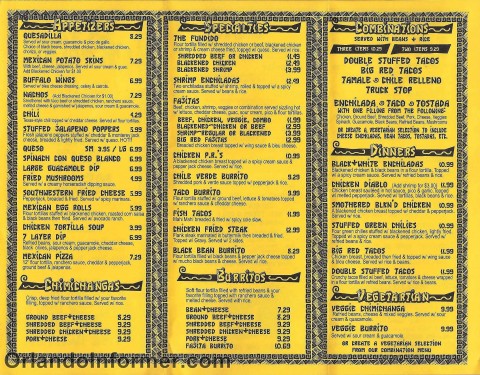 Our server told us that their specialty is the Fundido, which the menu describes as follows: Flour tortilla filled with shredded chicken or beef, blacked chicken or shrimp and cream cheese, fried, topped with queso, and serviced with rice. She said it was excellent. Indeed, someone sitting near us had it, and it did look very good.
But it was still pretty early on a Sunday so we wanted a bit lighter fare. With this in mind we ordered the fajita combo and fish tacos. (Okay, who do we think we're kidding? That really isn't lighter fare.)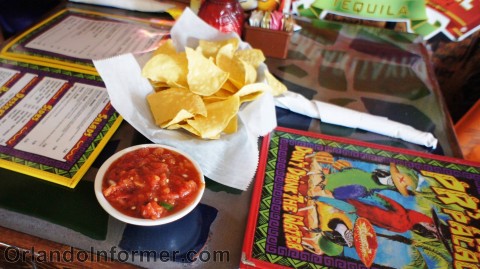 In not too long our food order was up. At this point I have to apologize. I don't know why, but my camera did not want to take decent pictures of the food. Here's the best shot I got of my fajitas: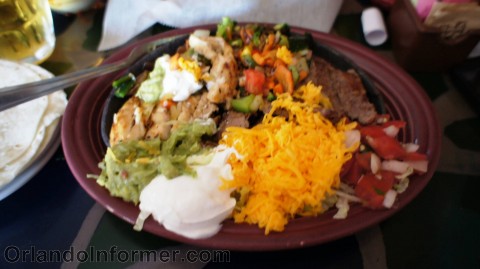 If you view it full-screen, you'll see that it is very blurry. Oh well. I don't give a flip, just like PR's.
In any case, the food was quite good. Now, this certainly isn't fine dining, but I had no complaints with my dish. In fact, my fajitas were decidedly better then the fajitas I recently ordered at Lime Fresh Mexican Grill. The fish tacos were very good as well.
So what else is there to say? We left satisfied with our meal and wanting to come back for happy hour the next day. Unfortunately I'm not exactly down the street from PR's, so I'm not too sure when I'll make it back for that drink. But I bet this place is a good time on a Friday after work.
OI tip Parking can be a little tricky here because PR's lot is so small. Take a look at their location on Google Maps. You want to go west on Fairbanks past the restaurant, take a left on New York Ave, another left on Cornstock, and a third left into the alley…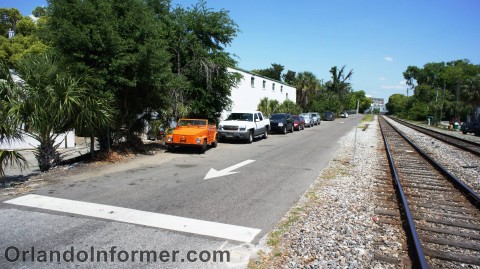 On Google Maps the alley is also labeled Cornstock Ave. I don't know if that's correct. Anyway, I'm sure you see what I'm talking about.
Guess what? PR's Taco Palace doesn't have a website. But you can learn more about them on Urbanspoon or Yelp.
Don't forget that you can view an extended photo album of PR's Taco Palace on the OrlandoInformer.com Facebook page or in ultra-high resolution on Flickr. See ya.