After nearly two years since it closed its doors, Poseidon's Fury has reopened at Universal's Islands of Adventure. 
Nestled between Seuss Landing and Hogsmeade, the Lost Continent at Universal's Islands of Adventure has been home to this popular walk-through attraction since the park opened in 1999. The experience takes guests on an archeological expedition that mixes live-action storytelling with immersive special effects. With no height requirement and a lot of air conditioning, Poseidon's Fury has decades of experience welcoming families and large parties looking for a respite in the heat of the day while also making sure that the adventure continues.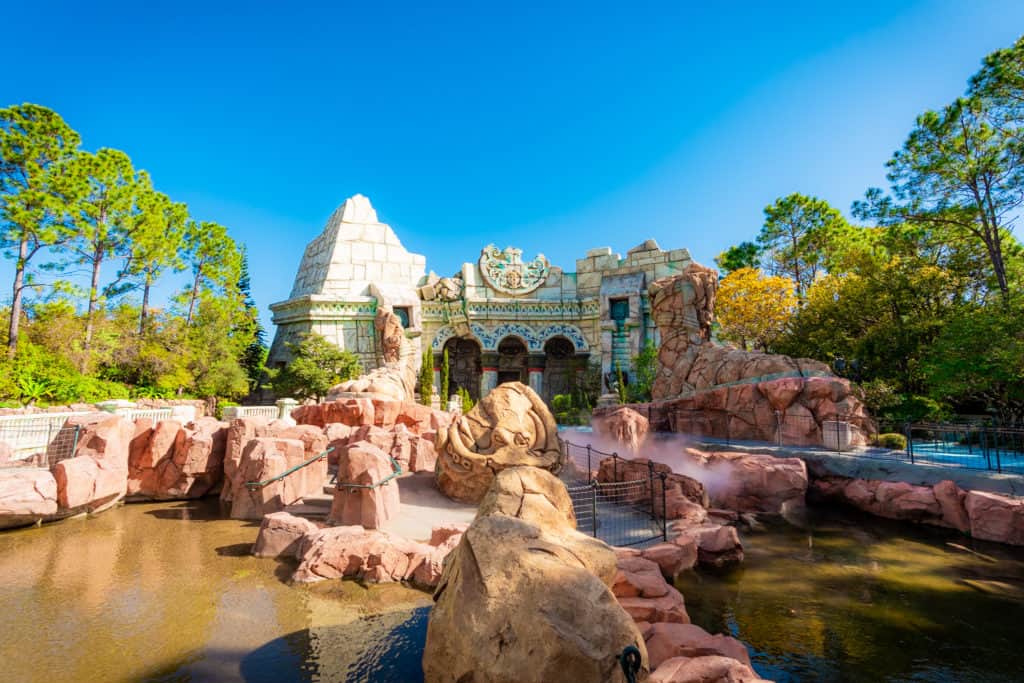 Poseidon's Fury was on a list of attractions that closed on August 9, 2020. Both Universal Studios Florida and Universal's Islands of Adventure had closed "out of an abundance of caution" in mid-March of that year and reopened 80 days later in June. Some of those attractions, such as Fear Factor Live and A Day in the Park with Barney, would sadly never welcome guests back. In August 2021, walls went up around Poseidon's Fury, and fans speculated on whether or not the attraction was undergoing a refurbishment, or if the walls meant this was the next attraction to close down as a result of the pandemic.
Our team was lucky enough to walk through the attraction today, and we are happy to report that the experience is the same classic adventure tale that we know and love! While we can't officially say if the mechanics have been tinkered with, we can say from experience that the sound, lighting, and projections seemed sharper and more prominent than in our last walkthrough of Poseidon's Fury. (Or was this just because we missed it so much?)
We're so pleased that Poseidon's Fury has reopened to once again welcome guests and invite them on one of the hallmark experiences that gives Universal's Islands of Adventure its name!
---
What have you missed most about Poseidon's Fury? Follow Orlando Informer on Facebook, Twitter, and Instagram for more tips, updates, and information on how to make your vacation truly remarkable.