What's up, surfers and thrill-seekers? These two worlds are about to collide in SeaWorld Orlando's newest coaster, Pipeline: The Surf Coaster, set to open on May 27. This attraction is already making a splash in the theme park scene as it is the first-of-its-kind in the world! We had the opportunity to catch this wave before it officially opens and are excited to divulge all the sweet deets about this totally tubular ride.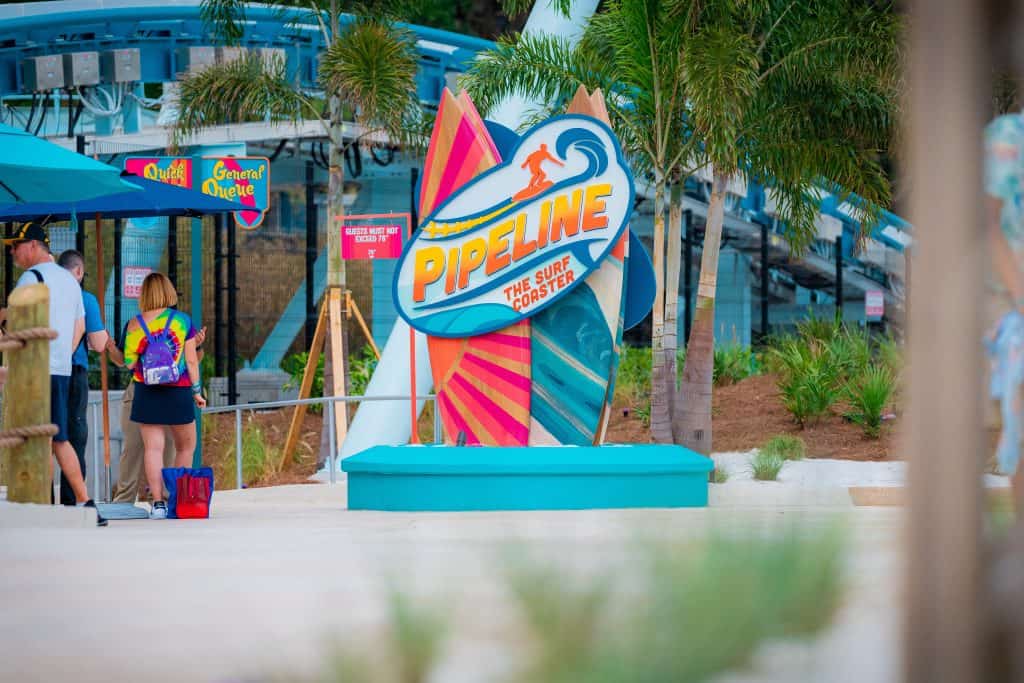 This sick coaster can be found at the front of SeaWorld Orlando, between Flamecraft Bar and Bayside Stadium. As we cruised up to this gnarly ride, we were stoked to hear beach music and spot some sweet palm trees setting the scene of the day's surf.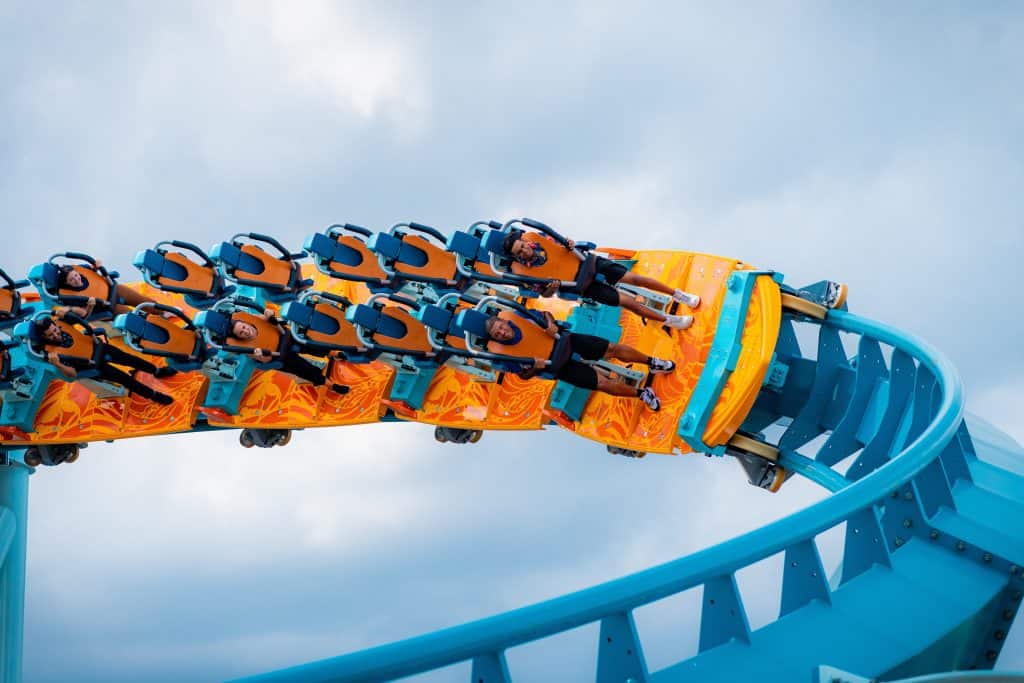 Near the queue entrance, there's a test seat to help you check your comfort level before hopping on this epic ride. Riders get to hang loose by mimicking the upright position of a professional surfer while experiencing this attraction. With this in mind, guests have an over-the-shoulder restraint, as well as a comfort collar, ensuring that you stay locked in while carving the waves. It's important to note that before you start shredding on Pipeline: The Surf Coaster – this attraction has a height minimum of 54" and a maximum of 78".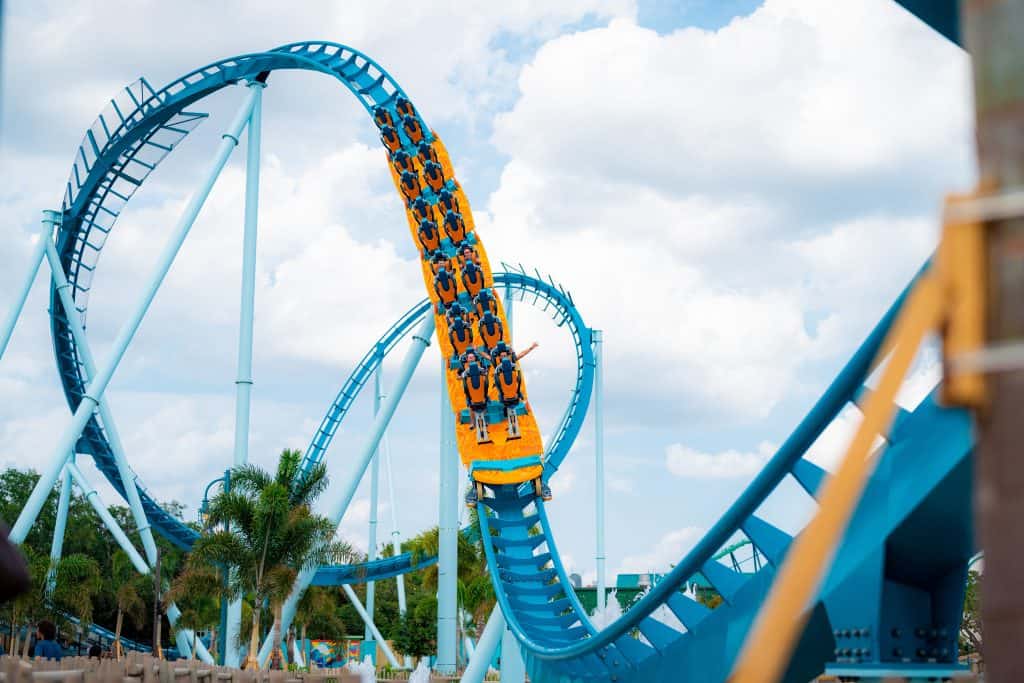 During our ride, we had about two inches of give in the restraints to totally embrace the multiple righteous airtime moments throughout this 2,950 foot ride. Reaching 60 miles per hour and catching heights of 110 inches made us feel like we were experiencing the most epic swells. To take it to the next level, there are also sick fountain effects all around that are timed perfectly with the ride, creating a totally immersive wave-riding experience.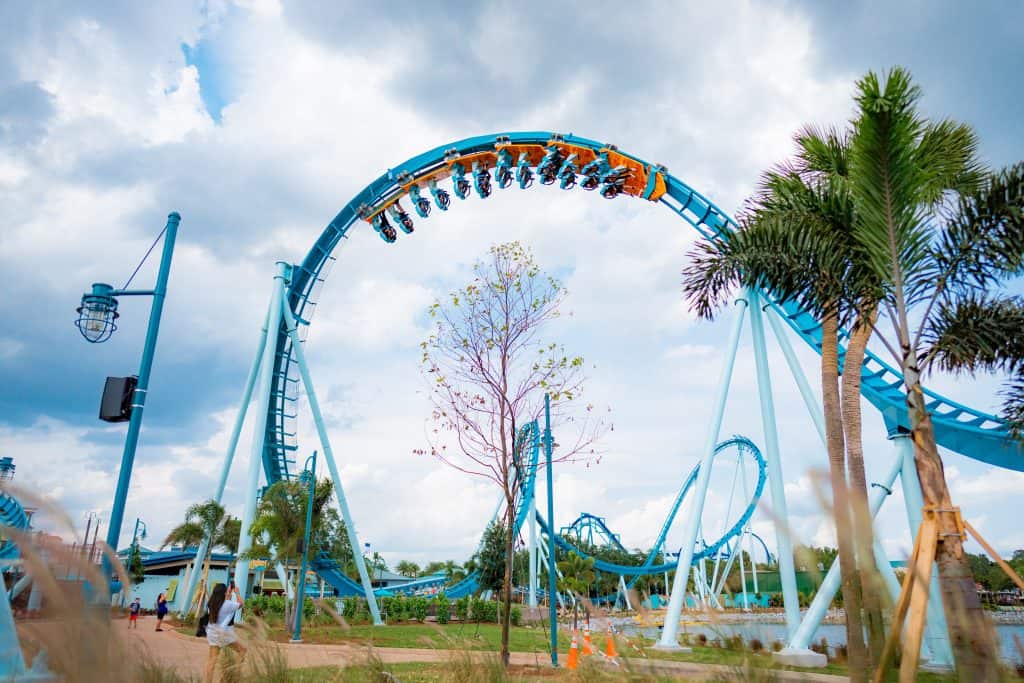 All in all, these mechanics are totally dialed in, letting us unleash our inner surfer. This sweet ride brings a whole new level of stoke to the Central Florida and it's got us pumped for whatever's next in the nogins of SeaWorld Orlando. In the meantime, we are sure you'll be itching to ride again and again like we are.
Sound like this is up your alley, but you don't want to wipe out your wallet? We offer a wave of savings on tickets to SeaWorld Orlando that you can find here.
Grab your board shorts, put on some sunscreen, and get ready to shred the gnar on Pipeline: The Surf Coaster once it opens on May 27. Purchase your tickets now and get ready for the ride of your life!