One of the best parts about having a pet is taking them on family adventures — and that includes theme park vacations. While there are many resorts, theme parks, and hotels that don't accommodate pets, this run-down will pinpoint which amenities are offered where, and how to enjoy your day without worrying over how your pet is doing. Through on-site kennels and resort accommodations, your vacation with your furry pals can be easy and exciting.
Please note: service animals are welcome inside all theme parks and resorts!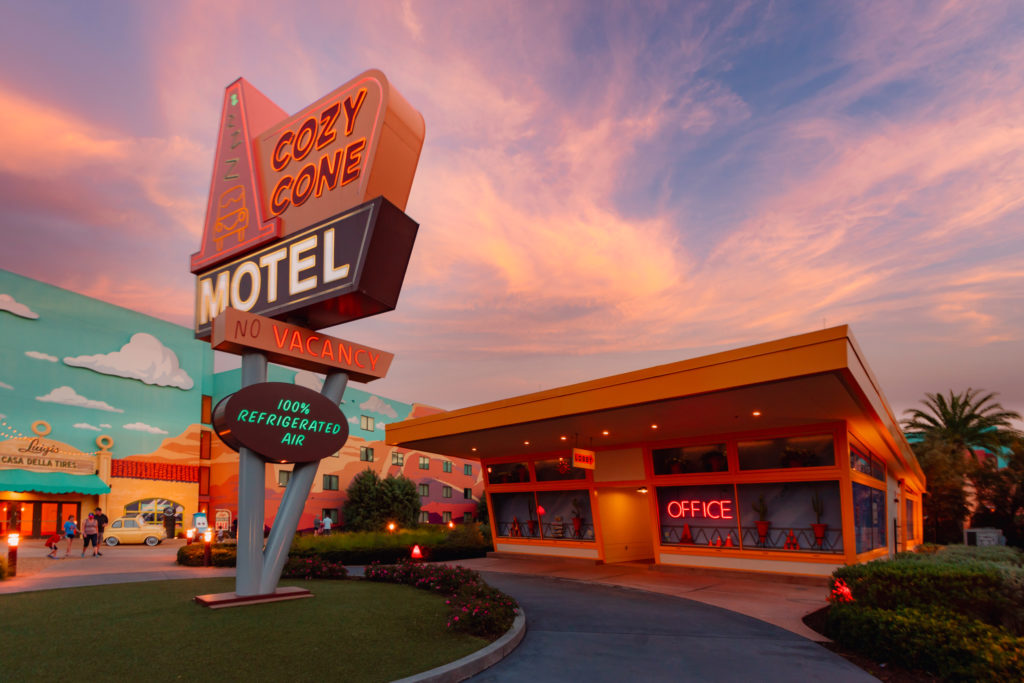 Walt Disney World
Hotels & Resorts
Requirements: Up-to-date animal vaccinations; leashed at all times; self clean-up
Additional Nightly Charge: $50 – $75
The number of Walt Disney World Resorts and hotels can be a touch overwhelming for visitors to sift through when deciding where to stay or what amenities they need. Guests with dogs no longer have to worry! When greeted, you and your dog will receive something called Pluto's Welcome Kit, a small kit filled with dog-related essentials like puppy pads, a mat, bowls, ID tags, and potty bags. You'll also receive a map of walking routes for you and your canine.
Disney's pet-friendly resorts also have relief areas for your furry pal and complimentary potty bags to use for cleaning up after your pet. You can experience designated dog-friendly floors, plenty of walking routes, and amazing views at the following resorts:
Disney's Port Orleans Resort – Riverside
The Cabins at Fort Wilderness Resort
Disney's Art of Animation Resort
Disney's Yacht Club Resort (Charges $75 per night for pet-friendly rooms)
Wyndham Grand Orlando Resort Bonnet Creek
Only two dogs are allowed per room, so pet-owners who wish to bring more pets can expect an additional room charge.
Daily Dog Care
Requirements: Up-to-date animal vaccinations; well-behaved
Daily Price Range: $30 – $299
Disney offers a magical experience for pet owners who wish to spend the day at the theme park with Best Friends Pet Care, a pet boarding and kennel service located in the Disney Springs Resort Area.
Best Friends Pet Care has everything: air-conditioning space for your pet to cool off, 10,000 square feet of outdoor play space, and a massive dog park. Not only is this facility huge, it's also staffed with 75 trained and seasoned pet experts who love animals and care deeply for their well-being. The facility opens one hour before the Disney theme parks and closes one hour after the last closing time, so there's plenty of time to pick up your furry family member for the night.
Overnight stays are available and can be booked for several days. Nightly accommodations include four different packages:
The VIP Luxury Suites include two potty walks, two playgroups, access to a television, webcam feed, bedtime story, and a bath (after three days).
The Vacation Villas have plenty of space, one potty walk, playtime with others, television, and a treat.
The Indoor/Outdoor Suites include potty walks and a quaint area to play with their toys.
Indoor Suites have the same potty walks and quaint space as the indoor/outdoor suites, without access to the outdoors – perfect for a quick, one-night stay!
Day-care options are also available with similar amenities as the overnight packages, and with easy drop-off and pick-up times. For an additional cost, pet owners may want to take advantage of the grooming services that Best Friends Pet Care offers while your dog is in their care. These grooming services include shampooing, hair trimming, flea treatment, and nail filing.
Reservations are not required, but capacity is reached quickly – and may not even be available during peak seasons. Reserve a spot for your puppy to make the most of your vacation and ensure your pet has the best time while you explore all the Disney theme parks.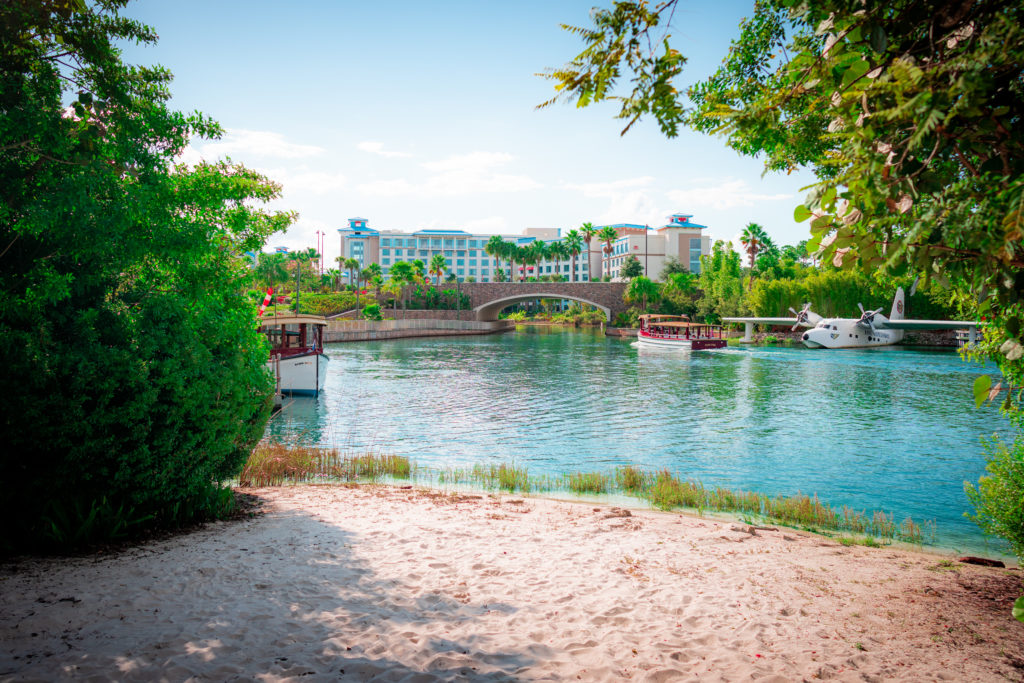 Universal Orlando
Requirements: Up-to-date vaccinations; well-behaved; leashed at all times
Additional One-Time Charge: $100 – $150, depending on the duration of stay
Pets are allowed at Loews Portofino Bay Hotel, Hard Rock Hotel, Loews Royal Pacific Resort, and Loews Sapphire Falls Resort. These resorts charge an extra one-time fee for pets, require them to be leashed at all times, and require the pets to be current on all vaccinations. These resorts also ask that your pets are well-behaved and not left unattended in hotel rooms.
Daily Dog Care
Requirements: Up-to-date vaccinations; well-behaved
Additional Charge: Dependent on the facility
In the past, Universal has run a dog kennel and boarding area for guests to let their pets rest while they enjoyed the park. Unfortunately, this kennel has been closed since 2021 without any indication of reopening.
However, there are still third-party options in the area. Guests can even make a reservation with Disney's Best Friend Pet Care, which sits only 20 minutes away from Universal. Alternatively, there are several kennel and dog-sitting services in the area like Universal Dog Care Orlando, which is a family-style dog-care center that runs on compassion and is located less than two miles away from Universal.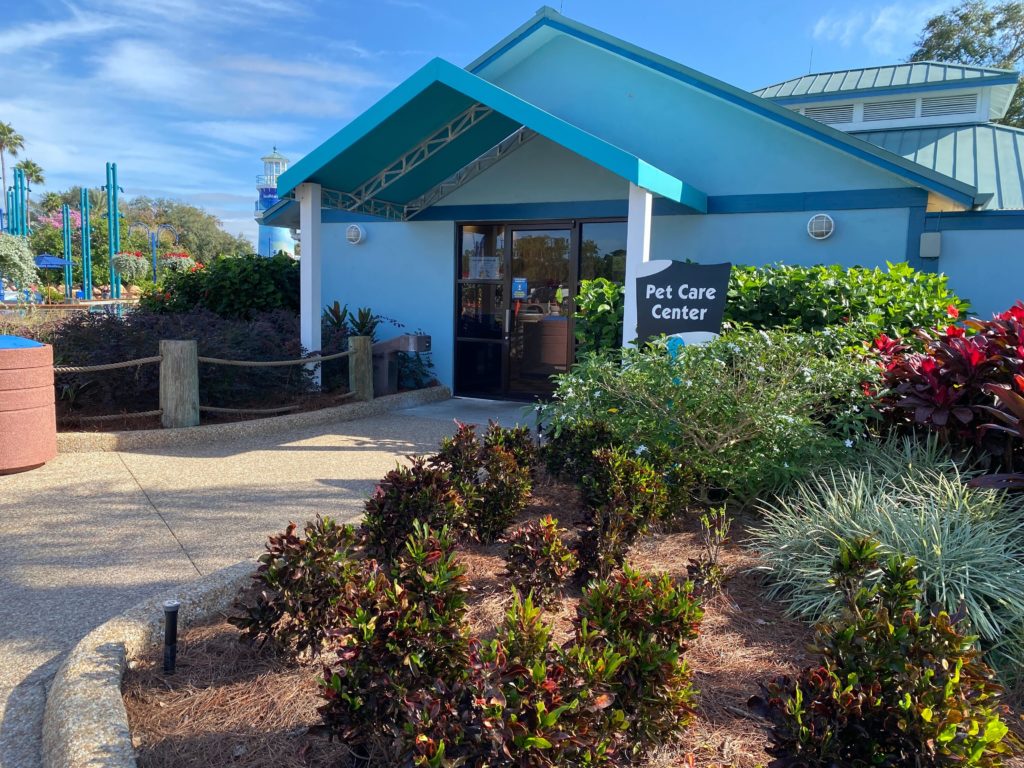 SeaWorld Orlando
Hotels & Resorts
Requirements: Up-to-date vaccinations; well-behaved; self clean-up
Additional Charge: $0 – $30
Of the many SeaWorld Resorts, two of them are pet-friendly and one even has no fees or deposits for a pet-friendly room.
DoubleTree by Hilton Orlando at SeaWorld has many amenities, including two massive swimming pools, food service, and pet-friendly rooms. At this resort, pets can be no more than 70 pounds and medium-sized. DoubleTree charges a $30 non-refundable fee for their pet-friendly rooms, but this price is certainly worth the beautiful walkways and views that the resort comes with. While reservations are not mandatory, you may want to call ahead and reserve a pet-friendly room as they tend to go quickly during peak season.
La Quinta Inn and Suites in Orlando is an ideal location for SeaWorld goers as it has no deposits or fees for bringing your pet! In a similar fashion to other Orlando resorts and attractions, a current vaccination record for your canine may be required, as well as cleaning up after them and maintaining their good behavior. Call ahead to reserve a pet-friendly room!
Daily Dog Care
Requirements: Up-to-date vaccinations; well-behaved
Additional Charge: $10 – $15 per day
SeaWorld Orlando is one of the premier locations for animal care, so it's no surprise that this park has a pet kennel just outside their main entrance. With 31 kennels ranging from small to extra-large, this facility charges a relatively small fee and is run by team members who adore animals.
Guests are responsible for bringing food and coming during the day to take their pets out for walks at the designated pet-relief area right next to the facility. Guests are also responsible for cleaning up after their dog in this relief area and may be asked to prove their current veterinary record before being boarded.
Keep in mind that this facility closes thirty minutes after the park closing time. Reservations are unavailable and kennels are rented until capacity is reached.
For many, dogs are an integral part of the family vacation. We hope this information has helped you include your pet in your future vacations and theme park adventures.
---
How about an unforgettable vacay with your furry family member? Follow Orlando Informer on Facebook, Twitter, and Instagram for more tips, updates, and information on how to make your vacation truly remarkable.