Come and explore a new land full of alien life, from the local inhabitants to the winged creatures that soar the skies. We take part on a journey as tourists with Alpha Centauri Expeditions (ACE) on an exploration trekking through a truly-alive landscape, overwhelming the senses and finding magic hidden in the unexpected while learning from the inhabitants about the natural world they live in. Come and join as we preview Pandora: The World of Avatar at Disney's Animal Kingdom.
Sound
Pandora is a land that is truly alive, a wondrous being that captures your heart with its loving song – the sounds of all living things co-existing in the utmost harmony, creating an electric energy. Pandora began calling before even setting eye on its beauty. It was the Na'vi shaman's chanting that first spoke intense prayer and connection to the land and that filled the surroundings. Once granted entry to the alien planet, the sounds began changing and layering upon one another. The creatures began creating a melody of croaking, chirping, and pecking, all heard through the rustling of the bushes.
Venturing deeper, the breath of the flora began to gurgle and rumble before erupting a foggy gas, with drums shaking the earth and the shy whisper of trees above as the breeze rushes through them joining in. Unfamiliar animal cries are heard in the distance, and the song of Pandora takes play.
Sight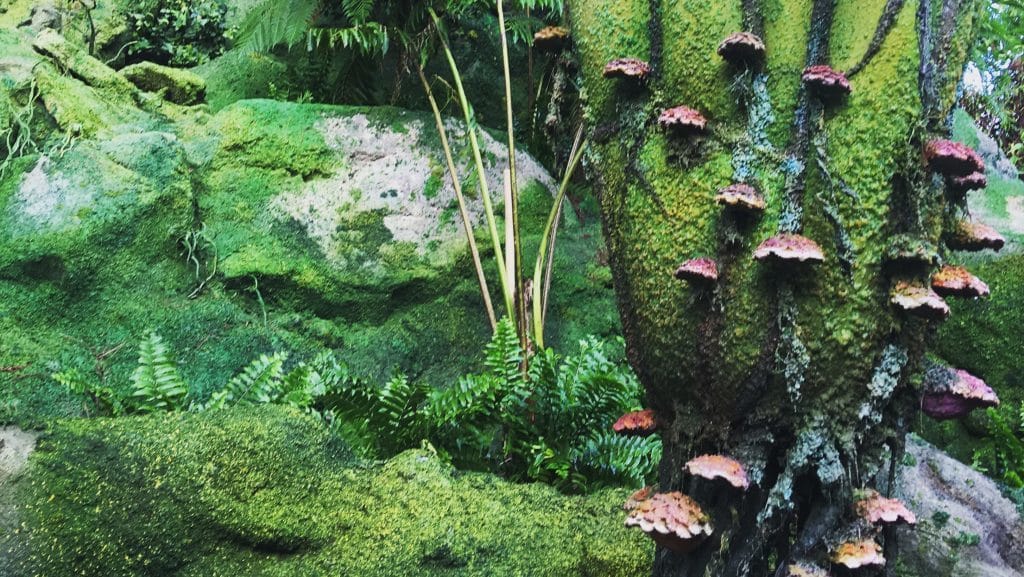 The vista of Pandora is one that is unimaginable, from the majestic floating Hallelujah Mountains of the Valley of Mo'ara with their cascading water to the vibrant brush that paints a rainbow around the land. Green-, blue-, and purple-hued mosses climb the rocks, creating a stunning backdrop for the beautiful flowers this land is home to. Fog hovers over plants as they exhale and glow, and the ground beneath our feet is covered in a chromatic algae-like moss that spreads across the entire land.
Once night falls, the bright colors take on a fluorescent, glowing appeal. The drums situated in the middle of the valley reverberate waves of light that seep into the ground, demonstrating the true connection of all living things.
But the living things are not the only items that are seen. Many sculptures made by the Na'vi grace our presence, telling stories of their land – along with some debris left behind by the war years prior.
Smell
The dewy aroma that first hits you when arriving at Pandora is a mix between a fresh-cut lawn and the smell after it rains on a warm day; however, the scents here change. Some are sweet from the flowers that produce them, while others are foul gases that smell as though they came from pockets in the earth, much like a sulfur spring. Others are so natural that you don't even notice them until you realize you are smelling something that is actually man-made, without a natural scent belonging to it. The thought Disney placed into creating this world and going to the lengths of changing its aromas is something that is extremely impressive and illustrates its urge to compete with other immersive theme park lands.
Touch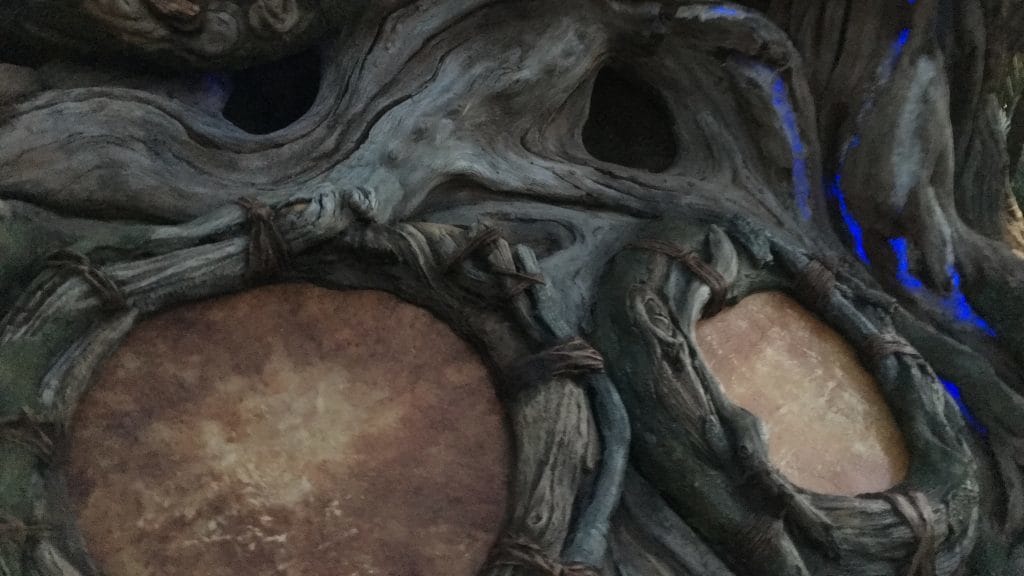 The texture of Pandora vastly ranges from prickly to smooth to rough and bumpy, with some slimy and soft mixed right in. Touching is strongly recommended, as much on Pandora is interactive. A large flower sits near the entrance to Pandora possessing large, bumpy areas that, when applied with pressure, release gasses. Another great interaction is the drum circle, having not just smooth drums to hit, but also rigid shells and other items that sing when you turn them. The rocks around the land are rough, and the roots to the trees that offer a place to sit are smooth and each unique in their own way.
The feeling of Pandora is a foreign one, and that is how it should be – since we're merely visitors here for the journey – and Disney has done a phenomenal job with reinforcing that message.
Taste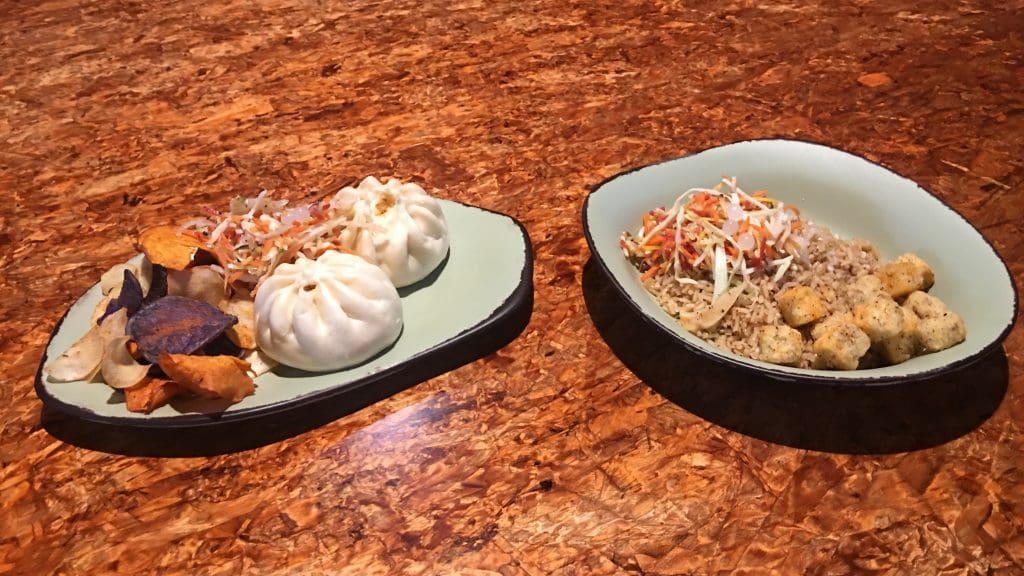 The cuisine available in Pandora: The World of Avatar is not at all an afterthought. The theming to this fresh cuisine is a true expression of Na'vi culture and a key way to how Disney is integrating the immersion into all facets of the land.
The main eatery in Pandora is Satu'li Canteen, a fast-casual restaurant that serves breakfast, lunch, and dinner. The big show-stopper here has to be the steamed pods, which are Boa Buns, a type of Chinese steamed bread with a filling. They are prepared in a multitude of ways, from the Breakfast Pod, with eggs, cheese, bacon, and spinach, to a Cheeseburger Pod, full of ground beef, ketchup, mustard, cheese, and pickles that tastes just like a McDonald's burger (so, parents, don't think the kiddos won't like it). There is also a more adventurous option: the Vegetarian Pod, filled with a vegetable curry.
Another highlight is the bowls, which feature a wide variety of customization, including chicken, beef, fish, or tofu. The protein is served over your choice of base (potato hash, wild grain, rice, etc.) and a sauce, giving this option a fun, almost unique element to appeal to all taste buds.
Just as with some of the newer Walt Disney World restaurants, it is a breath of fresh air to see that Satu'li Canteen caters to a wide variety of customers while providing an opportunity for your meal to be just as much a part of the experience as the land itself is.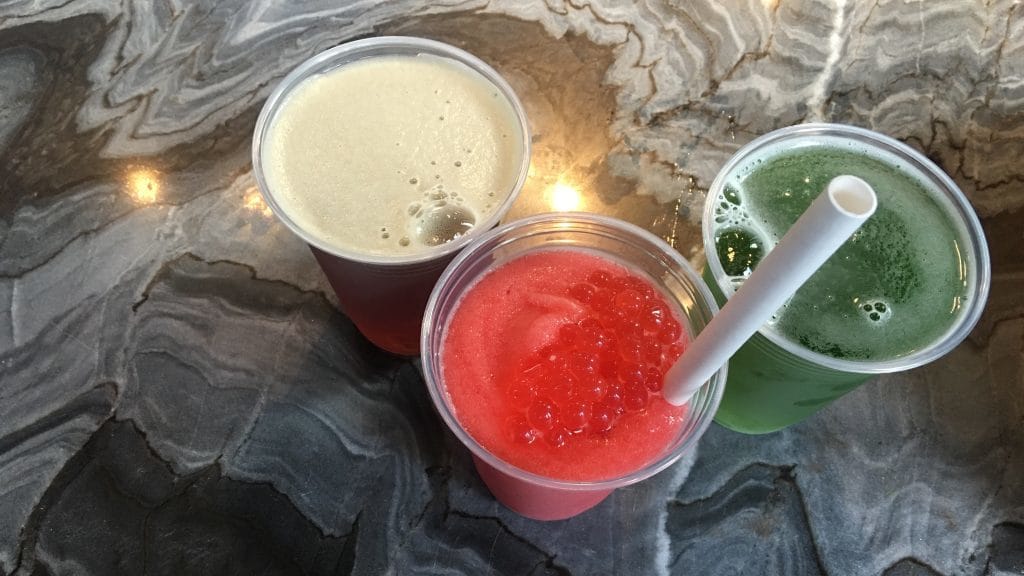 Accompanying the main restaurant is Pongu Pongu, a drink stand located near the Windtraders gift shop. This stop is a one-of-a-kind watering hole that serves alcoholic beverages that range from glowing, frozen cocktails to a specialty fruity, hoppy, draft green beer. The specialty drink here is the Night Blossom, a non-alcoholic lime, apple, and pear frozen drink topped with passion fruit boba balls, as well as its alcoholic counterpart, the Mo'ara Margarita, a sweet strawberry and blood orange frozen margarita topped with strawberry boba balls. This sweet spot also has a yummy sidekick, the Pongu Lumpia, a pineapple cream cheese-filled spring roll that I like to think is a nod to the classic pineapple Dole Whip.
Na'vi River Journey – awaken the senses during a nighttime adventure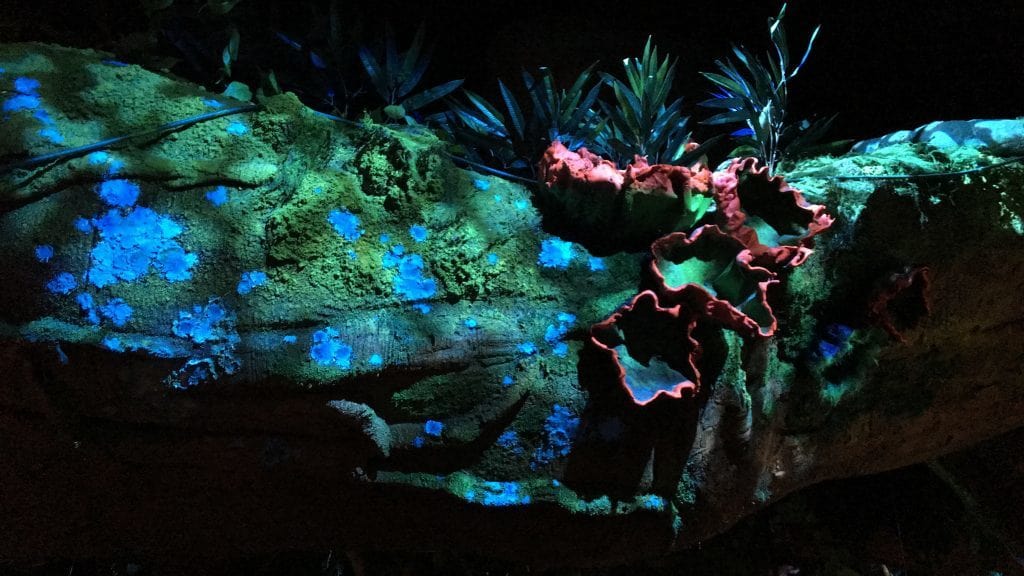 Pandora is a world that becomes even more alive at night, as nature dresses up in neon, bioluminescent colors that enchant the eye. This is something you won't want to miss, and seeing that not all guests may have the opportunity to experience what the land has to offer as night falls, Disney has thankfully made Na'vi River Journey available at any time of day.
This is one of the most beautiful boat rides Disney has to offer. It begins by boarding into reed boats and floating off into a dark jungle that soon becomes alive with the sounds of Pandora's song and the sights of the beautiful bioluminescent colors, as weightless creatures float above head and larger ones roam the land. The jungle truly become more alive at night.
A canopy of leaves allows for a playful show between a few reptiles and rodents, as each of their movements is lit up by the leaves beneath them. The attention to detail is amazing, and the overall experience is a calm, relaxing look into what a night in this alien jungle is like. Nearing the end of the ride, Disney has outdone itself with an amazing Na'vi shaman audio-animatronic – it's hard not to be in awe of how real she appears.
Na'vi River Journey is a true Disney dark ride and a great addition to Animal Kingdom for the whole family to enjoy together.
Avatar Flight of Passage – a sensory ride that will change the future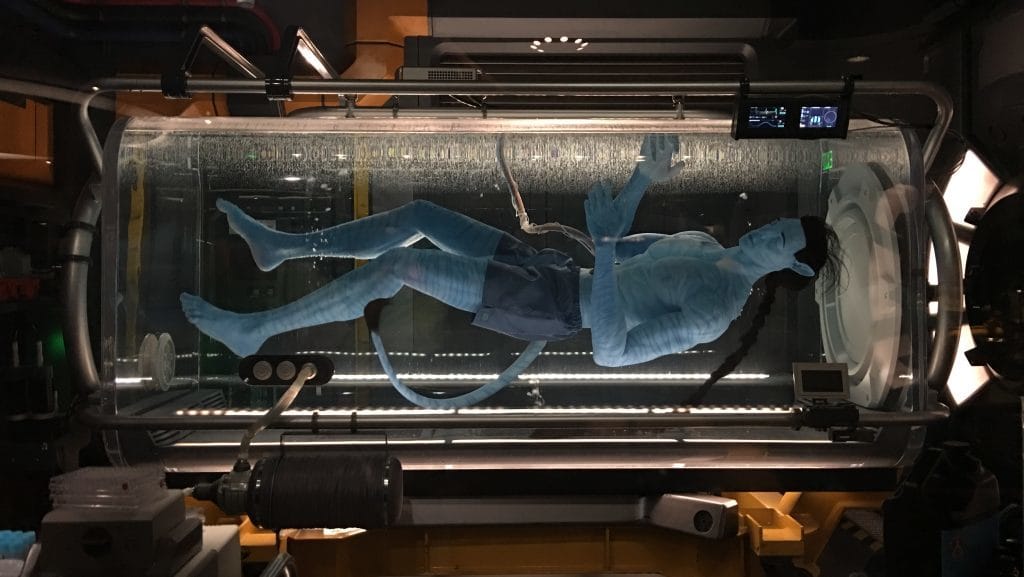 Now for the ride we have all been waiting for and the finale that steals the show.
Years have gone by since sitting in the theater and being immersed in a new world where the magic of alien life and the creativity of James Cameron transported us to a new planet, where 10-foot-tall blue creatures soared over floating mountains on what appeared to be a mix between a prehistoric bird and mythical dragon. We now find ourselves to be fortunate enough, thanks to ever-improving technology, to have the same experience – but now far more personal.
While other theme parks have taken movies and transitioned them into real-life experiences before, The World of Avatar's most unique attraction has virtually nothing like its kind to compare it to.  Calling this a ride is an understatement; this was an experience that provoked emotions that I have never felt on a "ride."
Guests are matched to an avatar and then have the ability to have a right of passage by flying a banshee, also know as an Ikran, through the world of Pandora. There is not a huge storyline with dramatic chains of events – this is simply an authentic and genuine glimpse into one of the most exhilarating parts of Na'vi culture.
Flight of Passage causes you to forget that this is a fictional scenario; you truly feel this is a real experience, just like skydiving or wind surfing. You board the ride seat just like getting onto a bike, in an awkward, straddling position. The very first thing you notice is the warm seat beneath you, followed by the vibrating and moving of the leg, back, and chest rests. You quickly realize this is a ride that will fool the senses.
You put on your pair of 3D glasses and a connection is made with your avatar. Just like that, you are in Pandora, feeling the banshee breathing beneath you, and you're off, soaring the skies of an alien planet. The wind crashes against your cheeks, and the sweet, sweet aromas fill the air, and the mist from the waterfalls splashes against your face, causing you to forget that this is a ride. The smile and laughter are unshakable, as this is one of the most exhilarating and beautiful experiences one can have. The flight takes you on a journey through the eyes of the Na'vi, and the beauty of this world is unparalleled to that of Earth. You can feel the sun shining on your skin and the water from the ocean splashing against you. The emotions felt on the ride brought me to tears just by its beauty. This is an attraction that will never get old, and one that is worth traveling to this park just to ride.
Disney has just changed theme park history. For a technology to have the power to provoke such emotion and create a simulated, believable reality is genius, and it will change the face of the themed future.
–
Learn everything there is to know about Pandora: The World of Avatar in our complete guide.
And for continuing coverage of Disney's magical new theme park land, be sure to follow Orlando Informer on Facebook, Twitter, and Instagram.