It takes a lot to plan a family trip of any kind, much less one to one of the most popular theme parks in America. As such, we've compiled our expertise and wisdom to create a list of our top recommendations for when you visit SeaWorld Orlando.
1. Plan in advance
It seems obvious, but fewer people do this than you'd think. In short, it means to continue doing what you're doing – read the literature, scour our website, and buy tickets early. Doing this will also mean you can see what deals SeaWorld currently has going on, and they usually have something going on. You can check out our deals page to get the best bang for your buck. This will be sure to be the best way to save you and your family money, allowing you to spend your savings on things when you get to SeaWorld Orlando, and not before.
2. Wear comfortable clothing
The Florida sun can be unforgiving to say the least, so it is important to wear a comfortable outfit for your day at SeaWorld Orlando. We rely on quick-dry clothing, comfortable shoes, and (sometimes) a change of socks. If we're being honest, our favorite shoes are Tevas. We prefer the open-toed shoe options at a park like this, where water can be found throughout. That being said, we do completely warn against flip-flops of any kind. A long day on shoes like that makes for tired feet and ankles at the end of the night – or worse, calling it an early day!
3. Check the forecasts
The weather in Central Florida can be unpredictable and beastly. We've devoted an entire guide page to it so that you can research what to fully expect on a month-to-month basis. The other forecast we would take into consideration is the crowd forecast. SeaWorld Orlando has a number of shows and attractions, but boasts only six major rides to thin out the thrill-seekers. The time of year you decide to go has a great impact on your trip overall. We recommend visiting during slower times if possible, primarily avoiding the summer time and any time around holidays. Of course, these times are busy for a reason, so if it isn't possible for you and your family to spend time at SeaWorld during the off-season, we recommend you consider purchasing Quick Queue (SeaWorld's fast pass) to make your day a little easier.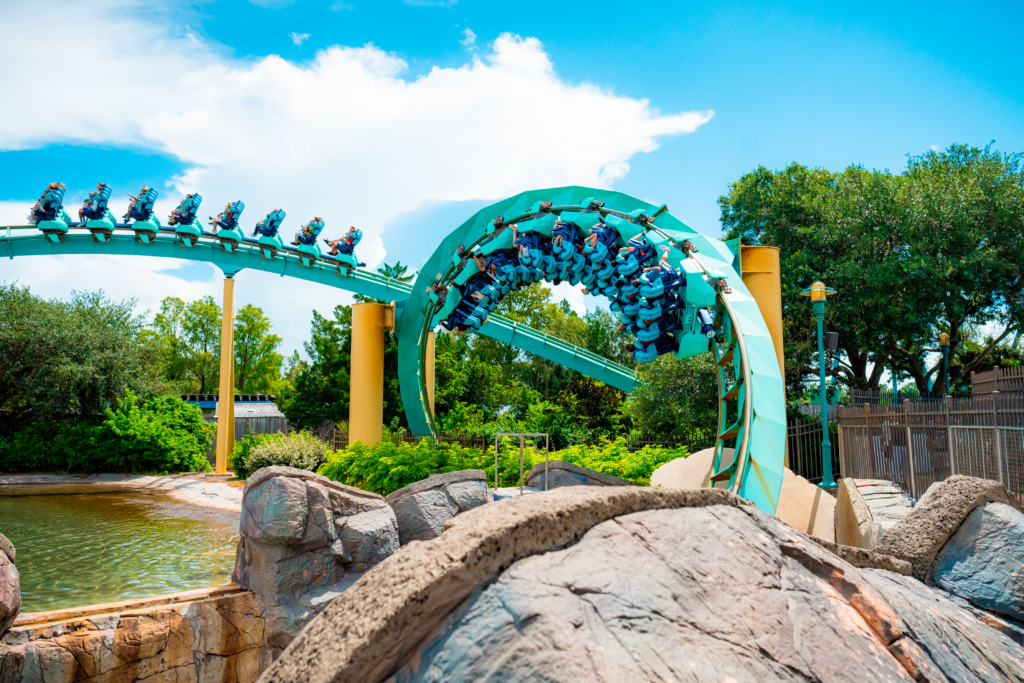 4. Use a multi-use locker instead of single-use
Honestly, if you can get away with not using a locker during the day, that is what we recommend doing. If you've got a little one in your party, you already know that strollers make great transportation and storage mobiles. The cost to rent a single-use locker is $2, but the cost of an all-day, multi-use locker is only $8. If you plan on doing all six of the major rides, then this is easily the deal to use. Here's how the multi-use locker system works:
When you arrive at the locker, select "rent multi-use locker" button at the station
You will be prompted to create a passcode
When you're ready to go to another ride, press "end rental" located below the locker keypad
When you arrive at the next locker you want to use, press "move multi-use locker"
Enter your passcode again and move on to your next ride!
These locker systems will allow you to enjoy each ride with the peace of mind that your items are safely stowed away. We highly recommend you utilize the lockers – don't bring anything with you! You can see other guest items on the nets under each roller coaster if you need validation that storing your personal items is the right move.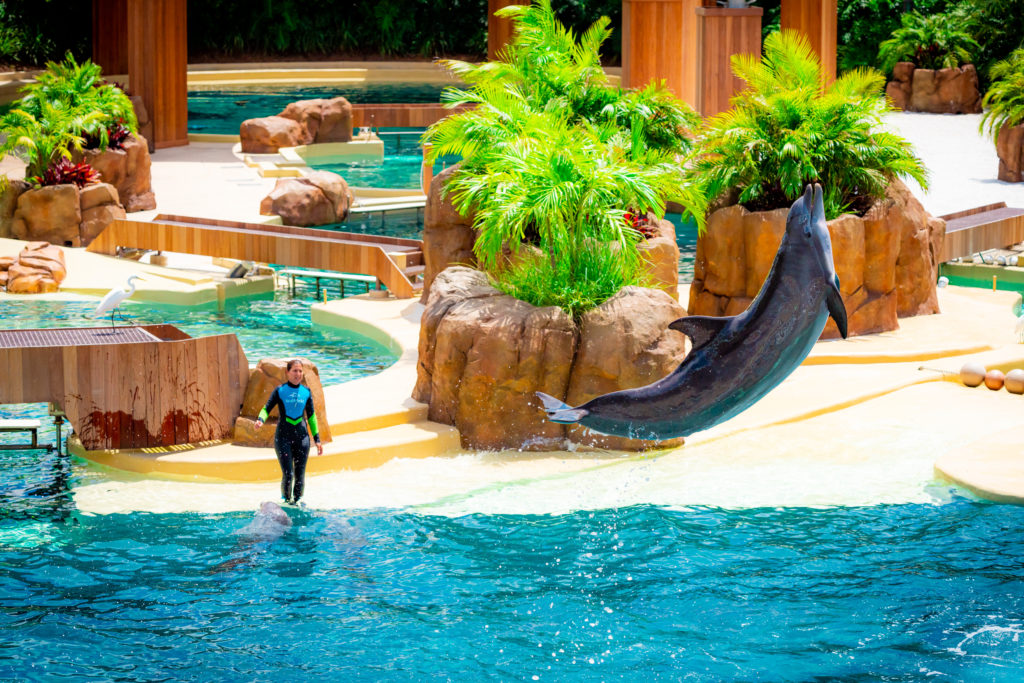 5. Arrive early
This piece of advice goes for shows or for the park in general – just get there early. It will make your entire day easier. We find that the potential for our whole day increases when we get to the park as soon as it opens. Crowds are thinnest, the day has yet to heat up, and there's plenty to do. As for shows, we recommend getting to the show at least a few minutes before it starts, but certainly arriving 30 minutes beforehand on peak days. This will guarantee that you have somewhere to sit, but if you want to secure specific seating, we recommend arriving between 20-30 minutes before major shows and entertainment, especially if you want to find seating in the soak zone at Orca Encounter.
6. Consider the all-day dining plan
SeaWorld Orlando has some great dining options throughout the park (but it should be noted that most of these aren't fully open until noon). One way you can save some real dough if you have a hungry bunch is to participate in the All-Day Dining Program, which is about what it sounds like. We also offer tickets that include admission and all-day dining. You can read more about all that in our guide page here.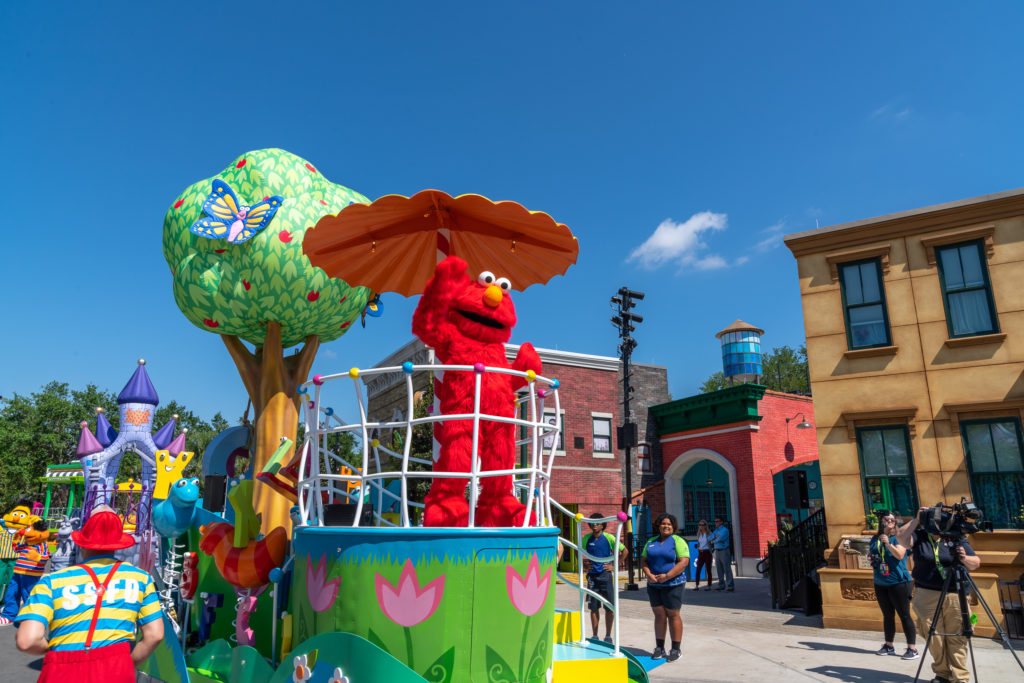 7. Don't overlook Sesame Street Land
Even if you don't have little ones, Sesame Street Land is one of the most fully immersive and beautiful places in the park and is deserving of at least a stroll. If you watched the series at all growing up, this stretch of the park will bring back memories and real nostalgia. You can meet with all your favorite characters – Elmo, Cookie Monster, and Big Bird – and enjoy some special treats that can be found only in Sesame Street Land at SeaWorld Orlando. These characters and more are featured in the Sesame Street Party Parade, a parade with beautiful colorful floats and a dance party. If that weren't enough, it is in this area of the park you can find Quiet Rooms, as Sesame Street Land is a Certified Autism Center. This part of the park also has specialty-trained staff that can help guests and children with special needs.
8. Bring portable chargers
A full day at the park, taking pictures, looking up information, and sending snaps to friends will zap your battery (not to mention the fact that if you have your phone out in the heat it runs much less efficiently). SeaWorld Orlando has you covered here – throughout the park you can find a number of shaded benches. These areas are great places to take a step out of the heat and let everything – people included – recharge for a few minutes. Once you've refueled, carry on with your adventures!
9. Don't forget about special events
SeaWorld Orlando also frequently hosts a number of events throughout the year to keep the party going. You can check out our guide page on all the events to see if any line up with your visit. From St. Patrick's Day to Howl-O-Scream, the festivities range from kid-friendly events to more adult-focused outings. No matter what, they're fun, and many of them are included with park admission.
10. Download the app
The park app is the new park map – in addition to telling you where you are in the park, the app also provides showtimes, attractions, ride information, height requirements, and anything else you might need to know in order to make your day a successful one.
Bonus tip: Talk to the ambassadors!
SeaWorld employees (called ambassadors) are specially-trained to answer questions about animals. So for example, if you are watching the penguins at Antarctica: Empire of the Penguin, you can ask the nearby ambassador any question to learn more. The same goes for many of the animals featured around the park: whales, dolphins, and sea lions alike. We find that these discussions really enhance our overall experience of the day, and leave us appreciating the central mission of SeaWorld Orlando: to inspire conservation efforts for wildlife around the world.
We hope these ten tips make your day at SeaWorld Orlando a great one! With so much to do and so much to see, we guarantee you'll want to make the most of your visit.

Looking for SeaWorld Orlando tickets? Check out Orlando Informer Tickets! You can also discuss vacation planning with our SeaWorld Community on Facebook!