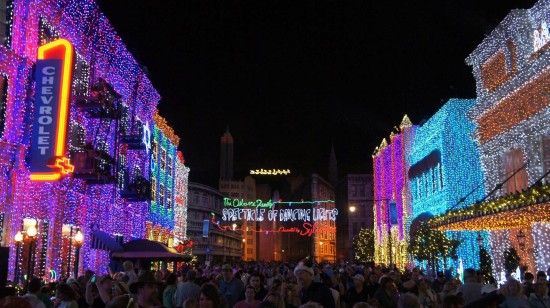 Even though it has been open for almost a month, we finally got over to Disney's Hollywood Studios and the 2011 Osborne Family Spectacle of Dancing Light. For the uninitiated, here's a summary from Disney's website:
The Osborne Family Spectacle of Dancing Lights on the Streets of America at Disney's Hollywood Studios theme park is a breathtaking seasonal display featuring millions of glittering lights perfectly synchronized to holiday music.

The lights are so extensive you may find it hard to comprehend their magnitude. Entire buildings are blanketed in sheets of multi-colored lights, and thousands more lights form twirling carousels, heavenly angels, and even Santa and his reindeer. Approximately every 10 minutes, the lights dim and then dramatically spring to life — dynamically choreographed to traditional holiday music. You have to see the effect to believe it!

Some nights, if you truly believe in holiday magic, the show is capped off with an enchanted flurry of snow.

The Osborne Family Spectacle of Dancing Lights started modestly in Arkansas as a single home's annual display. Every year, Jennings Osborne and his family set up an elaborate collection of holiday lights and over the years, the collection of lights grew, and grew… and grew! In 1995, the Osborne family decided to share their magic with the world, and Walt Disney World Resort happily offered to become the new permanent home for this exceptional exhibition of holiday cheer.
The whole thing really is a sight to behold. How in the world a group of people have the patience to put up all those lights and synchronize them with music is beyond my comprehension.
Anyway, check out my HD video and short photo tour below. Enjoy, and happy holidays!
2011 Osborne Family Spectacle of Dancing Lights – HD video
Click the play button to start the video. Note: Our videos do not stream in HD by default to ensure fast performance. If you would like to view the video in HD, start the clip and then adjust the bitstream to 720p or 1080p.
[youtube_video]vg6LJaAxLBE[/youtube_video]
2011 Osborne Family Spectacle of Dancing Lights – photo gallery
Click any image to view it full-screen. When the full-screen image is open, click to the right to advance through the gallery. If several thumbnails are missing, try reloading this page in your browser.