UPDATE (9:41 am, 06.22): Disney has unveiled its calendar of Walt Disney World Resort hotel openings. You can find the full details below.
After closing the theme and water parks of its Universal Orlando Resort back on the night of Sunday, March 15, Universal started to reopen them all on Monday, June 1. There's something of a catch, however: the first two days were only an internal opening for team members (and their invited guests), allowing the company to gauge the effectiveness of its new safety measures. Attendance was then expanded to a limited number of annual passholders on June 3 and 4, with the general public finally being admitted on Friday the 5th. (For more, see our comprehensive write-up here.)
Those plans had to go through a long process: they were first delivered by Universal to the Orange County Economic Recovery Task Force on the morning of Thursday, May 21, which approved and passed them on to Orange County Mayor Jerry Demings; he, in turn, gave them his stamp of approval the following morning and sent them along to Florida Governor Ron DeSantis's desk. This results in Universal Orlando being the first major theme park in the United States to open back up after the onset of the COVID-19 pandemic (although we should point out that LEGOLAND Florida, during this same time period, obtained permission from both Winter Haven's mayor and the Polk County Commission to fully reopen on Monday, June 1).
(Wait just a second – what is the Orange County Economic Recovery Task Force? It was created by the county on April 17, as Florida was roughly halfway through its almost-month-long lockdown, to "establish a phased approach to reopening businesses that balances the need to ensure the protection of employees and the public while preserving the economic livelihood of the community.")
This development caps a long, convoluted process that began quite unexpectedly back in the middle of March, when the country was first realizing the lethality of the novel coronavirus and its unimpeded spread around the world. Universal quickly shut down its parks on March 15, followed by CityWalk on March 17 and its hotels on the 20th (thereby allowing guests to make new accommodations, if necessary). Originally expected to just be a two-week closure, it didn't take long for it to extend on for months – the parks and resorts were ultimately given a new provisional reopening date of Monday, June 1, with CityWalk actually going ahead and bowing on Thursday, May 14.
The premiere of Universal Orlando's dinning/shopping/entertainment complex started small, with just a limited sliver of restaurants, stores, and entertainment offerings present – though Universal was so happy with that first day's results, it quickly added on more venues for the next day. From there, it's almost been like a sprint to the races: on Wednesday, May 20, at the same time Disney was opening Disney Springs's doors, Universal had Orlando Mayor Buddy Dyer over at its parks to discuss new potential safety measures for their reopening. That, of course, was followed the next day by both LEGOLAND Florida and Universal Orlando's new proposals to the local and state governments.
A week later, on the morning of May 27, during the Economic Recovery Task Force's next meeting, SeaWorld and Disney submitted their own reopening plans. On June 10, SeaWorld reopened SeaWorld Orlando for employees only, with June 11 kicking off the general public's admittance; Disney staked out the dates of July 11 for Magic Kingdom and Animal Kingdom and July 15 for Epcot and Hollywood Studios. (Having been approved by the task force, they followed the same path as Universal's petition, first making their way to Mayor Demings and, then, over to Governor DeSantis, who both approved them.)
How are the parks different now that they're reopening?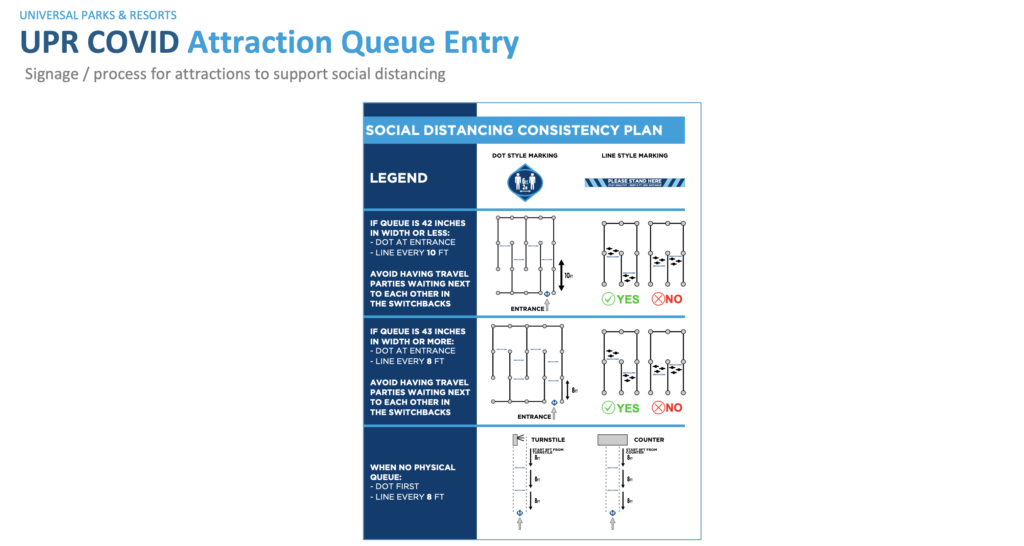 Unsurprisingly, all of the Central Florida theme-park operators – LEGOLAND, Universal, SeaWorld, and Disney – are drawing heavily from the CityWalk and Disney Springs reopenings here in Orlando, as well as Shanghai Disney Resort's March return to operations, to boot.
Let's take this one step at a time and focus specifically on Universal Orlando, which is emblematic of across-the-board changes:
Resort hours: starting on June 5, both Universal Studios Florida and Islands of Adventure will be open from 9:00 am to 6:00 pm. Volcano Bay's hours, meanwhile, will be from 10:00 am to 5:00 pm, and CityWalk's, 8:00 am to 10:00 pm.
Please note that a reservation to enter the parks isn't required, but their capacity has been limited (at 35% of total occupancy, to start).
Parking at and entering the resort: valet parking continues to be suspended, and cars continue to be spaced out in the garages. Temperature checks proceed (if you have a fever of 100.4 degrees or higher, you won't be allowed to enter), as is the practice of providing one free disposable face covering if you forget yours at home (oh, yeah – those masks are still mandatory, as well). You'll also notice that all those social-distancing markers and signs from the dining and shopping district are now present across all three of the parks.
Entering the theme parks: grabbing one of those trusty park guides is slightly different, as Universal no longer has them sitting out on shelves, where multiple people can touch them – instead, employees hand them out individually to those guests who'd really like to have one. (Instead of obtaining a physical map, the company has been trying very hard to steer you towards using its official app, which has a digital map built into it.)
Experiencing the attractions: depending upon the crowd flow and wait times, certain rides may utilize Virtual Line, just like Race Through New York Starring Jimmy Fallon and Fast & Furious – Supercharged already do (essentially, you use the Universal Orlando app or QR codes posted outside of the attractions to nab a return time). All single-rider lines have been discontinued, since travel parties board the ride vehicles together, as a group, with spaces being left on the seats and rows around them. And every guest must use hand sanitizer prior to climbing aboard.
Furthermore, there are a couple more odds and ends to make note of: 3D glasses are now individually handed out (just like those park maps); the misters on the various attractions – yes, that Universal staple – have either been reduced or removed entirely; locker areas have visitors pulsed into them, with the extra precaution of every other locker bank going unused; actors no longer stick around after shows for meet-'n-greets and now, instead, pose for photos on the stage afterwards; all child play areas, such as Fievel's Playland and Camp Jurassic, along with all parades are temporarily suspended; and, finally, if the ride involves "significant" amounts of water, you aren't required to wear your face mask.
Express Passes: let's talk for just one moment about something that isn't different – Universal's Express Passes. They went back on sale on Monday, June 8, but if you're staying at one of the premier hotels, you'll still get them for free. Additionally, if you're a Premier Passholder, you're still able to use your after-4:00 pm Express benefit, too.
Eating in the parks: menus come in single-use form, allowing patrons to toss them once they're done eating (or keep them as a free "souvenir"), and silverware comes prepackaged. And as at CityWalk, Universal strongly recommends using mobile order and cashless payment options, such as Apple Pay.
Volcano Bay: according to Universal, the Centers for Disease Control and Prevention "has stated that well-maintained pools using chlorine and bromine are known to inactivate the virus." Still, life vests are regularly cleaned, the quantity of inner tubes in the lazy or action rivers has been lessened, the number of riders on each raft is limited, and lounge chairs have been arranged in clusters that are spaced six feet apart for individual groups' usage. (Also, face coverings aren't allowed on the slides or in the pools.)
How are the other theme parks different? Despite being overwhelmingly similar to Universal, the other Orlando operators have a couple of different practices on the books. At LEGOLAND, for instance, cash has been discontinued as a valid payment type.
Disney, meanwhile, has said it's going to install plexiglass barriers at a lot of its cash registers, will enforce social distancing on its monorails and buses, discontinue makeovers and fireworks shows, push mobile ordering at even more food locations, and, most notably, institute a reservation system that will "require all guests to obtain a reservation for park entry in advance" (more on this in just a moment).
There are two further items at Disney World to highlight: the temperature-screening areas will be positioned right at the front gates of Disney World's theme parks, and there is a whole bevy of changes coming to the resort's shopping scene (which you can read more about here).
Finally, SeaWorld has modified certain animal interactions and has also implemented reservations for attendance for all three of its Orlando parks. You can read more about all of this here.
Disney's new reservation system
Given just how sweeping this change is across all of Walt Disney World, we've devoted a whole write-up to it. You can find that here.
What about the theme-park resorts' hotels?
Now, let's run down what Universal Orlando's seven hotels are like now that they're opened back up again. (Why only seven resorts? Because the eighth – Endless Summer Resort – Dockside Inn and Suites – got its grand opening date pushed back from March 17 to sometime later this summer thanks to the pandemic.)
All but one of the properties, Portofino Bay Hotel, welcomed guests back on Tuesday, June 2. This means that two of the premier venues (Hard Rock Hotel and Royal Pacific Resort), the sole preferred (Sapphire Falls Resort), both of the prime values (Cabana Bay Beach Resort and Aventura Hotel), and the one-for-now value (Endless Summer Resort – Surfside Inn and Suites) are all yours for the booking.
There are a ton of new regulations or safety practices, so let's start working our way through them:
Theme-park admission: Early Park Admission started being offered again on June 5, from 8:00 to 9:00 am at Universal Studios and from 9:30 to 10:00 am at Volcano Bay.
(Worried about how the hotel guests affect the strict crowd limits being enforced at the parks? Don't be – Universal has said that, should the parks hit capacity, it will give those individuals staying at the resorts priority.)
Express Passes: as already mentioned, if you're staying at one of the premier hotels, you'll still be able to receive complimentary Express Passes during your length of stay (which, as always, includes your check-in and -out dates).
Face masks: just like at CityWalk and the parks, visitors are required to wear face masks while in the hotels' public spaces, which means when traveling to and from the pools and at their attached bars and bathrooms. Once seated at the pools and maintaining six feet of distance from other travel parties, guests may take off their face coverings. (Please note that the masks aren't allowed in the water or on the slides.)
Temperature checks: again just like the whole rest of the resort, you will have your temperature checked before being admitted into the hotels (if it's 100.4 degrees or higher after three attempts, you'll be barred from entering – though the rest of your party will still be allowed to do so). If your temperature spikes to that level after you've already checked in, you'll be required to self-quarantine (Universal can provide an additional room for the rest of your party) and seek medical attention, and Universal may ask you to leave the premises, as well.
But wait – there's more. Once you clear the temp check, you'll receive a wristband for that day, which will tell the Universal team members at other locations (such as the parks) that they won't need to do so again (or vice versa – if you're checked first at the parks, you won't have to be at the resorts).
Possible amenity disruptions: Universal warns that the "availability of food service, pools, fitness centers, and other amenities may be limited due to the increased frequency of cleaning and sanitization or to comply with the latest guidelines and recommendations."
Enhanced safety practices: guests' rooms feature "enhanced" cleaning, using an "EPA-approved cleaner and disinfectant," and hand-sanitizer stations have been erected throughout the building, including at elevator landings. Furthermore, when possible, the guest rooms will be left vacant for 24 to 48 hours after checkout. And, finally, contactless experiences are prized, such as for communicating with the front-desk staff, checking out, and getting room deliveries.
To read even more about all this, be sure to see our on-the-ground write-up (with photos!).
What about over at Disney World?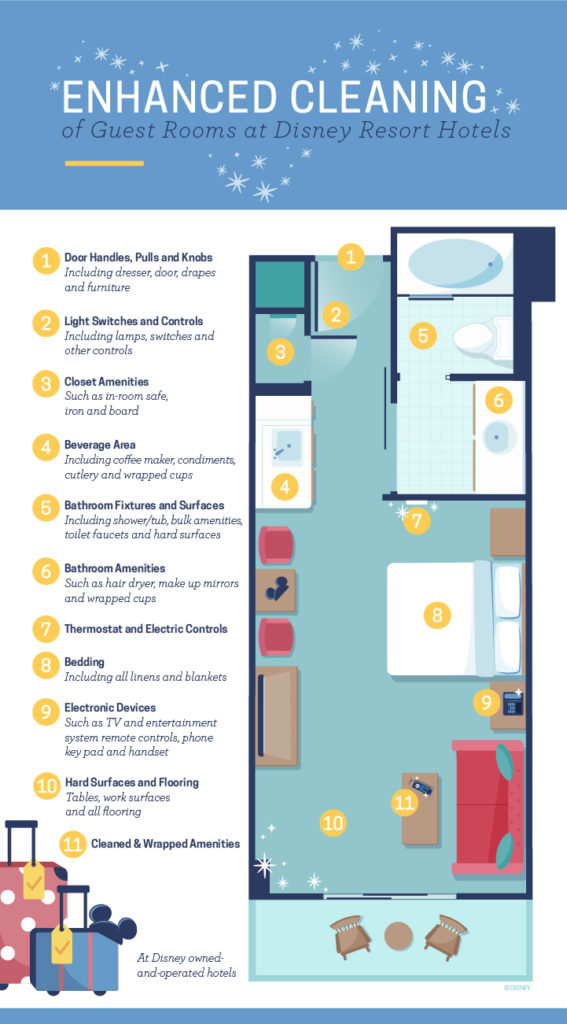 Over at Walt Disney World, Fort Wilderness Resort & Campground and the various Disney Vacation Club properties will bow on Monday, June 22 – although new reservations are currently temporarily suspended for the former, so as to allow Disney to focus on guests with pre-existing bookings. (Please note, however, that DVC members are still eligible to arrange accommodations.)
In the weeks and months following this kick-off, a number of other hotels will join the reopening ranks:
July 10 – Animal Kingdom Villas – Jambo House, Pop Century Resort, Contemporary Resort
July 29 – Caribbean Beach Resort
August 12 – Polynesian Village Resort and Art of Animation Resort
August 24 – Yacht and Beach Club Resorts
September 21 – Grand Floridian Resort & Spa
October 1 – BoardWalk Resort
October 14 – Coronado Springs Resort
As for what new practices will be mandated at the hotels, the company has listed a number that are, by this point, standard: increasing cleaning in high-traffic areas (such as elevators and restrooms), social-distancing tables at the resorts' restaurants, and expanding the number of hand-sanitizer locations. But there's also an increased emphasis on online check-in services (at certain venues, at least), and re-engineering bell services to have your luggage dropped off at your room before you set foot in it.
Speaking of your room, it'll be given an "enhanced" scrubbing before your arrival, but then limited cleaning services throughout your stay – the removal of trash, for instance, and the restocking of towels, which will occur every other day – in order to limit contact. (DVC members, we should point out, will still receive their "traditional housekeeping service.")
Can I travel to Florida right now?
A lot of individuals have expressed interest in hopping on a plane or in their car and traveling back to Orlando to visit the theme parks, but there is some confusion about whether they may be allowed to, given Governor Ron DeSantis's travel restrictions. The good news is that the order to quarantine for 14 days once setting foot in Florida is only applicable to a small number of states: namely, New York, New Jersey, Connecticut, and Louisiana (which have all been coronavirus hotspots over the past three months). Everyone else is able to cross state lines without any holdups at all.
I'd like more theme-park COVID info, please!
Sure! We'd be happy to help.
Here are the articles that we've been consistently maintaining during the ongoing coronavirus outbreak:
Walt Disney World, Universal Orlando, SeaWorld, and LEGOLAND first shut down
How to visit CityWalk during COVID-19
How to visit Disney Springs during COVID-19
How to visit Universal Orlando's parks during COVID-19
How to visit Universal Orlando's hotels during COVID-19
How to visit SeaWorld Orlando during COVID-19
How the Shanghai Disney reopening could influence its Stateside counterparts
Last updated: 12:00 pm, 06.19
–
Have questions about the phased reopening at Universal Orlando Resort's parks? Ask 100,000+ other Universal die-hards in our Orlando Informer Community on Facebook.
And be sure to follow Orlando Informer on Facebook, Twitter, and Instagram for the latest news and tips at Universal Orlando, Walt Disney World, and other Orlando destinations.