When planned correctly, wearing a cute dress on your vacation to the Orlando theme parks can be another memorable and fun aspect of your vacation. To help make the most of your trip, I've compiled some tips and ideas for wearing a theme park inspired dress on your next Orlando trip!
How to pick the right shoes
Comfortable shoes are your best friend and can truly make all the difference at a theme park. One typically plans to wear sensible sneakers to the park, but sneakers and a cute dress may not always mix. Don't let this stop your plans, as there are so many great flats out there and comfortable flip flops that are appropriate to wear to the theme parks.
Being an annual passholder to Universal, Disney, and Seaworld, I am constantly on the lookout for comfy flats. Recently I made the investment in a pair of Tieks and following breaking them in, they are the most comfortable and reliable flats that I have worn to a theme park. I highly recommend them for any upcoming trip. However, with the high price tag it may not be an option. In this case, make sure whatever shoe you decide to go with is completely broken in before wearing them to the park. Always be sure to have blister bandaids on hand, walking all day in the heat and humidity may cause blisters and it is best to be prepared.
Designing a theme park look
Now that you are prepared to conquer a theme park in a dress it's time for the fun part, deciding what look you are going for. I suggest picking a themed look for each park. The fun of planning an outfit based on the park only adds excitement to your trip. You could base a look off of a character, ride, or even a special seasonal event.
One rule of thumb is that Disney parks don't allow anyone over the age of fourteen to come in costume unless otherwise informed, such as the 24 hour event or Mickey's Not So Scary Halloween Party. This means if you want to experience the park dressed as a character you have to be a little more creative and do an inspired look. Universal does allow costumes such as Hogwarts Students to be worn in park during normal park hours unless otherwise informed; costumes are not permitted during HHN. Please refer to Disney and Universal dress code restrictions.
Universal Studios Florida
Picking a look for Universal was obviously always going to be inspired off of the Hogwarts uniform. However, with all the old Hollywood glam photo ops on Hollywood Blvd, I wanted to put a fun twist on the inspired look by adding a vintage feel with a 1950's inspired black dress. To accessorize add a house cardigan, available at both Diagon Alley and Hogsmeade, and a cute neck scarf to represent your house colors, add a pair of black knee socks and black flats to give that little extra bit of character. Last but certainly not least, the outfit isn't complete without a wand to finish the look. For another fun look I decided to go bananas with a yellow vintage 1950's inspired dress, denim jeans jacket, large round sunglasses, and yellow shoes to create a fun, minion inspired look.
Islands of Adventure
For IoA you could do a look inspired by Dr. Suess, such as a red and white striped dress for Cat and the Hat or even a look inspired by Jurassic Park. However, I decided to pick an iconic ride to inspire a look off of. What ride is more iconic to Islands of Adventure than the big green coaster, The Incredible Hulk? This look begins with a green dress with slits up the sleeves to resemble the Hulk bursting through his clothes. To complete this look, add purple accessories such as a long necklace, bracelet, a stylish pair of shades, and a pair of comfy flats.
Magic Kingdom
When thinking of the most magical place on earth, our minds go straight to Cinderella's Castle. Picking a look for this park was a no brainer. It starts with a light blue tulle skirt paired with a light blue tube top. Attach a few accessories that tell the story such as a pumpkin ring, "A dream is a wish your heart makes" Alex and Ani bracelet, statement necklace, and a pair of your very own sparkly "glass slippers."
Perhaps you want to visit Magic Kingdom as your favorite Disney Princess and that isn't Cinderella, transforming this look to match other princesses is easy; just change up the colors. For example, a Belle inspired look would be a yellow tulle skirt, yellow top, yellow shoes, red rose necklace, and a Belle Alex and Ani bracelet. Follow this example for other princess looks.
Hollywood Studios
For another type of princess inspired look we journey to Hollywood Studios where we are taken far, far away to a land that allows us to relive Star Wars adventures. As a Star Wars fan myself, I have to pick a classic: Princess Leia. This look is simple yet iconic: a white dress, white shoes, Princess Leia Alex and Ani bracelets, and the most important accessory, two bun makers for easy-to-do buns that will stay in all day. With this look, your meet and greet pictures with Chewie and Darth Vader will be priceless.
Animal Kingdom
A day at Animal Kingdom can be quite the adventure, so why not dress for one with a safari look inspired by the Kilimanjaro Safari? It begins with a safari style dress, faux snake skin shoes, a safari style hat, gold bangle bracelets, and a pair of aviator sunglasses to stay cool and stylish during a day full of exploring. If your heart is set on an inspired character look, try a Pocahontas inspired look with a khaki or light brown dress and a turquoise statement necklace along with metallic temporary tattoos and a pair of comfy flats.
Epcot
Epcot is home to one of the most beautiful springtime events, The Flower and Garden Festival. This festival is a must-see with pictures being taken everywhere you turn, so why not be dressed in a cute flower inspired look that will make for some beautiful Spring photos? Start off with a flower print dress, complemented with a statement necklace, and matching shoes. Finish the look with a large floppy hat for a bit of shade during a warm, sunny day.
Featured Looks
For more inspired looks I reached out to theme park Instagrammers to get their favorite inspired dress looks.  
"When going to Walt Disney World there are endless ways of expressing yourself, which is probably why I love it so much. Whether it's a pair of ears, combat boots, or obnoxious amounts of glitter, aka pixie dust, you never run out of ideas. The best part is that what/whoever your outfit is inspired by, it still stays true to who you are." – Zoey
You can follow Zoey's Disney inspired outfits on Instagram at Floating_Lights.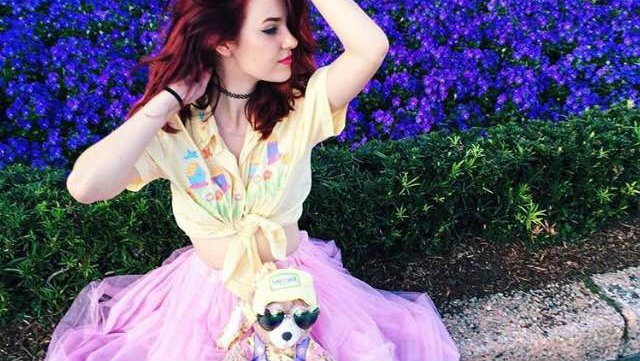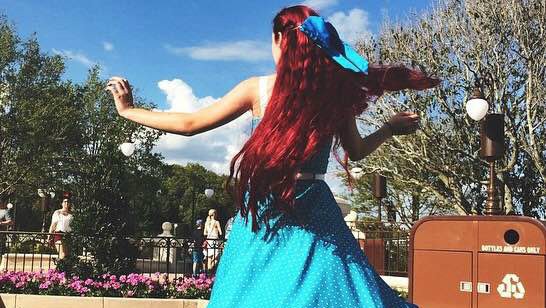 "I live in Pennsylvania but I love traveling to and spending as much time as possible in the Disney Parks! I recently wore a fun floral dress that I made to Epcot's Flower and Garden Festival, I felt like I fit right in with all of the beautiful topiary displays!"- Brooke
You can follow along with all of Brooke's Disney adventures at bibbidibobbidibrooke and takeme2disneyworld.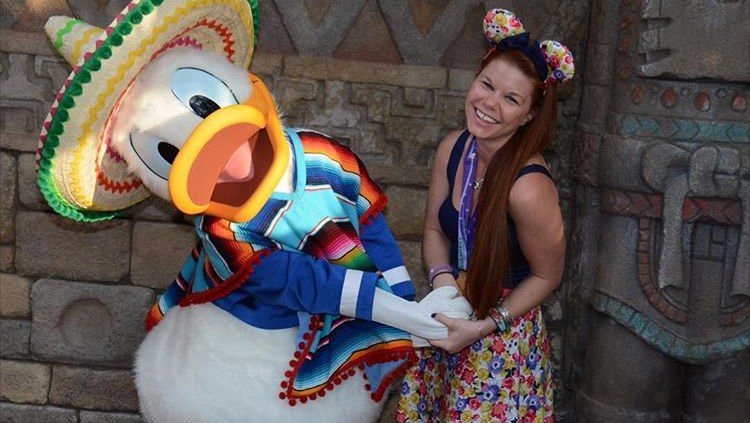 "I'm a Disney fashion blogger and the girl behind the blog DisneyBound. For those who don't know, DisneyBounding is a way to have fun dressed as your favorite Disney character without being in a costume. I have the most fun when I'm at the Disney Parks, DisneyBounding! Most recently, I DisneyBounding as the Caterpillar from Alice in Wonderland on Dapper Day. It was a lot of fun!" – Leslie
You can find out more about DisneyBounding by following Leslie's website or on Instagram at thedisneybound.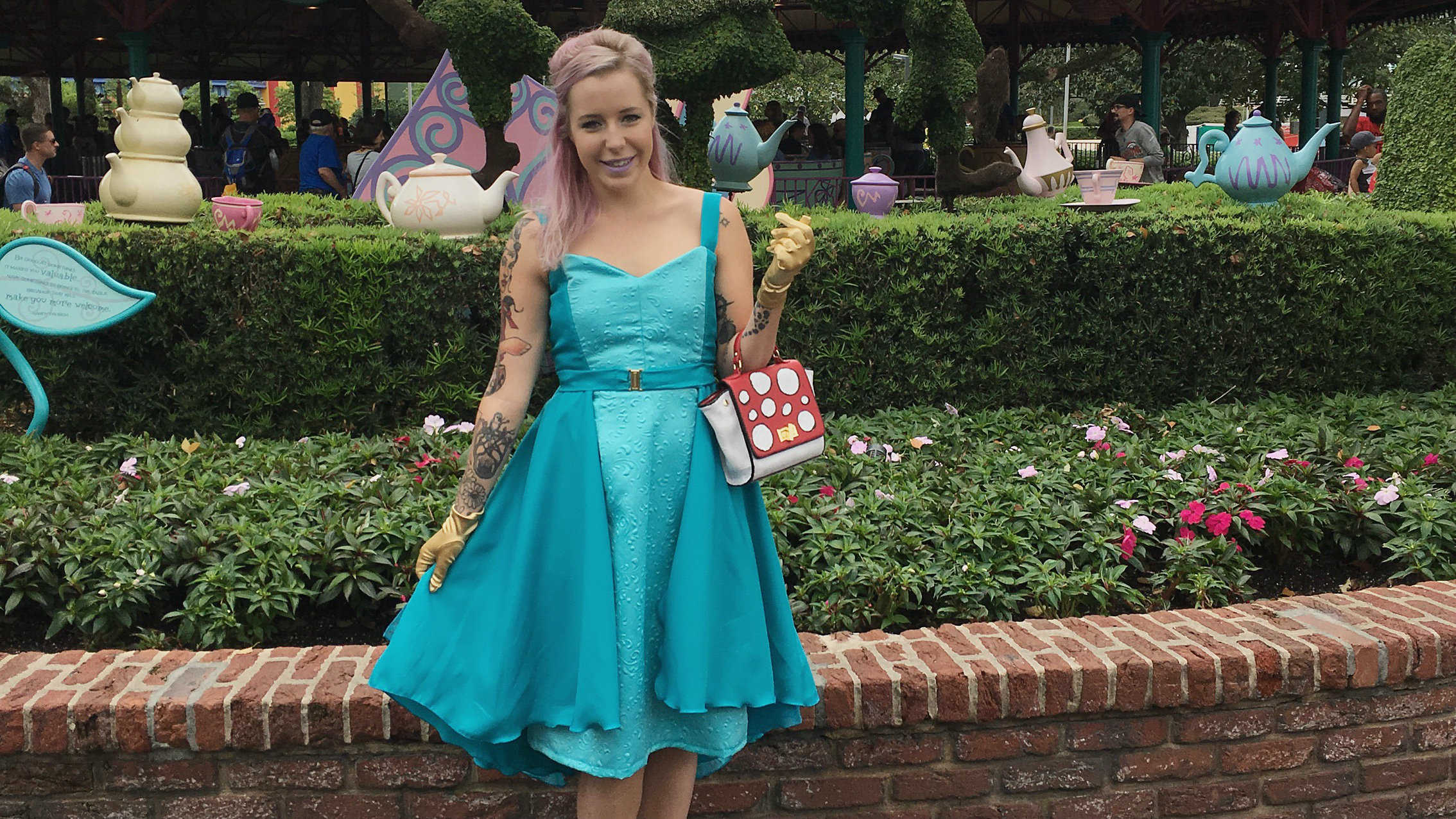 Let the dress planning begin!
I hope this article gives you the confidence to wear a dress on your next theme park trip and I hope you have as much fun planning your next theme park dress inspired looks as you do wearing them to the parks. Please feel free to share pictures of your favorite inspired looks at one of the theme parks in our Facebook group!