Disney Springs and Universal CityWalk reopen after COVID-19 closures
UPDATE (4:55 pm, 05.26): both Disney and Universal have begun the process of reopening their theme parks – or, at least, of submitting those plans to the local and state governments.
–
After a lengthy (and unprecedented) closure period that first began all the way back on the night of Sunday, March 15, Walt Disney World and Universal Orlando Resorts are beginning to slowly rumble back to life – well, at least partially.
Both dining/shopping/entertainment districts of the two resorts will be the first areas to reopen, with all of the other Disney and Universal components – that is to say, the hotels and, most notably, the theme and water parks – remaining indefinitely closed. Still, this is, indeed, progress, as this was the same pattern that was implemented in the slow, phased reopening of Shanghai Disney – a pattern that at least Disney has said it's interested in eventually replicating at all of its other theme-park locations around the world.
We have compiled everything you need to know about the situation, from a brief history of the COVID-19 closures to the two sections' new sanitary and social-distancing practices.
Why did Disney Springs and Universal CityWalk close again?
Both Disney and Universal began the unexpected and rather tangled process of shutting down their Florida resorts in the middle of March – the parks came first, on March 16, with Universal CityWalk and Disney Springs following on the next day and, finally, the hotels bringing up the rear on the 20th. All of this, of course, was in response to the COVID-19 pandemic, which officially started in China in late December 2019 and spread to the United States of America just a month later; the extremely rapid-changing situation on the ground has since rattled literally every industry, both domestic and international, causing scores of schools and businesses to be shuttered, at least for a time.
The companies had originally expected to reopen after just a two-week period, but that window kept getting extended as the novel coronavirus continued to expand its infection; as of their last updates on this front, Universal pushed its reopening target date back to Monday, June 1, while Disney only offered up "until further notice." With several states across the country – including Florida – moving to lift a number of their lockdowns at the end of April, however, it seems that Disney and Universal decided to alter their plans one final time.
How Disney Springs is reopening
The Disney Springs dining/shopping/entertainment district is the first part of Walt Disney World to rev back up, which occurred on Wednesday, May 20. Just a limited number of dining establishments opened their doors alongside the district, though that tally's been growing in the days and weeks since:
4 Rivers Cantina Barbacoa Food Truck
B.B. Wolf's Sausage Co.
Blaze Fast-Fire'd Pizza
The Boathouse
Chicken Guy!
D-Luxe Burger
The Daily Poutine
Earl of Sandwich
Erin McKenna's Bakery NYC
Frontera Cocina
Haagen-Dazs
Joffrey's Coffee & Tea Company
Joffrey's Handcrafted Smoothies Kiosk
Morimoto Asia
Morimoto Asia Street Food
Paradiso 37 Entertainment
Pizza Ponte
Planet Hollywood
The Polite Pig
Starbucks (both locations)
STK Orlando
Sunshine Churros (both locations)
T-Rex
Vivoli il Gelato
Wine Bar George – A Restaurant & Bar
Wetzel's Pretzels (both locations)
Wolfgang Puck Bar & Grill
YeSake Kiosk
Starbucks is open this morning at Disney Springs for all of our coffee aficionados. Disney did not originally announce that this location would be open on their website. Mobile order pickup is available. pic.twitter.com/NwmXAHH3EA

— Orlando Informer (@OrlandoInformer) May 20, 2020
Joining their gastronomical brethren is a smaller collection of shops, as well, including World of Disney, Aerophile, UNIQLO, and Marketplace Co-Op.
The partial reopening move, of course, comes with a number of restrictions, which prospective visitors should keep in mind. Firstly, parking is a bit different (with self-parking only being available in the Orange and Lime garages), along with just entering Disney Springs (the only four entrances are from the Hotel Plaza Boulevard pedestrian bridge, the ride-share drop-off lot, and the Orange and Lime garages). Unsurprisingly, a temperature screening is required before visitors can be admitted; much like over at Universal CityWalk, those with a fever of 100.4 degrees or more will be denied entry (along with everyone else in his or her party). Additionally, face coverings are mandatory for every guest – and, of course, employee – who is above the age of two, and the masks can only be removed when eating.
Once you're inside Disney Springs, you'll notice smaller-than-average crowds and ground markings to help denote proper social distancing, as per Centers for Disease Control and Prevention guidelines. There may also be some physical barriers erected here and there, when the situation or area calls for it. (Some specially-trained cast members will be roaming the premises, answering questions and ensuring that everyone is following these [spatial] guidelines.) Heightened cleaning and sanitation practices have been instituted, particularly at high-trafficked areas, and, finally, cashless transactions, such as Apple Pay, are being recommended across the board.
And though these are Disney's regulations for Disney Springs, generally, it appears that most, if not all, vendors at the complex are also doing the same, including checking their employees' temperatures and spacing dining tables appropriately apart. There's also the usage of digital menus instead of physical ones at select venues, having guests pull out their smart phones to access the eateries' offerings.
What's it like at the newly-reopened Disney Springs? We walk you through the experience, step by step, here.
How Universal CityWalk is reopening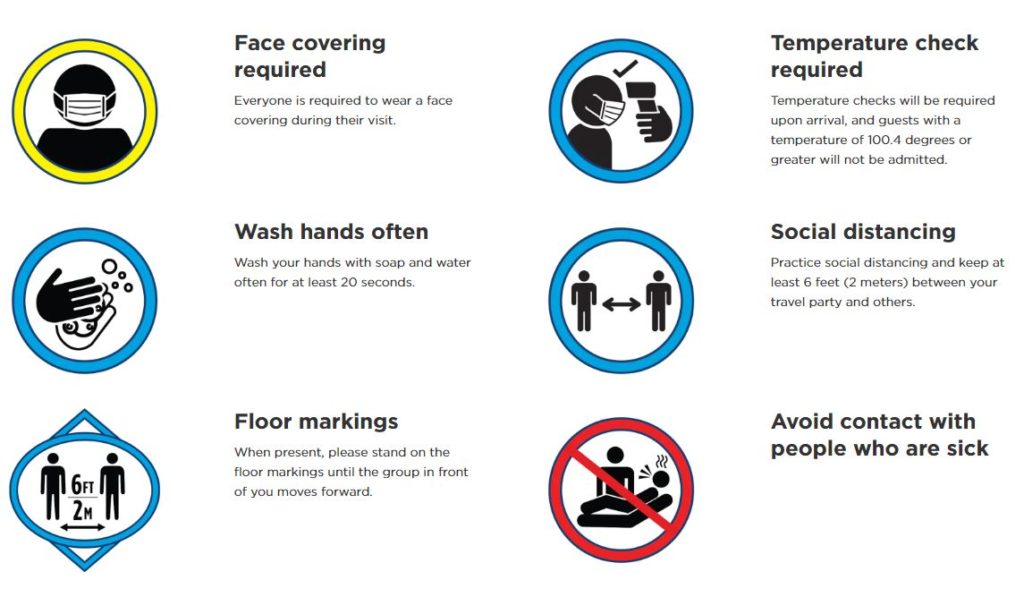 Universal, for its part, revealed a similar approach to CityWalk on May 12, almost a week after the Disney Springs news dropped. Universal's own entertainment district opened just two days later, on Thursday, May 14, employing many of the same health and safety precautions as its neighbor down the street.
Here are the restaurants, whether quick- or full-service, that are currently operational:
Each venue features a limited menu and spaced-out tables, again to maintain those CDC recommendations for social distancing. In addition, mobile ordering has been made available, and Universal also recommends that guests use its Universal Orlando app to make cashless payments.
Joining them are just a few retail and entertainments offerings – namely, Hollywood Drive-In Golf, Hart & Huntington Tattoo Company, Airbrush, the Universal Studios Store, and a handful of "merchandise carts." And, lastly, please note that self-parking is free (while valet parking is unavailable), visitors will be subject to a temperature check (those with a fever of 100.4 degrees or higher will not be admitted), every individual will be required to wear a face covering (if you don't have one, Universal has some for sale at the screening area), and CityWalk's hours of operation are only from 4:00 pm to 10:00 pm – essentially, the complex is only open for the dinner shift.
What's it like at the newly-reopened CityWalk? We walk you through the experience, step by step, here.
What about reopening the theme parks?
Universal will reopen all three of the theme and water parks at Universal Orlando Resort beginning on June 5; Disney, meanwhile, is currently in the process of submitting its plans to the Orange County Economic Recovery Task Force. We've been tracking every step of this development here.
This article will continue to be updated with the latest information.
Last updated 10:11 am, May 28, 2020
–
Share your reactions to Disney Springs's reopening with thousands of other Disney fans in our Orlando Informer Community on Facebook.
And be sure to follow Orlando Informer on Facebook, Twitter, and Instagram for the latest news and tips at Universal Orlando, Walt Disney World, and other Orlando destinations.