As 2012 draws to a close, I thought it would be fun to spend a few moments looking back at all that has come to pass this year. 2012 was the first full calendar year of operations for our site, so needless to say we have had some great experiences, shared a lot of fun at the parks, and done our best to provide vacation planning expertise to thousands of families visiting Universal Orlando.
Let's get this started!
We didn't start keeping a full history of our daily updates until March 2012, so that is where the list below starts. However, one very big thing happened at Universal before March: JAWS and the Amity area of Universal Studios Florida closed permanently on January 2.
3/1 – It seems that the opening of Universal CityWalk's Hollywood Drive-In Golf, which was supposed to happen yesterday on February 29, actually happened today on March 1. Nevertheless, the new attraction is open now for sure, and they are planning a grand opening event for March 5. Visit our Hollywood Drive-In Golf page to learn more.
3/8 – The Amazing Adventures of Spider-Man re-opens today after receiving its HD upgrade! We have updated all affected pages, including our Ride refurb page, our OI Priority List for Islands of Adventure, and our Spidey page.
3/9 – Universal's Royal Pacific Resort has introduced Sunday Brunch at the Wantilan, a new family event and feast. It is scheduled to be available between March 11 and June 24. View the OI Blog post
3/26 – Added the Magic Kingdom vs. Islands of Adventure side by side map I made a few weeks ago to our Islands of Adventure title page. Great way to get an understanding of how big IOA is if you've never been there. To view the map, click here.
4/23 – Universal has begun technical rehearsals for their Cinematic Spectacular lagoon show. There isn't a published schedule for the rehearsals. However, if you are visiting between now and May 8, the official debut date, be sure to ask team members if the show is performing — because you don't want to miss it! Visit our Cinematic Spectacular page to learn more.
5/1 – Yesterday Universal announced new in-park dining experiences available at Universal Studios Florida during summer 2012. We've got all the information you need, including menus, locations, and how to book the experiences online, as part of our new page: Summer 2012 in-park dining experiences at USF
5/8 – The day is finally here: Universal's Superstar Parade and Universal's Cinematic Spectacular officially debut!
5/21 – Today and tomorrow are going to be two big moving days for the OI Command Center (from Celebration to Ocoee). I will still be posting some new blog stuff tomorrow from our contributors, but there may not be many OI Universal Center updates until later this week. Just a heads up!
6/2 – I was at Islands of Adventure earlier and got to test the new Q-bot Ride Reservation System first hand — view a pic of the Qbot device and the instruction booklet. (Or view our complete guide: Universal's new Q-bot Ride Reservation System.)
6/10 – Now for your enjoyment, we are pleased to present a complete ride review with photos of Universal's newest attraction: Despicable Me Minion Mayhem. A HUGE thank you to OI contributor (and OI Forum moderator) JT for taking the time to get out to Universal Saturday night and provide us with this review and photos!
6/11 – Opened in early summer 2012, SpongeBob StorePants at Universal Studios Florida is an immersive retail entertainment experience and home to the characters from the number one kids animated TV series, Nickelodeon's SpongeBob SquarePants. Visit our Woody Woodpecker's KidZone page to see our complete photo gallery.
6/18 – The Wizarding World of Harry Potter is celebrating its two-year today. Last year there was a short celebration (view our full report by clicking here). This year many fans are hoping for an announcement about the HP 2.0 / Project 722 construction work over at USF. Universal has provided no hints as to what may happen today, whether it is an announcement, a small celebration like last year, or both — we will have to see how the day rolls out.
UPDATE: No in-park celebration and no announcement. Let the speculation and rumors continue!
7/2 – Despicable Me Minion Mayhem at Universal Studios Florida is NOW OPEN!
7/9 – Universal Orlando announces a new hotel: Cabana Bay Beach Resort. Read the OI Blog post.
7/16 – Looks like Universal just changed their Twitter handle from @UORnews to @UniversalORL — I like that better.
7/26 – Just so I have a place to collect all of my Soundstage 44 construction photos, and a place for you to find the latest news about this mystery project at USF, I added a new page to the OI Universal Center: Transformers: The Ride ?
7/27 – What do you think of our new t-shirt designs?
7/27 – The final piece to our mobile site has been added – the ability to search! Now the world's largest collection of Universal Orlando information, nearly 300 OI Answers, and over 400 blog posts covering everything from Disney FastPasses to Pinkberry are just a few keywords away on your mobile device. Punch in OrlandoInformer.com on any smartphone, hit the menu button on top, and then hit the magnifying glass to try it out.
8/16 – I'm happy to say that Universal appears to have reversed their "close the tour-only line whenever there is a significant wait time for FJ" policy. This policy, of course, makes no sense to us — see a lengthy discussion by clicking here — and we are pleased that guests can now expect the tour-only line to be open.
9/9 – Last night at the 2012 Golden Ticket Awards, Universal Orlando won these four categories: Best Halloween Event – Halloween Horror Nights, Best Water Ride – Dudley Do-Right's Ripsaw Falls, Best Dark Ride – Harry Potter and the Forbidden Journey, Best Indoor Roller Coaster – Revenge of the Mummy. Hooray for Universal! More about the awards: Calculated from an international poll conducted by Amusement Today, the Golden Ticket Awards are the most sought-after awards in the business of amusements and attractions.
9/12 – Earlier this morning I discovered a photo of my family at Universal's Kongfrontation from March 1996. To view the photo, click here. Fun stuff, huh? That's me in the blue hat along with my sister and parents. If you have any old photos from Universal, I'd love to see them. Please share in the OI Forum.
9/19 – Last night OI contributor Derek attempted to complete THE KITCHEN CHALLENGE at Universal's Hard Rock Hotel, in which he had to finish a Kitchen Burger and a piece of seven layer Kitchen Sink Cake in less than 30 minutes. To see if he was able to finish, visit this thread in the OI Forum!
9/22 – Today our daughter Noa turns one year old. I wanted to take a moment to thank our fans for your support, as many of you have been with us throughout this last year. You have watched along with Rosie and I as Noa came home for the first time, went to each of the parks for the first time, had her first meal, took her first steps, and even got her first chance to fly in front of Hogwarts. Happy birthday, Noa, and thanks again to our fans for coming along for the ride!
10/19 – It was time: Our JAWS & Amity construction page is now our Harry Potter expansion page. In addition to updating the name, the page was freshened up and we added 11 new full-screen photos shot yesterday. Check it out
10/25 – Orlando's famous food trucks are coming to Universal's Portofino Bay Hotel next Saturday, November 3. You can learn all about this event in this blog post.
11/1 – Universal made the big announcement: Transformers is coming to Universal Studios Florida summer 2013. To learn about the construction progress and more about the announcement, click here.
11/15 – I hope you like The Simpsons, because they are bringing more of their friends to Universal Studios Florida! Or at least that's what the rumors are saying. Learn more on our new The Simpsons expansion page.
11/28 – The Q-bot Ride Reservation System, which was rolled out in Islands of Adventure over the summer, is now available at Universal Studios Florida. We didn't get excited about it at IOA, so having it at USF isn't a big deal to us. (If you're going to spend money to skip lines, just get an Express Pass!) Anyway, to learn everything you need to know, visit our Q-bot Ride Reservation page.
12/10 – Attention Galaxy Defenders: Universal has lowered the overall points earned when hitting targets in MEN IN BLACK Alien Attack by 50 to 75 percent. This now has made it extremely difficult, although not impossible, to max out your score. The strategy explained on our MIB Alien Attack: How to max out your score at 999,999 is still accurate — just be aware you are going to need to practice, and have a nearly perfect ride, to max out.
12/18 – Cafe La Bamba inside Universal Studios Florida is now open as a quick-service venue for lunch (in addition to hosting Universal's Superstar Breakfast). In response, we have created a new page for the restaurant, complete with its lunch menu and lots of photos. Check it out
That's our quick look back at the year. To see all of our updates, click here.
Top five pages viewed on our site in 2012
Universal Orlando crowd calendar – 147,807 views
Halloween Horror Nights 2012 overview – 107,400 views
New Year's Eve at Universal Orlando – 47,683 views
OI Forum – 40,530 views
OI Universal Center table of contents – 40,468 views
Top three blog posts — written by me — viewed on our site in 2012
FastPasses at Walt Disney World: Top 10 things to know before you go – 31,736 views
Bringing home the Wizarding World of Harry Potter: Butterbeer recipes – 6,612 views
Disney's Wilderness Lodge & Fort Wilderness Transportation: Tips & Help – 5,020 views
Top blog post results may seem skewed because older posts have been published longer and therefore have more potential to be viewed. Wondering why posts about Universal don't account for each of the top three? That's because most of the Universal information we post is done so on pages in the OI Universal Center, not on blog posts.
Top five blog posts —  written by our contributors — viewed on our site in 2012
Minion Mayhem in the kitchen: How to make minion cupcakes – by Julie; 3,386 views
THE BIG 5: Five more things you didn't know you could do at Universal Orlando – by Derek; 1,434 views
Guide to vegetarian dining at Universal Orlando – by Derek; 1,422 views
Top 5 most romantic things to do at Universal Orlando – By Julie; 1,418 views
My least favorite attractions at Universal Orlando – By Marc; 1,244 views
Top blog post results may seem skewed because older posts have been published longer and therefore have more potential to be viewed.

Most liked post on Facebook in 2012
"It is 8:00am here in Orlando. Like this pic if you could use a little Wizarding World Early Park Admission right about now…" – 282 likes as of this posting
Orlando Informer 2012 milestones
December 31, 2012
The OI Universal Center maintained a subscriber satisfaction rate above 99 percent for the 17th consecutive month (since the inception of our subscription service). Thank you to each of our subscribers for supporting our research and being a part our vacation planning community!
November 1, 2012
Last month our site recorded 214,093 pageviews by over 80,000 unique visitors, making October our site's busiest month ever! In addition, as we move past Halloween Horror Nights, we are proud to say that our HNN 2012 pages were viewed more than 175,000 times this year. Thank you to everyone who has helped make us an essential planning tool for guests visiting Universal Orlando and the many other incredible destinations around Central Florida.
October 7, 2012
Around 7:00 in the evening, Eastern time, OrlandoInformer.com passed two million total pageviews. That's awesome, but what is even more exciting is that it took us 14 months to get to one million pageviews (we passed that number in early April) but only six months to go from one million to two million!
August 6, 2012
We are proud to announce the final piece of our Universal Orlando history project: a history of the Wizarding World of Harry Potter. Read our new essay and view a construction photo gallery in our WWoHP insider's guide. Want more UOR history? Learn about Universal Studios Florida, Islands of Adventure, and Universal CityWalk.
My favorite picture from this year
This is my wife Rosie and our daughter Noa near Guest Services inside Universal Studios Florida. It was shot on March 28; Noa was 6-months old.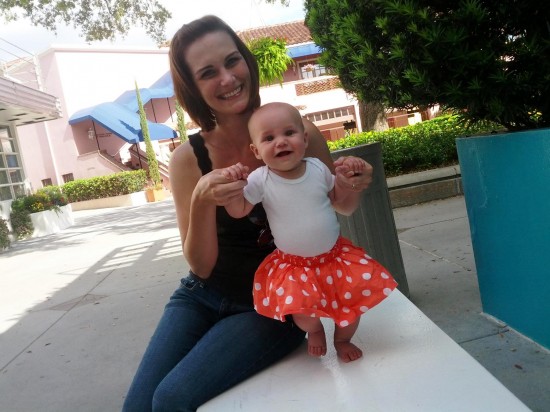 It is amazing how much Noa as grown this year. If you're curious, here's how she looked this morning wishing everyone a Happy New Year.
A few more site stats
Courtesy of WordPress.com (WordPress is the platform our site is built on):
About 55,000 tourists visit Liechtenstein every year. This blog was viewed about 1,900,000 times in 2012. If it were Liechtenstein, it would take about 35 years for that many people to see it. Your blog had more visits than a small country in Europe!
For those of you who like more specific numbers, as of this posting our site has been viewed 1,955,016 times this year by over 600,000 unique visitors.
Much more importantly though, I am extremely proud to have invited over 2,000 new subscribers to our community this year. And despite our tremendous growth (we had about 400 subscribers at the end of last year), we have maintained a subscriber satisfaction rate above 99.9 percent.
Thank you to our subscribers, readers & fans for making 2012 the year OrlandoInformer.com was established as an essential vacation planning resource for guests visiting Universal Orlando and a "go to" site for Central Florida attraction news & updates!