Hurricane season is upon us in the Sunshine State of Florida – six wonderful months of diligently watching the weather forecast to see if the tropics have started churning another big storm.
Here's what you need to know if you are planning a trip to Orlando during hurricane season (June 1 through November 30).
Don't get fooled into a false panic
Odds are in your favor: a severe storm will not hit. In over 30 years of living in Central Florida, I can count on one hand how many severe hurricanes I have been through. Generally speaking, Central Florida deals with two to three tropical storms in a season, and that's being generous. Once every four or five years, we may deal with a hurricane.
Being in the center of the state, if a severe storm hits, the coastline gets the brunt of it. Any tropical system will become weaker the minute it hits land. So by the time it reaches Orlando, it is no longer at full strength.
Change is the only constant in life
Here's how it goes down: the warm winds churning the ocean off the coast of Africa crank out a rotating storm system. If the system stays organized, it will grow to a tropical depression and, after that, possibly a tropical storm. If the conditions are right, it may become a hurricane. Here in Florida, our weather persons always give us a "heads up" right from the very beginning. However, those who have been through it before know we really only need to concern ourselves once any system gets near the Caribbean, especially Cuba.
We'll watch the updates, and we'll watch the projected path – and that projected path will change so many times, it's almost comical, but that's how nature can be. It isn't until about four days ahead of the projected landfall date that we can really tell where the storm is going, and, even then, it can change.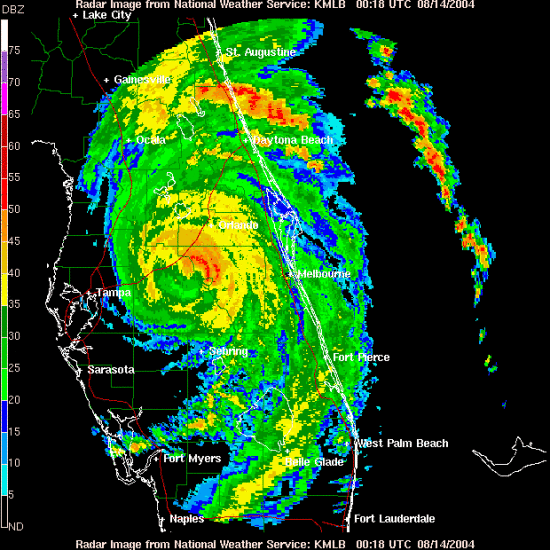 So if you are planning your trip and the news starts to talk about a potential tropical storm or hurricane, don't start panicking – chances are the projected path will change five or ten times before you even leave for your trip.
What's your policy?
So let's say the weather forecasts look grim and you decide to cancel your trip. Make sure you understand the cancellation policies of your airlines and hotels. In fact, you really should read these policies before booking your trip.
If you are traveling during hurricane season, then you may want to consider a travel insurance purchase, so long as it covers weather-related cancellations. Many hotel chains will lift their normal cancellation policy due to extreme weather, but not every hotel does this – and airlines are a lot less flexible than hotels.
Push the outer limits
Okay – you've decided to move forward with your Orlando vacation. You should keep in mind that even if a tropical storm or hurricane does not actually make landfall and touch Central Florida, the weather can still be impacted. This is mostly due to the outer bands of a tropical system, which can sometimes bring severe thunderstorms and tornadoes. And it can get really windy.
Keep an eye on the forecast and plan your days accordingly. For example, if it looks like those severe storms may come on a certain day, then plan to stay near the hotel that day rather than visiting an attraction that would require a fair amount of travel.
You're safe at home base
Let's say it looks like your trip might be impacted by severe weather. You can call your hotel and touch base with them on their plan to react to the weather. Not all front-line staff members will know all the ins and outs, so if you have specific concerns and need specific information, it doesn't hurt to ask to speak to a member of management.
Most hotels have a phased plan, where the procedures change based on the severity of the storm. Also, most hotels have what's called a ride-out crew, which is made up of staff members who voluntarily sign up and agree to stay at the hotel and be on-site to assist while the storm is hitting. It bears mentioning that all commercial buildings must adhere to very strict building safety codes, and Florida has its own set of safety codes pertaining to strong, high-speed winds.
Additionally, if the power goes out, it won't be out for long – usually. This is especially true if you are at a Walt Disney World area or a Universal Orlando hotel. Both destinations are practically on their own power grid and usually get priority when it comes to emergency needs. Few places are safer to be in than an Orlando-area resort.
Safety first
All hospitality establishments aim to make their guests happy. However, safety is number one and comes before courtesy. Please keep this in mind if your hotel or theme park has to make a change to its normal operation in order to keep its guests safe. For example, the weather can impact staff members having the ability to safely get to work. Therefore, a hotel may be running on limited staff members; some services may take longer or may have to be canceled altogether.
If a very strong hurricane – let's say a category four or five (the two highest categories) – is going to hit, then most hotels will insist that you stay in your room and will not allow you to be outdoors. If a tornado is spotted near the hotel, they will most like make an announcement that all guests need to head into the interior hallways. I know it won't be comfortable in such situations, but safety is what matters most.
Most importantly, please always follow the instructions of the staff members.
Don't get cabin fever
If the weather does get bad enough, you will spend a lot of time in your hotel room. In fact, if local authorities determine the weather to be bad enough, they may implement a curfew (in rare cases). There can also be road damage during and after a storm, too.
Find out if your hotel has board games that can be rented. If not, consider packing a travel-sized board game and deck of cards, just in case you have to stay in the room. Find out if there is a small food market on the premises and make sure to grab a few non-perishable snacks to have in your room in case you have to chill there for a while.
If you require some libations during your getaway, please know that local authorities can ban the sale of alcohol if the weather is bad enough. This is to ensure citizens and visitors are alert and able to respond to a situation in a safe manner. I say this because I have encountered a handful of very upset, not-so-understanding visitors regarding this particular situation.
Every storm runs out of rain
So you made it through the severe weather. Get ready for gorgeous blue skies. One of the only benefits of a tropical storm or hurricane is that it gathers up all other neighboring minor storms and also sucks up the humidity. After it passes, the weather is lovely for a few days.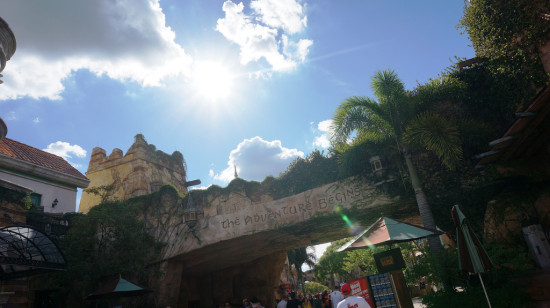 However, there may be damage, so some attractions may not reopen right away. Again, safety is the top priority.
In summary
This information is not meant to worry you. In fact, it is my hope that this information has helped to calm your fears and paint a realistic picture of what goes on. The chances of your vacation actually being impacted by a severe weather system are so small. Just keep an eye on things, plan ahead, and remember that if some nasty weather comes your way, Orlando is one of the safest places to be and is full of some of the best hospitality professionals in the world.
Plus, you're sure to have some cool stories to tell.
For the latest updates, follow us on Twitter and like us on Facebook.