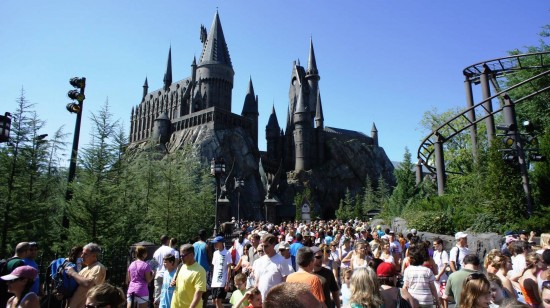 It was another record-breaking year for Orlando with final 2011 visitation numbers revealing that Orlando welcomed 55.1 million visitors, up 7.2% from last year's record setting 51.4 million and 1.5% over the previous forecast of 54.3 million visitors. Total domestic visitation (business & leisure) accounted for 51.3 million visitors, a 7.5% increase over 2010 and a record for any U.S. destination; international travel totaled 3.8 million, an increase of 3.5% from 2010. Orlando is the first destination in the country to welcome more than 55 million visitors and remains the most visited destination in the U.S.
"This is tremendously positive news for the destination. We have seen a strong rebound in our visitation numbers over the past two years led by increases in domestic and international travel and we continue to be optimistic about the future of the destination," said Paul Tang, Chairman of Visit Orlando. "We are known worldwide as the top family destination and we continue to be a top choice for inspiring meetings. Breaking the 55 million total visitation mark shows the strength of the Orlando brand."
Canada continues to be Orlando's number one international market breaking the 1 million visitor mark for the first time, an increase of 5.7%, followed by the United Kingdom (767,000).
"Our travel and tourism industry has led the way in creating new jobs over the past two years and from these numbers you can see why," said Orange County Mayor Teresa Jacobs. "I commend the industry and the companies that continue to invest their time and resources to keep Orlando top of mind with potential travelers. They continue to be the backbone of our community and we are happy to support their efforts."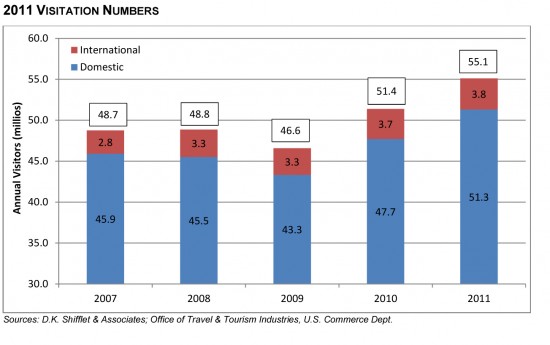 Additional visitation information includes:
Visitation from Canada, Orlando's top international feeder market, was up 5.7% to 1,015,000 travelers in 2011 compared to 960,000 in 2010
Domestic leisure visitation was up 8.3% to 41.4 million, representing 75% of all visitors
Overnight leisure visitation was 28.3 million, up 9.8%
Overnight convention-group meeting visitation was 3.3 million, up 2.7%
Hotel room occupancy was up 5.8% to 67.6%
In 2011, Visit Orlando initiated new marketing campaigns domestically to increase visitation during "need periods" (May-June & Mid-August – September). Internationally, campaigns in Canada, the U.K. and Brazil reinforced the tagline, "Orlando Makes Me Smile." A new meetings and conventions marketing effort focused on the influencer in making decisions. Visit Orlando also showcased the destination's offerings to thousands of tour operators and travel professionals at numerous key travel industry trade shows throughout North America, Europe, Latin America and Asia and was instrumental in driving additional air service to Orlando from domestic and Central and Latin America carriers.
[youtube_video]b2FrVCIkpBs[/youtube_video]
Domestic visitation numbers are provided by D.K. Shifflet & Associates Ltd., a travel research firm, specializing in consumer-based travel data. DKS&A's DIRECTIONS® Travel Intelligence SystemSM collects detailed monthly travel data on more than 150,000 trips annually collected from a sample of US households.
Overseas travel numbers are provided by the United States Department of Commerce's Office of Travel & Tourism Industries through in flight surveys and analysis of customs paperwork provided by travelers.
This article was produced by Visit Orlando, the branding, sales and marketing organization responsible for positioning Orlando as the destination of choice for leisure and meetings business for the economic benefit of the community.