Dave & Buster's, located on Orlando's bustling International Drive, is a great destination for tourists and locals alike.
Orlando's first installment of this popular adult-oriented entertainment center has more than 40,200 square feet of gaming and dining fun. There's the full-service restaurant with contemporary American cuisine, a large bar with numerous flat-screen TVs, and, of course, the gaming area with more than 170 games.
Dave & Buster's food and drinks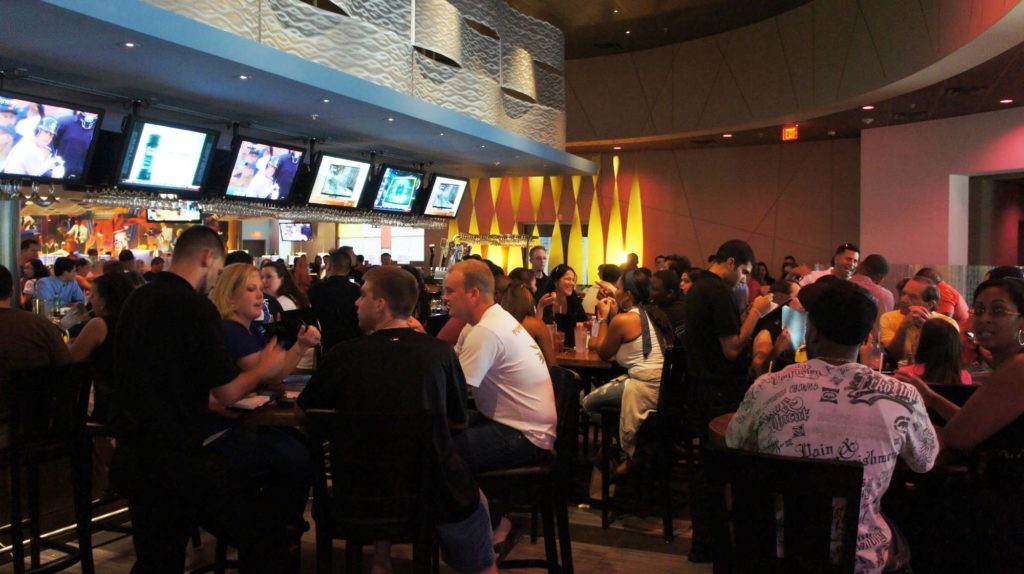 When you first walk in, if you choose to eat and not head straight for the games, you'll be seated in the dining area, which is all booths, with many of them big enough to accommodate a party of eight-plus people. Don't worry – they have smaller booths, as well, for smaller parties, dates, etc. There are also tables in the bar area, or you can just sit at the bar and watch one of the many flat-screen TVs, which usually feature whatever sports are playing that day. There's also a mural of different Orlando attractions on the back wall, capping off a pretty open space.
I've visited before with my entire family, but on this particular trip, I just went with my 14-year-old daughter, and we decided to splurge on the Dip Trio appetizer, which includes tortilla chips, guacamole dip, black bean dip, and queso dip, topped with pulled pork. The chip-to-dip ratio for the guacamole and black-bean dip worked well overall, but the long tray of the queso was way too much – it tasted great, but there was just more queso there than we could eat. This would be an ideal appetizer for a larger party, though.
For lunch, I had the Fire-Grilled Steak Salad, featuring fresh greens, tomatoes, bleu cheese, candied pecans, and balsamic herb vinaigrette. My daughter opted for the Dave's Double Cheeseburger. Neither of us was disappointed. While it's standard fare for an establishment like this, the food has – in my experience, across many visits – been very good. Also, they change up their menu regularly, so if you go frequently, you'll get the opportunity to repeatedly try something new.
The rest of the menu features a variety of favorite American foods, such as Buffalo Wings, Sliders, and Dynamite Fried Shrimp, as well as vegetarian options. For anybody with food allergies, Dave & Buster's takes that very seriously – they have allergen menus, so just ask your waitstaff, and they'll be happy to provide you with the specialized information.
They also offer seasonal deals. For instance, on game days throughout the football season (that's every Sunday, Monday, and Thursday for you casual or non-fans), they offer unlimited wings plus unlimited games for only $21.99. Your waitstaff will likely mention whatever deal they have going on at the time, and there should also be a special insert in the menu.
The bar itself is full-service, including a variety of hand-crafted cocktails, all of the classic drinks, and some new twists, like the Strawberry Watermelon Margarita, which consists features Sauza Blue Tequila and strawberry-flavored ice cubes. For a nice cool-down, try the Adult Snow Cones: the "original" option features DeKuyper Watermelon Pucker, Malibu Coconut Rum, Sprite, and pomegranate syrup. They also have a good selection of draft beers and bottled wine, but that probably goes without saying.
You can start a tab there while you play games, but keep in mind they will keep your card, so don't forget to pay up and get your card back on the way out!
Dave & Buster's games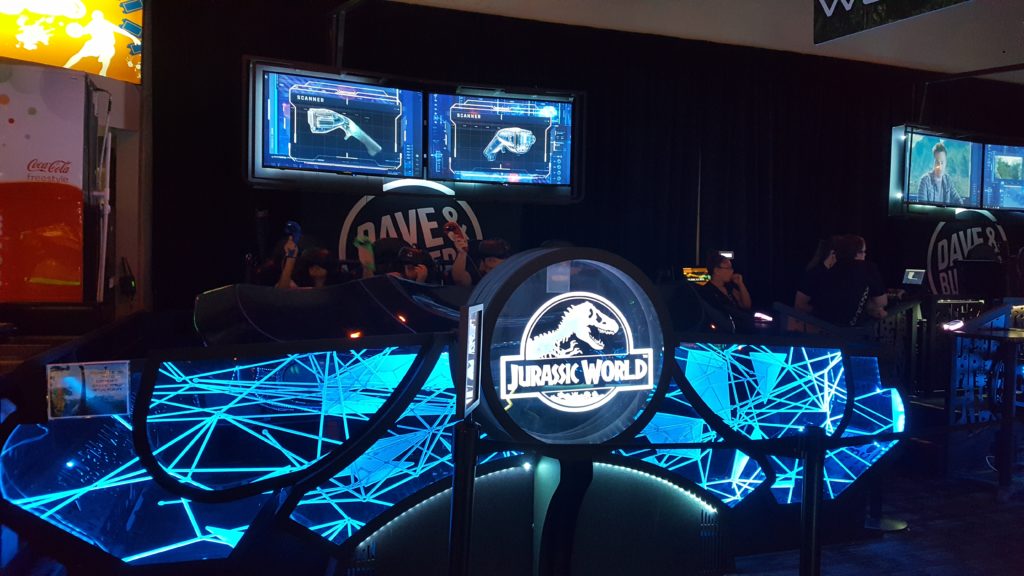 Speaking of games, once you're done eating, head on over to the game area. If you didn't already get your Power Card from an Eat & Play Combo while you were dining, you can get one at the counter to the left of the big staircase, or from one of the many kiosks located across from the counter. Definitely sign up for the rewards program, as that will get you an extra $10 of Game Play when you purchase the first $10. The rewards program also includes monthly savings sent to you via email, as well as protection for lost or stolen Power Cards (if you register them online). Signing up only requires an email, so it's really easy to join.
But enough of that – let's get to the games themselves.
The game section, adjacent to the dining area, can be a bit overwhelming when you first walk in. If you've ever been to Las Vegas, you'll notice that it feels a bit like a casino – it's kind of dark, there are no clocks, and there are a lot of noises coming from the games themselves to entice you to come and play.
The variety of the games is quite impressive. Their newest addition is Jurassic World: VR Expedition, where you can immerse yourself in Jurassic World – you'll run with raptors and fight a T-Rex while experiencing 360-degree vision and sound. My daughter and I didn't give this a go, because she didn't feel like waiting in line, but the people who were getting off of the "ride" looked like they had a great time.
We did, however, play one of the other more-immersive games, Dark Escape 4D, which has you fighting zombies while little puffs of air blast you in the face, your seat vibrates, and the handles measure your heart rate. It was a lot of fun, but it wasn't for the faint of heart – I'm a horror fan, but I still got a little jump every time that blast of air hit me!
If immersive games aren't for you, Dave & Buster's has tons of other games to enjoy, such as updated versions of the classics, like Space Invaders Frenzy (a giant version of the original) and the world's largest Pac-Man. You can also find new(er) arcade favorites, like Crossy Road, Deal or No Deal, Guitar Hero, Dance Dance Revolution, and Mario Kart. And if old-school midway-esque gaming is your thing, don't worry – they have you covered. Check out Skee-Ball (one of my personal favorites), air hockey, and carnival classics like Milk Jug Toss and Down the Clown.
For smaller kids, there are many options, as well, such as the rubber ducky claw game (winner every time), and Fish Bowl Frenzy, where players try to drop a ball into a fishbowl to win tickets to spend on prizes.
Speaking of which…
Dave & Buster's prizes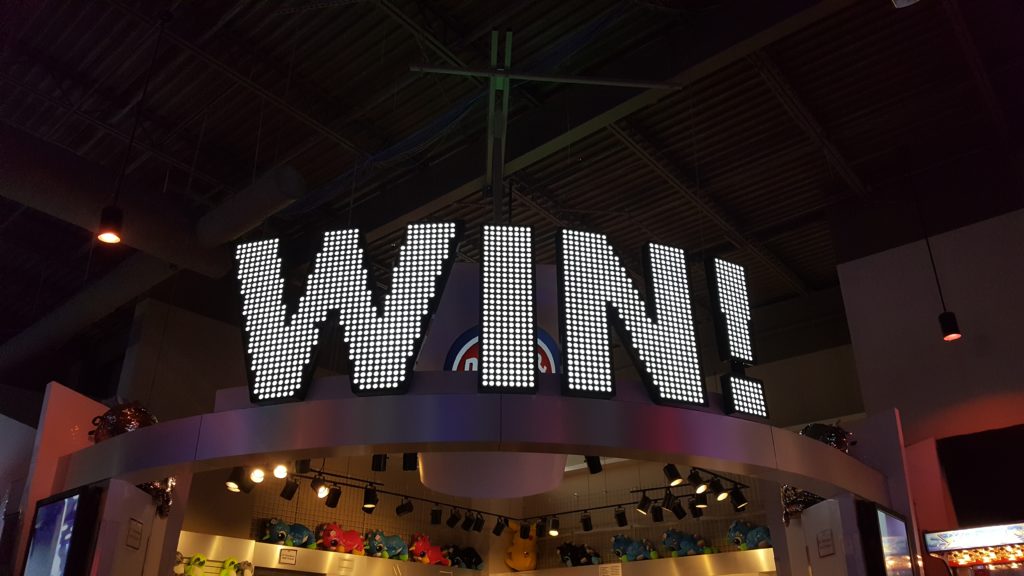 Once you're done with the games, take your Power Card and head over to the prize area, where you can trade in your "tickets." A vast improvement from when Dave & Buster's first opened, your tickets are now all included on your card, so there's no need to wait for the games to spit them out or carry them around in a huge bundle. There's a kiosk on the outside of this area, so you can check and see how many tickets you have before heading into the chaos that is the prize section proper.
The prizes themselves include everything from candy to a Microsoft Xbox One, and if you are planning on heading back later rather than sooner, you can keep your Power Card and save up your tickets for next time. (You can also check your balance on the Dave & Buster's website at any time – just enter your card number and pin.)
Dave & Buster's additional info and tips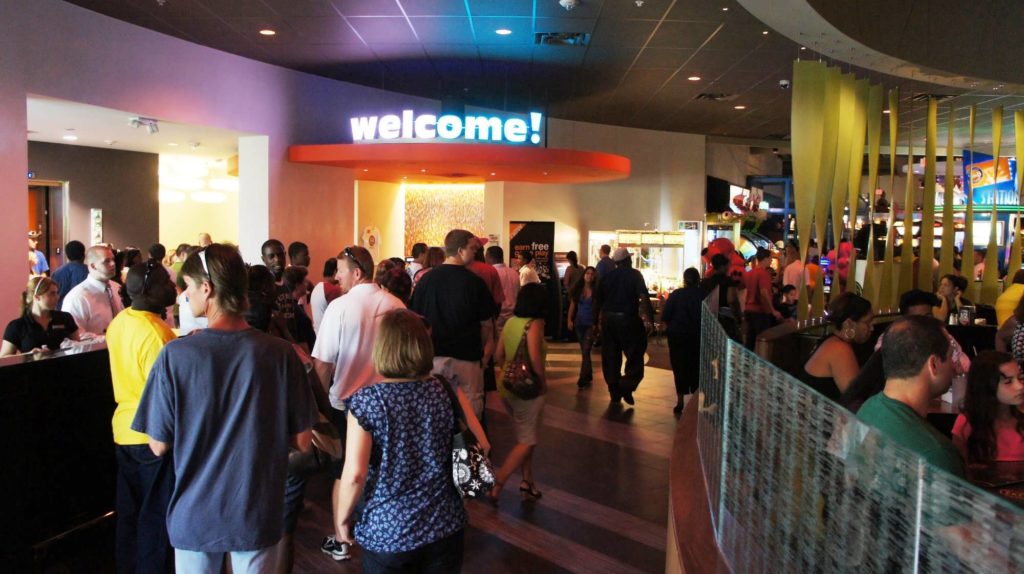 Even though Dave & Buster's is targeted more toward adults than, say, Chuck E. Cheese is, it's still a good place for families during the day; there are plenty of games that even smaller kids can enjoy, as mentioned above. But in the evenings, it definitely draws a more grown-up crowd. Teenagers will probably be fine, but I'd keep the smaller ones at home, as it can get loud and potentially overwhelming.
If kids aren't in the picture, it's a great place to go by yourself or with friends to hang out and play games. Weekends and summers are busiest, of course, but they have ample parking – including a free parking garage – which makes getting in and out pretty easy. And if you're a tourist, the restaurant is in walking distance from almost every hotel on I-Drive (depending on how far you feel like walking, of course).
Dave & Buster's also has many rooms for private birthday parties and corporate events, team-building activities, and holiday parties.
Final tip: if you happen to have a City Saver Coupon book or app, you can get an extra $20 of Game Play credits when you buy $20. Just show your coupon to the person at the Power Card counter, and he'll redeem it for you.
Dave & Buster's address and hours
8986 International Drive
Orlando, FL 32819
Open Sunday to Thursday, 10:00 – to 1:00 am
Friday to Saturday, 10:00 am – 2:00 am
Phone number: 407-541-3000
–
What are your favorite I-Drive experiences? Let 50,000+ of your fellow vacation-planners know in our OI Community Facebook group.
And be sure to follow Orlando Informer on Facebook, Twitter, and Instagram for the latest news and tips at Universal Orlando, Walt Disney World, and other Orlando experiences.