Nile Ethiopian Cuisine: An exotic dining experience awaits you at this I-Drive hidden gem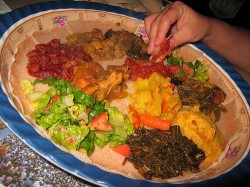 Nile Ethiopian Cuisine is a small restaurant that hides back in a strip mall off International Drive.  But don't let its location or lack of a fancy exterior fool you.  The restaurant offer authentic Ethiopian cuisine that is an exotic experience to taste and to eat!
If you've never been to an Ethiopian restaurant, then there's something you need to know up front: utensils are not used.  Instead, all the food is consumed with the use of injera, a soft, thin bread.  It is somewhat like a pancake, but even thinner and much more flexible. Entrees are prepared on large plates with the injera on the bottom, like a pizza crust, and the entree selection set on top.
This unique method of presentation and consumption makes a meal at an Ethiopian restaurant, such as Nile, an experience centered on the food rather than decorations or other distractions.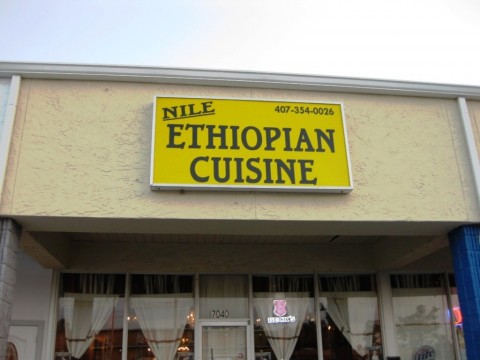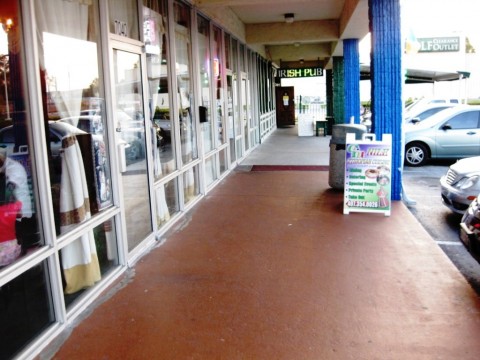 After reading very positive reviews on Urbanspoon and Yelp, I stopped by Nile to try a few of the selections for myself.  The interior was pleasant and inviting, and I was greeted very kindly.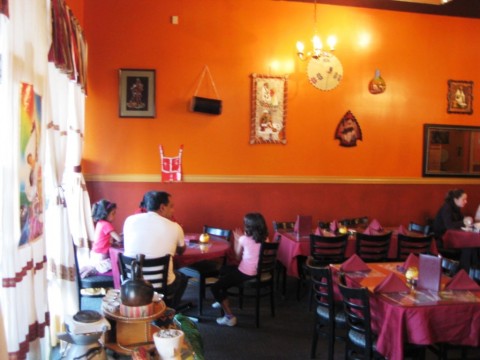 I was in a bit of a rush so I could not eat in.  Fortunately for me Nile does take out. I grabbed one of the menus and tried to decide what sounded best.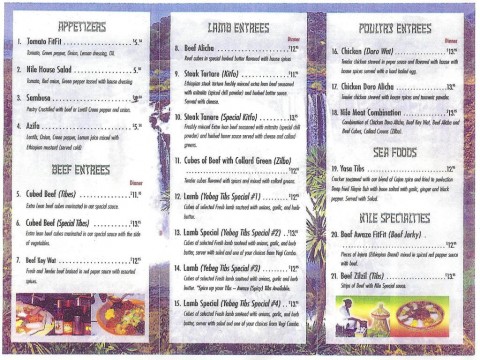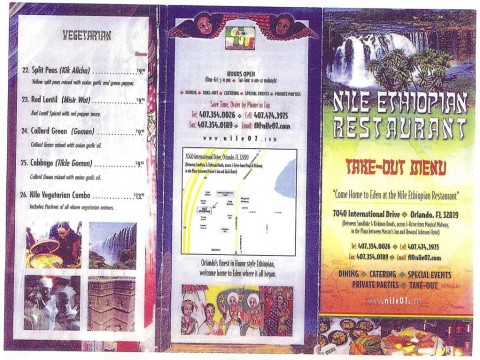 I selected an order of the Tomato FitFit as an appetizer and the Nile Vegetarian Combo as my entree.  My server said it would be about fifteen minutes.
I got my food right on time, paid the check with no problem, and was out the door.  Below are the pictures of my meal.  Remember, the food may not look quite as appealing in these photos since it isn't really designed to fit into Styrofoam take out boxes.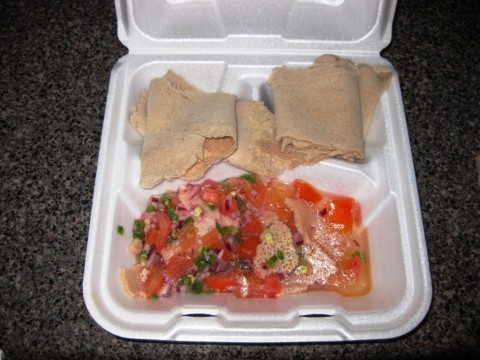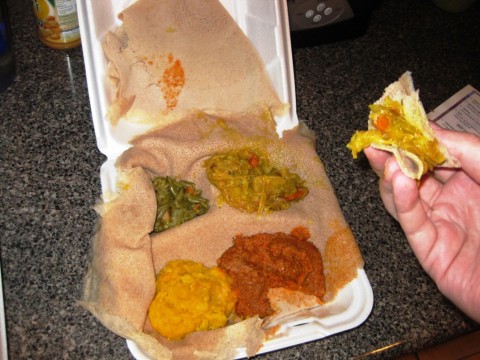 As you can see everything comes on top of the bread.  There was also a lot more of the bread placed inside the boxes, so I didn't need to worry about running out.  I know it may look a bit messy, but that really is a big part of the fun.
Of course I like how I got to eat my meal, but I also really enjoyed the taste.  The Tomato FitFit reminded me of a salsa (not grocery store salsa but made at home salsa).  The combo consisted of four different toppings: split peas, red lentils, collard greens, and cabbage.  It was extremely good, with the standout being the red lentils in pepper sauce (I liked the kick).
All in all it was a great meal.  I hope to come back soon, and I absolutely recommend it to anyone in the I-Drive area who is looking for something a little different, and who also wants to support a small business.
Heading to Nile?  Look for the road between Buffalo Wild Wings and Pizza Hut.
By the way, Nile seems to call itself both "Nile Ethiopian Cuisine" as you see on the picture of the exterior sign at the top of the post, and "Nile Ethiopian Restaurant" as you see on their website.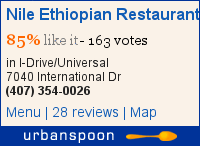 Official website: http://www.nile07.com
OI Tip If you're up for it, there's a great Irish Pub right next to Nile Ethiopian Cuisine called Lucky Leprechaun.