Universal has been on something of a roll with patents lately (or, at least, the news media are on a roll picking up on them) – after two registrations were filed two weeks ago that may or may not have something to do with the new Harry Potter ride that will replace the rumored-to-close Dragon Challenge, a new attraction concept has just come to light yesterday.
The Orlando Business Journal is once again to thank (or, if you're Universal, to blame) for the discovery, and what the site has uncovered this time is something that is small but potentially revolutionary – particularly in the sheer number of possible applications it can be deployed for.
In order to understand the new tech that Universal has patented, we'll need to use the Hogwarts Express as an example. The train that shuttles passengers back and forth between Universal Studios Florida and Islands of Adventure uses two-dimensional video displays in lieu of windows, depicting an Easter egg-filled journey through the British (and Scottish) countryside. This brand-new "display for immersive window effect" would take those faux-windows and not only elongate them, but have them actually curve, so that they could potentially wrap around the entire train car – thereby allowing guests to see what scenery is coming up or is receding in the distance. The overall effect would be to really make individuals feel as if they're moving in a completely different landscape or, even, world.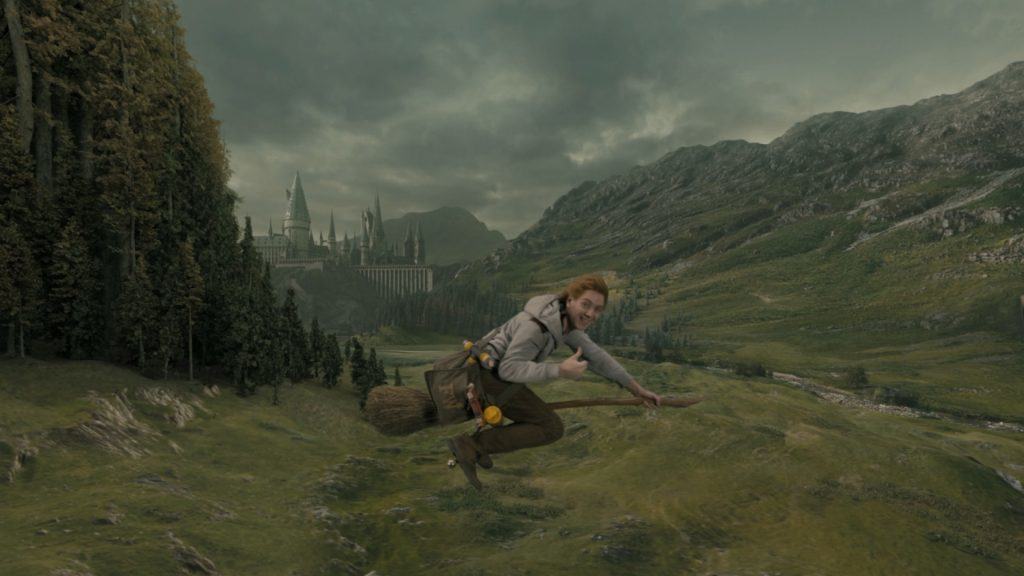 Although such a set-up does make the Hogwarts Express come to mind first, there are other scenarios that are far more likely than seeing an overhaul or replacement of Hogwarts students' main mode of transportation. One such possibility is a virtual storefront, which has a series of these screens wrap around its façade in place of windows; every pane of glass could provide a slightly different perspective on the activities going on inside, thereby making, say, a stretch of Diagon Alley come alive with the hustle and bustle of witches and wizards, along with whatever magical shenanigans they're up to. Or maybe, over in The Three Broomsticks, patrons could peek at the goings-on in the fictitious upper floors instead of having to settle for muted conversations or the shadows of house-elves being projected on the wall. (Or maybe it's somehow intended for that Dragon Challenge replacement in Hogsmeade…)
Then there's all the marvelous opportunities that Super Nintendo World presents, from a Mario Kart ride (should Universal opt to go the digital/screens route) to a Super Smash Bros.-esque meet-'n-greet. Other additions rumored to arrive sometime within the next several years include The Secret Life of Pets, the Ministry of Magic, and DreamWorks Animation – some of which may end up going on all that new land Universal has only recently acquired. It's easy to see how the technology could be adapted to fit any one of these, at nearly any scale of usage.
The possibilities are really limitless here – which makes the fact that most of Universal's (and Disney's) patents end up sitting around, going unused all the more tragic. Here's to hoping that we'll see this new, multi-perspective display at use in the parks, and sooner rather than later. (Just imagine a Jurassic World ride that has dinos chasing after your jeep from all angles!)
–
Be sure to follow Orlando Informer on Facebook, Twitter, and Instagram for the latest news, tips, and more at Universal Orlando, Walt Disney World, and other Orlando attractions.