Be the first to know about any future announcements by signing up for email updates!
For Harry Potter (and Universal Orlando Resort) fans, July 24, 2017 is a date that's etched in the collective consciousness – the day that Universal first announced the existence of a brand-new roller coaster set in the Wizarding World of Harry Potter. And since then, really, only one other date has stood out: October 1, 2018, when our very first sneak peak at the new ride's concept art was provided.
Missing from these two days, of course, is anything in the way of details – a name, an opening date, or, even, a premise for the attraction (even though we've been able to draw some good conclusions from the first – albeit vague – poster). That dearth of information, however, changes now, as Universal has finally seen fit to share the very first concrete information about its newest wizarding experience.
Called Hagrid's Magical Creatures Motorbike Adventure, the family-friendly coaster will follow Professor Rubeus Hagrid in one of the "most highly-themed coaster[s] yet." According to Universal's press release, guests will:
Fly with Hagrid on a thrilling roller-coaster ride that plunges into the path of some of the wizarding world's rarest magical creatures.
While we don't know what, exactly, this ride will entail, we can at least provide a few good guesses thanks to the new concept art that accompanied today's announcement. Yes, the artwork is mostly the same as last year's, showing the Forbidden Forest with Hogwarts Castle in the background as the coaster's track twists its way through the trees into the foreground, but the addition of Hagrid and his trusty motorbike – along with some hapless muggles tagging along behind him – adds a few new juicy tidbits to the proceedings: now we unequivocally know what the ride vehicle will be for the still-mysterious attraction, a fact which will help distinguish it from the likes of other Universal Orlando roller coasters, such as The Incredible Hulk Coaster and Hollywood Rip Ride Rockit (or, for that matter, Dragon Challenge, the original Harry Potter coaster which Hagrid's Magical Creatures Motorbike Adventure will replace this summer).
(Here's a fun fact regarding Rubeus's enchanted motorcycle: it's not his at all. The muggle vehicle actually belonged to Sirius Black, Harry's ill-fated godfather, who lent it to the half-giant during the opening of the first novel/film, Harry Potter and the Sorcerer's Stone. And although it would go on to be bequeathed to the teenaged Mr. Potter himself, Hagrid would again drive both it and Harry during Harry Potter and the Deathly Hallows, Part 1's riveting chase sequence, when the beleaguered Order of the Phoenix attempted to scurry the young hero to safety from the muggle Dursleys' house. It's entirely possible that Motorbike Adventure will borrow an element [or two] from either of these episodes.)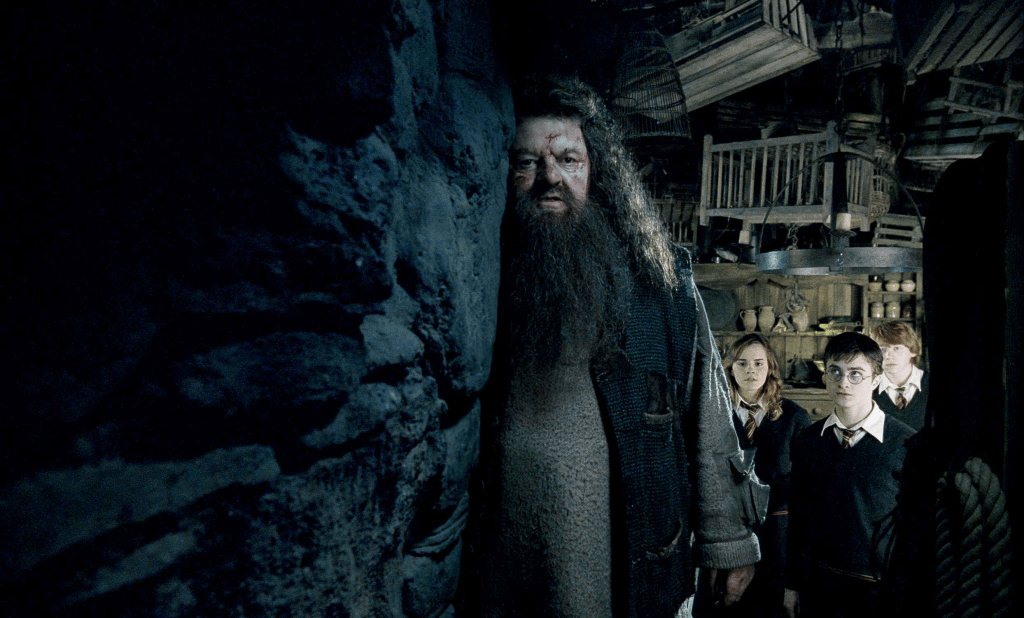 We've already discussed how setting the new ride in the Forbidden Forest is a natural expansion of Hogsmeade's thematic and geographical purview, so let's just jump straight to the biggest takeaway from today's announcement: the protagonist of the attraction, obviously, is none other than Hagrid, the jolly half-giant who is in every Harry Potter novel and film both and who already has guest appearances in such rides as Harry Potter and the Forbidden Journey, Flight of the Hippogriff, and the Hogwarts Express. (There's also the speculation that the character will at least be name-dropped, if not seen in a quick cameo, in the three forthcoming Fantastic Beasts movies, which are currently expected to release between 2021 and 2025.) His is a friendly face provided by a charismatic actor, one that will anchor the new story in some pretty well-established narrative ground – but he's also, more notably, not Harry Potter, Ron Weasley, or Hermione Granger, the franchise's main trio that is portrayed by performers who are, with the exception of Rupert Grint, only too happy to move on from their iconic roles (and who, at this point – nearly eight years after wrapping up the movie series – may be too old to reprise those characters, anyway).
This development may be more important than it first looks. Universal's attempts to phase the main characters out of its theme-park storytelling started with 2014's Harry Potter and the Escape from Gringotts, which focused on the tertiary character of Bill Weasley and shuffled the main trio to the background, both figuratively and literally; Hagrid's Magical Creatures Motorbike Adventure seems to forget about the three kids completely, thereby blowing wide open whatever experience may land in the future. Why not have a ride centered around Dumbledore as he battles Voldemort (or, for that matter, Grindelwald) up next, or an attraction following Lucius Malfoy as he attempts to gather his fellow Death Eaters for a new surprise attack on those helpless muggles that suddenly seem to be all over the wizarding world? (For more on this subject, see our Does Universal even need Harry Potter anymore? feature.)
Finally, a quick word on the ride's intensity level: although nothing official has come from Universal itself on this subject – despite the original announcement from 2017 promising a thrilling family-friendly experience – we think it's fair to say that Motorbike Adventure will land somewhere between Walt Disney World Resort's Expedition Everest, which is largely classified as a medium-intensity jaunt, and Busch Gardens Tampa's Cheetah Hunt, which offers more in the thrills category. Based on the coaster's track layout, there seems to be multiple launches present, which should push Hagrid above the kiddie territory of Flight of the Hippogriff but still stay well short of Dragon Challenge's inverted craziness – there are no loops or corkscrews present, for instance.
There's certainly enough here to dissect, chew over, and theorize about for the months to come (please, please work in a Fantastic Beasts and Where to Find Them reference [or three], Universal!) – and enough to keep us satiated until the next official media release, which the company has already promised will arrive next month.
Hagrid's Magical Creatures Motorbike Adventure opens on June 13, 2019.
–
Discuss all things Universal – and Harry Potter – with 50,000 other theme-park fans in our OI Community Facebook group.
And also be sure to follow Orlando Informer on Facebook, Twitter, and Instagram for the latest news and tips at Universal Orlando, Walt Disney World, and other Orlando destinations.