Celebrating Christmas in July? Good – it'll whet your appetite for the real deal (which is just around the corner now!).
Much as it has for the past few years, Disney has decided to experiment a bit with its 2019 holiday festivities at Walt Disney World Resort, adding a few new elements while still including a whole bunch of returning favorites. This time, that means new nighttime shows (Minnie's Wonderful Christmastime Fireworks), yuletide overlays for several Magic Kingdom attractions, and a newly-expanded Christmas presence across all of Animal Kingdom.
It's a lot to dig into, so we're going to allow you to open this one present early – here's everything that's going down across Disney World starting on Friday, November 8 and running until the very beginning of next year.
Magic Kingdom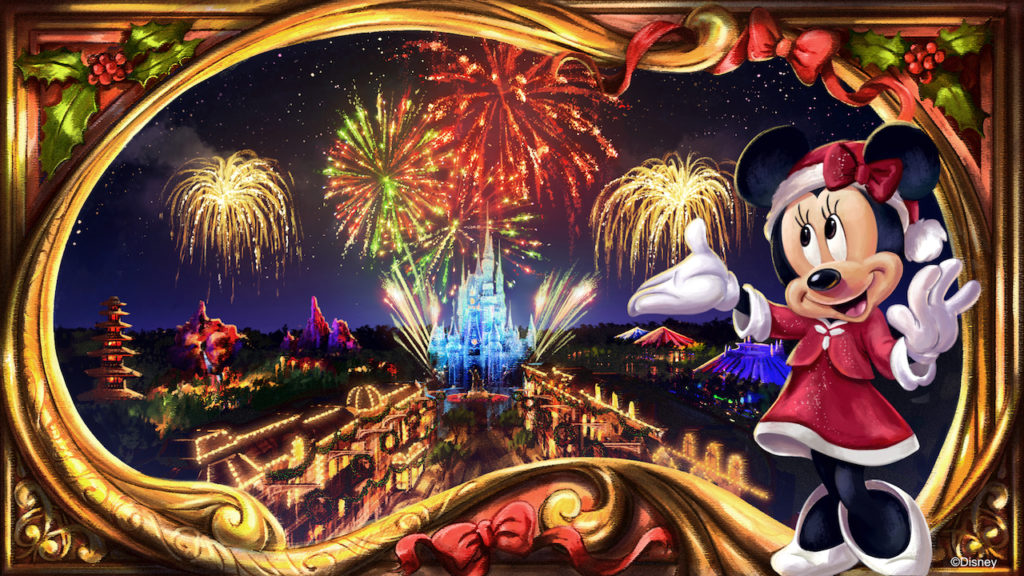 Mickey's Very Merry Christmas Party returns for 23 event nights, which is more than ever before (last year featured 22). In addition to such mainstays as A Frozen Holiday Wish nighttime spectacular, Mickey's Once upon a Christmastime Parade, and A Totally Tomorrowland Christmas and Mickey's Most Merriest Celebration stage shows, there are two new items on the docket for 2019: Minnie's Wonderful Christmastime Fireworks, which will celebrate "heartfelt moments and the magic of Christmas" (and which can be seen from across the entire park), and new holiday enhancements for a select number of Magic Kingdom rides. Be on the merry lookout for:
Space Mountain – Christmas songs will accompany your interstellar journey (and, just possibly, a new lighting package will, as well)
Tomorrowland Speedway – the race track will be decked out with stylized décor and thousands of Christmas lights
Mad Tea Party – one of four different combinations of holiday tunes and lights will play while you spin and spin
Monsters, Inc. Laugh Floor – a special yuletide version of the show will be performed
Dates are:
Nov. 8, 11, 12, 14, 15, 17, 19, 21, 22, 24
Dec. 1, 3, 5, 6, 8, 10, 12, 13, 15, 17, 19, 20, 22
Epcot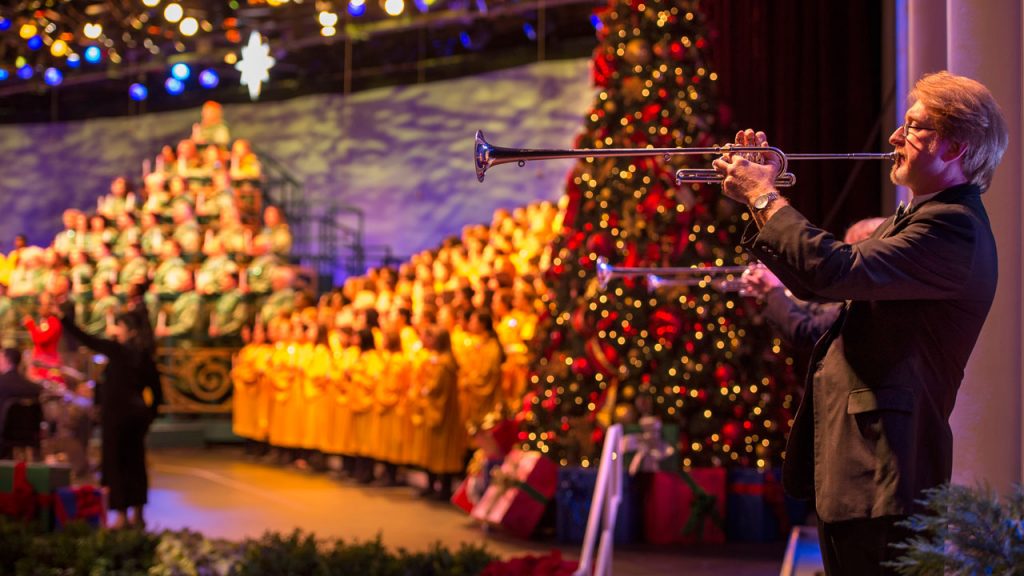 There really isn't much new over at Walt Disney World's second theme park, but, then again, Epcot's holiday lineup is so much fun already, there really isn't much need for change. (The upcoming Epcot Forever show, which will only be one-month-old by the time the celebrations start, could technically be considered the major new element here.)
But during our press event on Disney property today, the company was happy to confirm a small detail on the Epcot stalwart International Festival of the Holidays – it will feature such returning celebrity narrators as Neil Patrick Harris, Whoopi Goldberg, and Pat Sajak. Also returning for the 2019 season are the 12 specialty Holiday Kitchens and Chip & Dale's Christmas Tree Spree Scavenger Hunt.
The festivities at the park begin Friday, November 29 and last until Monday, December 30.
Hollywood Studios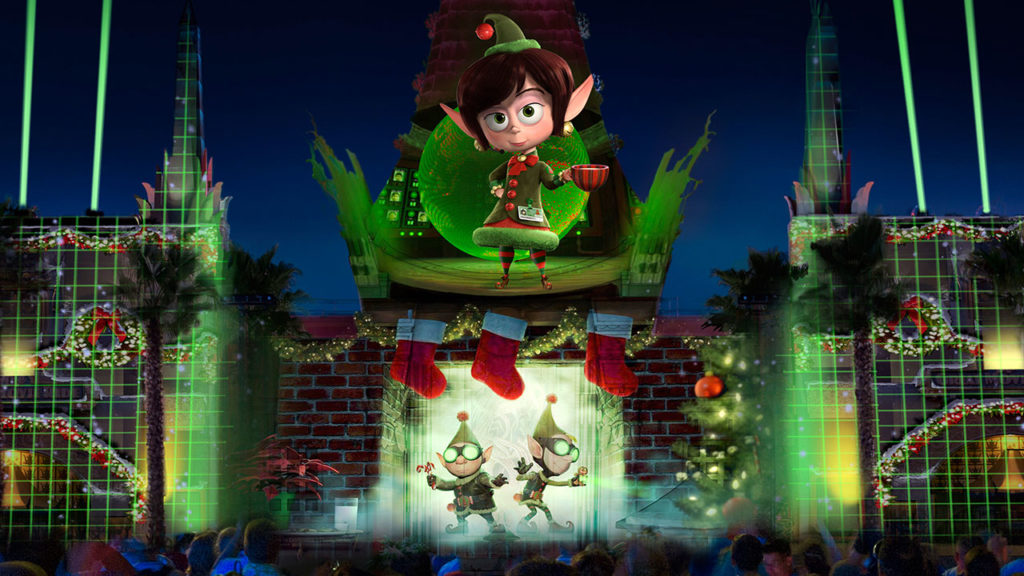 Hollywood Studios was the center of Christmas attention last year, when Disney expanded its still-new Flurry of Fun program to include such new elements as a yuletide overlay for all of Toy Story Land and a freshly-upgraded Sunset Season's Greetings. It shouldn't come as a surprise, then, that the company is allowing the park to take 2019 off from new seasonal initiatives (unless one counts the presence of Star Wars: Galaxy's Edge, which opens on August 29 – one could always theoretically go Christmas shopping among its market stalls).
Still, the likes of the Jingle Bell, Jingle Bam! fireworks show and a holiday-ized For the First Time in Forever: A Frozen Sing-Along will continue to grace Hollywood Studios alongside the just-mentioned heavyhitters – guests will therefore still be able to enjoy their snowfalls as well as their projection-mapping shows.
The yuletide proceedings at Hollywood Studios will go from Friday, November 8 to Sunday, January 5, 2020.
Animal Kingdom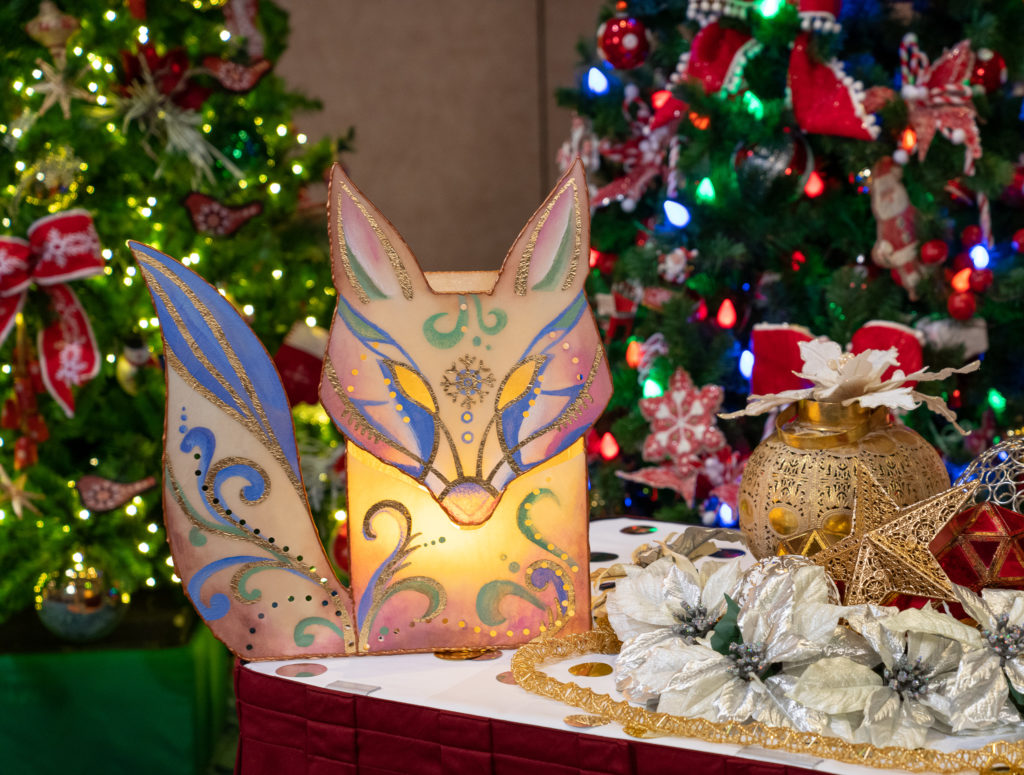 For this year, the spotlight has clearly moved from Hollywood Studios to Animal Kingdom, with a slew of new decorations and festivities being installed for this year's holiday season. Breaking the precedent of 21 long years, the theme park will – for the very first time – feature Christmas offerings in each and every one of its different lands.
A winter party will be had in Discovery Island – by day, "stylized, life-sized" animal puppets will mill about the area, while at night, "rooftop luminaries" fashioned into the likeness of various animals will join with bird lanterns to bring a touch of Christmas lights to the island. (And speaking of nighttime at Discovery Island, the Tree of Life's "awakening moments" will be festooned with the sights and sounds of the season in the form of new vignettes and a brand-new musical score.)
Dinoland, USA, meanwhile, will see the DJ-led Holiday Hoopla Dance Party with Chip 'n Dale (along with a bunch of seasonally-themed games and décor), and Pandora: The World of Avatar will have its human ex-pats decorate for the holidays at the Pongu Pongu drink stand, including a display of "vintage pieces from Earth" that will be paired with handmade Pandoran items. And bringing up the rear, Asia will be decked out for Diwali, the Indian holiday festival of lights, and Harambe will use authentic African materials to fashion a Western-style Christmas celebration.
Disney Springs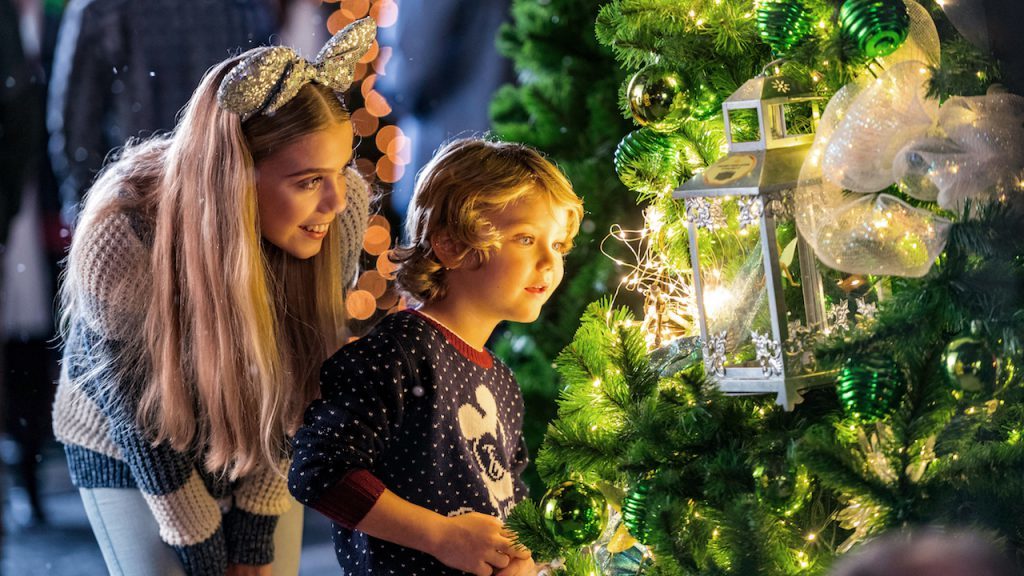 Joining the traditional items in Walt Disney World's dining/shopping/entertainment complex – such as the Christmas Tree Trail, Stitch's Holiday Gift Hunt, and Santa's Chalet, where Santa Claus himself meets-'n-greets with guests until Tuesday, December 24 – are the small-but-still-fun new additions of toy-soldier stilt walkers and yuletide Living Statues.
Disney Springs celebrates Christmas during the same range of dates as Hollywood Studios – November 8 to January 5.
Ultimate Christmas Package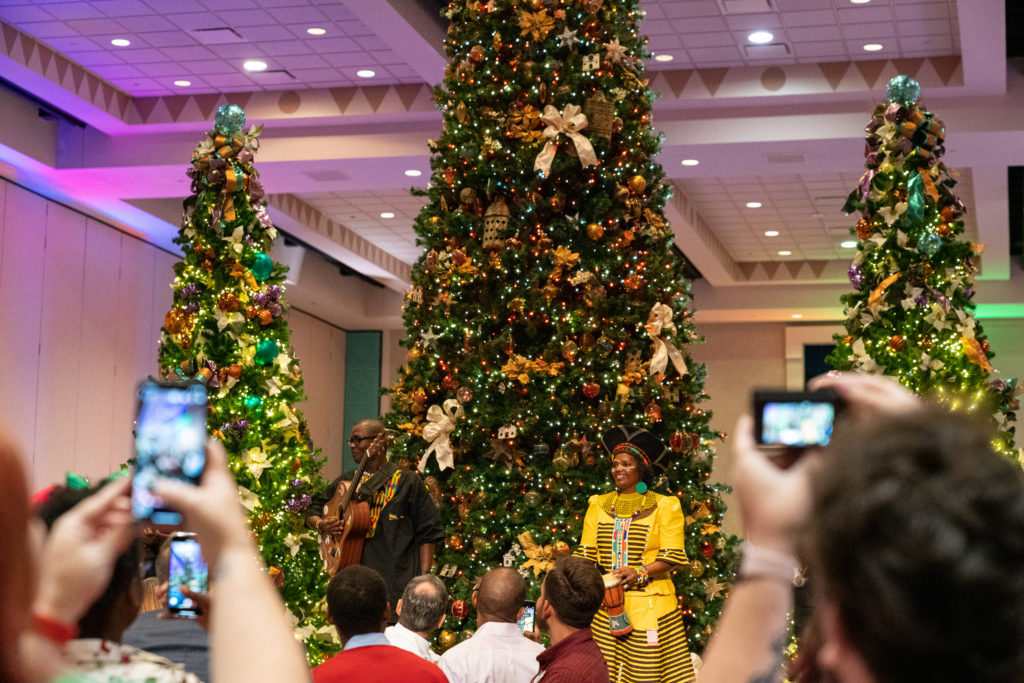 Launching just this morning, Disney is unleashing a brand-new vacation package for the holidays. Christopher Nystrom, a marketing manager at Disney, was nice enough to explain the Ultimate Christmas Package to us during our time on-site: it includes a five-night stay at a select Disney hotel (the check-in date has to be December 21 and the checkout, December 26, and the resort options are in the moderate, deluxe, or deluxe villa categories); exclusive nighttime access to Animal Kingdom the first night of the package; four-day park hopper tickets for every member of the party; tickets to Mickey's Very Merry Christmas Party on the second day; an exclusive reserved seating area for Epcot Forever on either the third or fourth day; a $50 dining gift card for each member of your group (aged three and up) for use at Epcot; and, on Christmas Day, an exclusive "ultimate Disney gift" delivered to your room.
–
What's your favorite part of Christmas at Walt Disney World? Tell thousands of other vacation planners and Disney fanatics in our OI Community Facebook group.
And be sure to follow Orlando Informer on Facebook, Twitter, and Instagram for the latest news and tips at Universal Orlando, Walt Disney World, and other Orlando experiences.