On October 9th, 2003, Mission: Space opened fully to the public and quickly became my favourite attraction at Epcot. This one-of-a-kind attraction launches you into space, around the moon, and then onto Mars. Combine this exciting story with all of the g-forces and excitement, and you have one heck of an adventure.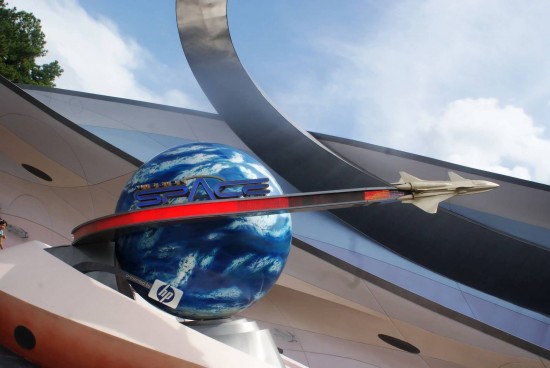 The Basics
In order to ride Mission Space, you must be 44 inches (112 cm). Furthermore, you should be in good health and free from high blood pressure, heart, back or neck problems, motion sickness, or other conditions that could be aggravated by this adventure. Expectant mothers should also not ride.
For those of you who get motion sickness, there is the option to ride a version of the attraction which does not involve any spinning or g-forces. This is the Green version of the ride. The alternative, full force adventure can be accessed using the Orange entrance. Both entrances are next to one another so if you are stuck then ask a cast member for advice. Once you have selected your mission (Green or Orange), then you will receive a Green or Orange card, which you must keep hold of to give to a cast member further on in the attraction queue. The card contains the safe information as posted on the signs outside the attraction.
As you enter the queue it is heavily themed after the fictional ISTC (International Space Training Centre), a NASA-type training institute for space travel. They are training candidates for the first ever mission to Mars. The plaques on the wall guide you through the history of space travel even include a couple of bits of faux space history. Then your attention is drawn to two main items. Firstly, the 18 ft high slowly spinning wheel allegedly used to train astronauts. (It spins at 1 mile per hour) and one of the Moon Rovers, which are famous for having been driven on the surface of the moon during the 1970's Apollo missions.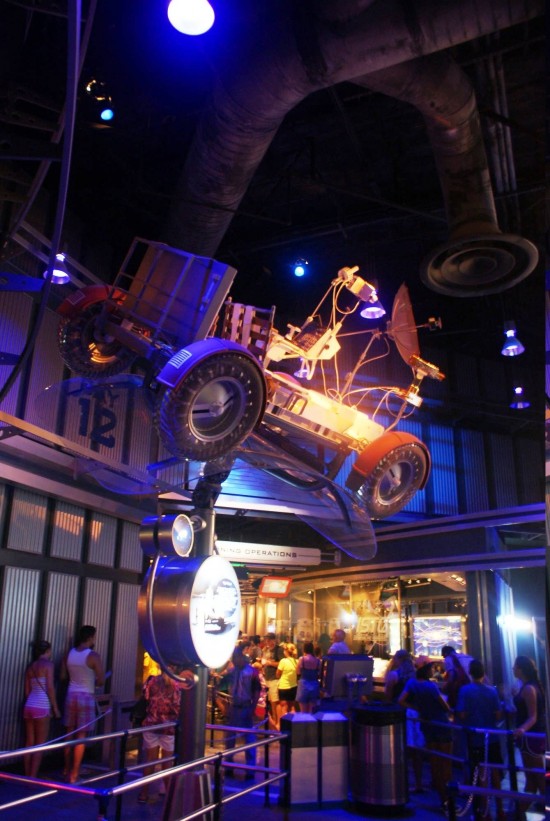 At the end of the queue you are directed into one of four rooms where the pre-ride video and instructions play. This gives you an overview to the capsule and the ride along with hints to avoid motion sickness The ride is based on a centrifuge capsule like the one used in actual astronaut training. There are 40 riders per capsule, divided further into 10 groups of 4, and you assigned a role Pilot, Commander, Engineer or Navigator.
The mission
In the Words of the WDW guide, your mission is described as follows: "You'll be pinned to your seat as you experience the incredible force of lift-off. Get gravity-induced goose bumps when your ship does a slingshot around the moon. Then hold on tight as you attempt a harrowing pinpoint landing on Mars." It's excellent and, providing you keep your eyes open and head back, the 2.2 g's aren't too bad. That being said, there are actual sick bags within easy reach, and they are used regularly according to Cast Members!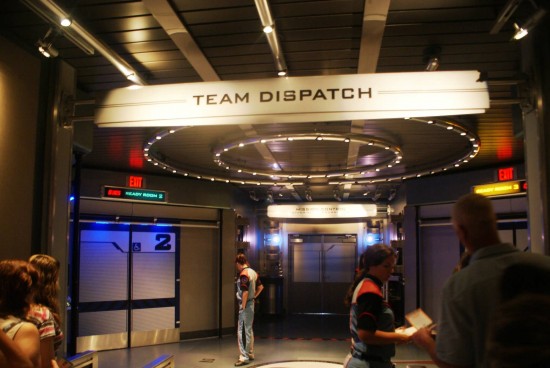 Post show
Once you've completed your mission to Mars, you follow the path back round to Mission Control. This is a large interactive area where there is a soft play area for small children; you can also send a postcard to home, take part in Expedition to Mars a video game, which has you walking across Mars in search of items, and take part in Space Race: a competitive race game against other park visitors. Oh, and like every other theme park attraction, it then exits via the gift shop!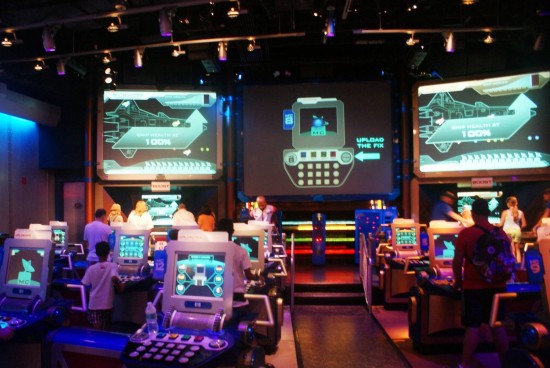 Mission: Space – map & links
Click any marker to display the attraction or venue name. To scroll or zoom, use the controls on the top-left of the map. You may also switch to different map views by using the buttons on the top-right of the map.
Official website: http://disneyworld.disney.go.com/parks/epcot/attractions/mission-space/
Mission: Space – photo gallery
Click any image to view it full-screen. When the full-screen image is open, click to the right or use the right arrow on your keyboard to advance through the gallery. If several thumbnails are missing, try reloading this page in your browser.
[sws_author_bio user="jshort" size="105″ authorposts="More OI posts by James" name_format="About the author"] [/sws_author_bio]