A little over a year ago, we broke down the secrets of Minion Park, the new land at Universal Studios Japan that ultimately debuted in April 2017. It seems only appropriate, then, that we follow it up with the latest word out of Osaka: a second – and, as of right now, exclusive – attraction will be arriving at the world's first Minions-themed area.
Called Minion Crazy Ice (or Minion Machamecha Ice in Japanese, keeping in line with its Minions Hacha-Mecha Greeting series of character interactions), the new attraction looks to essentially be a variation on the Mater's Junkyard Jamboree ride found over at Disney California Adventure (a template, incidentally, which is also being deployed for Alien Swirling Saucers at Hollywood Studios's Toy Story Land this summer). The idea goes a little something like this: on a hot summer day, the suffering Minions decide to bust out one of Gru's gigantic freeze guns and give their pool the ice makeover. Now, guests can hop on one of 10 different "ice-making cars" (each one equipped with a different Minion flag, but of course) and slip and slide across the winter wonderland in a type of chaotic race. Passengers will also be able to fire a freeze gun of their own on the ride vehicle, which seems to have some sort of impact on the experience – though what, exactly, we're not sure of, beyond a special effect being triggered.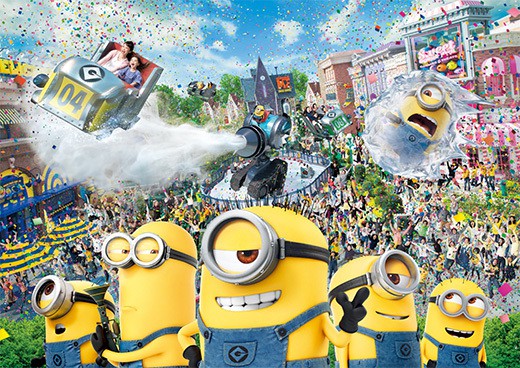 Although Crazy Ice will provide a rather short ride (it will only clock in at 90 seconds), and one that is primarily intended for younger audiences, it still packs a decent thematic punch – little touches include various Minions who got trapped in the pool when it was frozen over, such as those who were synchronized swimming or, even, one little fella who is now submerged under the ice and can only follow the shenanigans up above through a revolving periscope. The new attraction also represents something of a sorely-needed upgrade to Minion Park, which is beautifully immersive but which only consists of a clone of Despicable Me: Minion Mayhem, a few imports from Universal Studios Hollywood's Super Silly Fun Land (the Super Silly Space Killer carnival game, we're looking at you), and a whole smorgasbord of exclusive culinary and retail offerings (The Cookie Kitchen, Banana Cabana, Fun Store, Minions Pop Shop, Sweet Surrender, and Pop-a-Nana).
But perhaps what is most intriguing about this new announcement is just how thoroughly it underscores parent company Comcast's commitment to the long-neglected Universal Studios Japan, a park that the corporation only purchased last February – The Wizarding World of Harry Potter and Minion Park were added to the mix in 2014 and '17, respectively, and both have now already received expansions (with the Asian Hogsmeade welcoming a steady flow of exclusive shows and holiday celebrations). Once the already-under-construction Super Nintendo World arrives in 2020, USJ will be a largely-new experience – not unlike Comcast's systematic reconstitution of Universal Studios Florida, a process which, ironically, started in 2012 with Despicable Me: Minion Mayhem and which has most recently resulted in Fast & Furious – Supercharged, which just opened this month.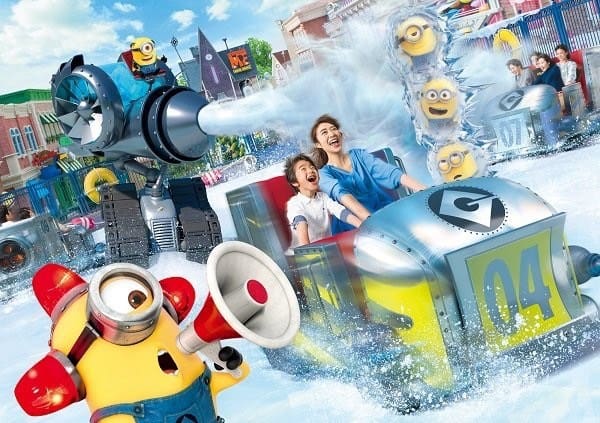 As Comcast has continued to devote billions of dollars to this global makeover-and-expansion project, cross-pollination has, of course, played a major role; Orlando imports Hollywood's King Kong and Fast & Furious experiences while exporting its Despicable Me and Harry Potter attractions to both California and Osaka. One can only hope that either Universal Orlando Resort or, more likely, Universal Studios Hollywood (given Minions's bigger footprint there) will similarly be the beneficiary of this shared-resources approach, receiving Minion Crazy Ice – or, even better, all of Minion Park – at some point in the not-too-distant future.
Minion Crazy Ice opens on June 30, 2018 at Universal Studios Japan.
–
Be sure to follow Orlando Informer on Facebook, Twitter, and Instagram for the latest news and tips at Universal Orlando, Walt Disney World, and other Orlando experiences.